Branded stores line the streets of Omotesando, and it is not difficult to see that most of the buildings are significantly different from each other. Most of these big brands engaged famous Japanese architects and internationally acclaimed ones to design their shop facade, making Omotesando unique from others as a whole. So, be sure to look out for these buildings when you're in Omotesando!
1. Christian Dior Building, by SANAA (2003)
Pritzker Prize laureates in 2004, SANAA's Dior building remains one of the most stunning buildings along the street despite being built 17 years ago. The transparent glass walls are clad with white bands of different heights, allowing for the 30m building to glow with different intensities when lit up at night. The veiled translucent exterior makes it look like a giant cubical paper lantern too, which is really stunning!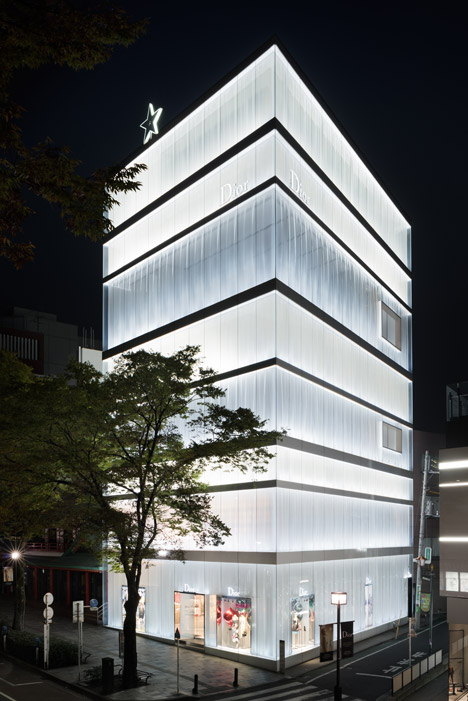 Photo via Dan Howarth on Dezeen
2. GYRE, by MVRDV (2007)
Netherlands-based firm MVRDV based the concept of GYRE on stacked boxes that rotate around its vertical axes, thus the name of the building. There are circulation routes within the building that connects shops on every level to the external terraces. It is located next to Dior, providing a stark contrast as it is a much larger, darker and ununiform building. Why not take a walk inside and relax on the terrace?
Photo via MVRDV
3. Tod's, by Toyo Ito (2004)
2013 Pritzer Prize Winner Toyo Ito used 300mm-thick interlocking white bands made of concrete and glass on the exterior of this building, mimicking the elm trees that line the street. These overlapping tree silhouettes cover the unified volume of the building, which makes it camouflage into its surroundings of the tree-lined streets.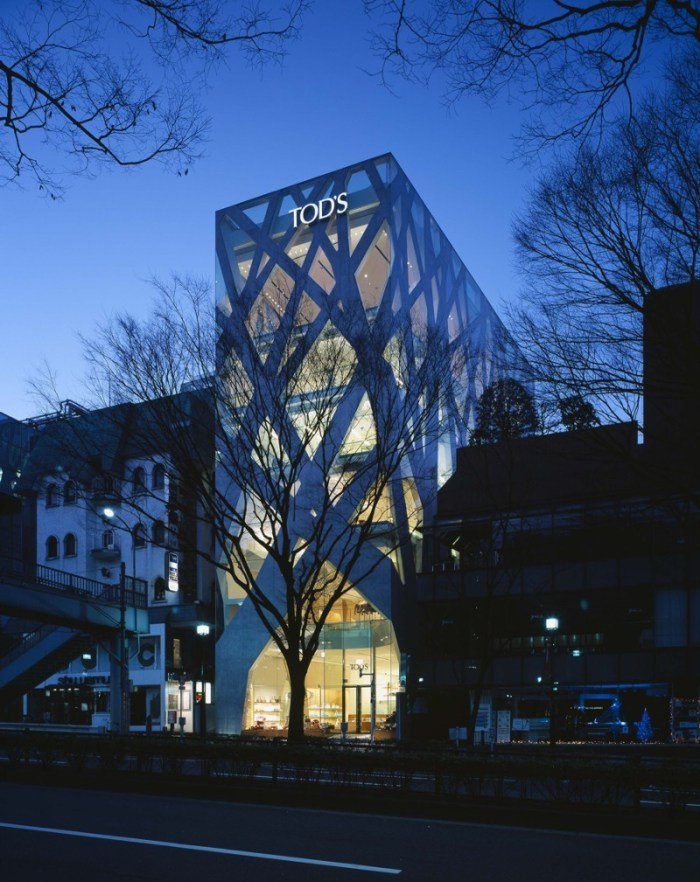 Photo via Toyo Ito and Associates on Arch2O
4. Hugo Boss, by Norihiko Dan & Associates (2013)
Surrounded by Tod's L-shaped building, both of these buildings contrast each other. The designers achieved the wood-like texture by pouring concrete into wooden moulds. This palaeolithic tower thus strongly reflects the brand's masculine appeal and wouldn't be something you'd see most of the time — it looks like a massive stumped tree!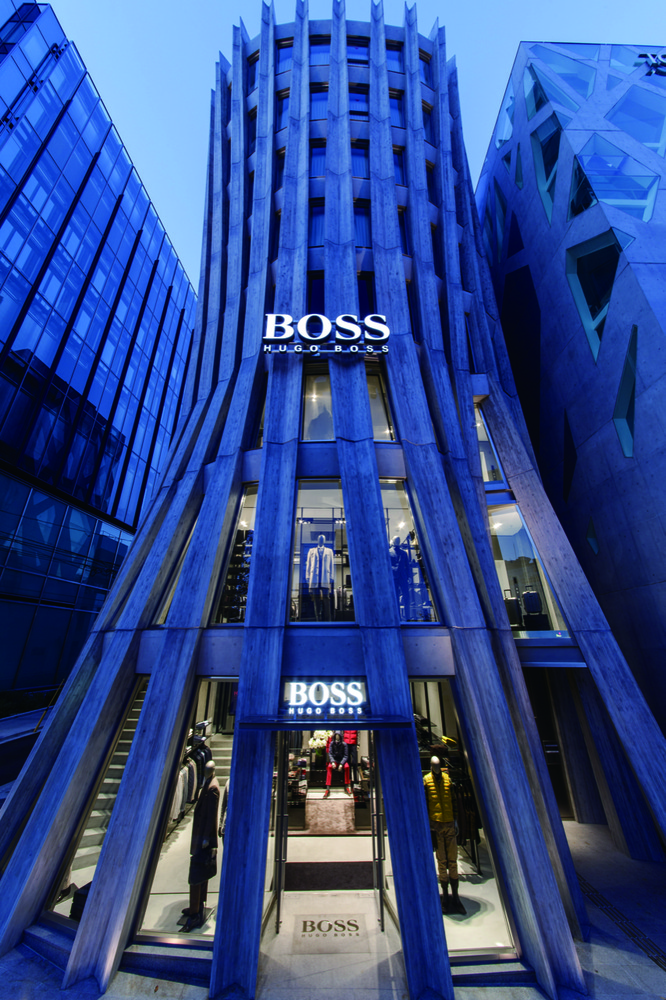 Photo via ArchDaily
5. Prada, by Herzog & Meuron (2003)
The Swiss Pritzker architect-owned firm created this interesting facade out of a combination of diamond-shaped concave, convex and flat windows joined together by a white grid, making it come across as a glassy glaze across the building. This means the building always looks different, depending on the time of the day as light from different angles strikes its surface. It's as though it's a sculpture on its own.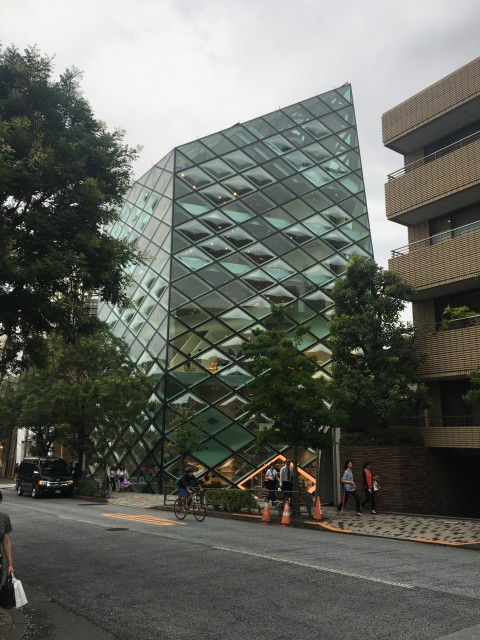 Photo via Romany Williams on SSENSE
6. Espace Louis Vuitton, by Jun Aoki (2002)
Inspired by tatami construction, metal is interwoven with glass to create the translucent glass walls that allow lights inside the building to shine outward, making the building look like it's glowing when lit up at night. The seventh floor was transformed into a small art gallery (operated by the Louis Vuitton Foundation) in 2011. Feel free to pop upstairs to take a look if they have exhibitions while you're there.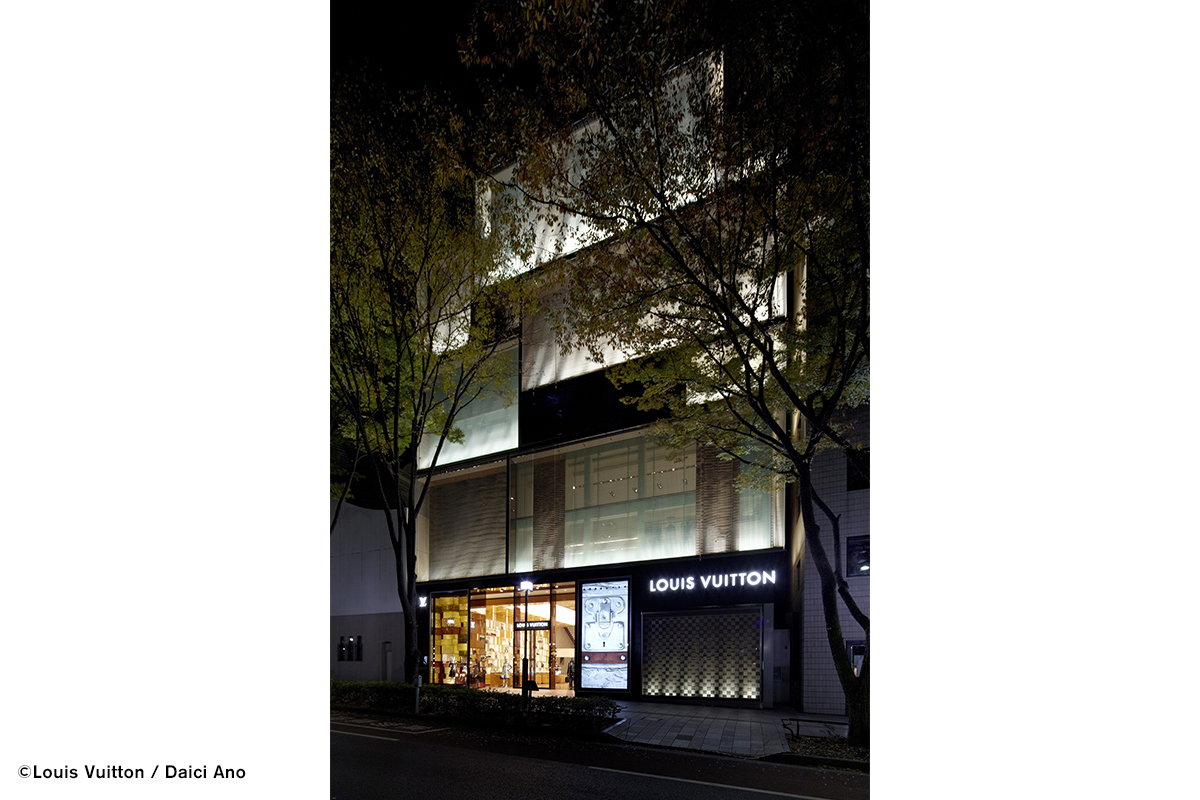 Photo via designart.jp
7. Coach, by OMA New York (2013)
The stunning two-storey corner site looks like a glazed cube with shelves that form OMA New York's iconic herringbone pattern. This ingenious idea forms the display of items from Coach's latest collection, allowing for constant change of the facade at every release. It's interesting to see the building at night, where the lights inside allow the products on their wall to stand out.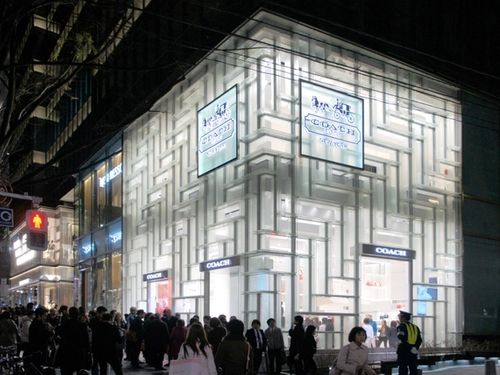 Photo via OMA
8. Omotesando Hills, Tadao Ando (2006)
Being used to defying norms, the 1995 Pritzker Prize recipient Tadao Ando took advantage of the street's natural slope and built floors parallel to the ground, as well as underground. He wanted to reduce the townscape and ensured the building's height remained lower than the zelkova trees around it. Of course, there are raw concrete walls and geometrical forms reflecting Ando's signature style. Take a walk inside to observe how seamless and different this mall feels to others.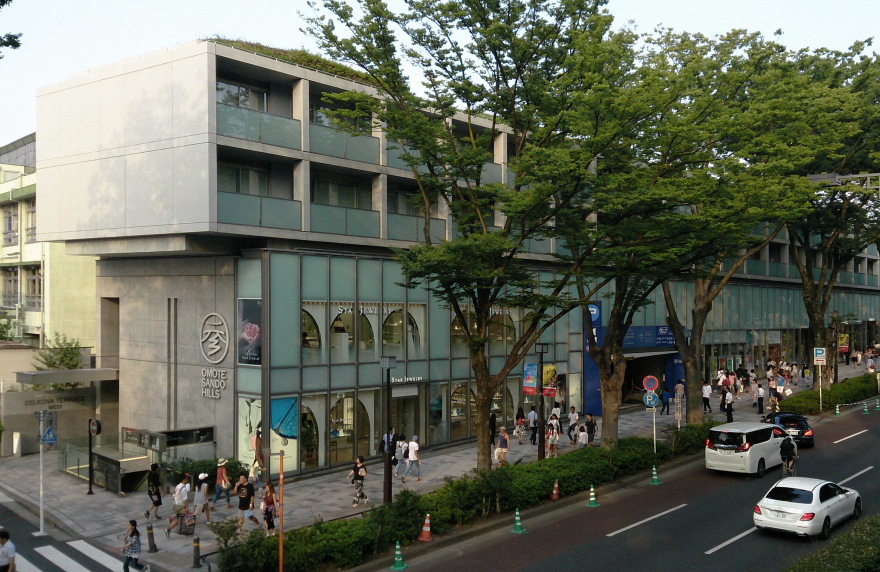 Photo via ArchitectureTokyo
9. Sunny Hills, Kengo Kuma (2013)
This is not a high-end luxury goods store, but rather, a Taiwanese pineapple cake store. In usual Kengo Kuma fashion, this store is built almost entirely out of wood, designed specially to look like a bamboo basket. Wooden strips are crisscrossed, allowing plenty of natural light into the store in the day. You can also take this opportunity to sit down and have tea and pineapple tarts in the building, and even buy a few boxes back for as souvenirs!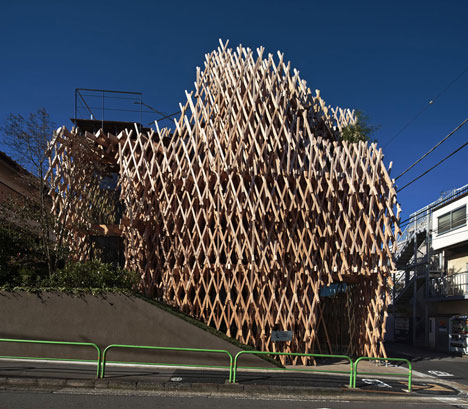 Photo via Amy Frearson on Dezeen
10. Tokyu Plaza Omotesando Harajuku ("Omohara"), by Hiroshi Nakamura (2012)
This is probably one of the more hyped-up buildings you've probably come across on Instagram already. Nakamura is one of Kengo Kuma's most outstanding proteges and provided kaleidoscopic mirror-finished panels of different shapes and angles to the entrance of the building. The building melds nature with the geometric rigidity of the panels while paying homage to the mirrored glass-clad apartment in its place before. Trippy!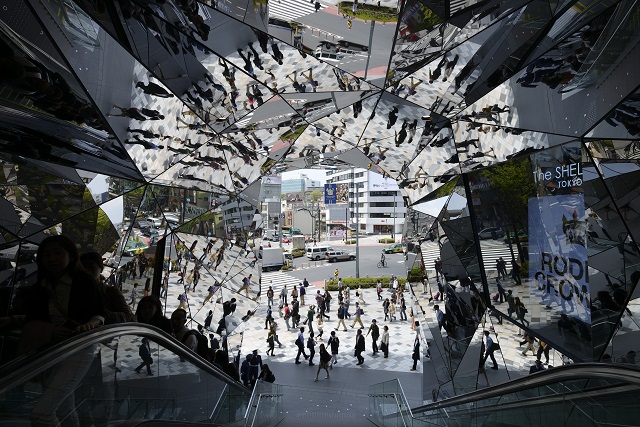 Photo via Kikukawa Metal Architects
These are just a few of many impressive buildings in Omotesando that have gone the extra mile for its aesthetic presentation. These buildings look different in both day and night, with much lighting and shadowplay involved. It would be good if you had the chance to spend a day in Omotesando admiring the buildings and spending time at the many cafes they have along the way too.