Fukuoka is not only a heaven for foodies, but also a city blessed with nature located in Kyushu, the southern island of Japan. Originally two cities, Fukuoka was formed through the combination of Fukuoka and Hakata in 1889. Because of its proximity to the neighboring countries, tourists flock along the streets given any time of the year. Even though it is the most populous city of Kyushu, not many know about the traditional and modern sites scattered around this unique city. 
From the beautiful sceneries such as the seaside to the traditional night stalls and lively city centre, what are you waiting for? Let's see all the best that Fukuoka has to offer, starting with places on this list!
1. Tenjin Underground Shopping Mall
Photo via Yokanavi
Tenjin Underground Shopping Malls is the epitome of 19th-century Europe. Covered with arabesque design walls and ceilings, this place was certainly created with the shoppers in mind. With approximately 150 shops ranging from fashion to gourmet, you everything that you could ever possibly want. Furthermore, this mall connects all the major department stores, subway stations and bus stations together. Without a doubt, this place is always crowded whether it's rain or shine! 
【Official website】https://www.tenchika.com/

【Admission fee】Free of charge

【Opening hours】Shops: 10:00-20:00 |  Restaurants 10:00-21:00 

【Access】Bus: Get off at Tenji South, Tenjin Expressway Bus Terminal or Tenjin 

   Train: Get off at Tenjin or Tenjin South
2. Ohori Park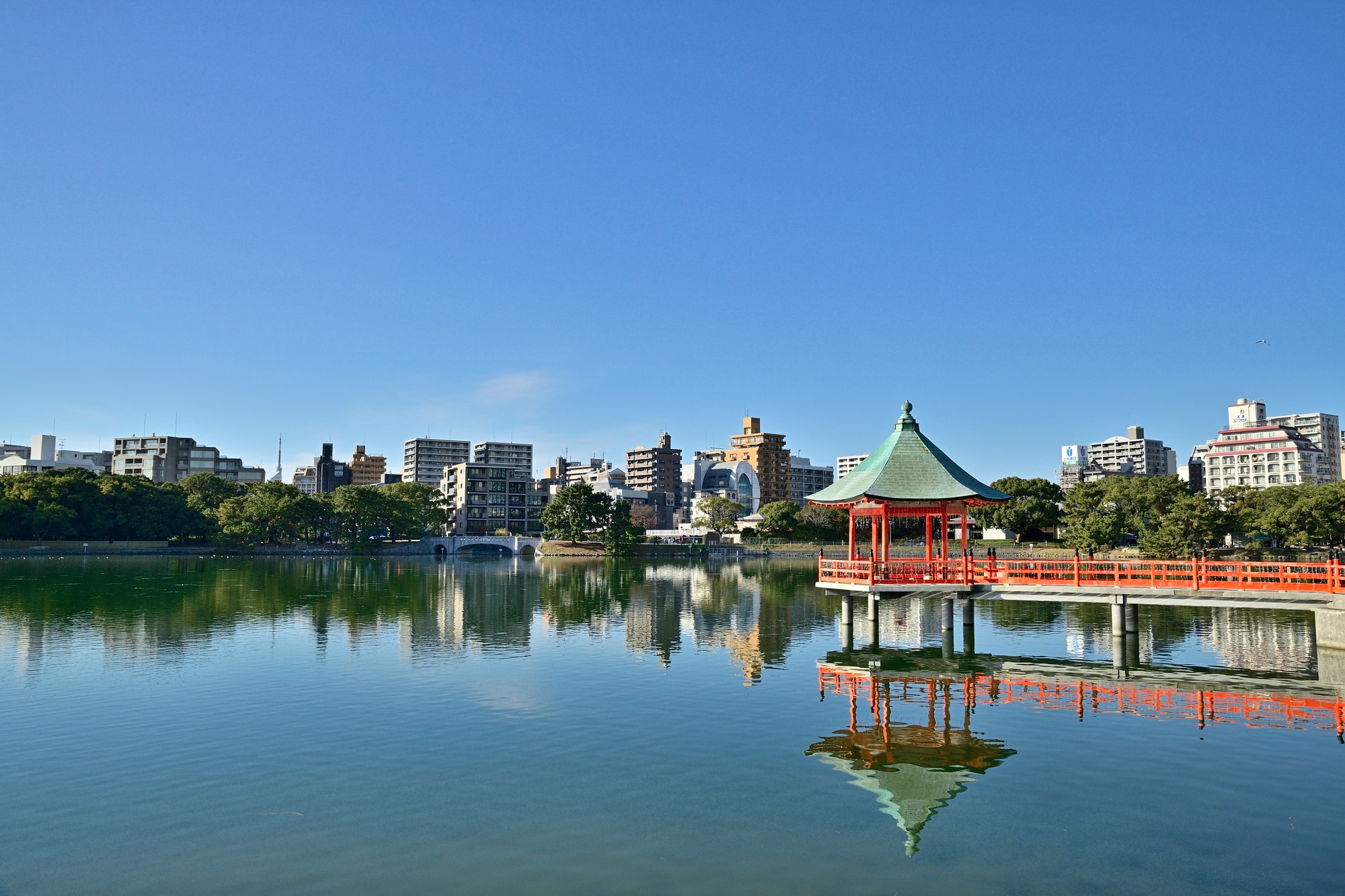 Photo via Sky Ticket
Out of the numerous parks in Fukuoka, Ohori Park is without a doubt one of the most popular parks located near the city centre. It boasts not only a magnificent lake in the middle of the park with bike and walk trails around its circumference, beautiful bridges and cherry blossom trees are scattered around the park. So it's no wonder this place popular with families and tourists alike! At night, the pagodas and pavilions lit up to give the park into a completely different atmosphere. Whether you visit during the day or night, take a minute to stop and soak in the beauty. 
【Official website】https://www.ohorikouen.jp/en/ 

【Admission fee】Free of charge

【Opening hours】24 hours 

【Access】Bus: Get off at Kuromon or Ohori Koen-Mae and walk for 5 minutes     

   Train: Get off at Ohorikoen or Tojinmachi Station and walk for 7 minutes
3. Canal City
Photo via Japan Travel
Canal City is a prime example of how the city manages to weave nature throughout the city. To explain why, firstly, an artificial canal runs through this massive 5 story shopping centre and entertainment complex. Next, water shows are held every 30 minutes during the opening hours to show how nature and technology can be combined together. Lastly, the plants decorated around the centre gives you a chance to perceive nature even during a long shopping run. There is also the ramen stadium, where different flavours of ramen gather together. With nearly 250 shops, restaurants and game centres, one day here won't even be enough. 
【Official website】https://canalcity.co.jp/english

【Admission fee】Free of charge

【Opening hours】Shops: 10:00-21:00 |  Restaurants 11:00-23:00

【Access】Bus: Get off at Nishitetsu Bus Canal City East Building 

   Train: Get off at Gion Station and walk for 7 minutes
4. Nakasu (Night Stalls)
Photo via Matcha
There's something different about the vibe at the Nakasu night stalls compared to others in Japan. It's not just because of its food, but also the atmosphere by being lined up next to the river. Brightened up with lights and buzzing with liveliness, this is the real place if you ever want to experience the Japanese culture. Not only that, each store has its special menu. Whether it's Western dishes or local delicacies such as ramen or tempura, the night stalls at Nakasu has you covered! The question is, are you able to stop at just one stall a night?
【Admission fee】Free of charge

【Opening hours】Typically opens from 6pm to 2am 

【Access】Train: Get off at Nakasu Kawabata or Minami Tenjin Station and walk for 10 minutes
5. Fukuoka Tower
Photo via The Daily Japan
With a height of 234 metres, Fukuoka Tower is currently the tallest seaside tower in Japan. Of course, a trip to the observatory deck gives you a magnificent 360-degree view over the city and the Hakata Bay. However, there's more to the tower than just that. There are also plenty of hidden photo opportunities and entertainment. The lover's sanctuary, pinballs and gacha are just a few to get you started. Make sure to visit the tower just before sunset to catch the view as the sky gets painted with gold. When you leave, don't forget to look back and enjoy the ever-changing Fukuoka Tower illuminations. 
【Official website】https://www.fukuokatower.co.jp/

【Admission fee】Adults 800 yen, Elementary and Junior High Students 500 yen,                                                                          Children over 4 years old 200 yen 

【Opening hours】9:30-22:00 

【Access】Bus: Get off at Fukuoka Tower and walk for 2 minutes

                    Train: Get off at Nishijin and walk for 20 minutes
6. Dazaifu Tenman-gu
Photo via Around Japan
Although not quite exactly located in Fukuoka City, it's such a popular day trip from Fukuoka that it's too good to not be on this list. Dazaifu Tenman-gu is one of the largest and famous shrines in Kyushu, spreading over 12 square kilometres. Because the shrine is dedicated to the god of education, it's hugely popular with students undertaking exams. In addition to the main shrine, there are also multiple smaller shrines which contain a number of important relics. Besides the shrines, the gardens, plum trees and traditional shopping streets makes it the perfect setting for any movie. 
【Official website】https://www.dazaifutenmangu.or.jp/en/

【Admission fee】Free of charge

【Opening hours】9:30-22:00 

【Access】Bus & Train: Get off at Dazaifu and walk for 5 minutes
7. JR Hakata City
Photo via TripAdvisor
JR Hakata City is located right above Hakata Station, the main train network hub in Kyushu. Not only does it contain a wide variety of shops and restaurants, it's also connected to Hakata Hankyu and Tokyu Hands to satisfy all your Fukuoka cravings. In fact, even the rooftop, also known as Tsubame no Mori Hiroba, is worth a trip. Over here, besides the spectacular overview of Fukuoka city, there are mini trains, a small train shrine and open spaces. It's a perfect place to spend lazy afternoon. From here, the shinkansen trains coming in and out of the station can also be seen. For all the train lovers out there, this is the place for you!
【Official website】http://www.jrhakatacity.com.e.bv.hp.transer.com/

【Admission fee】Free of charge

【Opening hours】Shops: 10:00-21:00 |  Restaurants 11:00-22:00

【Access】Bus & Train: Get off at Hakata Station 
8. Nokono Shima
Photo via Wow! Japan
Nokono shima is another beautiful day trip destination out of the city. This flower paradise is located just across from Fukuoka. The diverse range of flowers here makes it a lovely place to visit regardless of the season. From cherry blossoms in Spring, hydrangea in Summer, cosmos in Autumn and Japanese camellia in Winter, you can never get tired of visiting here with flowers blooming all year round! So whether you're planning to hold a BBQ, soak in the traditional scenery or looking to stay the night, make sure to check this place out. 
【Official website】http://nokonoshima.com/en/

【Admission fee】Free of charge

【Opening hours】9:00-17:30 9:00-18:30 (March to November)

【Access】Bus & Train: Get off at Noko Tosenba Bus Stop (Ferry Terminal) and take the ferry from the Meinohama Ferry Terminal
---
Region Information
Fukuoka is the ideal destination to kickstart your tour around Kyushu. The temperature in Spring and Autumn seasons varies around 15 to 20 degrees. Therefore, it's strongly recommended to visit during this time! This is when you are able to indulge in all that Fukuoka has on display, from the indoors to the outdoors!
Hungry for more? If you are wondering what delicacies there are in Fukuoka, then make sure you check out this our Fukuoka gourmet list here!
REGION INFORMATION
COMMENTS