Riding a bicycle has always been a popular means of transport for residents to get from place to place, especially outside the major cities. From Junior High School students riding their bicycle to make it in time for first period, to salaryman rushing through the city to make sure they are not late for the 朝礼(morning assembly). However recently, many people have taken up the hobby of cycling through Japan, and the vast scenic cycling tracks that it has to offer. A personal favourite of mine, and one that I have rode on two separate occasions is the Shimanami Kaido located on the Nishi Seto Expressway that connects Hiroshima and Ehime, and goes through 6 separate islands! So let's break it down in this article what is the Shimanami Kaido, how can I prepare beforehand, what to do when I arrive, and all the fun things that I can do along the way!
---
What is the Shimanami Kaido?
Photo via japanbyjapan
The Shimanami Kaido is an expressway that crosses through 6 different bridges over the Seto Inland Sea for 70 km from Onomichi City, Hiroshima on Chugoku to Imabari City, Ehime on Shikoku. With a vision in mind to allow for cyclist to come through to enjoy the beautiful scenery woven in by natural wonders, to the feat of creating a series of bridges, it was decided to have designated cycling path separated from the road which helps to make your bike trip more comfortable and enjoyable. Speaking of bridges, the expressway contains fifty-five bridges, including the Kurushima Kaikyō Bridge (来島海峡大橋), the world's longest series of suspension bridges, and the Tatara Bridge (多々羅大橋), the world's fourth longest cable-stayed bridge. "Kaido" (海道) means "the road of sea" in Japanese, and it was selected as one of the "7 best bike routes in the world" by CNN.
How can I prepare beforehand?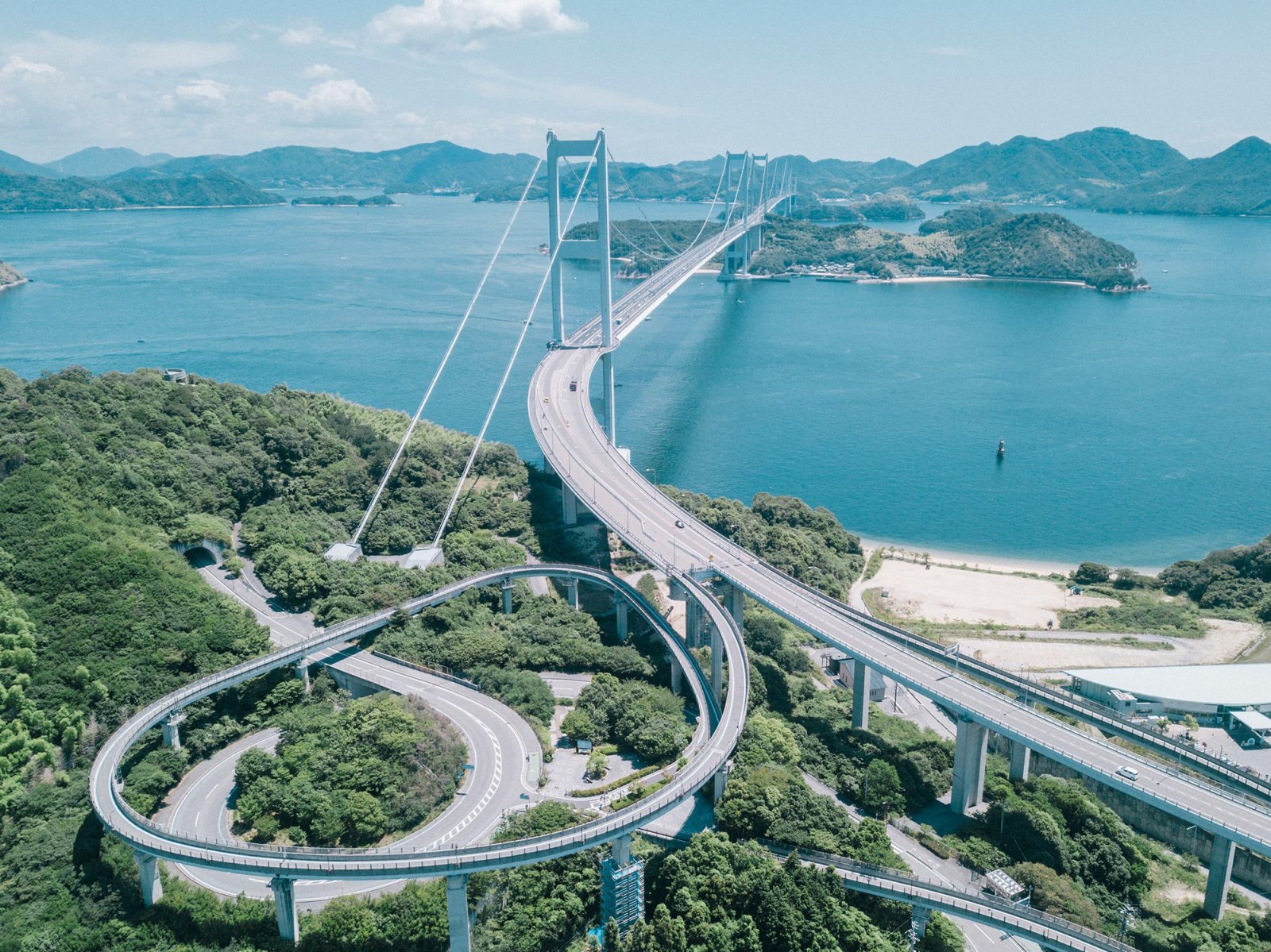 Image via cycling-ehime
Now we know a bit more about the Shimanami Kaido, let work out all those little details beforehand to make the journey in that more enjoyable, and the main three things we need to consider are, how to get there, and which side should I start? will I bring my own bicycle or rent? and lastly, how much of the Shimanami Kaido can I ride? As mentioned, we can start from either Onomichi City, Hiroshima or Imabari City, Ehime. Many tourists start from Onomichi (Hiroshima Pref.), due to the ease of access being on Honshu. Considering the wind direction and uphill slopes, it's actually easier to start from Imabari (Ehime Pref.). However, whichever starting point you choose may depend on your travel plans before and after cycling, so have a think where you want to go after!
Gateway
JR Imabari Station (Ehime Pref.)
JR Onomichi Station (Hiroshima Pref.)
JR
Transfer from the Shinkansen to "Express Shiokaze" at Okayama Station. Get off at Imabari Station on the Yosan Line.
Transfer from Tokaido / Sanyo Shinkansen to Sanyo Main Line at Fukuyama Station. 20 min. to Onomichi Station.
Shin-Onomichi Station on the Shinkansen is 3km away from the city.
Airplane

From Haneda / Kansai / Chubu Airport to Matsuyama Airport.
1 to 1.5 hours from the airport by bus & limited express.
From Haneda / Shin Chitose / Sendai / Naha Airport to Hiroshima Airport.
1 to 1.5 hours from the airport by bus.
Bus
Highway bus from Tokyo / Osaka / Kobe / Hiroshima / Fukuoka to Imabari.
Highway bus from Tokyo / Osaka / Kobe / Hiroshima to Onomichi.
Although you can bring your own bicycle, there are many options for Bicycle rental from either side of the Shimanami Kaido. You can rent and drop off a bicycle at any terminal along the Shimanami Kaido. Basic bicycles can be rented for 1000 yen for adults and 300 yen for children per day. Electric assisted bicycles can be rented for 1500 yen up to 6 hours. Two-person tandem cycles can be rented for 500 yen per day, although some terminals do not stock tandems. A 1000 yen deposit is required at the time of renting (you get the deposit back if you return the bicycle at the same terminal). More info on the bicycle terminals in the resource section below! Reservations for the main rental system can be made online here, and the website also has a number of helpful tips about the route. Lastly, how much of the Shimanami Kaido can I actually ride? It can be done in 1 day. However, it's more enjoyable if you spend 2 days cycling across the islands. (There are campsites* and guesthouses along the way).
When I rode the Shimanami Kaido, the first time, I started in Ehime, and did half the journey, and then rode back, as I was living in Shikoku, however on the second time, I was able to do the entire journey, and I am so glad that I did, as it was spectacular, and as a bonus, I could eat my favourite Japanese food at the end as a reward, Hiroshima Style Okonomiyaki. So either as a day trip from Ehime or Hiroshima, or more of a journey, you will have a great time riding along with the other cyclist. You can find some really nice guesthouses and hostels on the Shimanami Kaido. The Guesthouses in Imabari and Onomichi are especially useful starting and ending points for the trip, so if that is something you are interested in, definitely book beforehand. Hopefully, it doesn't rain while your biking trip planned (touch wood), but if it does, simple raincoats are available at convenience stores. Especially on cold days, gloves are also important as it is a measure of cold on the hands. You should use a plastic bag to protect your wallet, passport, smartphone and other important things.
What to do when I arrive?
Image via visitehimejapan
We made it! We are at the Shimanami Kaido. As a few pro tips, and to get the most of this route, two things are key: maximum daylight and knowing your skill. So get in early, rent your bicycle and you can make the most of your day. Secondly, when planning your bike journey, don't be too ambitious, and know how much you can ride. Slower is sometimes better, and from personally speaking, there are so many unique and interesting things to see along the island, which you would just not expect, and you want to take it all in. Once you arrive at the starting point of the Shimanami Kaido, you can rent your bicycle at the terminal station, and communicate with the staff members there, and pick out your bicycle! Personally, I like to go to the Sunrise Itoyama Central Rental Cycle Terminal, as its the closest to the start of the Shimanami Kaido, and they have a wide range of bicycles to choose from. And they are so lovely there! The time for that station is 8:00-20:00, and they have free car parking available. Once you receive your bicycle, just have a quick test ride to make sure it feels good for you, just keep in mind some bicycle safety rules.
Ride on the left side of road.
Don't ride your bicycles side by side.
If your group contains 5 or more persons, you should divide into two groups.
Don't use an umbrella and a mobile phone while riding a bicycle. If you do, you can be fined.
Please don't ride a bicycle during night.
All the fun things that I can do along the way
When I rode the Shimanami Kaido with 3 of my friends, we had plenty of time, and not too rushed to finish the leg, so we took it nice a slow, and had plenty of detours, and through these detours, we encounter some terrific places to visit, delicious food and even just go by the water to have a swim. I remember one of my friends saying, "I am very hungry, is there a bakery nearby?" So I googled bakeries in the area, and we stumbled upon "Paysan", a local bakery with a strong ethos of sourcing local produce in the area for their products. It's only open on Fridays and Sundays, and it's also a little hard to find, but it's definitely worth it if you have the time! Or when we saw a rest stop and decided to drop in. The "Yoshiumi Rose Park" where 400 species of 3,500 rose trees are planted, and known for their fragrant ice cream with rose hip.
As you are exploring Hakata Island, although the main cycling route in Hakatajima is just 3km, which is only a small part of this island, it is recommended that you bike around the island's coast. You can see some beautiful scenery and enjoy the peace and quiet of rural island life. Additionally, you can visit the most famous ramen shop in Shimanami Kaido, "Sanwa". The ramen is using the salt of Hakatajima which is a special product of the area, and popular among bicycle travellers so that they can keep their hydration levels high.
As we made our way to Omishima island, we went to visit "Oyamazumi Shrine", as there were 2000 – 3000 year-old camphor trees near the shrine and so it was well worth a visit. Omishima island is also known as the "island of Gods", and this is because the Shrine was also once one of the most important shrines in Japan for samurai and as a result, it hosts an impressive collection of weapons and armour, for all you MMA and fighting fans.
As you are finishing the Shimanami Kaido, you can sit back, and relax with some Hassaku daifuku, which is a kind of Japanese confection consisting of a Hassaku orange inside 'daifuku', which is a rice cake stuffed with sweet bean paste. A shop in Innoshima Island called "Hassakuya" has prepared a space that can take a break with coffee and tea, that is absolutely good for bike tourists, and the view of the Innoshima Ohashi Bridge from there is so nice.
Image via Flickr
There are so many amazing places to see, and local riders to talk to, so I am sure you will find many more places than me and meet so many wonderful people along the way. One of the highlights for me was talking to the local people, so even if there is a communication barrier, even the presence is louder than words.
And with that, enjoy your journey along the Shimanami Kaido, pray to the "Oyamazumi Shrine" gods for good weather, and immerse yourself in all the local towns and regional food available. Until next time, cycle on!
Resources
Shimanami Kaido Cycling Route Map
Guesthouses along the Shimanami Kaido
COMMENTS