It is funny how the more you cannot have something, the more you want it. Has anyone been craving matcha since the start of COVID-19? This superfood has taken the world by a storm. Not only is the green powder recognized for its health benefits, but also its ability to be incorporated in a wide variety of cuisine. Let us take a visit to all the top matcha cafes in Kyoto, the home of matcha! 
---
Matcha Delicacies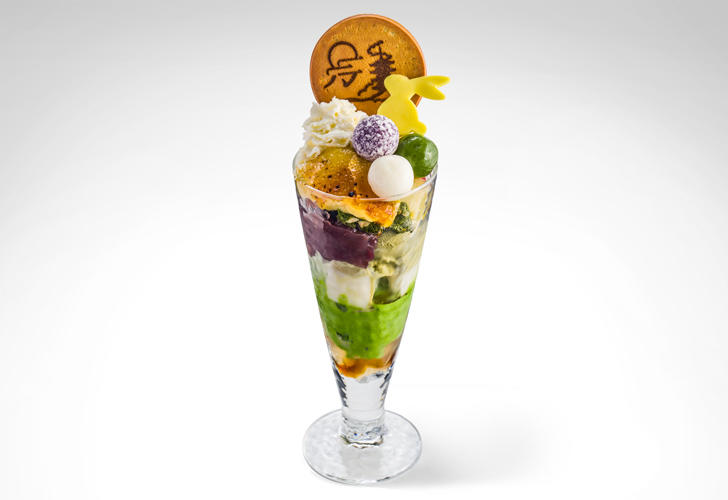 Tsujiri no Tsuki Parfait
No doubt Tsujiri Teahouse is one of the most famous and oldest matcha shops in Kyoto. Established in 1860 by the then 17 year old Riemon Tsuji, Tujiri's popularity has soared since then. As a result, it started opening stores overseas in recent years. There's even one in Melbourne!
The featured Tsujiri no Tsuki parfait is only available at the main store. Filled with toppings such as genmaicha ice cream and sweet potato creme brulee, it's no wonder why it's one of the store's best sellers. Similarly, its limited customizable parfait was a huge hit with its fans as well. And the customers are eager for it to become a permanent menu!
【Opening Hours】 Weekdays 10:00 – 21:00 | Weekends & Public Holidays 10:00 – 21:00

【Address】 573-3 Gionmachi Minamigawa, Higashiyama Ward, Kyoto

【Access】1 min walk from Gion bus stop
Japanese Crackers and Matcha Parfait
Since its establishment since 90 years ago, its popularity has continued to soar, and the business is not slowing down anytime soon. Although its consistently expanding range of delicious Japanese crackers is its top seller, its matcha flavoured products come at a close second place. Visit this shop to get a taste of what Kyoto is all about.  
【Opening Hours】 Every day 10:30 – 20:00

【Address】 565-1 Gionmachi Minamigawa, Shijo Dori, Higashiyama Ward, Kyoto

【Access】 1 min walk from Gion bus stop
Maruto Parfait available only at Kyoto Station!
First established in 1854, the shop has preserved the old Kyoto tea atmosphere to this day. All the stores are specifically designed to transport the customer back to the Edo period. Additionally, the main store offers a matcha grinding experience. You'll then appreciate every bit of matcha you drink much more! 
【Opening Hours】 Weekday 10:00 – 17:30 | Weekend 10:00 – 18:00

【Address】 10 Uji Ichiban, Uji City, Kyoto

【Access】1 minute walk from JR Nara Line Uji Station 
Sakura Parfait, Momiji Matcha Parfait, New Tea Parfait, and Hydrangea Parfait 
Opened in the Edo period, Ito Kyuemon continues to bring joy to its customers through its high quality teas. Through consistently monitoring the colours, aromas, and tastes of each Uji tea, it has grown into a well-loved brand. With unique parfait flavours such as hydrangea parfait and momiji matcha parfait, it's not hard to see why customers keep coming back for more.
【Opening Hours】 Every day 10: 00 – 17: 00

【Address】 19-3 Aramaki, Todo, Uji City, Kyoto

【Access】 5 minutes on foot from Uji Station (Keihan Uji Line) and Mimurodo Station
Matcha Bavarian Parfait by Remoju 
Giwon Komori is a cute teahouse in the outskirts of the busy shopping district. Decorated with spacious traditional Japanese tatami rooms, it provides the perfect atmosphere for customers to indulge in their sweets. Together with the Japanese garden and the beautiful sakura trees outside, even the most frantic of minds will be soothed. Their top seller, matcha Bavarian parfait, cannot be found anywhere else.  
【Opening Hours】 Every day 11:00 – 20:00 | CLOSED EVERY WEDNESDAY

【Address】61 Higashiyama Ward, Motoyoshicho, Kyoto

【Access】 5 minutes on foot from Gion Shijo Station
Matcha Mont Blanc
Located next to the busy Kawaramachi street in the busy shopping district in Kyoto, Ki no Ne offers a pristine view over the bustling Kyoto city. With a wide range of menu and using the highest quality ingredients, the sweets are a feast for both the eyes and the taste buds. No wonder the shop is always busy in the afternoons!
【Opening Hours】 Every day 11:30 – 19:00 | CLOSED TUESDAYS

【Address】  Kuramoto Building 4F, 384 Komeya-cho, Kawaramachi-Dori, Nakagyo Ward, Kyoto

【Access】 1 minute on foot from Kawaramachi Station
Level 7 Matcha Ice Cream
Nanaya is a renowned matcha specialty shop that only uses high-quality matcha from Shizuoka. The matcha intensity level is rated from level 1 to 7, with 7 being the strongest in the world. Also, level 7 is said to be the strongest flavour of matcha ice cream in the world. On the side, there are also chocolates, tea, sweets, ocha soba, and various souvenirs for sale. If your matcha mate can't make it, why don't you take the matcha to them? 
【Opening Hours】 Every day 10:00 – 18:00 | CLOSED FIRST TUESDAY OF EACH MONTH

【Address】 92-1 Aburaya-cho, Yanaginobanba Sanjyou, Nakagyo Ward, Kyoto

【Access】7 minutes walk from Karasuma Oike Station
Assorted Seasonal Daily Vegan Sweets
Iyemon Salon Atelier is a comfortable restaurant that offers breakfast, lunch, and dinner. Each meal is meticulously delicately prepared using seasonal Kyoto ingredients to make sure the customers get the best experience. To top it off, all the sweets are all vegan! Nevertheless, it's so good that most people don't realise it. The assorted seasonal daily vegan sweets are consistently changing, so make sure to get a taste when you have the chance! 
【Opening Hours】 Every day 8:00 – 23:00

【Address】 481-1 Kiyoicho, Higashiyama Ward, Kyoto

【Access】 4 minutes on foot from Higashiyama Yasui bus stop
Matcha Sweets Set (top left), Matcha Parfait (bottom left) and The Vert 

(right) 
Gion Kitagawa Hanbee has dedicated itself to provide the ultimate luxurious matcha experience for over 150 years. In fact, it even has matcha mojito on the menu! In the same way, the matcha dessert set showcases the best the cafe has to offer. Make sure to check out the night cafe, featuring delicate matcha cake and matcha miso ice cream. A visit here guarantees you the ultimate matcha indulgence.  
【Opening Hours】 Every day 11:00 – 22:00

【Address】 570-188 Gionmachi Minamigawa, Higashiyama Ward, Kyoto

【Access】6 minutes walk from Gion-Shijo Station
---
Has this article got you drooling? Then it's time for you to note down all these places! Be sure to also check out this article on all the food and dessert in Nara. It's never too late to turn your next trip into a food trip.