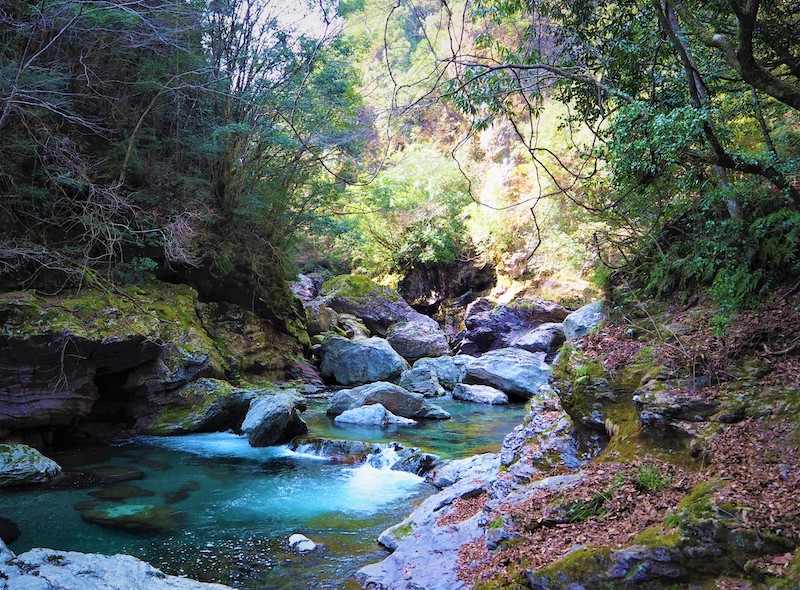 If your image of Japan is crowded cities, packed trains, and endless concrete, just wait until you see Kochi! As Shikoku's largest and least populated prefecture, its untouched mountainous expanse is engulfed by lush jungle and magnificent rivers of pure turquoise water. You've never seen Japan like this before!
Nakatsu Gorge
Stretching 124 kilometres from Mount Ishizuchi to the Tosa Bay, the Niyodo River and its accompanying Nakatsu Gorge are some of Japan's purest natural wonders. Dotted with a few facilities for added comfort, its unblemished jungle, pristine waters, and mammoth rock formations offer travellers an authentic yet convenient off-road encounter.
The path following the valley river is safe and easy to walk on, and young children should have no trouble. However, many of the bridges lack guard rails, so do be careful. If you want to swim, there are several rock pools of varying depths offering a safe and refreshing dip. The river may get rough during typhoon season, so confirm the current beforehand.
Adding entertainment are the stone statues of the 7 Gods of Good Fortune, who appear every few hundred meters along the track. Spotting them all makes for an entertaining game!
There's also plenty of outdoor activities nearby, including canyoning, SUP, rafting, canoeing, and camping. It doesn't get any more outdoorsy in Japan than this!
Yusuhara and Kengo Kuma
Completely encompassed by towering mountains, the isolated settlement of Yusuhara rose to fame after being adorned with buildings by world-famous architect Kengo Kuma. Inspired by the town's wooden theatre Yusuhara-za, Kuma decided to unleash his signature creativity upon the quaint town and transform it into a living canvas.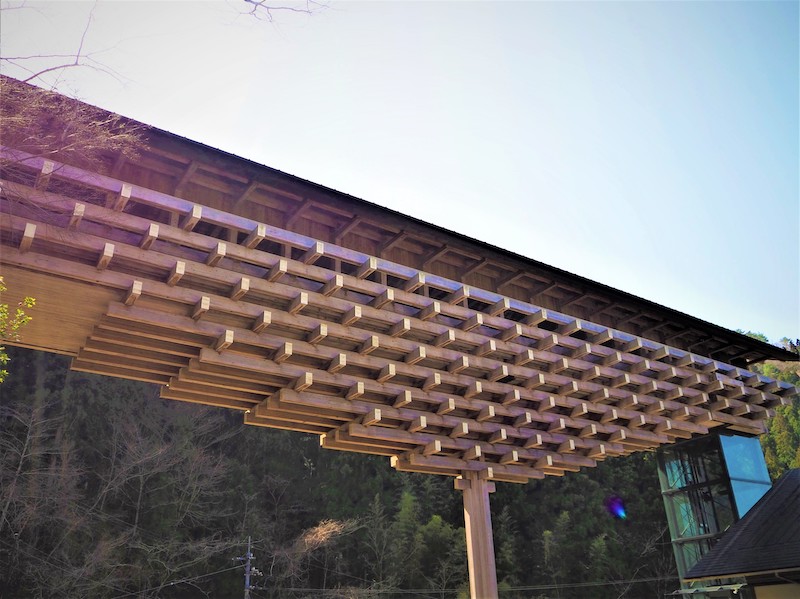 Starting with the Kumo no Ueno Hotel in 1994, he barraged the town with masterpieces including the Yusuhara Town Office, the Yusuhara Wooden Bridge Museu, Yusuhara Machinoeki (Yusuhara Marche) and Yusuhara Town Library and YURURI Yusuhara Town Welfare facility.  Each radiates a refreshing, homely ambience bursting with light and nourishing aromas of timber. As they're reasonably close together, you can tour them all on foot within half an hour – although you'll probably want to spend longer!
Ino-cho Paper Museum
Traditional Japanese paper making, known as kami-suki, is a fun, educational activity perfect for families! The Ino-cho Paper Museum, on the outskirts of Kochi City, provides a casual and friendly kami-suki experience that takes about 30 minutes to complete. Sticky and fun, kids will surely love it!
After washing up, you'll be directed to a tub containing a slimy, thick goo made from the kozo paper mulberry tree mixed with modern pulp. You'll then place a wooden frame, which can make 8 pieces of paper, onto a thin wire mesh and scoop out as much of the goo as you can before shaking it vigorously to drain the water. Afterwards, you'll be guided to a huge hot plate to place your papers to dry. After 10 minutes of drying, your premium-quality, hand-made Japanese paper will be ready to take home!
Hirome Market
It wouldn't be Japan without a deep gourmet culture, and Kochi is no exception! Tucked away in the prefecture's capital of Kochi City, Hirome Market is an indoor food hall celebrated for its jovial atmosphere jam-packed with tantalizing local delicacies. While some joints provide small, dine-in seating, most opt for the shared tables in the middle of the market from which you can pick and choose from the various stalls as you wish.
What to Eat in Kochi
If you can only eat one thing in Kochi, it has to be katsuo! A species of tuna, Kochi locals prefer it seared on the outside and raw inside, locking the umami flavours into its juicy red meat. While there are different ways to prepare and season it, the most popular is to enjoy it with ponzu sauce, onion, a dab of wasabi, and a slice of raw garlic. The succulent meat, tangy sauce, and bitter garlic blend to form an explosive mouthful you'll undoubtably want more of!
As children often turn their nose up at sashimi, the delightful presentation of katsuo may convince picky eaters to give it a go! If not, there are yakitori chicken skewers, karaage deep-fried chicken, completely cooked-through haranbo fish, fried prawns, Kochi-style gyoza dumplings, and satisfyingly crunchy seaweed tempura to suit all palates!
Getting to Kochi
Despite its modest population, Jetstar runs flights between Tokyo Narita Airport and Kochi Airport, making it easy to get to Kochi. The Kochi city centre is a roughly 30-minute taxi ride from the airport.
Countermeasures against new coronavirus infections have been taken at each destination, and disinfectant solutions for hand disinfection are installed, temperature is measured, staff masks are worn, and social distance between customers is secured. We recommend Shioku as a destination where you can travel with peace of mind.
REGION INFORMATION
COMMENTS