Essential highlights of Japan now and then
The towering skyscrapers and ornate temple pagodas that symbolise Tokyo and Kyoto today are also an expression of the rich culture and history of Japan. Each city is a fascinating journey between modernity and tradition, and must be experienced on any trip to Japan…
FIRST LOOK: TOKYO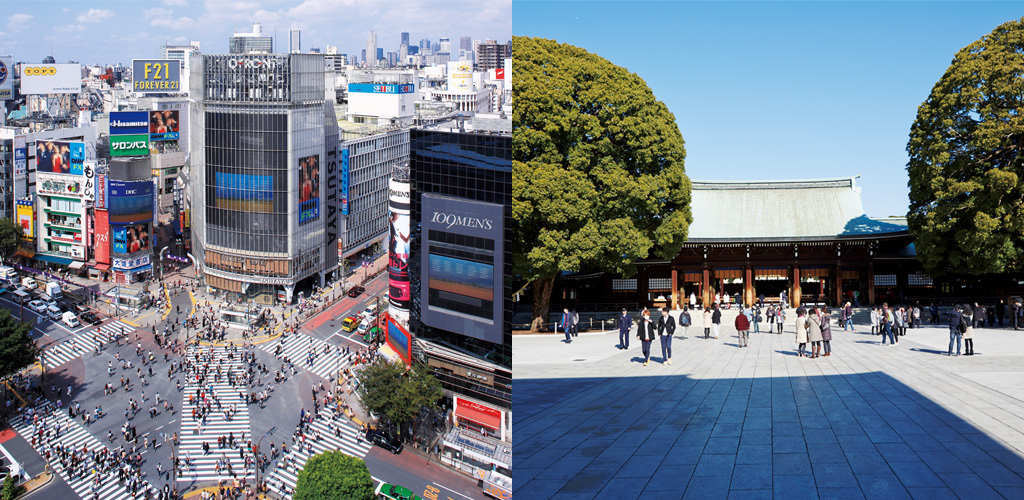 The largest city in the world by population, Greater Tokyo sprawls as far as the eye can see from the skyscrapers of Shinjuku, towards the silhouette of Mount Fuji on the horizon.
One of the most iconic of these skyscrapers is the Tokyo Metropolitan Government Building; designed to resemble a giant computer chip, it is a powerful statement of the city's futuristic side.
The Shinjuku area below is one of the key stops on the Yamanote Line, a loop line that encompasses a kaleidoscope of essential inner-city attractions: just a kilometre from the line's Tokyo Station are the beautiful Imperial Palace East Gardens, while ten minutes from Shinjuku Station, the observation decks of the Tokyo Metropolitan Government Building provide a breathtaking panorama of the city from 202 metres.
Get off the Yamanote Line at Yoyogi or Harajuku, and enter the mystical forest stand of Yoyogi Park for Meiji Shrine; beside the park in Harajuku is Takeshita-doˉri, a colourful fashion capital of Japan. The same goes for the adjacent Shibuya area, and its famous scramble crossing is just outside Shibuya Station.
Change here for the Tokyo Metro Ginza Line, one of Tokyo's classic underground journeys. Ginza, the line's namesake, was originally the site of a samurai-era silver mint, and has become one of the city's most up-market shopping and dining areas. The final stop on the Ginza Line from Shibuya is Asakusa, home of Sensoˉ-ji Temple's famous Thunder Gate.
FIRST LOOK: KYOTO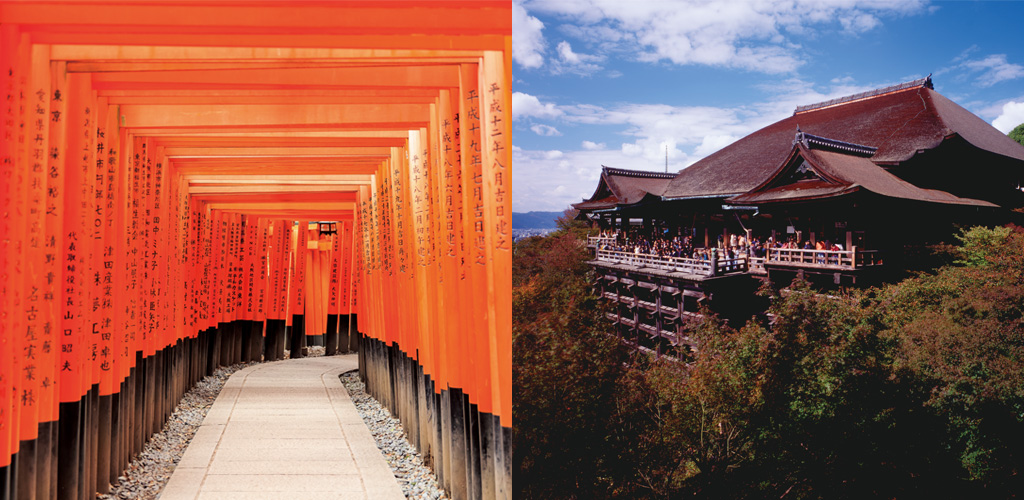 The official residence of Japan's imperial family from 794 to 1868, Kyoto continues to embrace the traditional Japanese ideal of refined elegance. Its locals are very proud of their ancient heritage, and today the city is characterised by a timeless melding of the traditional and the modern.
Despite its connection to the past, Kyoto is never the same place twice. The changing of the seasons touches the city deeply: the flowers that are in bloom; the heat of a midsummer's evening as fireworks light up the night sky – these small experiences have a profound effect on the feel of it.
Peppered with thousands of Buddhist temples and Shinto shrines, Kyoto is in many ways a spiritual centre of Japan. Ascending peacefully through vermillion tunnels of torii gates on the mountain paths of Fushimi Inari Taisha Shrine, or drinking the clear waters for luck at Kiyomizu-dera Temple are unique experiences, and attract local and international visitors alike.
However, exploring the city on foot is the only way to get in touch with its true secrets. Kyoto is filled with hidden nooks and crannies, and there is always some hitherto undiscovered secret to be stumbled upon. The district of Gion, famous for its geisha entertainers, is where the old world merges most deeply with the new. Trendy boutiques and nightclubs can be found just streets from small shrines and tiny shops, selling everything from pickles to exquisite items created by traditional artisans.
TOKYO AND KYOTO
COMMENTS