Hot Spring Therapy that Heals Both the Body and Soul & Rejuvenate Your Body and Spirit in the Countryside of Japan
Tucked away along Japan's western coastline and surrounded by the natural beauty of the San'in Kaigan Geopark lies the city of Toyooka. Conveniently located only a few hours from Osaka, this city features various outlying districts that offer visitors a wonderfully diverse range of sights and activities. From traditional Japanese architecture to white beaches and the promise of adventure in its mountainous regions, Toyooka offers many hidden gems waiting to be discovered.
Stroll along the seashore in Takeno, visit the colourful tulip fields near Tanto village or wander along one of the many hiking trails found in the mountains around Kannabe. Winter enthusiasts will be happy to know Kannabe is an excellent destination in the cold season as well and offers numerous ski resorts to cater to your powder needs!
To the east of Toyooka's city centre visitors can explore the charming town of Izushi. This former castle town has retained much of its Edo era architecture and is designated as a cultural preservation district. Be sure to visit any of the town's many Soba (buckwheat) noodle shops, as they are a speciality of this district.
After long days of exploring the region, there is no better way to unwind than to visit one of the many hot springs in Kinosaki Onsen. Located just a short distance north from downtown Toyooka this idyllic mountain village features no less than seven public hot spring baths, called onsen, to enjoy at your leisure. Willows and cherry blossoms grow along the banks of a river flowing along the town's main street, flanked by classic architecture and countless shops and inns. Dress in a yukata (a light, casual kimono) and experience a slice of traditional Japanese culture as you explore the many options for amusement Toyooka provides.
Spiritual Gokurakuji Temple
One such option would be to immerse yourself in a more spiritual setting during a visit to Gokurakuji temple. Secluded in a quiet part of town, this temple offers Zazen courses for those interested in learning more about this ancient form of seated Zen meditation.
Meet with the temple's chief priest and learn to focus on posture, breathing and listening to the natural world around you. Wearing the traditional monk's working clothes called samue is optional but sure to enhance the experience! Join the priest afterwards for a cup of matcha tea and local sweets while you discuss temple life and gaze on their beautiful Zen rock garden.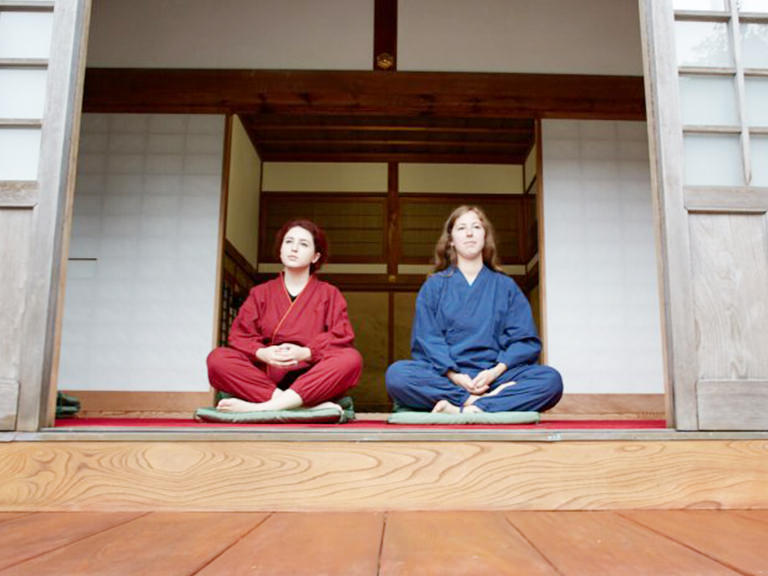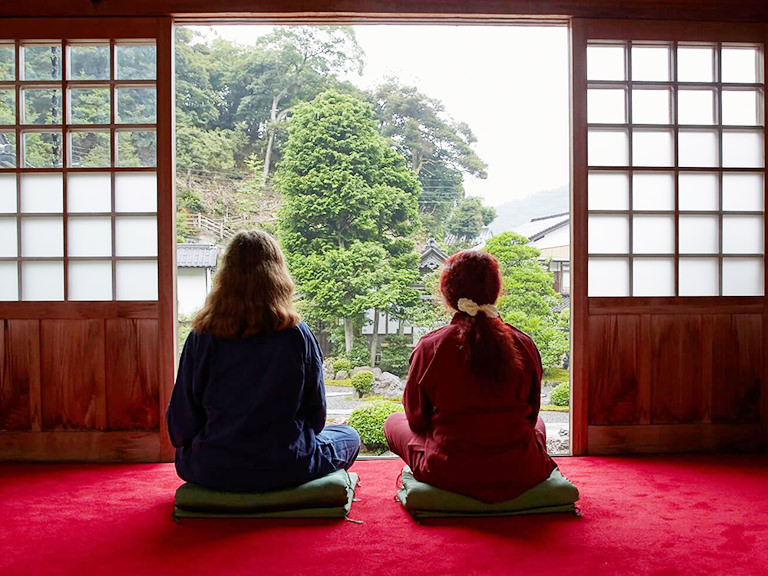 Comfortable stays at Nishimuraya Honkan
At night, visitors can rest their weary heads at one of Kinosaki Onsen's many inns. Nishimuraya Honkan offers its guests a memorable stay in traditional tatami rooms with private baths and garden views.
Enjoy a guided tour as the English-speaking staff introduces you to the inn's unique features such as the historic architecture, the garden and their notable museum collection.
End your day enjoying the best their kitchen has to offer as you dine on a multi-course kaiseki dinner with fresh local seafood and world-renowned Tajima Kobe beef.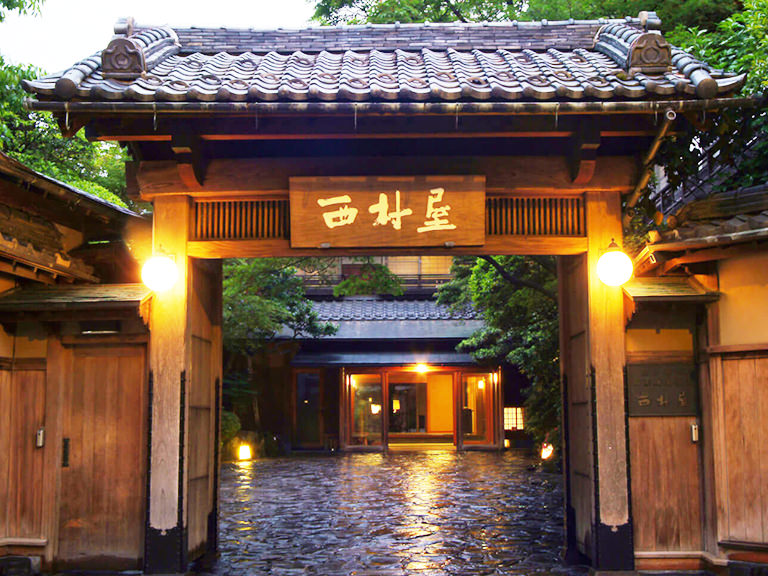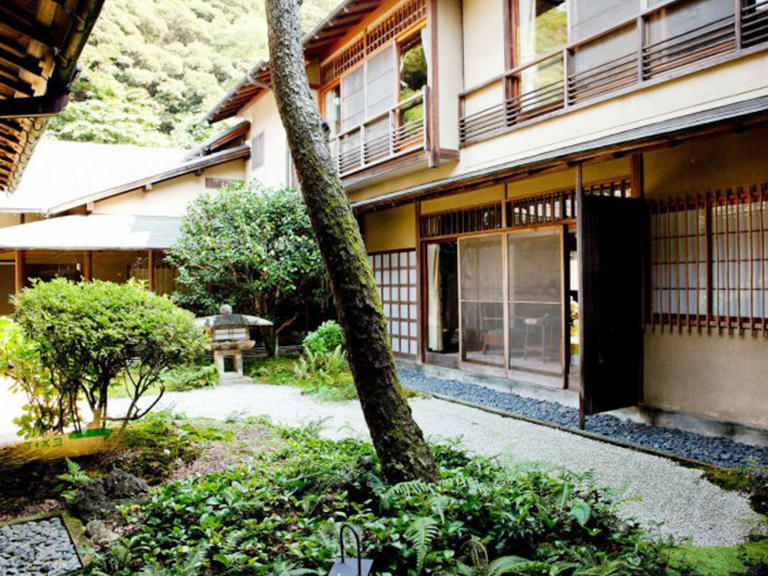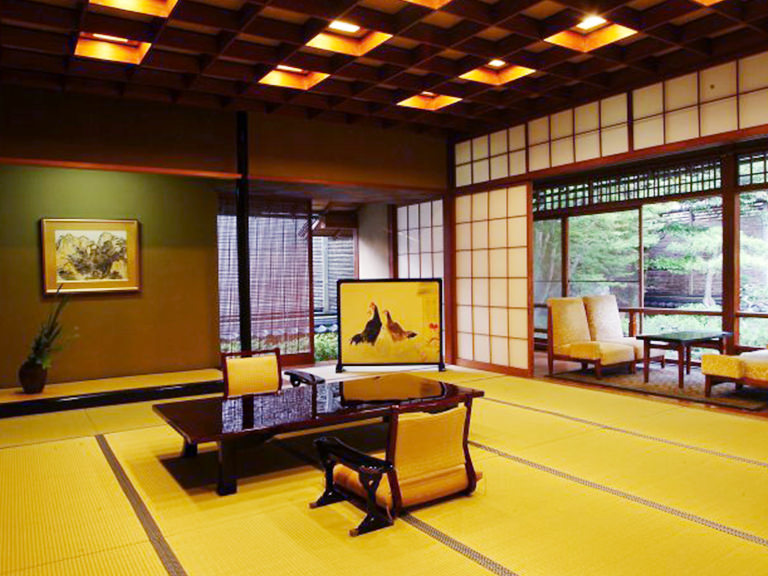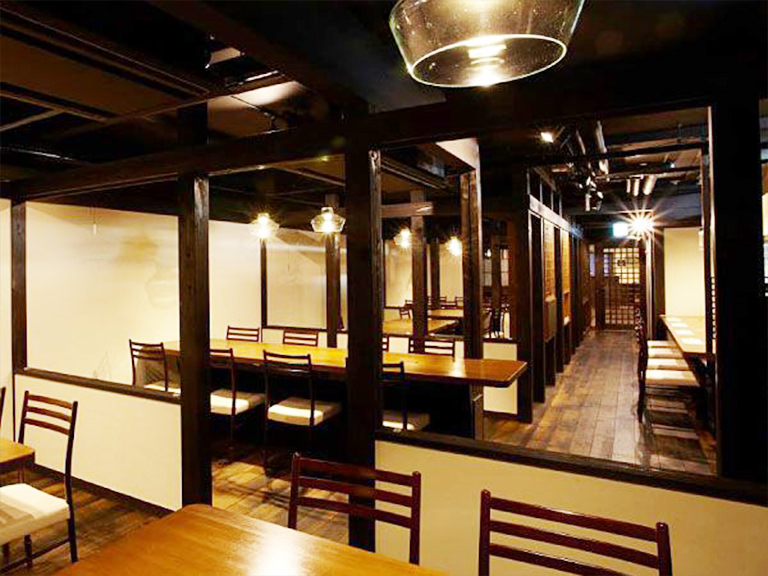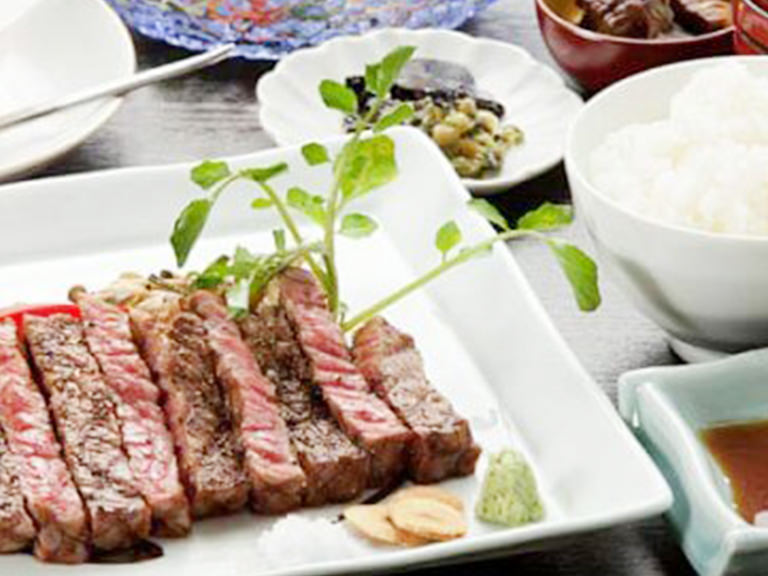 This prized variant of Wagyu beef is known for its marble texture and rich flavour, and is native to the Hyogo region. It is therefore no surprise that visitors to Toyooka can enjoy many opportunities to try this world-famous regional delicacy for themselves.
Stop by Irori Dining Mikuni in Kinosaki Onsen for a luxurious Tajima Wagyu lunch in a private dining space, served with rice, wasabi, sake and salt from nearby Takeno.
Learn the history of Tajima beef and professional beef cutting techniques from the restaurant's owner, a true beef sommelier. Don't forget to take your bag of local Takeno salt and chef's knife as souvenirs!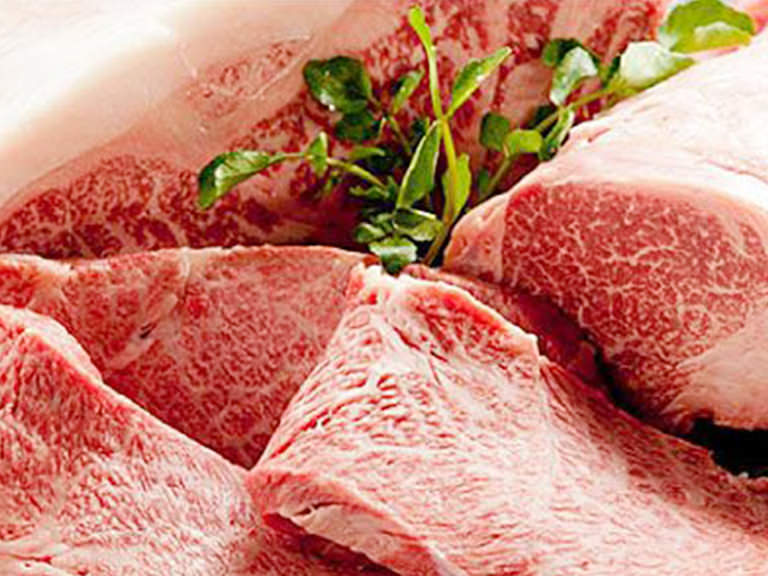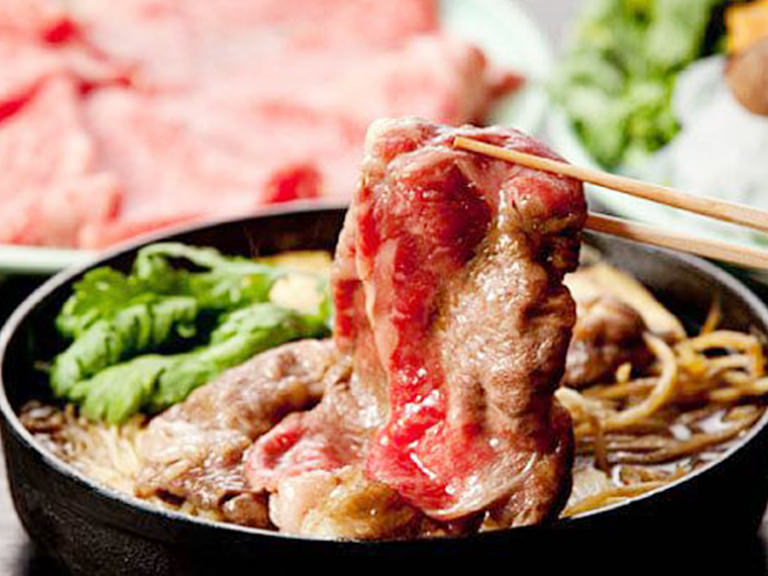 Okesho Sengyo's aquatic treasures
Another excellent opportunity for trying local cuisine would be to visit Kinosaki Onsen's Okesho Sengyo fish market. Browse their selection of in-season fish while the staff helps you pick the choicest items such as rockfish, freshwater clams, hairy stingfish and turban snails.
Then take your choice of seafood over to Tokiwa Garden's restaurant kitchen and learn how to make seafood okonomiyaki from one of Okesho Sengyo's fish vendors. Learn how to prepare the batter, make the sauce and shave bonito flakes to create one of Japan's signature dishes.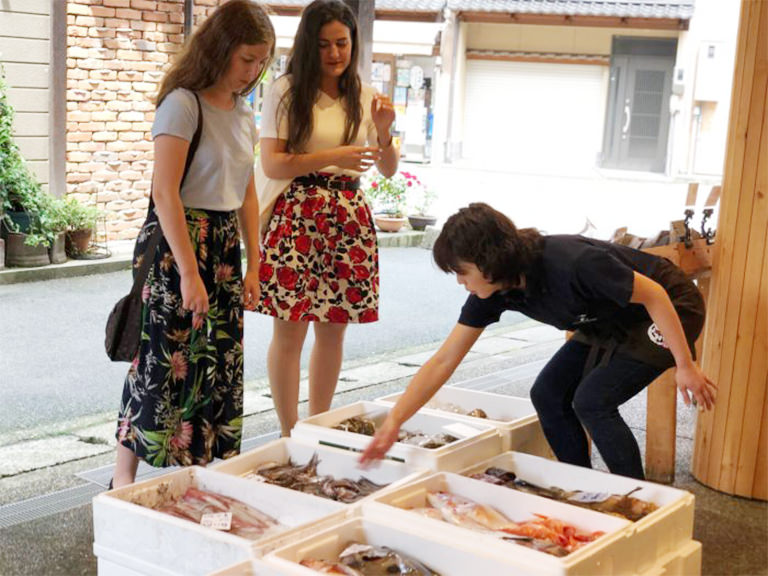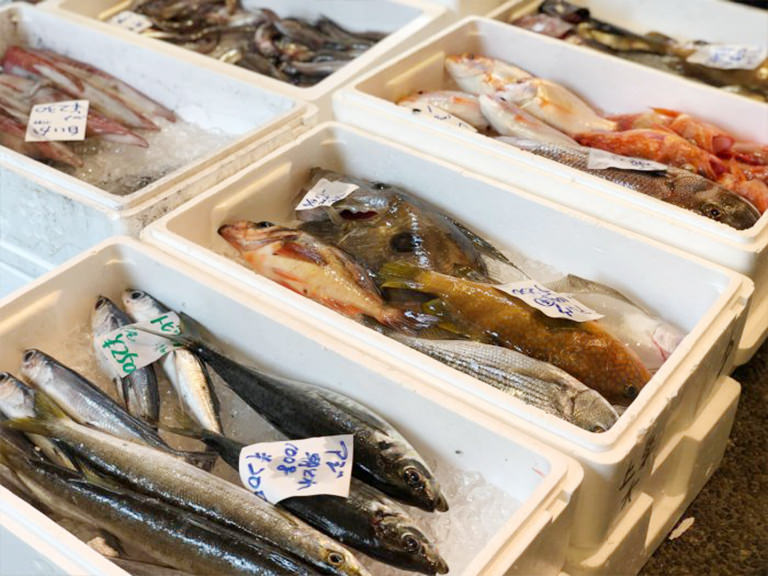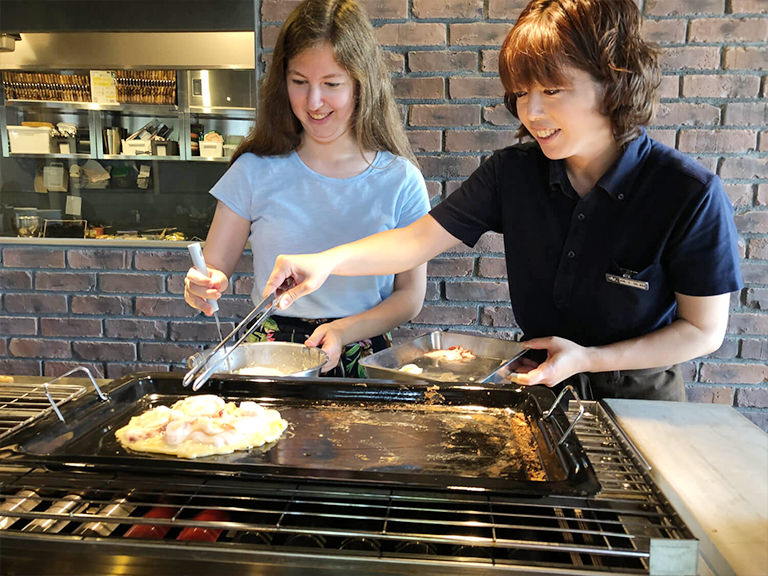 After all these culinary delights you might find yourself yearning for a chance to let your stomach settle a bit.
In that case, a visit to the Kamiya Mingei Shop might just be the thing you need. Kamiya Mingei Shop offers insights into the local straw craft art called Mugiwara Zaiku. Said to have originated from a visiting Tottori craftsman over three hundred years ago, the art of decorating items with coloured straw persists as a local speciality craft to this day.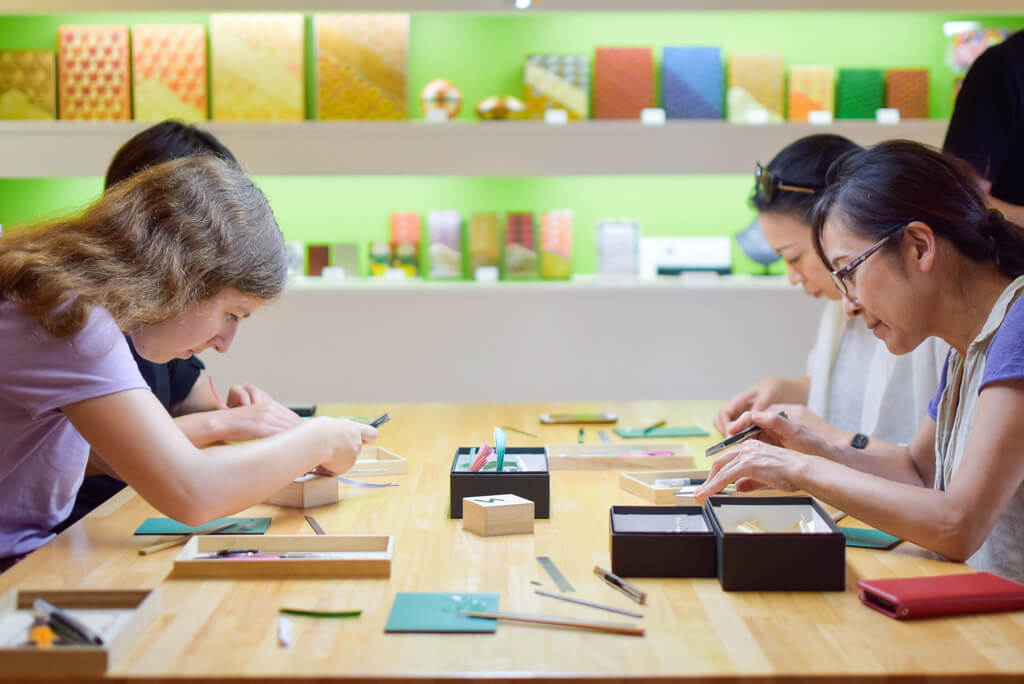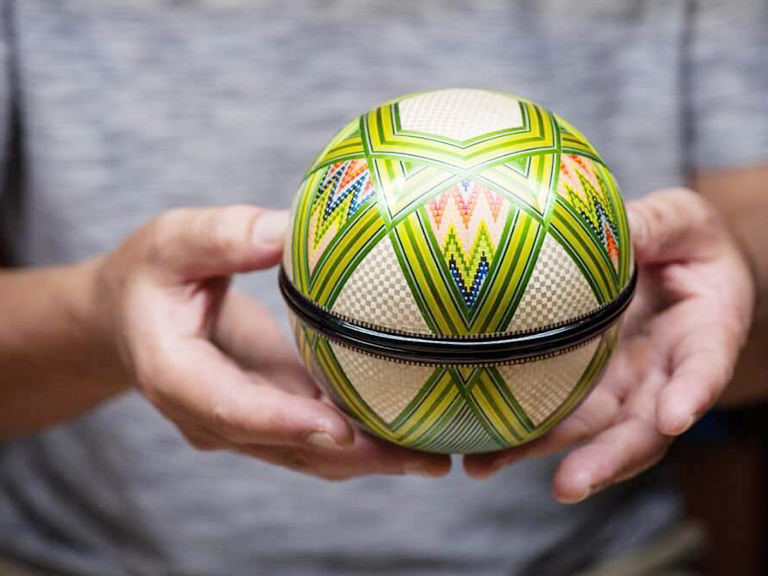 The healing powers of Onsen-ji Temple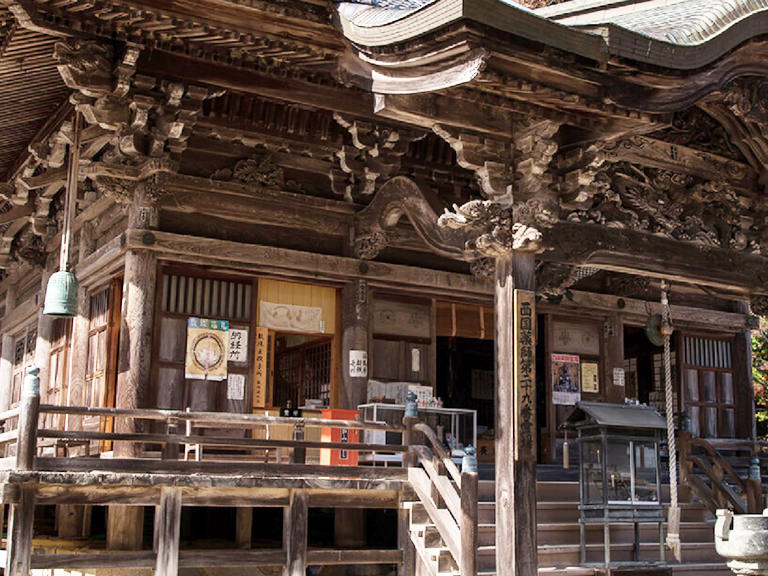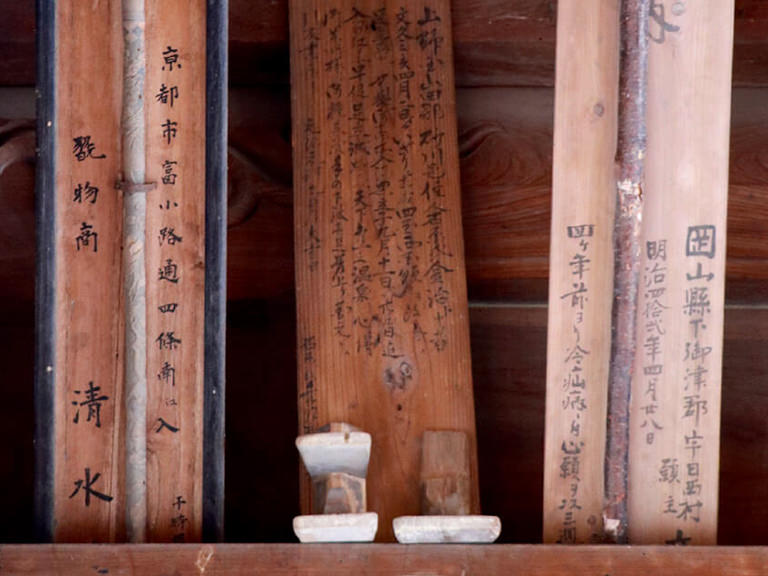 According to local tradition, visitors of Kinosaki's hot springs would first climb up to Onsen-ji temple, to ask for a blessing before entering the sacred healing waters.
Today, visitors can still perform this ancient ritual and ascend the many stone stairs leading up to the temple's main hall. Contained within is the famous Juichimen Kanzeon Bosatsu, known as the '11-faced goddess of compassion and mercy'.
A short thirty-minute hike will get you to the top of Mt. Daishi, overlooking Kinosaki Onsen. This is also where the top station of a ropeway lift is located, connecting this viewpoint through Onsen-ji temple with Kinosaki Onsen below. A great way to rest your legs and let yourself be carried down while enjoying the view!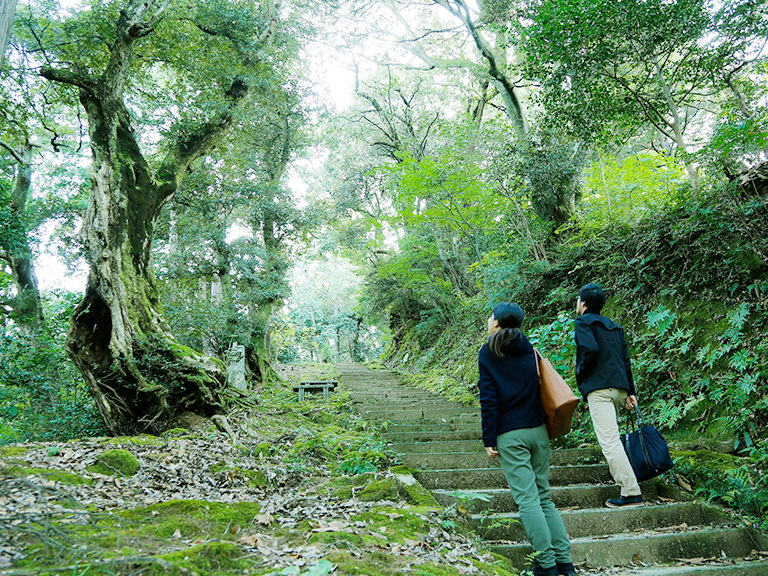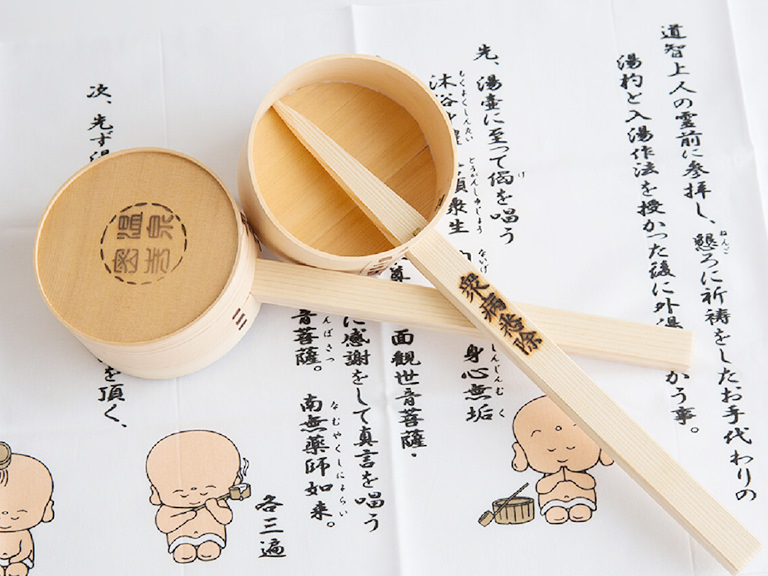 Cycling Kannabe's mountains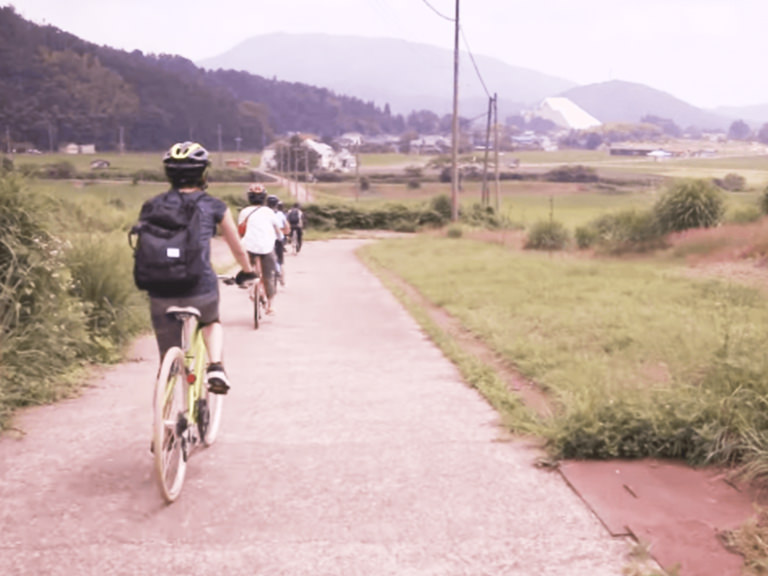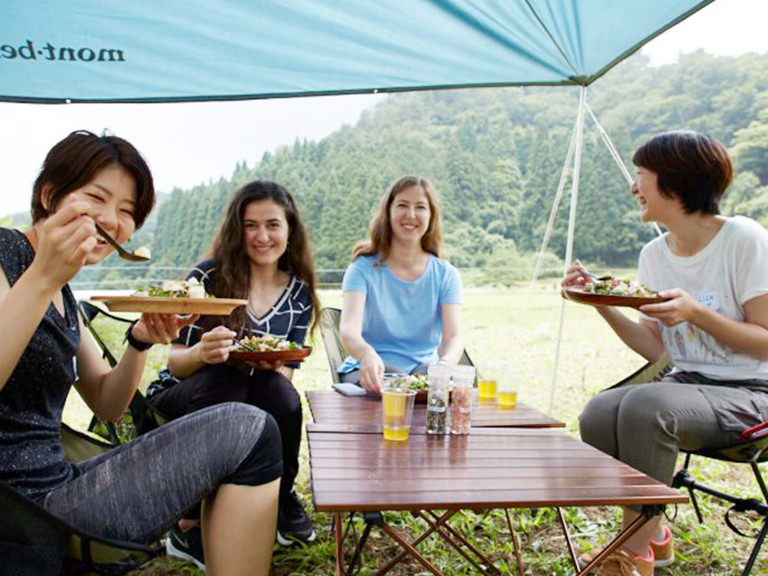 For the active minded visitors, the area around Kannabe Mountain is perfect for cycling, mountain biking and hiking. In summer you can climb up to the top of this dormant volcano and take in the magnificent sights of the area.
Rent a hybrid bicycle and explore paddy fields and hardwood forests as you take in the stunning sights of Toyooka's western mountains.
Pick local produce along the way and prepare it during a cookout at Rin-en farm. Finish your lunch and spend the afternoon swimming in a nearby waterfall to literally immerse yourself in the natural beauty this district of Toyooka is blessed with.
Return of the oriental stork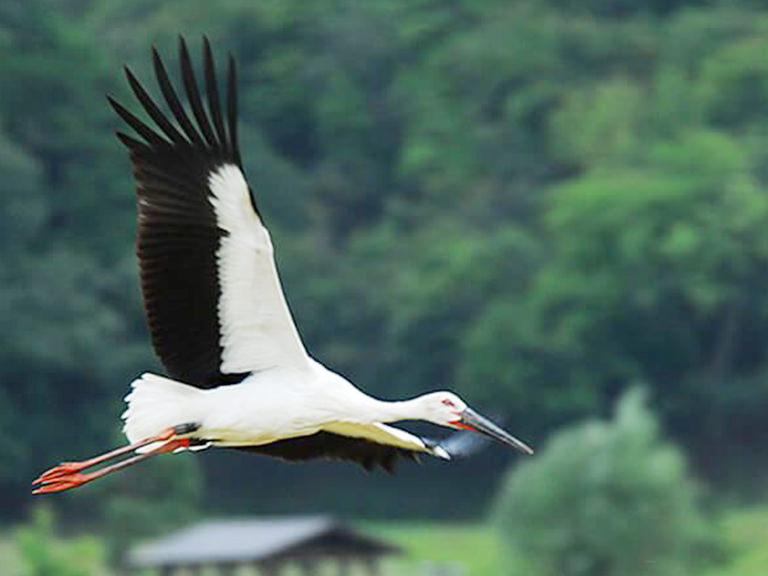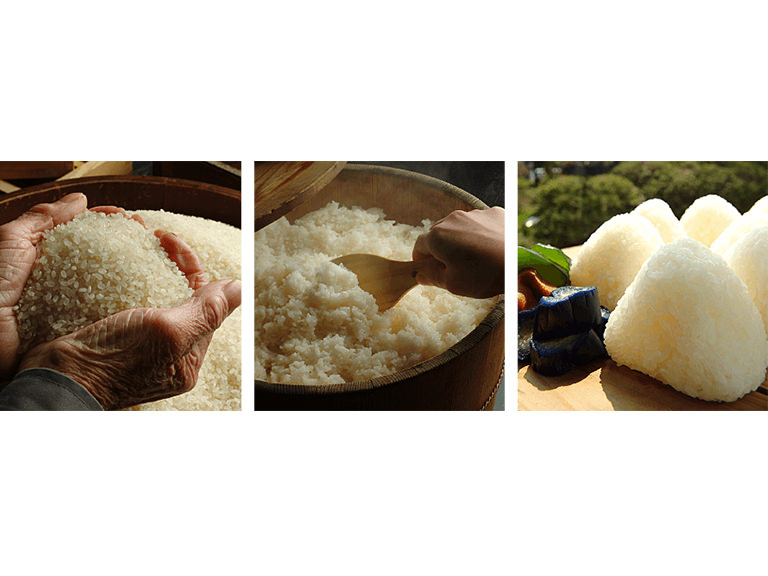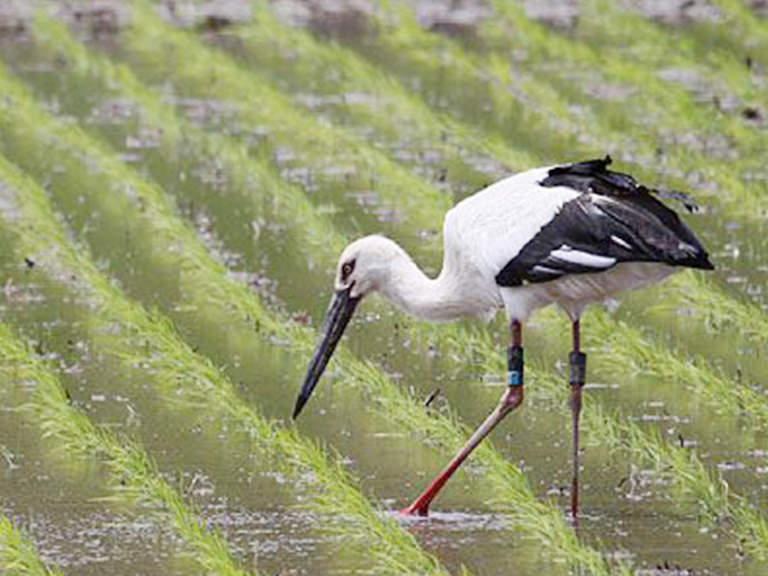 Speaking of natural beauty, Toyooka is also known for its preservation efforts that have brought back the oriental stork from near-extinction in the 1970's.
Thanks to programs reintroducing this subspecies of stork to the wild, you can now see these magnificent animals in Hyogo Park of the White Stork and the Hachigoro Toshima Wetlands during your visit to Toyooka. And for those looking to have children in the near future, it is said that spotting an oriental white stork brings fortune to those looking to expand their family. In any case, these preservation efforts have added yet another good reason to visit Toyooka City.
It is undoubtedly clear that Toyooka presents plenty of interesting opportunities for a fun day out. And although it might seem impossible to string all these activities together, it is perfectly feasible to create a suitable five-day itinerary to explore all the best Toyooka has to offer.
You could start by taking an early train to Kinosaki Onsen, for example. After arriving at Kinosaki Station, take a complimentary shuttle to Nishimuraya Honkan and spend the rest of the day settling in and enjoying tours of the premises. Perhaps you could try their private baths for a relaxing evening?
Get a good night's sleep and wake up early to start your second day with a short hike to Onsen-ji temple and the trails beyond. Hike or ride the gondola back down and refresh yourself in one of the local onsen before meeting Irori Dining Mikuni's owner for an exclusive Tajima Wagyu lunch. After lunch, make your way to the Kamiya Mingei  shop for a fun afternoon of arts and crafts.
Spend your third and fourth day exploring other parts of Toyooka, by renting a bicycle to explore the Kannabe district and visiting Hyogo Park of the White Stork and the Hachigoro Toshima Wetlands, for example.
Start your last day with a nice morning onsen bath, after which you can visit the Okesho Sengyo fish market. Chat with local fish vendors, select your favourite seafood and take a walk to Tokiwa Garden to learn how to prepare a seafood okonomiyaki lunch. Explore your spiritual side with a meditation session in Gokurakuji temple in the afternoon. End your stay by gazing out over the temple's zen garden while reminiscing on your memorable stay in this exceptional part of Japan.
COMMENTS