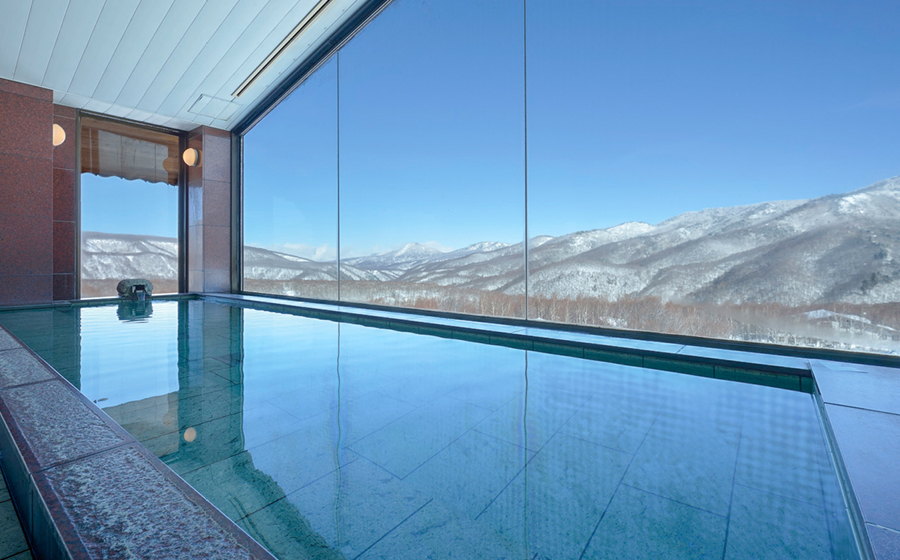 The word has long spread about this country's abundance of powder snow and there aren't too many places better suited to placing skiers and boarders right in the thick of it than the 1,500-metre high, Hotel Grand Phenix in Okushiga Kogen. Part of Japan's largest ski area, guests are assured to experience the duality of feeling right at home while enjoying a wonderful escape.
As the name may have already suggested, Okushiga Kogen is a part of the famous Shiga Kogen ski area, in the northern region of Nagano Prefecture and part of the Joshinetsu Kogen National Park. The region enjoys some of the country's, and indeed the world's, finest powder in terms of snow quality, with a great variety of runs suited to riders of all ages and experience levels.
Among it all sits Hotel Grand Phenix, an accommodation which holds a warm atmosphere within its European flavoured décor. Nestled in the Japanese mountains and using the "trees, stone and light" concept and plenty of timber to a particularly stylish extent, guests find a welcoming escape.
From the moment of enquiry and booking through to a comfortable stay and alas, eventually checking out, guests can expect a typically convenient Japanese experience. The hotel has English-speaking staff on hand to field email enquiries and assist with anything that may be required throughout. The recognised Shiga Kogen area is easily accessible upon reaching Japan. It and the Hotel Grand Phenix are a mere two hours from JR Nagano Station if taking the express bus or an hour and a half via taxi. Guests who prefer to drive from the airport will enjoy a simple five hours from Haneda Airport or six hours from Narita Airport. Check-in time at the hotel is from 4 pm, while check-out is a generous midday.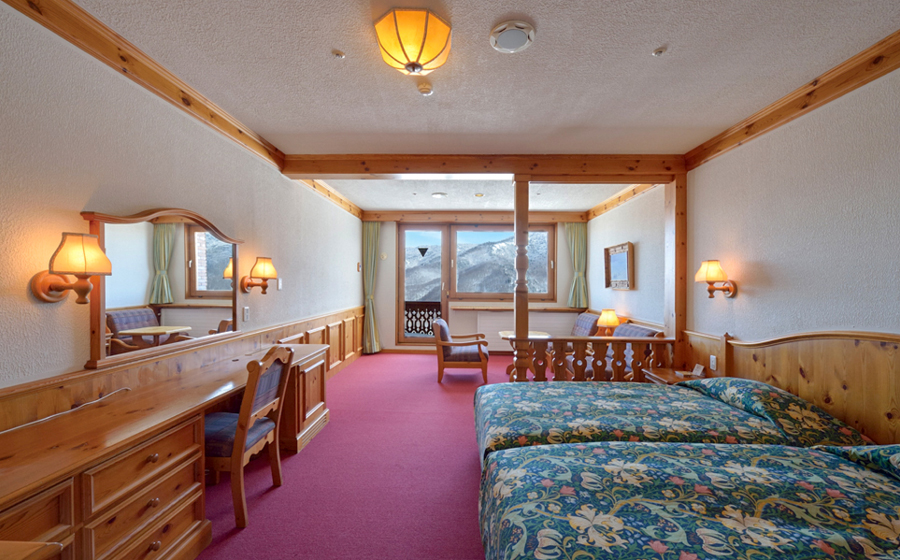 Each and every room at Hotel Grand Phenix is set up with comfort in mind and enjoys spaciousness and a balcony with a view. Even the sixteen Standard Twin rooms are a very comfortable 42-metre square each. There are also six deluxe twin rooms, five top floor twin rooms and a royal suite. In addition to the generous space of the western style rooms, there are two Japanese style tatami rooms among the variety of suites available at the hotel, both of which enjoy a traditional vibe and immersive views of nature immediately beyond the sliding glass doors.
Every room enjoys a balcony view from 1,500 metres up, while tall and wide windows are featured throughout the property. The restaurant and guest lounge area both feature six-metre-high windows gazing out upon the magical scenery of all seasons, be it predominantly white in winter or green over the warmer months.
Rooms at Hotel Grand Phenix start from ¥34,500 per night, with inclusive meal packages available; one night and two meals start at ¥26,700 per person. The hotel accepts all major credit cards including Amex and Diners. There are parking spaces available but the hotel is unable to offer courtesy pick-up services. Cancellation fees: one month before 20%, two weeks before 30%, the day before 60%, or same day cancellation at 100%.
The ski area hosts wide beginner slopes which whole families can cruise along, through to the advanced stuff like the Downhill which will surely provide a thrilling challenge to the most advanced skiers and boarders. The runs are split between 20% beginner, 60% intermediate and 20% advanced. As such, it's a family-friendly place which adequately accounts for kids and adults alike. Okushiga Kogen and the Hotel Grand Phenix allows families to visit for the thrill and fun of the mountain and stay for the comfort, convenience and delicious food.
The bonus for nature lovers or just those who are curious is that one of the draw cards of the Shiga Kogen area is its close proximity to the Jigokudani snow monkey park, home to the famous Japanese macaque. The park is the only place in the world where monkeys bath in hot spring waters and particularly during the snow season it's an attraction unto itself. People visit from all over just to see these cute little creatures go about their curious business.
Worth mentioning is the fact that the Okushiga Kogen area caters for all seasons, with green season activities during the warmer months. A burgeoning mountain biking scene is showing itself in this part of Japan, adding to the fantastic trekking and trail running adventures the area hosts. It is during the warmer months where a different mix of domestic and international tourism lends itself to a slightly more immersive cultural experience in addition to access to the majestic green season sights.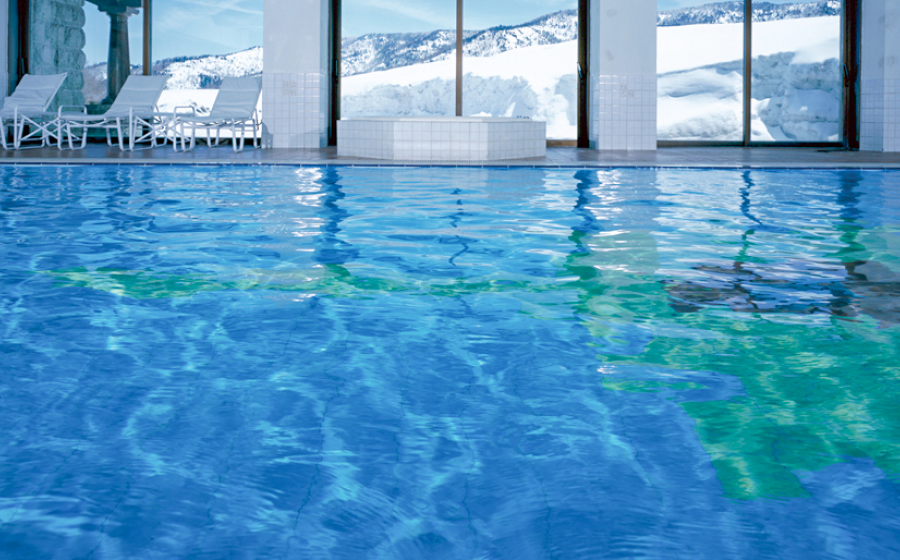 When considering that Okushiga Kogen is both a winter sports freak's paradise and an outdoor enthusiasts playground, it makes sense that Hotel Grand Phenix is a dream refuge for each. On the fourth floor is where hotel guests will find a large common both with an adjoining sauna. From each, windows look out across Okushiga Kogen, affording guests a view to go with their supreme relaxation. There is also a heated indoor swimming pool within the hotel.
During the winter season, skiers and boarders can make use of modern rental facilities offering the latest additions to world-class brands of equipment. Right in front of the entrance and very close to the slopes, a locker room ensures riders may ski-in and ski-out with ease. An outlet store sells a whole variety of ski wear, accessories and other sportswear.
When not out enjoying everything the mountain has to offer, chefs at both of the hotel's restaurants are on hand to prepare some truly fantastic dishes with Italian, Chinese and Japanese flavours. They make sure to use fresh products from all over Japan, a country which has become synonymous with great modern day cuisine.
Beyond the skiing, boarding and eating, there is also a bar and a guest lounge with a big Swiss fireplace; the perfect place to enjoy a drink and reflect upon an energetic day on the slopes. Ever since its opening on the 5th of January, 1994, Okushiga Kogen's Hotel Grand Phenix has been priding itself on providing a home where guests can absorb everything the area has to offer, be it during the ski season or the warmer months.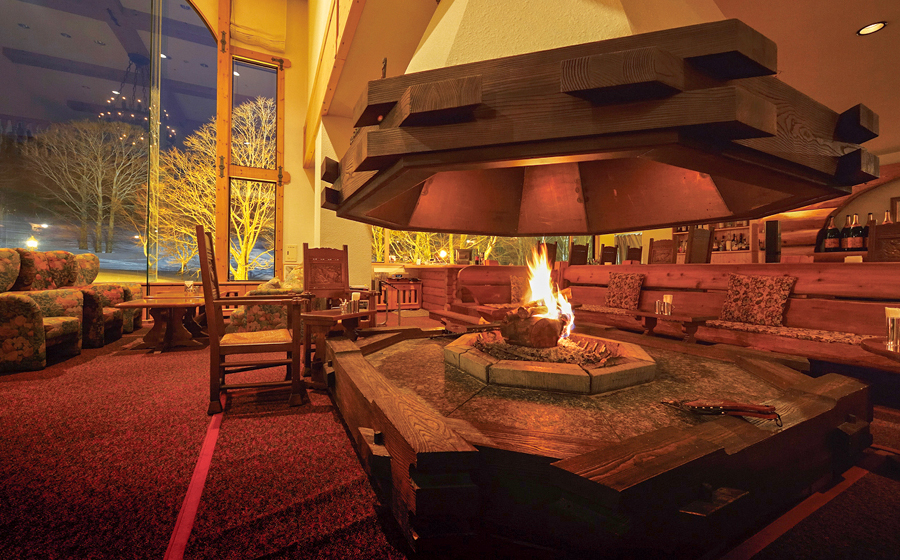 Hotel Grand Phenix
Okushiga-Kogen, Yamanouchi-machi, Shimotakai-gun, Nagano
Phone: +81-269-34-3611
Email: gphenix@hotelgrandphenix.co.jp
http://www.hotelgrandphenix.co.jp
REGION INFORMATION
COMMENTS