The Hotel Mont Blanc Hakuba Group is made up of four different accommodations in Hakuba. Each has their offer something unique so between the four, there's definitely something for everyone. There are three hotels, Mont Blanc, Sejour Mint and Hakuba Familia, as well as a cottage known as Hakuba Vacation House.
What you can expect at all of them is fantastic service and a comfortable home away from home during your holiday in Hakuba.
---
Hotel Mont Blanc Hakuba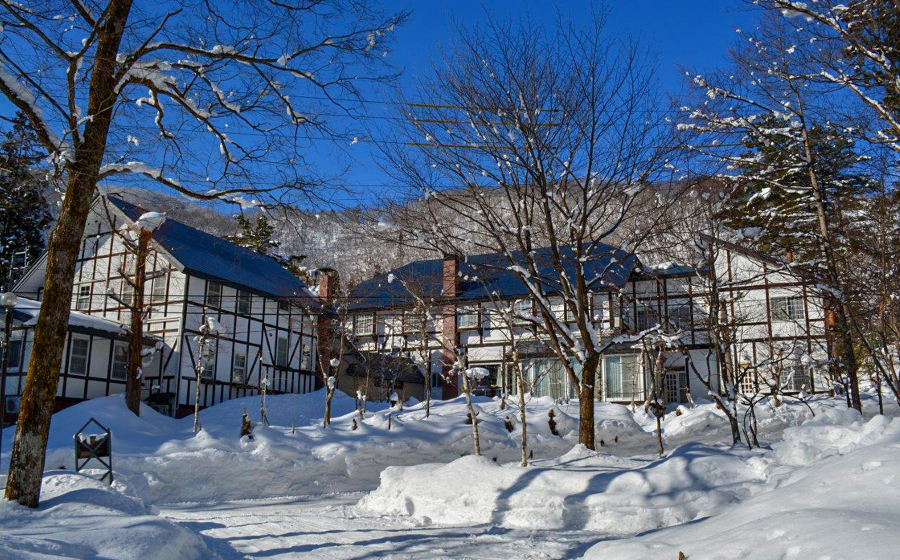 Hotel Mont Blanc Hakuba is one of the top ranking hotels in Hakuba on TripAdvisor, and they've not only received a Certificate of Excellence every year, but last year they even won the Trveller's Choice award. The reason for such winning reviews come from the combination of great service, location and facilities.
The hotel is located within 7 minute walking distance of Hakuba Goryu Ski Resort – they even provide a courtesy shuttle bus down to the resort's lift ticket office, so you can be on the snow within minutes of leaving the hotel. With prior notice they'll also arrange courtesy pick up service between near by stations and restaurants!
You'll have plenty of options in where to eat in the neighbouring area – there are tons of restaurants within a 5 minute walk. You can also enjoy a delicious dinner and buffet style breakfast at the hotel's restaurant. For those with any specific dietary requirements, the restaurant will happily accommodate any request so long as they are given notice – a very helpful service especially for vegetarian travellers.
For activities off the snow you can enjoy a nice long soak in the hotel's bathhouse or the hotel provides courtesy buses to and from Hakuba's largest open air bath at Ryujin Onsen in the late afternoons. Right across the road from the hotel is Tracks Bar, which is very popular amongst foreign visitors in Hakuba. The bar stays open until 2am each night and it makes for the perfect place to exchange info and make connections with likeminded travellers.
The interior of the hotel is clean and simple; the rooms come complete with convenient amenities including a fridge and electric kettle, plus your very own bathroom. Guests also get free Wi-Fi access too. For all of your gear, there's an equipment storage room to store and dry your wet gear in – so you can enjoy plenty of space in your room. If you're planning on staying a while at the hotel, there's even a coin-operated laundry within the hotel facilities.
There are foreign staff that can speak English, Portuguese and Spanish at the hotel, and they are ready to jump in and help you with anything from booking restaurants reservations to directing you to the best resorts in the area. At the concierge you can also purchase a discounted lift tickets to the nearby ski resorts.
With such great reputation for service, you can arrive in Hakuba knowing that you'll have an easy and comfortable stay at Hotel Mont Blanc.
Hotel Mont Blanc Hakuba
22200-8 Kamishiro, Hakuba, Nagano
Phone: +81-261-75-2550
Email: info@hakubagoryu.net
English enquiries: djsoulza@msn.com
http://hakubagoryu.net
---
Hotel Sejour Mint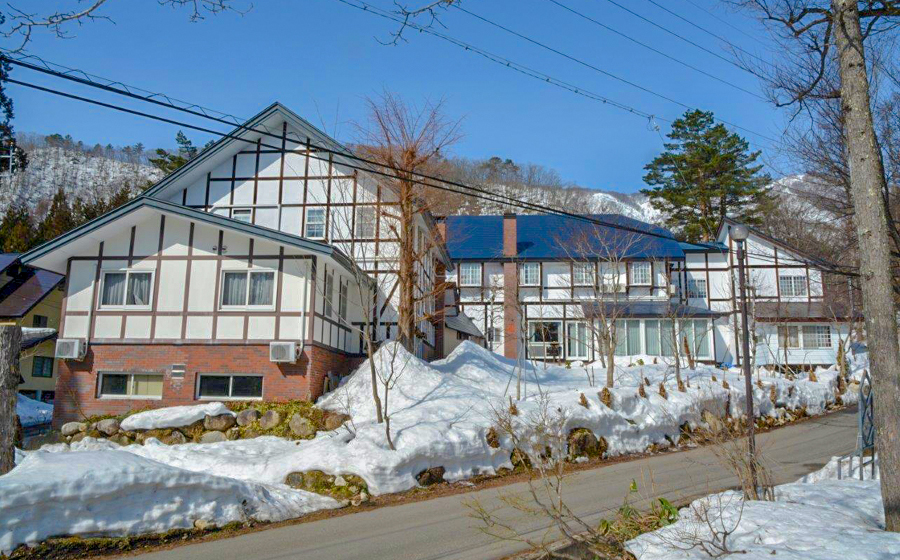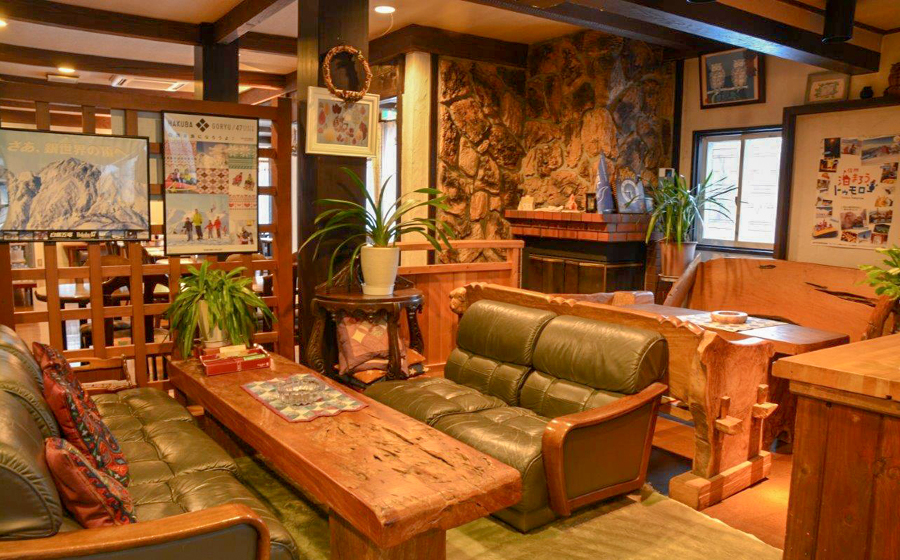 Just 150 metres down the road from Hotel Mont Blanc and 500 metres from Hakuba Goryu is Hotel Sejour Mint. A cosy log cabin style building that holds 19 rooms comfortable rooms.
The hotel has 24 hour reception so no need to worry about your time of arrival. With prior notice they offer courtesy pick up from Kamishiro station, the Hakuba Goryu bus stop or from the Echoland bus terminal. For larger groups they can arrange charter buses from Narita or Haneda airport too. Plus free parking is available for guests.
Access is one of the best parts of staying at Hotel Sejour Mint. The neighbouring area is full of restaurants within 5 minutes walking distance, as well as several pick up spots for shuttle services going to nearby ski resorts. From the Hakuba Goryu bus stop, just 150 metres from the hotel is where you can catch buses to Happo, Hakuba Iwatake or the Tsugaike Cortina ski resort.
If you're looking for more activities off the snow, why not go see the adorable snow monkeys? The friendly, English speaking staff will help you book the tour and the tour bus will pick you up from the hotel and take you directly to Snow Monkey Park.
Many of the reviews of Hotel Sejour Mint on TripAdvisor give great praises of the staff. Much like Hotel Mont Blanc, you can expect to be well looked after from the moment you arrive until the your very last wave goodbye.
Hotel Sejour Mint
22201-68 Kamishiro, Hakuba, Nagano
Phone: +81-261-75-3250
Email: info@hakubamint.jp
https://booking.hakubamint.jp/en-gb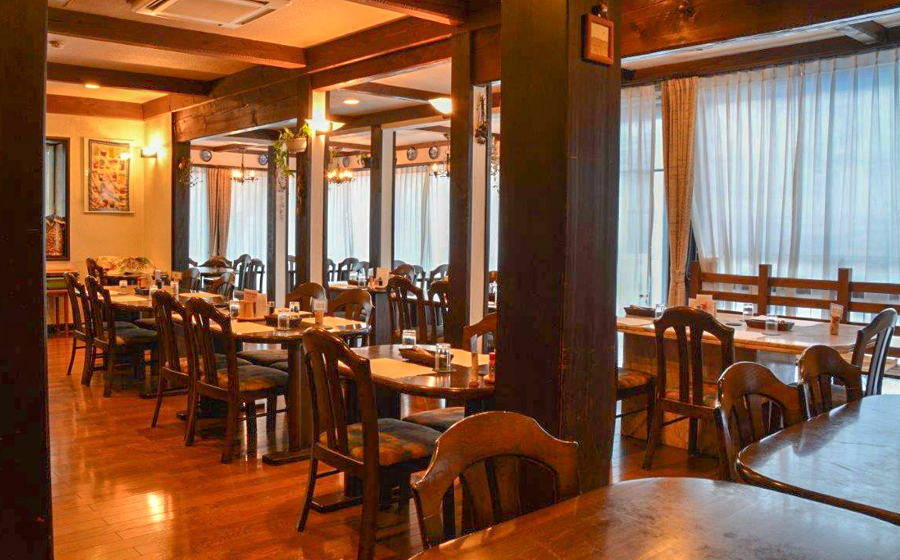 ---
Mont Blanc Hakuba Familia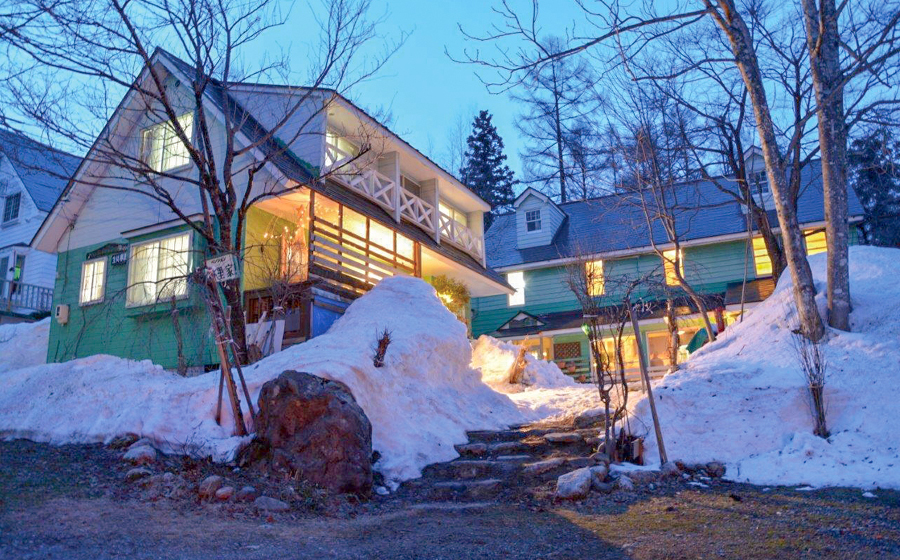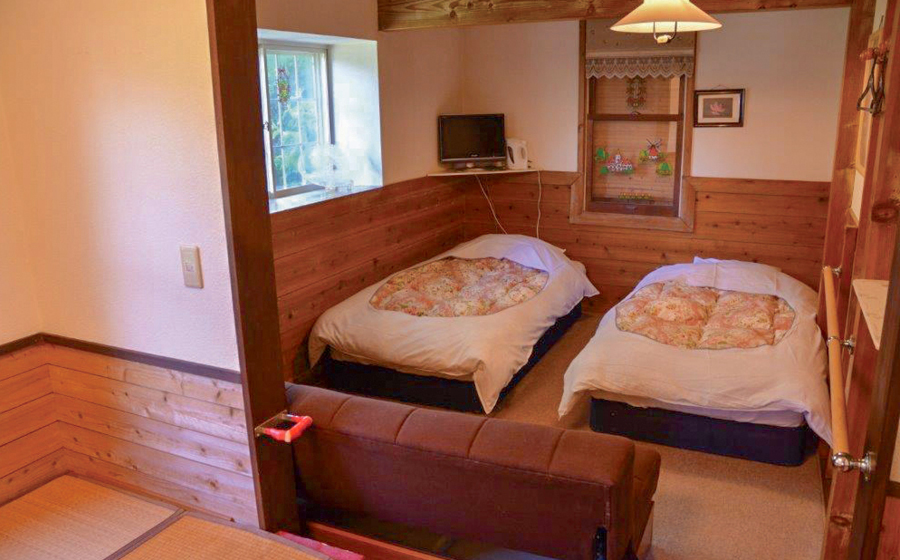 Hakuba Familia is the closest location to Hakuba Goryu out of the three hotels of the Hotel Mont Blanc Hakuba group. Much like the other locations do, they also offer courtesy pick up and drop offs from the local stations and bus stops to ensure you begin your holiday with ease.
This hotel has a more casual feel compared to the other two locations, and the rates are an at a more reasonable rate. They offer larger rooms that accommodate up to 6 people and also available are adjoining rooms which will accommodate 7 people in total. Most of the rooms here are designed in a western style with beds, and some come complete with private bathrooms complete with a tub.
While staying at Hakuba Familia, one thing you don't want to miss out on is having some quiet time and relaxing in one of their two hot spring baths. There's the aromatic Japanese cypress bath and a stone tiled bath – both can be enjoyed in private after 8pm – just book in with the reception ahead of time.
Thanks to their affordable rates and convenient facilities such as their laundry facility, Hakuba Familia would be suitable for younger travellers or those who are coming to stay in Hakuba for a while.
Mont Blanc Hakuba Familia
22201-65 Kamishiro, Hakuba, Nagano
Phone: +81-261-75-2275
Email: info@hakubafamilia.com
http://hakubafamilia.com
---
Mont Blanc Hakuba Familia Vacation House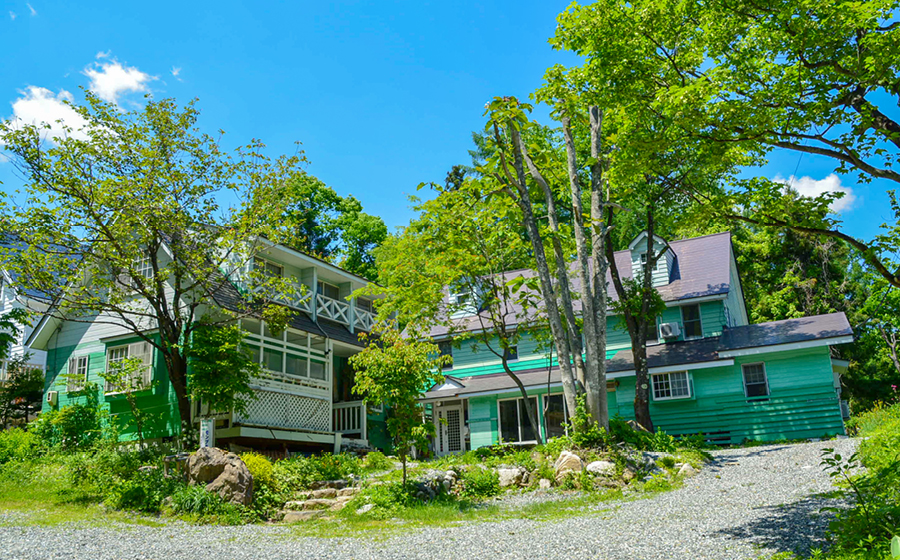 The Hotel Mont Blanc Hakuba Group also offers a cottage style vacation home, suitable for those travelling with a group. The Hakuba Familia Vacation House is right next to the Hakuba Familia Hotel so you've got access to all of the local restaurants and bars, as well as access to Hakuba Goryu within minutes.
Up to 13 people can be accommodated at this two storey cottage. It is fully self contained complete with kitchen and bathroom, plus a washing machine. On the first floor is the triple western style room, a kitchen, a bathroom complete with a shower and tub as well as standard bathroom amenities.
Up on the second floor there are two Japanese style rooms that sleeps up to 5 per room, and also a toilet with a laundry attached.
There is free Wi-Fi available at the house of course which is a welcome amenity for any modern traveller, and of course you'll be able to keep warm with the air-conditioning available throughout the rooms.
In addition there is a free parking lot for guests who are staying at Vacation House. So why not add more freedom to your holiday by renting a car and living it up like a local. The Happo-One resort and Lake Aogi is just 20 minutes drive and the highlands of Tsugaike Kogen is 30 minutes away. There are lots to be discovered by car in the area as well.
Having your own self-contained vacation home while in Hakuba will guarantee you many freedoms. You don't have to adhere to any schedule but your own, and you can spend as much time as you'd like on the slopes and still return to a cozy, comfortable accommodation without the worry of the bathhouse closing or missing out on meal time.
If you run into any trouble or need assistance with exploring Hakuba, you can pop over the Hakuba Familia, and their friendly staff – both English and Chinese speakers available – will happily assist you with your needs.
Mont Blanc Hakuba Familia Vacation House
22201-65 Kamishiro, Hakuba, Nagano
Phone: +81-261-75-2275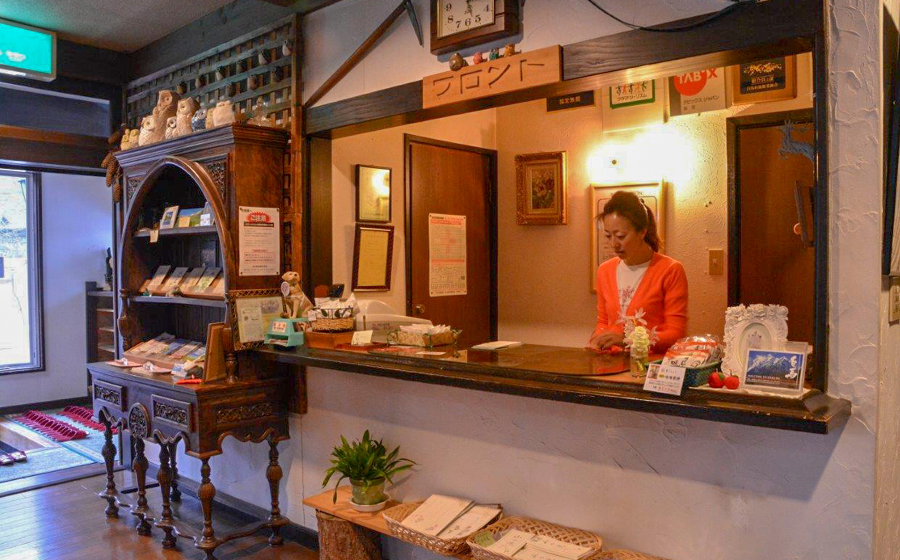 REGION INFORMATION
COMMENTS