Whenever people mention Fukuoka Prefecture, most people think about the delicious food they can eat. With local dishes ranging from mouthwatering ramen to perfectly grilled yakitori, Fukuoka is truly a food heaven that will never let you down. In this Fukuoka food guide, we share the 10 best foods in Fukuoka you cannot miss.
---
1. Hakata Ramen
When you talk about food in Fukuoka, you certainly won't want to miss Hakata ramen. Hakata ramen which originates from Fukuoka is well known for its thin and straight noodle as well as its thick and creamy Tonkotsu soup (made from pork bones). In fact, you can find ramen shops on nearly every corner, so how do you choose the best ramen shop in Fukuoka? Don't worry we've got you covered! Here is the Hakata ramen you must try.
[Ikkosha]
Ikkosha is one of the most famous Hakata ramen chains in Fukuoka and serves the all-time classic Hakata ramen you need to try. The creamy pork broth is seasoned with 3 kinds of locally produced soy sauce and served with firm, homemade noodles topped with sliced pork and a bit of spring onion. If you have a chance to try Hakata ramen, don't forget to get some gyoza as well to enhance your Fukuoka experience!
【Website】http://www.ikkousha.com/english

【Address】1-1 Hakataekichuogai, Hakata Ward, Fukuoka [Map]

【Opening Hours】11:00-24:00

【Price】¥900~
2. Motsunabe
You may not have heard of motsunabe before but it is a beloved dish in Fukuoka. motsunabe usually comes in a shallow pot and includes beef, pork or chicken offal flavoured with soy sauce (sometimes miso broth) topped with cabbage, garlic and chives. Chanpon noodles are often added towards the end to complete the dish.
[Yamanaka]
Yamanaka, the most famous and top-ranked motsunabe restaurant in Fukuoka is located in Akasaka. Their motsunabe tastes very mild and the offal melts in your mouth. It is very busy, especially during the weekend, so please make sure to book a table prior to your visit!
【Address】2 Chome-2-12 Mukaino, Minami Ward, Fukuoka, 815-0035 [Map]

【Opening Hours】17:00-23:00 (Weekend/Public holiday 16:00-23:00)

【Price】¥4,500~
3. Yakitori
Yakitori (chicken skewers) is also one of Fukuoka's well-known specialities that is loved by both locals and tourists. You have probably eaten yakitori in Tokyo, Osaka or other cities in Japan. However, yakitori in Fukuoka is a bit different than the others. What is special about yakitori restaurants in Fukuoka is that you will be first served a plate of cabbage drizzled with special tare sauce. Then, once you order yakitori, it will be served on the top of the cabbage.
[Yakitori Hachibei]
Yakitori Hachibei has a long-standing history dating back to 1983. They first opened in Maebaru (Itoshima, Fukuoka) and later on they opened their second restaurant in Tenjin, the centre of Fukuoka in 2000. At Yakitori Hachibei, you can enjoy a wide range of yakitori usually at around ¥150-¥360 each. If you don't know which one to try, you can order assorted yakitori which includes the most popular types of yakitori. The restaurant is pretty busy even during the weekdays, so you might need to make a reservation beforehand.
【Website】https://hachibei.com/en/

【Address】2-5-28 Imaizumi, Chuo-ku, Fukuoka-shi, Fukuoka [Map]

【Opening Hours】 18:00 – 1:00 (L.O. 24:30 )

【Price】¥3,500~
4. Mentaiko
Looking for some omiyage (souvenirs)? Mentaiko is the perfect gift for anyone! You can find it everywhere in Fukuoka from fish markets to supermarkets to souvenir shops, even at the airport.
Mentaiko, which is cod roe marinated in chilli pepper sauce, is commonly eaten together with warm rice. It is also incorporated with other dishes such as pasta, pizza, tamagoyaki and so on. If eating mentaiko isn't enough for you, you can also see how mentaiko is made at Fukuoka Mentaiko Factory.
[Ganso Mentaiju]
Ganso Hakata Mentaiji is the very first restaurant in Japan specialising in mentaiko. It is located in the centre of the city and is easily accessible. The speciality here is mentaiju, a piece of mentaiko served with white rice topped with nori seaweed and special sauce, served in a fancy white bento box. The restaurant also has a little shop that sells various tasty mentaiko treats, such as mentai-sausage etc.
【Website】http://www.mentaiju.com/mentaiju?wovn=en

【Address】6-15 Nishinakasu, Chūō-ku, Fukuoka, 810-0002 [Map]

【Opening Hours】7:00~22:30 (L.O. 22:00)

【Price】¥3,380~
5. Gyoza
Gyoza is a perfect snack that goes great with beer. Many people like gyoza as Japanese cuisine, but you might not know that Fukuoka is one of the best cities for finding delicious gyoza. The difference between gyoza from other areas and Hakata gyoza is the size. Hakata gyoza is a little bit smaller than regular gyoza and is commonly referred to as 'bite-sized gyoza'.
[Tetsunabe]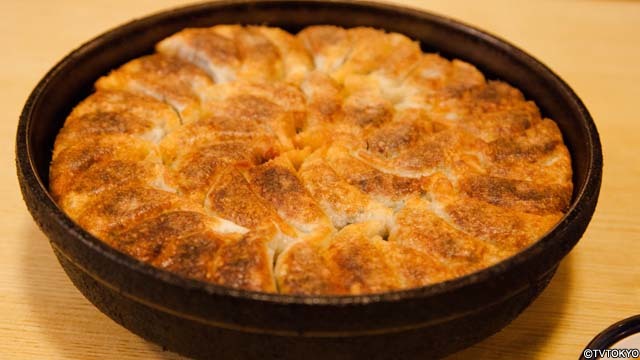 This is a restaurant widely known for grilling and serving their dumplings on a tetsunabe (iron plate), which is where they get their name from. They first started serving gyoza in the iron frying pan in order to keep their gyoza sizzling hot even in the cold night and this serving method has carried on to this day. The gyoza itself is crunchy with a thick skin and the inside is filled with juicy ingredients. You surely don't want to miss this delicious gyoza. Don't forget to also try their house yuzu pepper dipping sauce, which goes very well with gyoza.
【Address】2-20 Gionmachi, Hakata Ward, Fukuoka, 812-0038 [Map]

【Opening Hours】7:00~22:30 (L.O. 22:00)

【Price】¥4,70~
6. Mizutaki
When people think about hot pot dishes in Fukuoka, motsunabe might come to everyone's mind first, but mizutaki is also a popular dish among locals. Mizutaki is a delicious hot pot dish made by slow cooking chicken and vegetables together in a thick chicken broth. This delicious Fukuoka speciality will warm your body and mind up during winter.
[Mizutaki Nagano]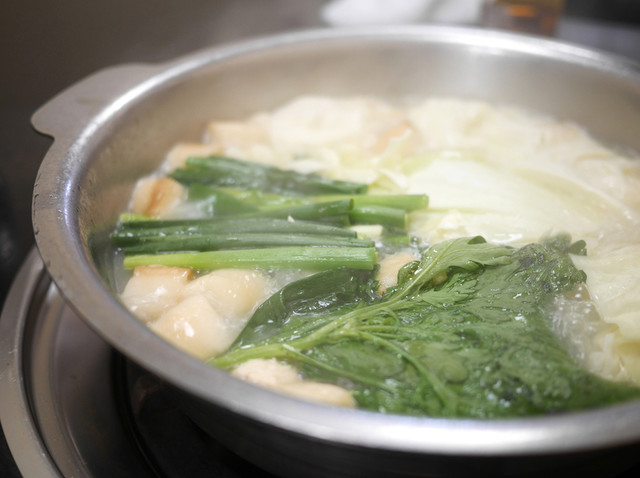 Mizutaki Nagano is a hugely popular restaurant and was established over 90 years ago. The most popular style is to eat it with a light chicken broth soup, fresh chicken on the bone along with minced chicken balls. Pair it with a homemade vinegar soy sauce to bring out a more delicious flavor.
【Address】1-6 Tsumashoji, Hakata Ward, Fukuoka, 812-0020 [Map]

【Opening Hours】noon-22:00 (L.O. 21:00)

【Price】¥3000~
7. Seafood
Seafood in Fukuoka is very fresh yet affordable as the city is facing Genkai Sea. You cannot leave Fukuoka without tasting their local sushi!
[Hyotan Sushi]
Hyotan Sushi located in the central city, Tenjin, is popular and has many local fans. For lunch, you can get assorted sushi that comes with selected fish and Japanese soups for only ¥1,000. If you want something a little bit more luxurious, you can also order the day's special, a selection of seasonal fish for ¥2,750. During lunchtime, people usually wait in line to eat this delicious sushi.
【Address】2-10-20 Shintenkaku Bldg. 2 to 3F, Tenjin, Chuo, Fukuoka 810-0001 Fukuoka Prefecture [Map]

【Opening Hours】11:30-15:00/ 17:00pm-21:30

【Price】¥3,000~
8. Udon
Although you may probably think of ramen when thinking about Fukuoka cuisine, udon is also a popular dish in Fukuoka. It is said that Fukuoka was the first place where udon noodles were brought to Japan from China. Fukuoka's udon noodles have a softer texture than udon from other regions. You may find many udon restaurants and if you don't know which one to try, try Fukuoka's oldest udon restaurant, Karo no Uron.
[Karo no Uron]
Karo no Uron is the oldest udon restaurant in Fukuoka and was first established in 1882. Their udon is served with a light tsuyu soup, which is made from kelp, iriko and katsuobushi. These high-quality ingredients give a lot of umami essence to bring out the best of delicious udon noodles. Their gobo-ten (tempura burdock served on top of udon noodles) or maruten (fish cakes on top of udon noodles) are the two most popular udon dishes that you can try!
【Address】2-1 Kamikawabata, Hakata, Fukuoka, Fukuoka [Map]

【Opening Hours】 11:00 – 19:00 (The restaurant closes for the day once they have sold out.)

【Price】¥1,000~
9. Umegae Mochi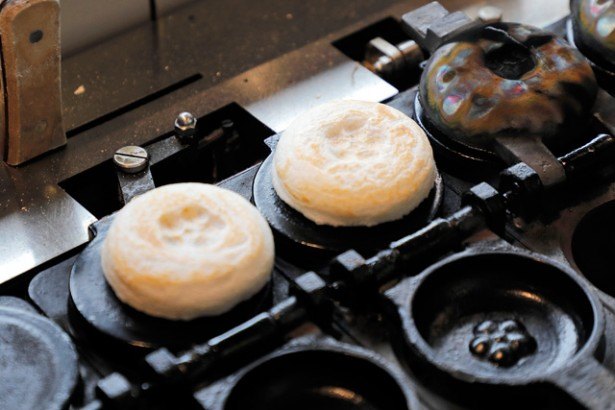 Umegae mochi, a sweet dumpling filled with red bean paste and wrapped in mochi, is a must-try sweet in Dazaifu, a city famous for its shrine. Though the name, umegae mochi translates to plum and rice cake, it doesn't contain any plum at all. The name is inspired by the story of Sugawara no Michizane, the god of learning, who was a scholar during the Heian Period who loved plums from Kyoto. On the way up to Dazaifu Tenmangu, you can find many local shops offering umegae mochi.
【Address】4 Chome-7-1 Saifu, Dazaifu, Fukuoka 818-0117, Japan [Map]

【Price】¥120~
10. Hakata Amaou
Fukuoka is one of the top strawberry producers in Japan and Amaou is the best strawberry brand, backed by over six years of research and development. The name, Amaou is an acronym for red, well-rounded, very sweet, large and delicious in Japanese.
[Itokingu]
For an even more delicious Amaou experience, try some of the Amaou sweets at Itokingu. Their speciality products made with locally produced Amaou strawberries comes with a variety of sweets. Their Amaou dorayaki (Japanese red bean pancake), which are big, sweet Amaou strawberries covered with whipped cream, red beans and fluffy pancakes, are to die for.
【Address】2-1 Kamikawabata, Hakata, Fukuoka, Fukuoka [Map]

【Opening Hours】 11:00 – 21:00

【Price】¥410~
---
Just by looking at these dishes from Fukuoka, you might be getting hungry. Well, you are not alone! What is your favourite Fukuoka food? Feel free to leave comments below and don't forget to follow our Instagram, @gdayjapan to find inspiration for your next Japan trip.