Capital of an outdoor paradise with deep Buddhist roots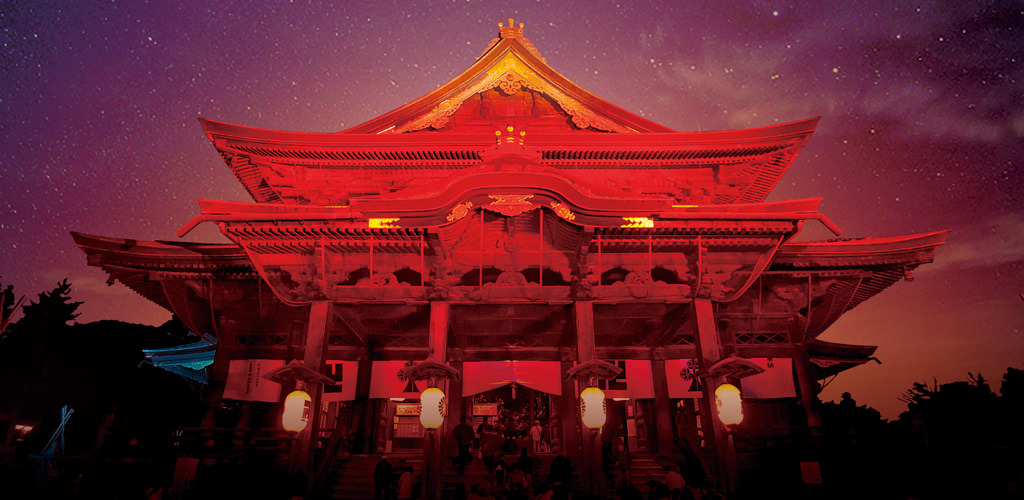 Zenkō-ji, a 1,400 year-old Buddhist temple, is the traditional soul of Nagano. A highland capital in the Japan Alps, the city grew up around this sacred storehouse of the Ikkō Sanzon Amida Nyorai, a Buddhist image believed to be the first ever brought to Japan.
Despite the steep terrain around Nagano in Nagano Prefecture, which is home to 15 peaks in the 3,000-metre range, pilgrims have traditionally travelled from far and wide to the hallowed halls of Zenkō-ji; today, it is still a fantastic place to experience a stay at a traditional Japanese temple lodging, joining monks for meditation and 'shōjin-ryōri' vegetarian cuisine.
Whether you stay in a temple or not, follow in the footsteps of the ancients, and descend the staircase beneath the main hall of Zenkō-ji. What lies beneath in the darkness, somewhere below the altar, is a key of enlightenment; reach out for it as you file through the corridor.
Above the ground, the surrounds of Zenkō-ji are lined with stalls for Binzuru-ichi market, an interesting and delicious source of local craft and fresh wagashi sweets; other local foods to enjoy about town include Shinshū soba, fresh and flavoursome buckwheat noodles, and oyaki, buckwheat dumplings with sweet and savoury fillings.
The samurai estates and temples in the Matsushiro Castle area are another essential stop in Nagano, which features pristine traditional architecture and gardens with glorious cherry blossoms.
The journey to Nagano from Tokyo is now just 90 minutes on the Hokuriku Shinkansen bullet train, which was completed for the 1998 Winter Olympics in Nagano Prefecture. Nagano's Buddhist and Winter Olympic heritage are celebrated every February in the Nagano Tōmyō Festival at Zenkō-ji, which will run from February 11 to 19 in 2017. A major highlight on its winter event calendar which includes an art exhibition, the festival bathes the temple grounds romantically in the five Olympic colours, honouring the Olympic spirit with 'lights of peace'.
How close is Nagano to?
Tokyo: 1 hr 28 min; Kanazawa: 1 hr 6 min
Further Information
REGION INFORMATION
COMMENTS