DISCOVER MORE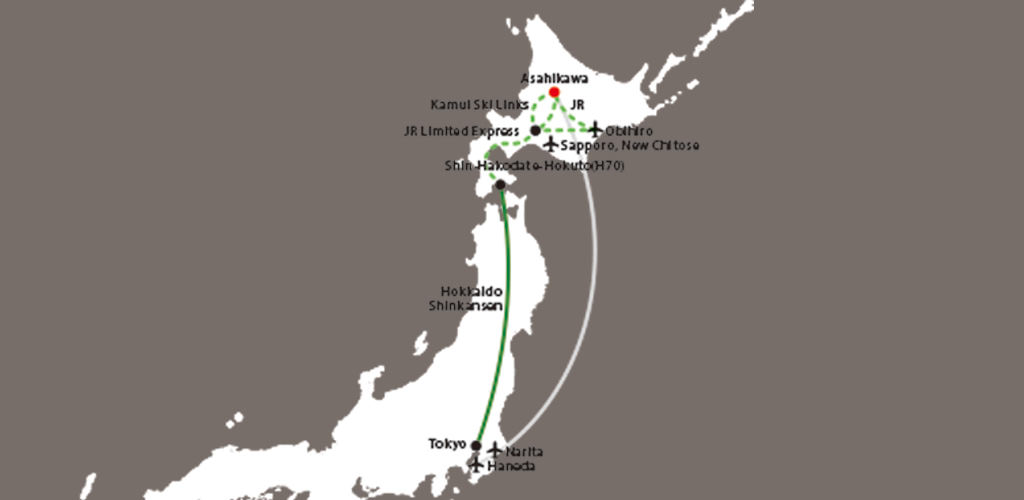 Kamui enjoys an average of eight metres of dream-like powder snow a season, and sheltered inland, is known for its brilliant blue skies in winter. Lift passes are also very reasonably priced here, and there's a course for everyone – as well as plenty of great snow activities – during the season from December to early April. Riders with deep powder experience head to the Treerun Course, Bumps Course, and Todomatsu Course near the summit, designated black runs with inclines of as much as 35°, and tightly spaced trees.
A 30-minute drive from the centre of Asahikawa, Hokkaido's second-largest city, Kamui Ski Links is the only resort that serves real Asahikawa ramen – the ultimate after-ski comfort food. The city is a base for skiers and snowboarders at Kamui Ski Links, and buses provide a direct connection to the resort from major hotels in 50 minutes. With more than 1,000 bars and restaurants, Asahikawa has some of Hokkaido's best night life, and adds a further dynamic, authentic touch to a snow holiday at Kamui.
Access to Kamui Ski Links from Tokyo via Asahikawa
Kamui Ski Links is conveniently located near Asahikawa Airport – a 95-minute flight from Tokyo's Haneda Airport. From Asahikawa Airport, board a bus for Asahikawa City from Stand 1, which is 40 minutes away. The 'Kamui-gō' bus service connects Asahikawa Station with Kamui Ski Links in an hour, and requires advance bookings by 17:00 the day before through the resort, or major hotels on the route in Asahikawa.
---
www.kamui-skilinks.com/
Nishioka 112, Kamui-cho, Asahikawa-city
2+81-166-72-2311
Open 9:00-17:00
Travelling times to Kamui Ski Links Asahikawa: 40 min (bus), Sapporo: 1 hr 25 min (car)