STAY IN THE HOSHINO RESORTS ASAHIKAWA GRAND HOTEL FOR THE PERFECT CENTRAL HOKKAIDO WINTER HOLIDAY BASE
The Hoshino Resorts Asahikawa Grand Hotel is a stylish landmark of Central Hokkaido's major city.
Its lobby and entrance was designed in a luxurious European period fashion by John Edison, great-grandson of inventor Thomas Edison, and at 71 metres, the building is Asahikawa's tallest hotel. Located in the heart of Hokkaido's 'City of Rivers', a 13-minute walk or 5-minute taxi ride from JR Asahikawa Station, the hotel overlooks the impressive peaks of Daisetsuzan National Park on the horizon, and the waterways around Asahikawa.
The hotel shop is well stocked with everything from fresh bread and bakery treats to local giftware, and its spa provides a deeply relaxing range of treatments for body and mind. Skiers and snowboarders stay here in winter for great access to the top-quality powder snow of Kamui Ski Links, just 40 minutes away, and the many other great resorts and backcountry spots of Central Hokkaido.
Close by to the south of Asahikawa are the scenic rural areas of Furano and Biei, known for their densely carpeted fields of spring colour, and also just a 40-minute bus ride from Asahiyama Zoo, the Hoshino Resorts Asahikawa Grand Hotel is the ideal base for exploring the beauty of Central Hokkaido throughout the year.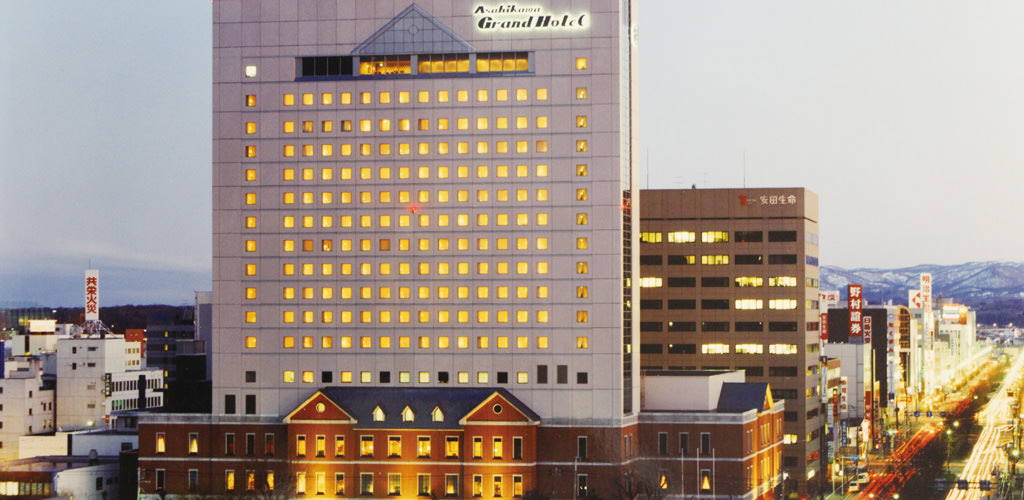 Hoshino Resorts Asahikawa Grand Hotel
www.asahikawa-grand.com/eng/
070-0036 9-chome, Asahikawa-city
+81-166-24-2111
Travelling times to Hoshino Resorts Asahikawa Grand Hotel Asahikawa Airport 40 min (bus), New Chitose Airport 2 hrs (JR)
GOURMET DINING, DRINKING AND SAKE BREWERY TOURS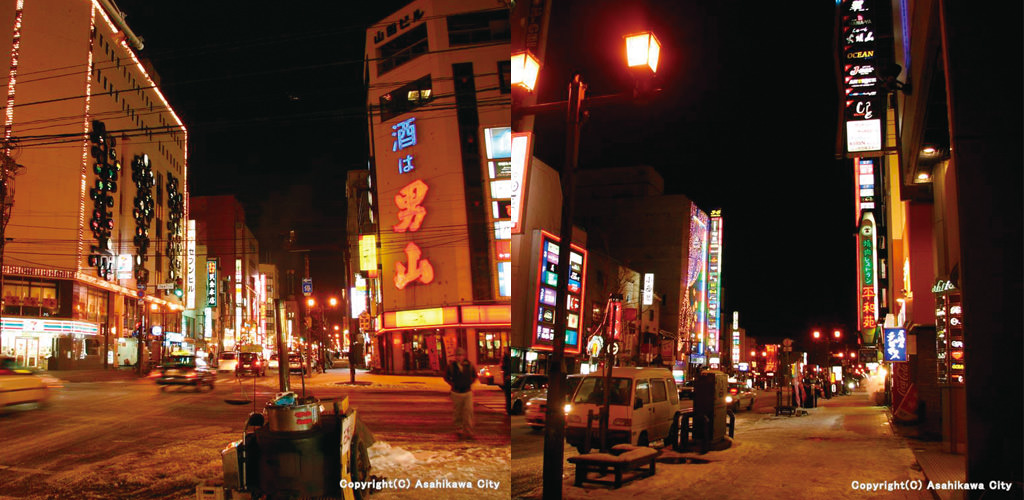 After a day in the snow, the top-floor Bar Edison's at the Hoshino Resorts Asahikawa Grand Hotel offers a fabulous view of the city lights, and more than 1,000 bars and restaurants also await to be discovered nearby in the popular night spot of Sanrokugai.
The Japanese, Chinese and Western restaurants at the hotel all feature the delicious produce of the Asahikawa region, which is known for its rich alpine mineral water, rice, sake, vegetables, seafood and meat.
Thanks to the exceptional purity and quality of its water and rice, Asahikawa is also an excellent sake brewing region of Japan; tours to the Otokoyama and Takasago breweries are a popular way to enjoy freshly brewed premium sake among guests at the Hoshino Resorts Asahikawa Grand Hotel.
Further information
http://www.asahikawa-grand.com/eng/
Stay in Tomamu and Asahikawa,  and enjoy the best of Central Hokkaido!

Hoshino Resorts TOMAMU