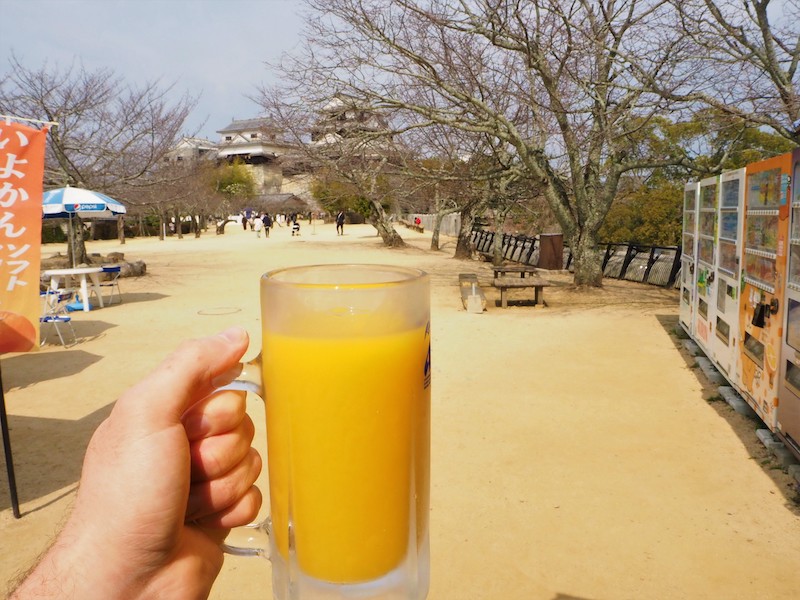 As the most populated prefecture of Shikoku, Ehime Prefecture is the ideal location to begin your journey! This vast coastal and mountainous prefecture boasts dozens of attractions, including the awe-inspiring Matsuyama Castle, the isolated villages of Ozu and Uchiko, and Japan's oldest hot spring bathhouse. Ehime is also the nation's leading producer of citrus fruit, so if you or your family are craving fresh juice or a nourishing slice of orange, there's nowhere better than here!
Matsuyama Castle
Adorning the centre of Shikoku's largest city of Matsuyama, the majestic Matsuyama Castle is a renowned member of Japan's 12 original intact castles. Despite sitting atop the towering Mount Katsuyama, the castle is easily reachable via cable car or chairlift. While you're free to walk up the mountain, the steep and lengthy climb make the cable car a better choice for families (Children younger than primary school age cannot ride the chairlift).
After ascending, you'll first encounter the Ninomaru outer castle walls. Consisting of winding maze-like paths lined by imposing stone walls, its complex and intimidating design was intended to confuse and trap intruding armies. The walls burst with tantalizing details rewarding sharp eyes, including the dozens of hazama holes allowing archers and riflemen to shoot at enemies while staying protected. Children will have fun trying to spot them all! 
You'll soon come across a spacious park marking the opening of the Honmaru castle tower. Before continuing, take a breather, wander the park, and enjoy the boundless panoramas of Matsuyama City and the Seto Inland Sea. Here you can also pour yourself a glass of fresh Ehime orange juice straight from the tap, which costs 500 yen for a beer mug and 350 yen for a cup. If you walked, you'll definitely appreciate this!
Entrance to the Honmaru main castle grounds is 520 yen for adults and 160 yen for children (children under primary school age are free). After paying, you are free to explore the grounds and castle complex as you like. There are dozens of fascinating exhibitions and relics inside, including weapons, armour, documents, and more, along with breathtaking views from the top floor.
Dogo Onsen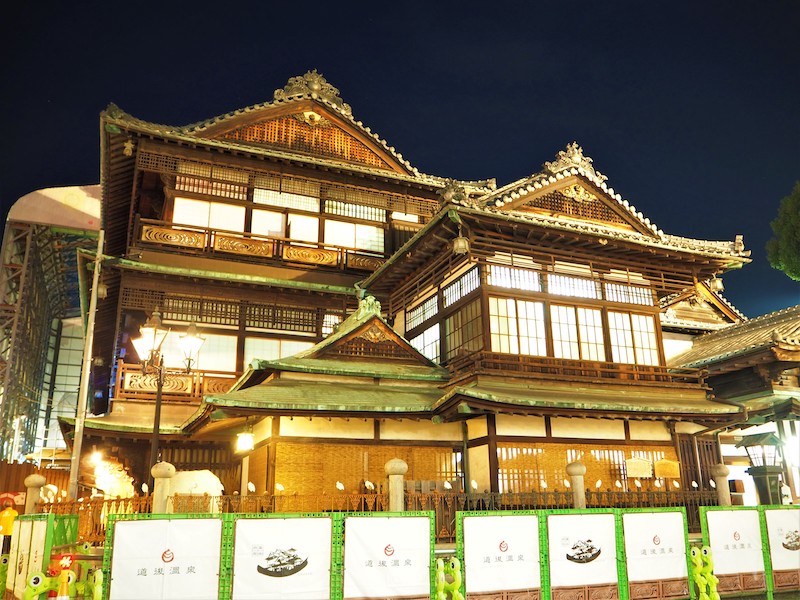 The enchanting streets of Dogo Onsen is a must-visit together with Matsuyama Castle. With a history spanning over 3,000 years, Dogo Onsen holds the impressive title of Japan's oldest onsen! Often said to be the inspiration behind Studio Ghibli's beloved film, its magical aura is both calming and invigorating. There are three public hot spring baths to try – the Dogo Onsen Honkan, Tsubakinoyu, and Asukanoyu, all of which are distinctive in their own right. Each costs a small fee to enter and are generally open from around 6:00am until 11:00pm. While families are free to enter, the baths are separated by gender. In addition, don't miss the exciting light and sound show projected onto the side of Dogo Onsen Honkan every 15 minutes between 6:30pm-9:30pm.
If you're looking for a fix of the local citrus, there are several shops in Dogo Onsen stocking Ehime juice and fruit along with a collection of regional crafts and delicacies. The cute designs and elegant bottles make for great souvenirs!
Ozu and Uchiko
For those wanting to escape the metropolis and delve deeper into off-beat Japan, the castle town of Ozu and the Edo-period streets of Uchiko provide just that. Ozu is a quaint town made up from a blend of extravagant former samurai homes and cosy merchant apartments, which are seen at their peak in the central Ohanahan Street. 
In addition to Ozu Castle, Ozu's main highlight is the dynamic Garyu Sanso, which commands a magnificent view of the Hijikawa River. Constructed at the beginning of the 20th century by a wealthy trader with a passion for Kyoto aesthetics, thousands of builders were given the freedom to create and design how they pleased, culminating in an explosive collection of tastes all flawlessly intertwined. You could spend hours here scanning every nook and cranny for hidden secrets!
Nearby is the town of Uchiko, a community once fuelled by the lucrative wax industry during the Edo and Meiji periods. The streets and homes here have been delicately preserved, offering an authentic, untouched glimpse into how much of Japan appeared before modernization. This beauty is best appreciated through the hundreds of antique buildings in the Yokaichi Gokoku area, many of which are still being used today.  Also worth seeing is Uchiko-za, the town's beloved theatre, which was originally constructed in 1916 and is extremely well-maintained. 
What to Eat in Ehime
Apart from the sumptuous range of oranges and other citrus fruit, the locals of Ehime are all about taimeshi. Taimeshi consists of locally-caught seabream steamed with rice before being broken up and mixed together. This hearty dish has a gentle savoury flavour, making it a hit for children of all ages. If the sight of the full fish isn't appealing, you can request it to be mashed up and mixed with the rice before being served.
How to Get to Ehime
Matsuyama Airport has connecting flights through Jetstar directly from Tokyo Narita Airport and Kansai Airport, making travel to Ehime a breeze. Matsuyama's city centre is a roughly 15-minute taxi drive from the airport.
Countermeasures against new coronavirus infections have been taken at each destination, and disinfectant solutions for hand disinfection are installed, temperature is measured, staff masks are worn, and social distance between customers is secured. We recommend Shioku as a destination where you can travel with peace of mind.