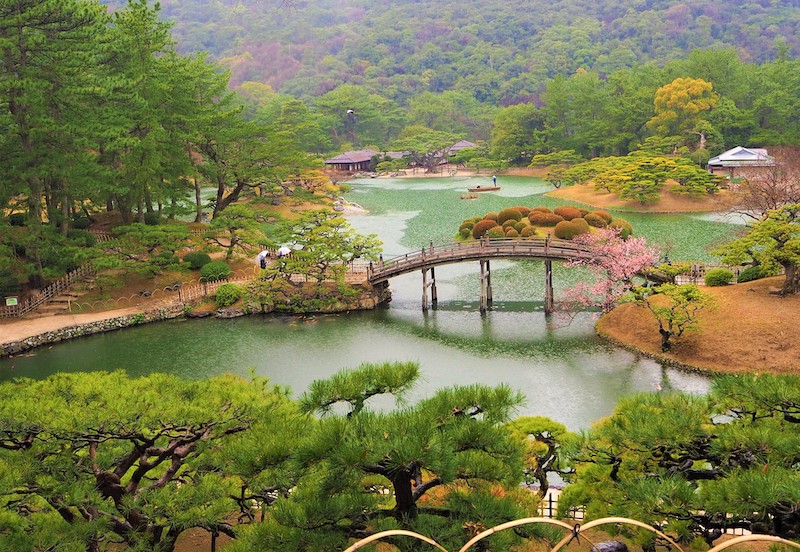 Don't be fooled by its size – there's a lot going on in Kagawa! Despite being the smallest prefecture in Japan, it's extremely well known for its cutting-edge art scene, traditional lacquerware, stunning gardens, and deep gourmet culture. This tucked-away slice of Japan is not to be overlooked!
Art Museum of Sanuki Urushi Lacquer Ware
The artistic roots of Kagawa can be traced back to its vibrant lacquerware community, which blossomed towards the end of the Edo period (1603 – 1868). While this tradition has been dampened by modern industrialisation, the Art Museum of Sanuki Urushi Lacquer Ware aims to keep the art alive through its comprehensive exhibitions and lacquer painting classes.
Fun, relaxing, and great for kids, the lacquerware painting class provides all the tools necessary to design your very own pair of authentic lacquerware chopsticks. Even if you're not the creative type, there are plenty of templates to copy from, so don't be shy!
After you've finished, your work will be touched up by a teacher, dried, and sent to an address in Japan a week or so later. The domestic postage fee is also included in this class so if you are still planning to travel to Japan, you can pick them up at the designated location during your stay. Overseas postage is also available as long as you check the shipping fee to your home country and pay it additionally.  Afterwards, you can enjoy a hearty lunch downstairs at their café with lacquerware utensils and dishes, including chopsticks painted by the teacher!
Ritsurin Garden
As one of Japan's most dynamic gardens, a wander through Takamatsu City's Ritsurin Garden will cleanse the soul, invigorate the senses, and allow children to burn off energy!
The local expression that each step in Ritsurin Garden is an entirely new scene rings true through with hundreds of enthralling and colourful displays blending art with nature! The park's most prominent icons are the 1,400 pine trees, 1,000 of which are delicately arranged and pruned by the talented and ambitious gardeners.
Naturally, there are also plenty of seasonal flowers, rock arrangements, Zen gardens, lakes and ponds with carp, and adorable tiny islands. A popular stop is the Kikugetsu-tei teahouse in the southwest section of the garden, where you can relish a bowl of matcha with refreshing lake views.
Shodoshima Island and the Olive Park
Just an hour ferry ride from Takamatsu, Shodoshima Island (Shodoshima) makes for a great Kagawa day-trip! The island's main claim to fame are its flourishing olive groves, seen at their peak in the Shodoshima Olive Park.
Overlooking the tranquil Uchinomi Bay, the Olive Park is modelled on the sights of the Mediterranean coast, with a picturesque array of Greek and Roman-esque buildings dotting the hillside. As the live-action version of the beloved Studio Ghibli's film was shot nearby, visitors can take photos throughout the park with the character's broomstick for free. If you time your jump right, it'll look like you're flying!
You can also try your luck scouring the olive trees for a double-leaf. While rare, they do exist! If you find one, you can have it framed and made into a cute bookmark for a small fee.
Shodoshima's Soy Sauce Town – Yamaroku and Marukin
Before olives, Shodoshima was famous for soy sauce. While the industry has dwindled from over 400 producers to around 20, the captivating remains of this elusive culture is a delight for lovers of Japanese condiments.
Founded at the beginning of the Meiji period (1868-1912), the brewers of Yamaroku tirelessly devote themselves to preserving their sacred trade. Exclusively using traditionally-made wooden kioke barrels and ancient fermentation techniques, their soy sauce is about as authentic as it comes.
Here you can tour the facilities, sample their delicious products, and even treat yourself to vanilla ice-cream topped with soy sauce – a surprisingly good combination!
If you want to dive even deeper into pre-industrial soy sauce making, the Marukin Soy Sauce Museum is naturally the next stop! Furnished by antique tools and equipment once used in Marukin's operations, the riveting exhibitions guide visitors through every detail of this unique, lesser-told history. Most impressive is the gigantic hammer-like device in the middle of the museum, which was used to squeeze the liquid from the fermenting mash to be pasteurized, processed, and bottled.
The streets outside the museum are lined with brewery buildings coated in a black, charcoal-like substance caused by the fermentation bacteria. During its heyday, many of the streets in Shodoshima were completely caked in it. A fascinating insight into the microscopic world around us!
After a 5-minute walk through the brewery-lined streets, you'll come across a window allowing a peek into Marukin's fermentation room. Pressing a button near the window will open a vent, allowing the potent aromas of fermenting soy sauce to flow out.
What to Eat in Kagawa
Kagawa is most famous for udon and somen noodles, so don't miss the chance to savour a bowl while you're there! If you're looking for something a little more offbeat, Setonaikaishoku lab. runs classes teaching the art of oshinuki sushi.
Oshinuki sushi is a local delicacy of rice pressed into a cake-like shape and topped with various ingredients, including vinegared Spanish mackerel, soramame beans, and tamago-yaki fried egg.
However, as it is not eaten as much today Setonaikaishoku lab. has designed a more modern, exciting oshinuki course to reinvigorate this traditional delight. After a demonstration, you'll be provided with a jaw dropping smorgasbord of various toppings, including ham, fruits, nuts, cheese, salmon, beans, vegetables, and much, much more. You'll then roll up your sleeves, wash your hands, and unleash your imagination! Later, you'll be able to eat your creations to see if they're as good as they look!
Getting to Kagawa
Jetstar has frequent services running to and from Tokyo-Narita Airport to Takamatsu Airport. The Takamatsu city centre is a roughly 35-minute taxi ride from the airport.
Countermeasures against new coronavirus infections have been taken at each destination, and disinfectant solutions for hand disinfection are installed, temperature is measured, staff masks are worn, and social distance between customers is secured. We recommend Shioku as a destination where you can travel with peace of mind.