The bullet train journey from Tokyo through the Japan Alps to Ishikawa Prefecture is like being fast-forwarded through a Japanese winter hall of fame; a snow resort from the Nagano Winter Olympics here, a hot spring retreat that inspired a Nobel Prize-winning novel there. The pot of gold at the end of the line is Kanazawa, a culturally-rich castle town. . .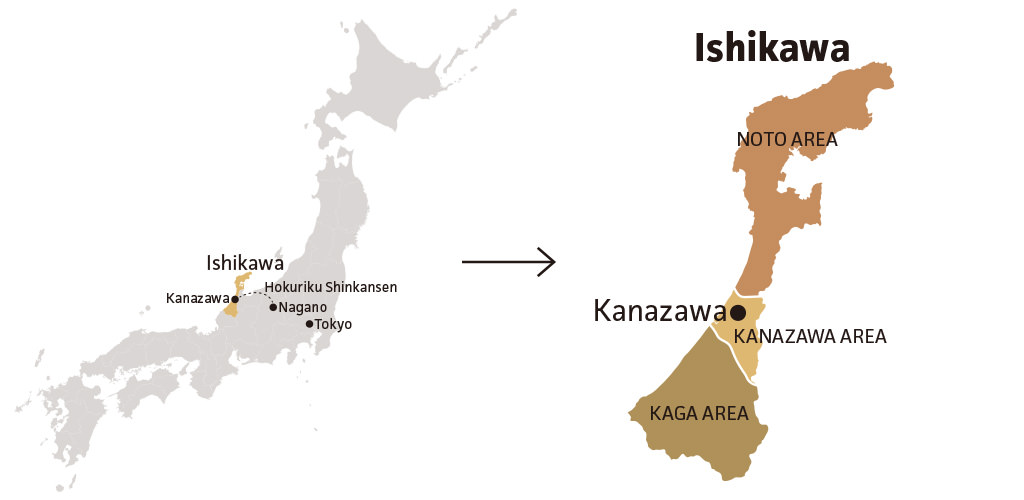 GETTING TO THE GOLD
The first Hokuriku Shinkansen service whizzed through to the Sea of Japafrom the Pacific in record time in March 2015, to great excitement. Suddenly, it had become possible to visit one of Japan's most wellpreserved monuments to samurai-era culture on a day-trip from Tokyo in 2 hours and 28 minutes.
The goldsmiths of Kanazawa produce the leaf that adorns Kyoto's shimmering fourteenth-century temple, Kinkaku-ji, and visitors to Kanazawa's heritage districts are able to not only watch these master craftspeople in action, but do some gold leaf decorating of their own. Witnessing these artisans nonchalantly hammer out billowing sheets of gold leaf from nuggets no bigger than a ten-cent piece is incredible, and a gold leaf decorating workshop with them is an essential Kanazawa cultural experience.
Kanazawa lies in the heart of Ishikawa, some 450 kilometres from Tokyo on a coastal plain beside the Sea of Japan. Its cultural heritage area invites visitors to go behind the scenes and find out why the city is not just famous as one of Japan's best examples of traditional culture – it's also recognised as a UNESCO City of Crafts and Folk Art.
To the north of Kanazawa is the Noto Peninsula, a seafood, sake and hot spring heaven recognised as a Globally Important Agricultural Heritage System. To the south is the Kaga region, also characterised by rich farmland, and the rugged mountain ranges home to Mt Hakusan – a culturally sacred site and one of Japan's 100 Famous Mountains.
En route to Kanazawa on the Hokuriku Shinkansen from Tokyo, the stations of Nagano, Iiyama and Joetsu Myoko are gateways to signature snow resort destinations of Nagano and Niigata. This has created new possibilities for culturally rich, not to mention deliciously rewarding side trips for skiers and snowboarders to Ishikawa Prefecture.
EXPLORING KANAZAWA'S CULTURAL HERITAGE AREA
KANAZAWA CASTLE AND KENROKUEN GARDEN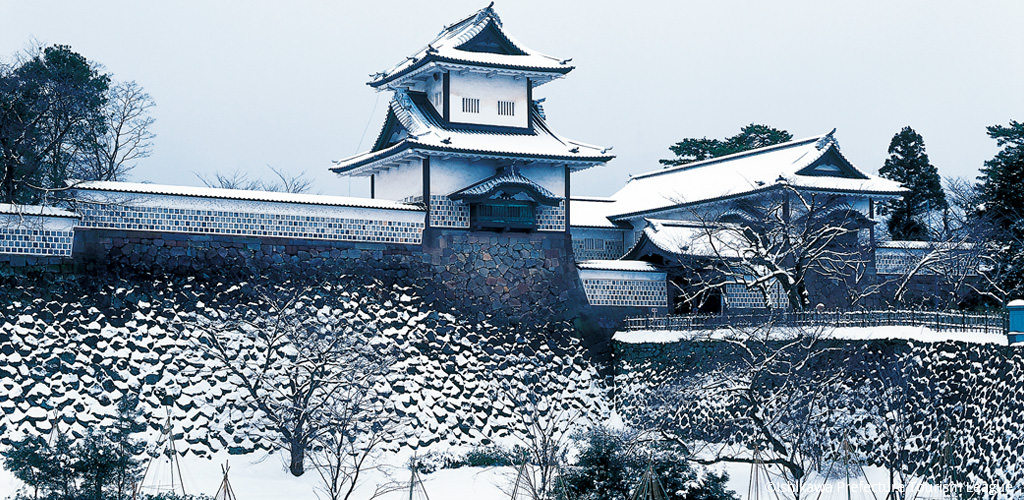 The keep of Kanazawa Castle rises gracefully above the seasonal splendour of Kenrokuen Garden, one of Japan's three most beautiful. They are a magnificent sight, and the garden's vintage teahouses offer timeless views of gently flowing streams and seasonal splendour. Projection mapping events are held during the evening at Kenrokuen and Kanazawa Castle for a limited time during each season of the year, illuminating them beautifully with creative, dynamic images.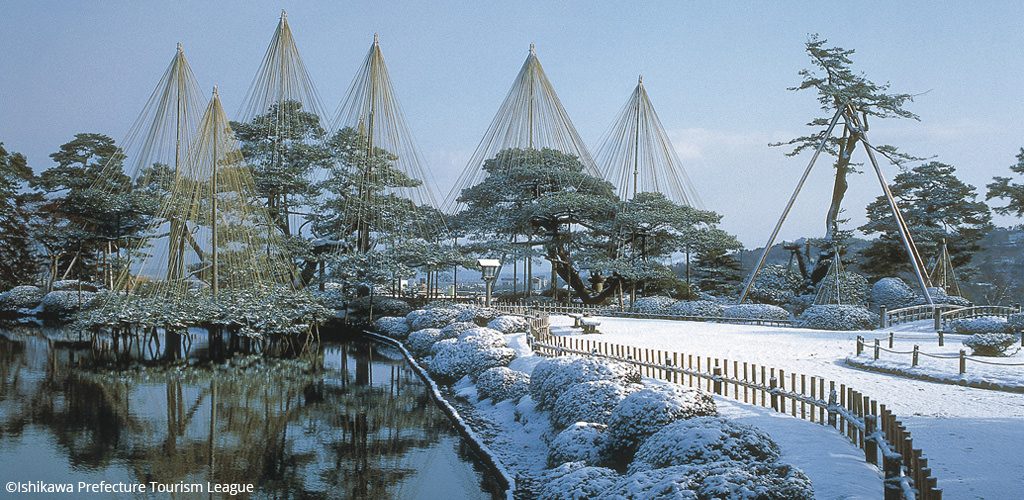 NINJA TEMPLE
On the outside, a peaceful Buddhist temple with beautiful wooden reliefs, and an integral part ofdaily life for countless generations of worshippers in Kanazawa. On the inside, an elaborate labyrinth complete with trap doors and secret passageways. Advance bookings are essential for this ninja hideout in disguise as a Buddhist temple, thought to have been part of a secret defence network for Kanazawa Castle and now widely known as Ninja Temple.
OMI-CHO MARKET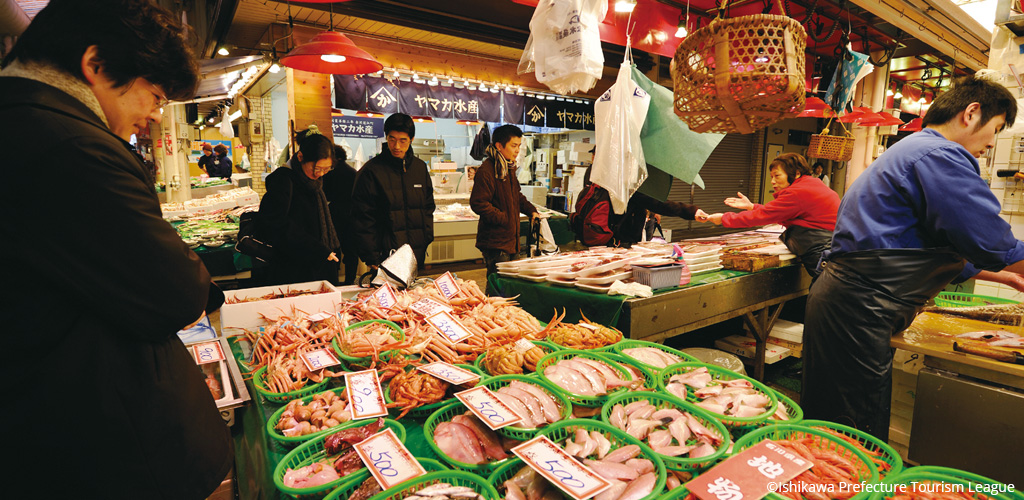 Omi-cho Market is a goldmine of fresh seafood, and is just a 15-minute stroll from Kanazawa Station. It was established in 1721, and is known and loved by the people of Kanazawa as the city's kitchen, and an important foundation of its food culture. Close to 200 stalls, restaurants, bars and traders occupy the market's vast area of 2.8 hectares; no visit is complete without a sashimi rice bowl at one of its eateries, which is known as kaisendon – always a popular choice with market-fresh, seasonal fish served cheap and cheerful.
NOZAWA ONSEN TO NOTO: DEEP POWDER, AND FRESH OYSTERS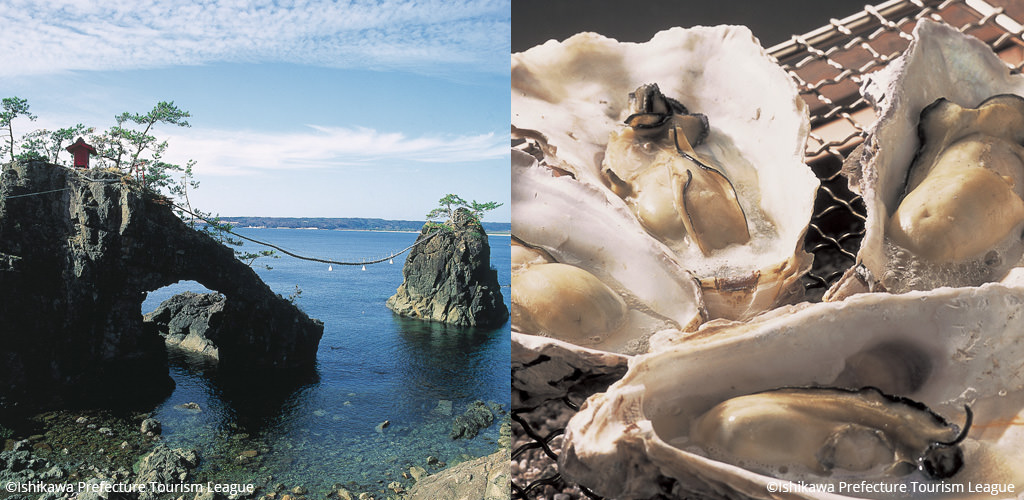 Ishikawa's Noto Peninsula is becoming a new winter destination for skiers and snowboarders at Nozawa Onsen Snow Resort. This hot spring retreat is a gourmet heaven during the January to March Noto Oyster Festival, where visitors are able to enjoy some of Japan's best seafood at restaurants around the peninsula, and even fry their own juicy, harbour-fresh oysters.
The festival happens right when the powder is at its deepest in Nozawa Onsen, three hours from Noto on the Hokuriku Shinkansen bullet train and local lines, including the tasteful Hanayome Noren sightseeing train.