APPI, THE POWDER PALACE OF IWATE
Appi brings a modern sophistication and unspoilt beauty to powder-rich snow holidays in the Tohoku region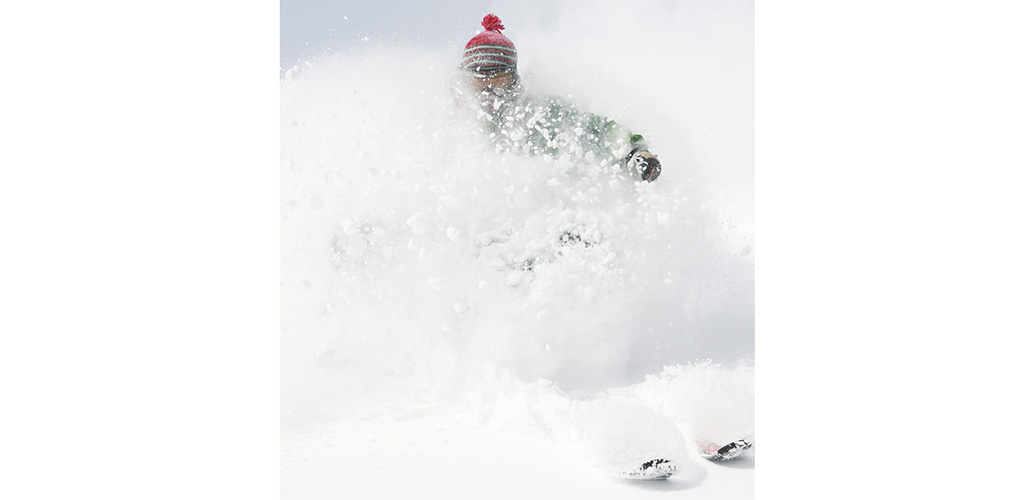 It's no mean feat to start out as an extra, and end up stealing the show from lead actors who have been in the role for decades. This is exactly what Appi has done however, since arriving on the Japanese ski resort scene in the early 1980s.
Initially sneered at for its north-facing slopes in the shade, skiers and snowboarders soon realised that this feature gave Appi a huge advantage over the typically south-facing slopes of other resorts in the region.
Appi brought a sophisticated modern snow resort design to a beautiful natural area of Towada-Hachimantai National Park in Iwate Prefecture, already blessed with a lavish annual prescription of what the locals call "aspirin powder". Along with top quality snow, Appi is now famous throughout Japan for having plenty of long runs to enjoy down its two 1,300 m mountains, and just an hour from Morioka, the main hub of Iwate, its location is easy to access from Tokyo thanks to the Tohoku Shinkansen bullet train.
With a total of 21 runs, the resort offers an exciting variety of slopes for all riders, as well as snow activities and tours that give its guests a closer look at the beauty of its natural environment.
Appi also gets into the spirit of festive season with deluxe dinner and dessert menus, and ushers in the New Year with a torchlight ride and fireworks. It's a special time to be at this fun, smart and guest-focused resort, which has grown to become one of the Tohoku region's best snow holiday destinations.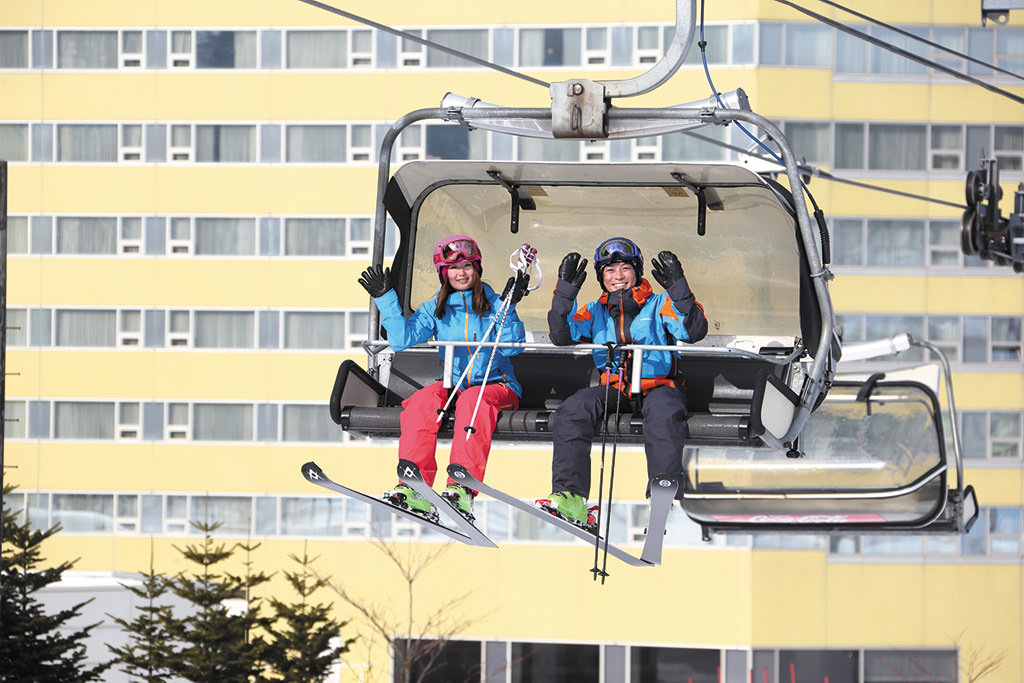 GETTING TO APPI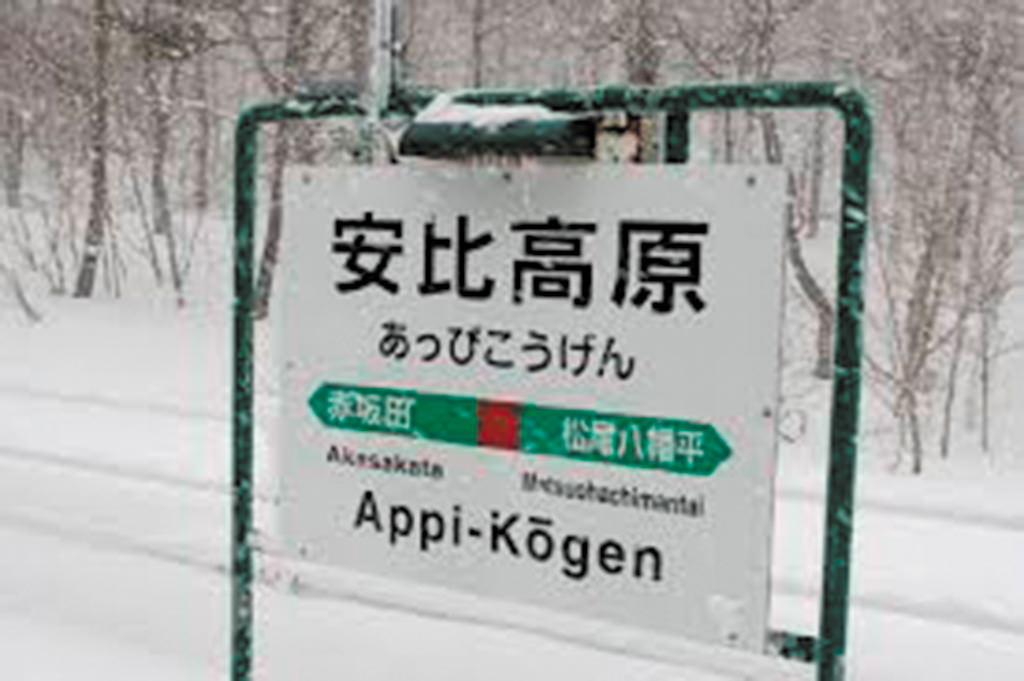 After taking the Tohoku Shinkansen bullet train to Morioka Station, transfer to a shuttle bus bound for Appi, or a train on the JR Hanawa Line bound for Appi Kogen Station. Although the distance from Appi to Tokyo is in the vicinity of 600 km, the efficient transport system makes it feel much closer, completing the journey in three hours.
A connecting shuttle service to Appi is also available for guests on domestic flights from Sapporo and Osaka to Iwate-Hanamaki Airport, arriving at the resort in an hour and 15 minutes.
MAPS & TIMETABLES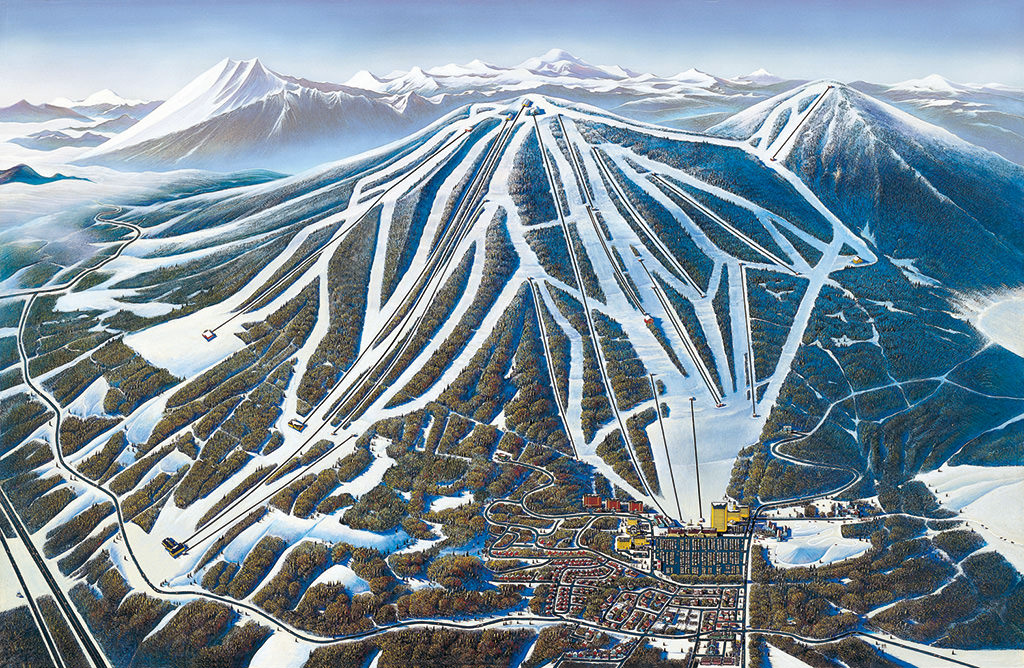 www.appi.co.jp/foreign_country/english/winter/get_here/index.html
APPI FACTS
282 ha covered in powder snow
21 runs for all riders
3 hours from Tokyo
5.5 km long run for beginners
Fresh Salomon and Atomic rental gear
ENJOYING APPI WITH KIDS
Just another awesome day at Appi Family Park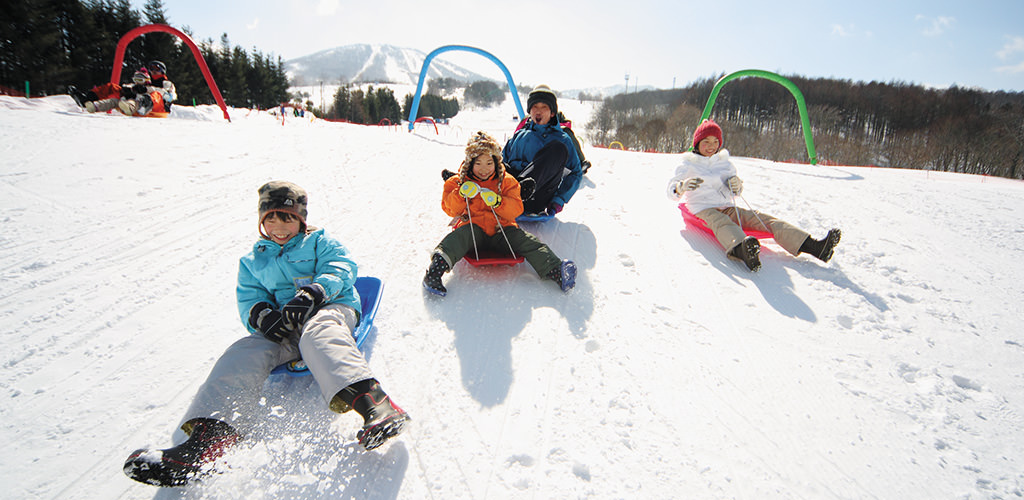 Let the fun begin at 09:30
Appi Family Park has just opened for the day, and its freshly prepared snow is itching for some action. So go on, hit the the tubing and sledding course!
The snow escalator in Appi Family Park covers the length of the course, giving everyone the chance to enjoy it to their hearts' content without performing an unintentional comedy routine for the 70 metres back to the start. If you're ready to graduate from the snow escalator, head over to the ski and snowboard challenge area to test your mettle.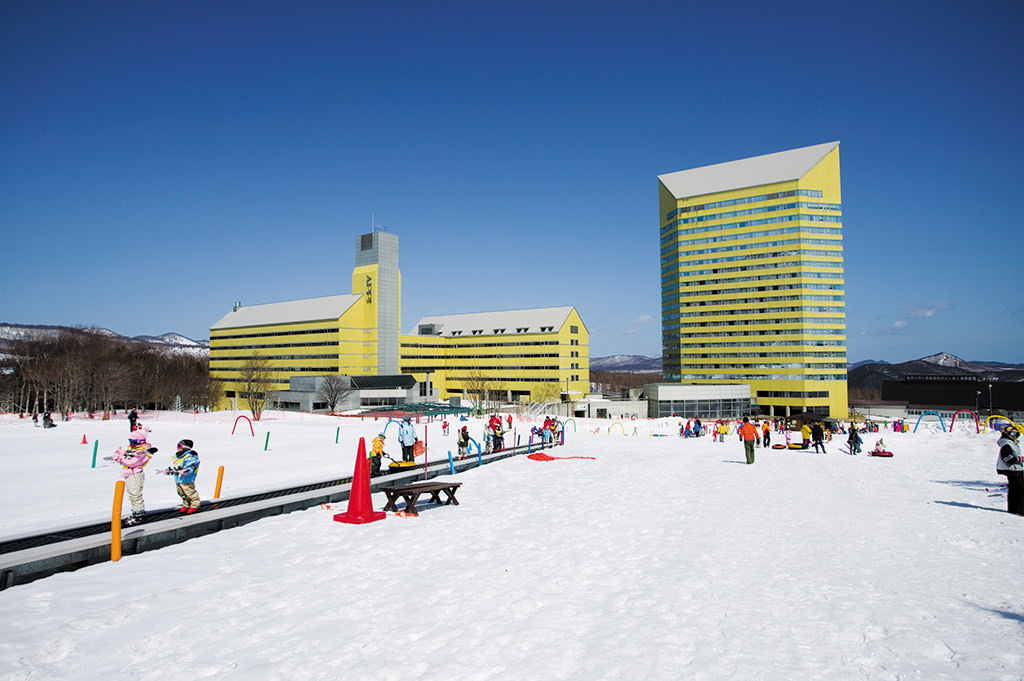 Stepping it up a notch at 11:00
Can you ride a snowboard through arches? The obstacle course is just one of the fun features for kids learning to ski and snowboard in this 40 metre stretch of Appi Family Park, and helmets are provided free of charge. Like all of the different areas in the park, the ski and snowboard challenge area is also sectioned off with netting, keeping it calm and safe for everyone to enjoy.
I'm hungry! at 12:30
Hotel Appi Grand is just 100 metres from Appi Family Park, and with cuisine from all around the world to enjoy, it's the easy option once you've worked up an appetite. Especially when considering the crab and beef steak buffet!
The Appi Grand Villa and Appi Grand Annex buildings have more to explore, including some great Korean cuisine, and are just a short stroll from Hotel Appi Grand. Just ask if you have any special food requirements, including allergy-friendly, vegetarian and vegan, and staff will be happy to accommodate.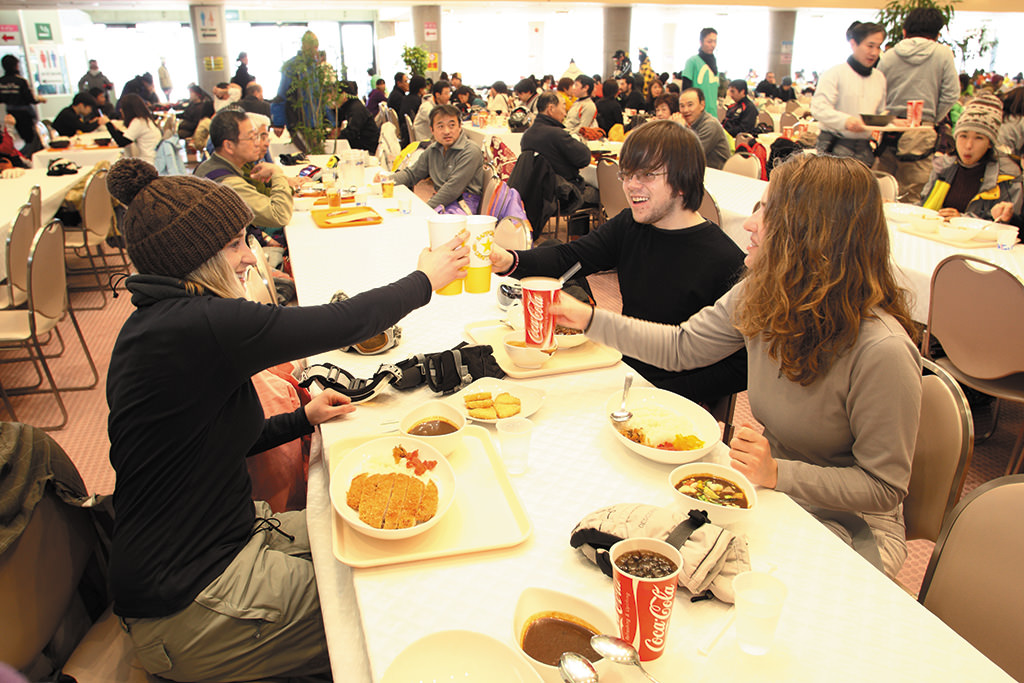 Let's build a snowman! at 14:00
Chances are the kids will already be down the snow escalator and taking on the mountains in the adventure playground by the time you're out the door of the restaurant. Once things have calmed down, enjoy building a snowman together in the play area beside the main entrance. Always doing its best to be as entertaining as possible for both kids and grown-ups, this is yet another one of the reasons Appi Family Park gets two thumbs up from its visitors.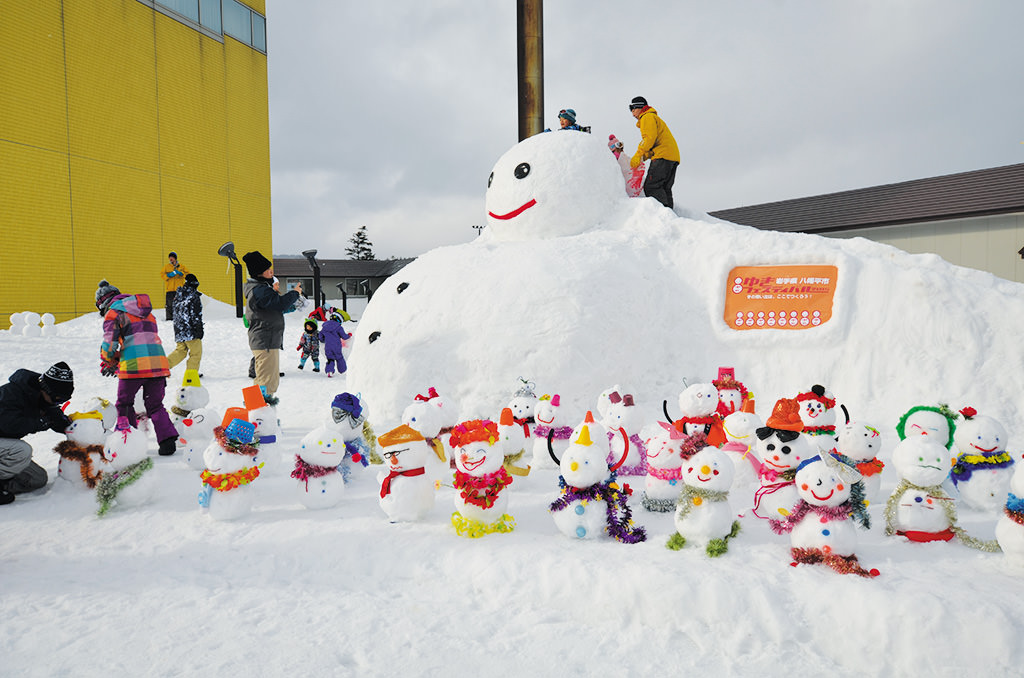 CHILDCARE FACILITIES & SNOW ACTIVITES

For parents who want more freedom to spend a day on the slopes at their own pace, childcare facilities are available at Appi. Just make a booking in advance for its Kid's Room, available for kids aged 1 to 10. There is also a fun selection of Nordic and Telemark Skiing, and Snowshoeing trips available at Appi, which explore the beautiful beech forests around the resort.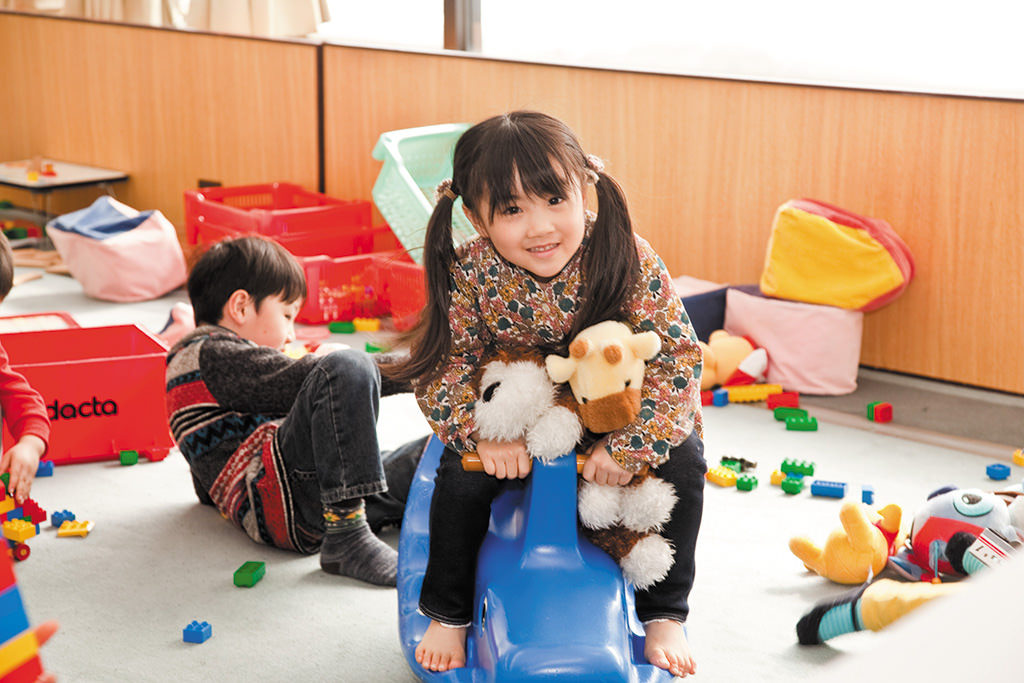 DO YOU HAVE MY SIZE?
Well stocked with an up-to-date range of quality gear, the chances are that the Salomon & Atomic Collaboration Station in Appi Plaza does! Ski boot sizes range from 15 cm right up to 33.5 cm, ensuring that along with the kids, Mum and Dad will be enjoying their day at Appi in comfort. Rentals are also available at Appi's resort hotels.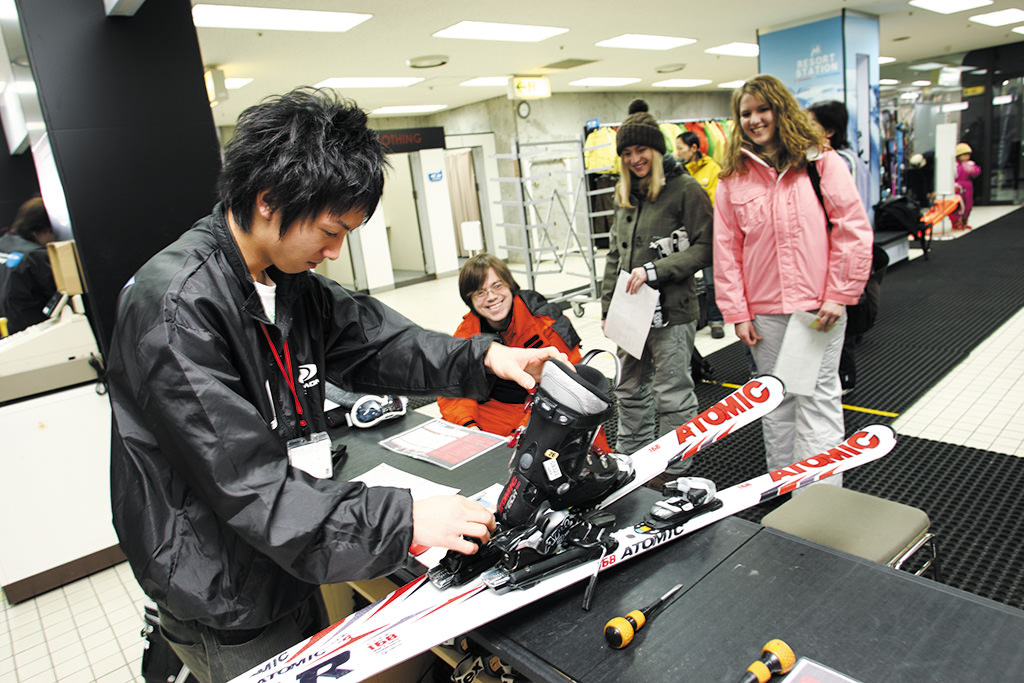 APPI FAMILY PARK ONLINE
www.appi.co.jp/foreign_country/english/winter/kids_and_family/index.html
AFTER-SKI APPINESS
Dining and onsen-ing around Appi is the perfect finish to a day in the powder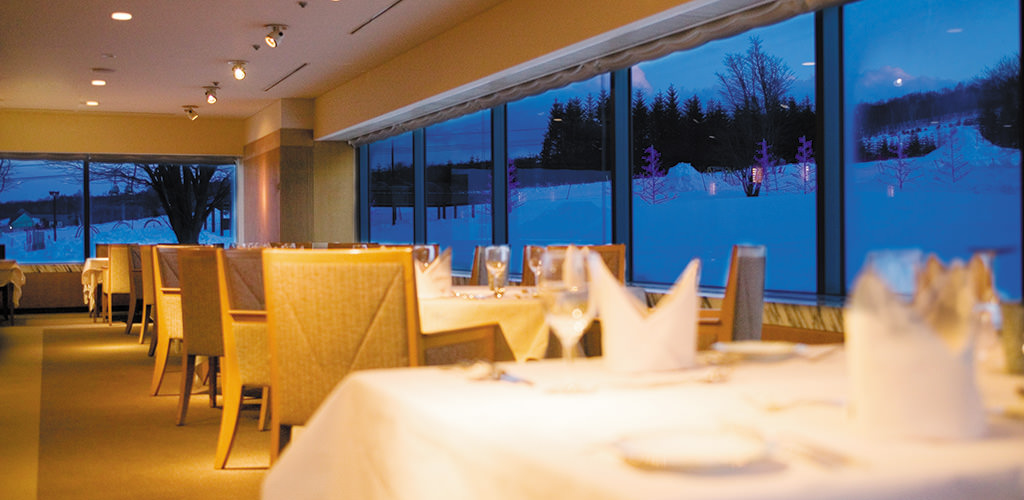 The volcanic forces which continue to shape the Hachimantai region bless it not only with magical scenery, but the perfect places to relax and enjoy it: natural hot springs, or onsen. Appi Onsen Patio reigns supreme as the main hot spring of the three resort hotels at Appi, which lie a stone's throw from some interesting boutique springs around Appi Kogen Station. Together with the delicious range of cuisine on offer, they are the perfect finish to a day out enjoying the powder.
APPI ONSEN PATIO
Appi Onsen Patio is connected to Appi Grand Annex, and features two enormous bathhouses for ladies and gents that can accommodate up to 200 people at once. The crystal clear spring water in the baths contains electrolyte ions, and leaves skin silky smooth. It can be enjoyed in open-air baths outside in the patio area too, a relaxing, refreshing space with some of Japan's roomiest saunas.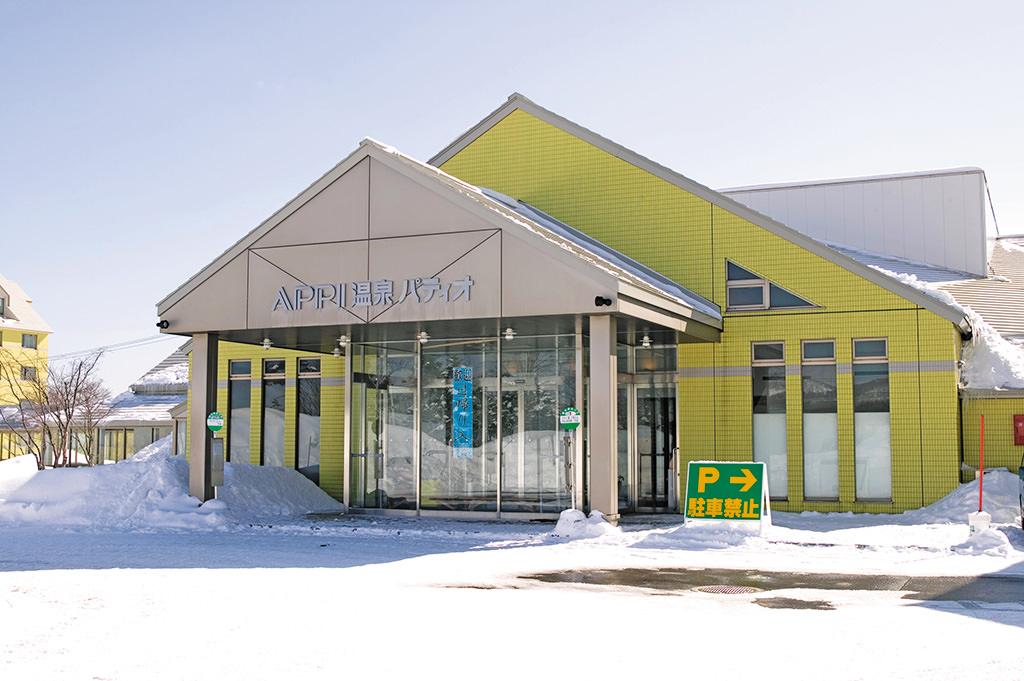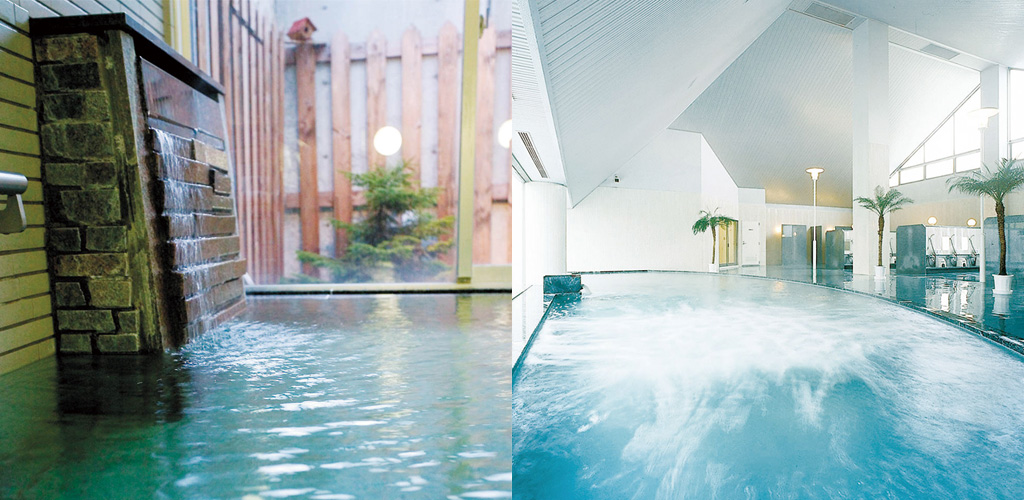 BOUTIQUE HOT SPRINGS
There are a number of other boutique hot springs around Appi with some special features, including one of the few hot springs in Japan sourced from a layer of mordenite in the Earth's crust. The minerals in this spring include sodium bicarbonate, and it has a mildly alkaline pH level that famously leaves skin fresh and beautiful. Other features of these boutique springs are baths available for private bookings, as well as a selection of stone and wooden baths.
AFTER-SKI RESORT DINING
The Hotel Appi Grand, Appi Grand Villa and Appi Grand Annex hotels present more than ten different restaurants serving cuisine from around the world. From the powder-covered plateau of Hachimantai, it's possible to take your taste buds on a tour across Europe and Asia, finishing on the high of beautiful Japanese dishes featuring fresh local produce. Here are three of the destinations en route:
LAPIN D'OR
French, Hotel Appi Grand
Served with a magnificent view of the outdoor scenery, the menu at Lapin d'Or features some excellent cuts of beef, including marbled Maesawa Beef farmed locally in Iwate, as well as fresh seafood from the Sanriku Coast.
CHOKAI
Japanese, Appi Grand Villa
The rich variety of seasonal Japanese dishes at Chokai are as much a pleasure to admire as they are to taste, and the restaurant is a popular choice for its well-rounded seasonal menu, which showcases some great hotpot dishes.
RIKO
Korean, Appi Grand Annex
Affordable Korean barbecue restaurant specialising in banquets featuring a range of different cuts, with a strong selection of sides including Morioka Reimen noodles – one of the three must-try noodle dishes in Iwate.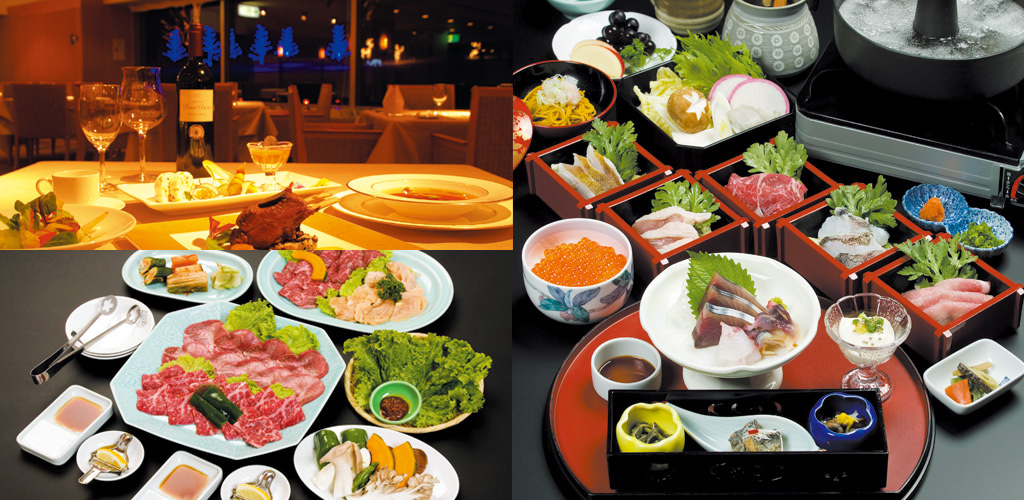 ---
APPI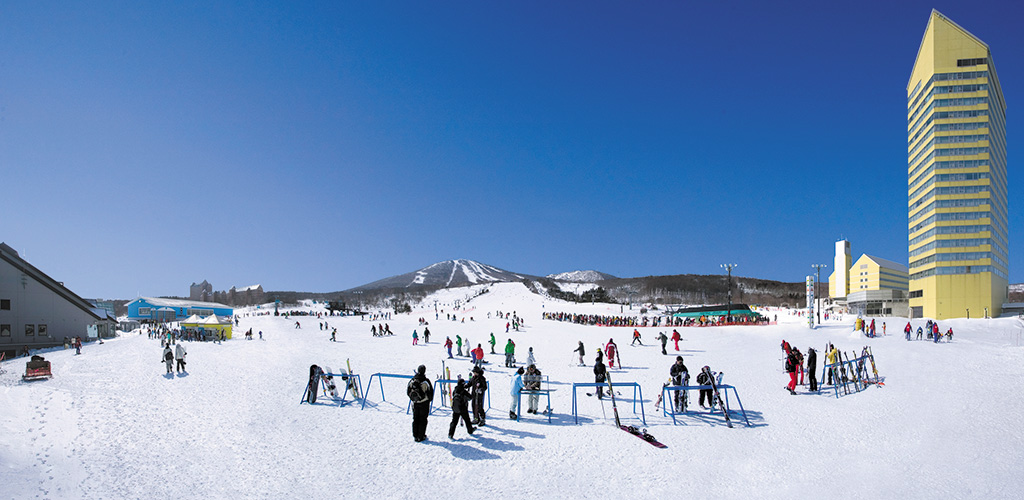 Three stylish, modern hotels lie at the heart of this all-season outdoor playground among the rugged peaks of Towada-Hachimantai National Park, which turns into one of Japan's biggest and best snow resorts in winter. With plenty of great snow activities and day tours to enjoy in addition to its expansive variety of runs, Appi is an impressive destination for a snow holiday in Iwate.
HACHIMANTAI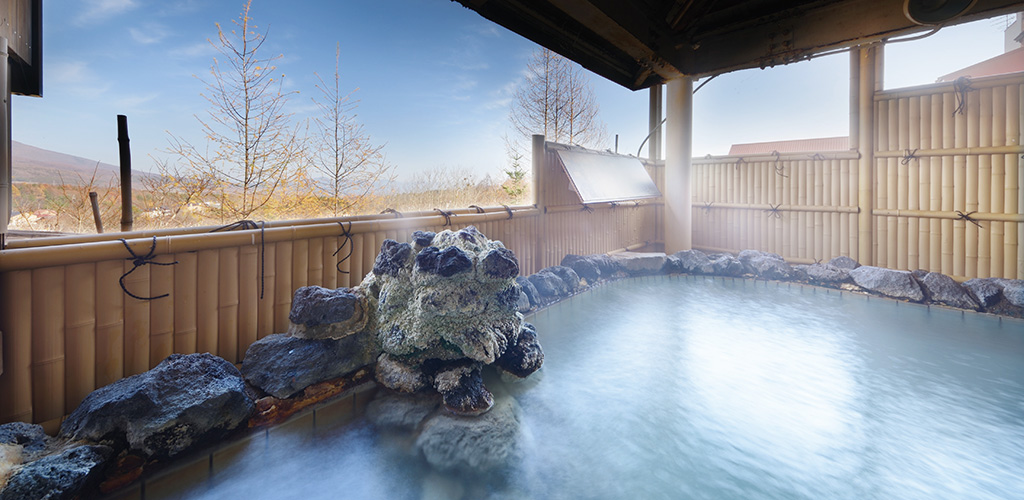 The centrepiece of the Hachimantai City area is the colourful Hachimantai volcanic plateau, a magnet for lovers of the great outdoors, hot springs and the region's local cuisine. Sitting high up at an altitude of 1,613 m, it is inundated with huge amounts of powder snow throughout the winter, and dominating the Hachimantai skyline is the 2,038 m Mt Iwate, the highest peak in the prefecture.
MORIOKA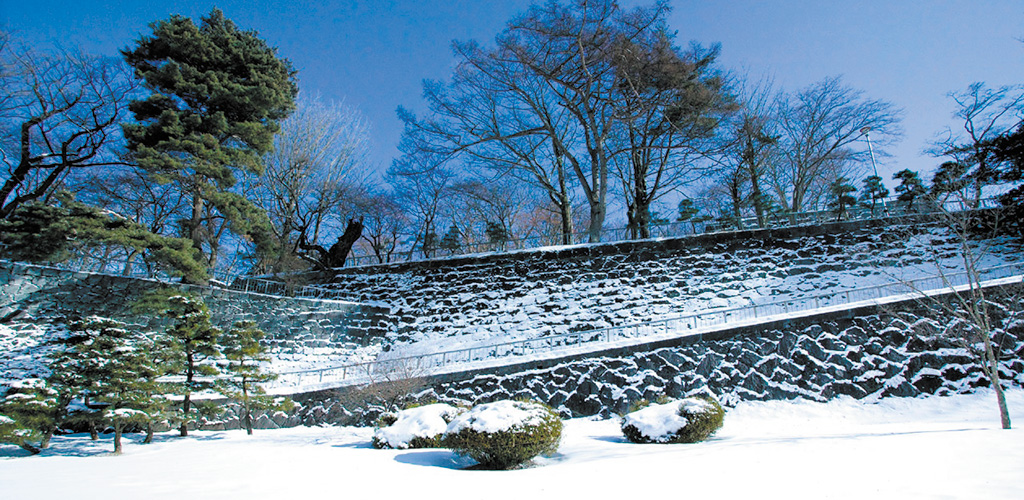 Dwarfed by Mt Iwate on the horizon, the castle ruins and beautiful heritage buildings around Morioka's central business district reflect its long history as Iwate's capital. The city is also a centre of local art, craft, and cuisine, and one of its biggest winter highlights is the famous Yuki Akari candle and lantern display around the ruins of Morioka Castle in Iwate Park.
SHIZUKUISHI,AMIHARI & IWATE KOGEN SKI AREAS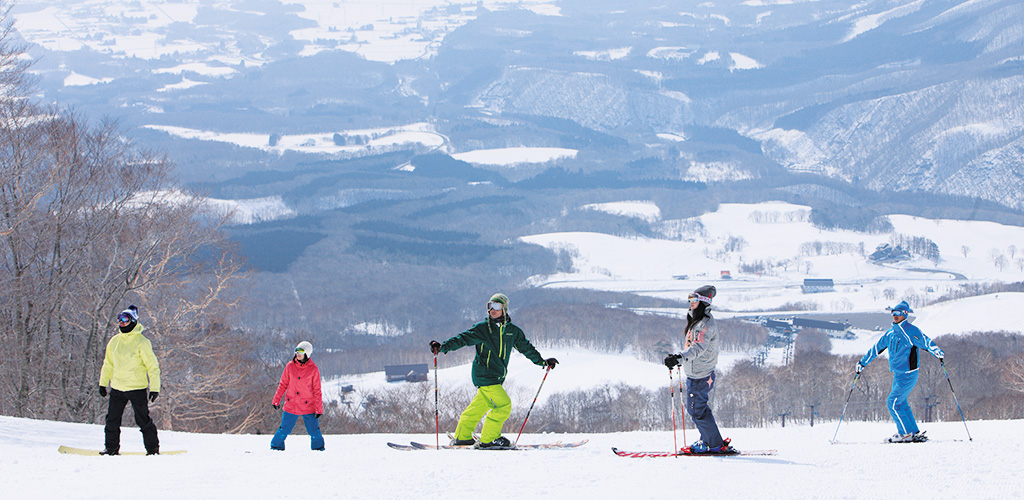 Although they're a supporting cast to Appi by comparison of size, the Shizukuishi, Amihari and Iwate Kogen ski resort areas are no lightweights when it comes to powder snow, scenic runs and facilities geared to support everyone from pros to young kids just learning to ski. Conveniently located within an hour of Morioka, they are also a great day trip for visitors based in the city.