APPI, SKI RESORT, JAPAN – 2016-17 Winter Version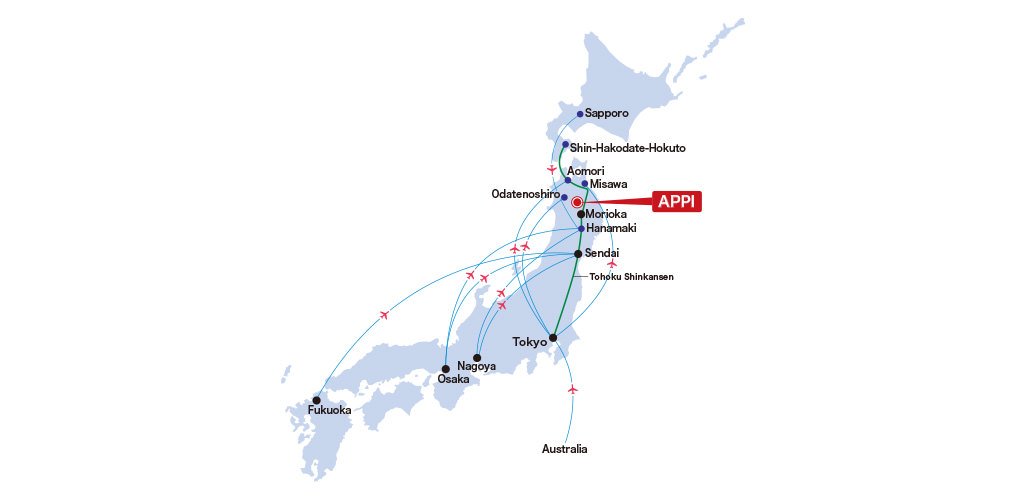 Essential resorts, accommodation, food and entertainment


VISIT APPI WITH A JR EAST PASS
The Tohoku Shinkansen bullet train completes the journey to the north-eastern Japanese castle town of Morioka in just 2 hours
and 13 minutes, from where Appi is 46 minutes by bus. The easy way to save on up to five days of train travel to this region within a 14-day period is with a JR East Pass; priced at ¥20,000 for adults, they are valid on JR East lines including the Tohoku Shinkansen, and are available at the international terminals of Haneda and Narita airports, Tokyo Station and Morioka Station.
GET TO APPI FROM LOCAL TRANSPORT HUBS*
As well as Morioka and Appi Kogen Stations, Appi is connected by bus to the domestic airports of Iwate-Hanamaki, Aomori and Odate Noshiro – all within 1 hour and 15 minutes from Haneda Airport in Tokyo; Qantas flies direct to Haneda from Sydney in 10 hours, and ANA 9 hours and 35 minutes.
*Schedules for winter 2016-17 are valid as of 1 May 2016, and are subject to change.
TRAVELLING TIMES TO APPI BY BUS
Morioka Station: 46 min Appi Kogen Station: 10 min Iwate-Hanamaki Airport: 1 hr 15 min Aomori Airport: 1 hr 50 min Odate Noshiro Airport: 1 hr 50 min
APPI AND HACHIMANTAI SKI AREA
The Appi and Hachimantai ski area is comprised of rustic hot spring inn communities and glamourous resorts within the all-season outdoor playground of Towada-Hachimantai National Park. Plenty of great snow activities and day tours are on offer to enjoy in addition to the varied, expansive courses for all riders at the resorts, which are thickly blanketed in super-light aspirin powder snow from December until early May. They are local to the old castle town of Morioka, which adds rich historical and cultural depth to a snow holiday in this welcoming region of northern Japan.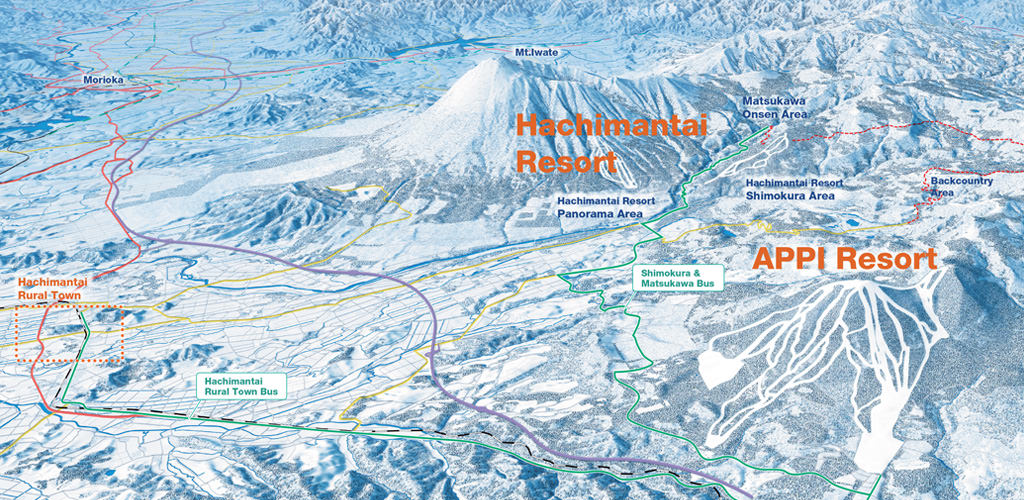 APPI AND HACHIMANTAI RELATED POSTS