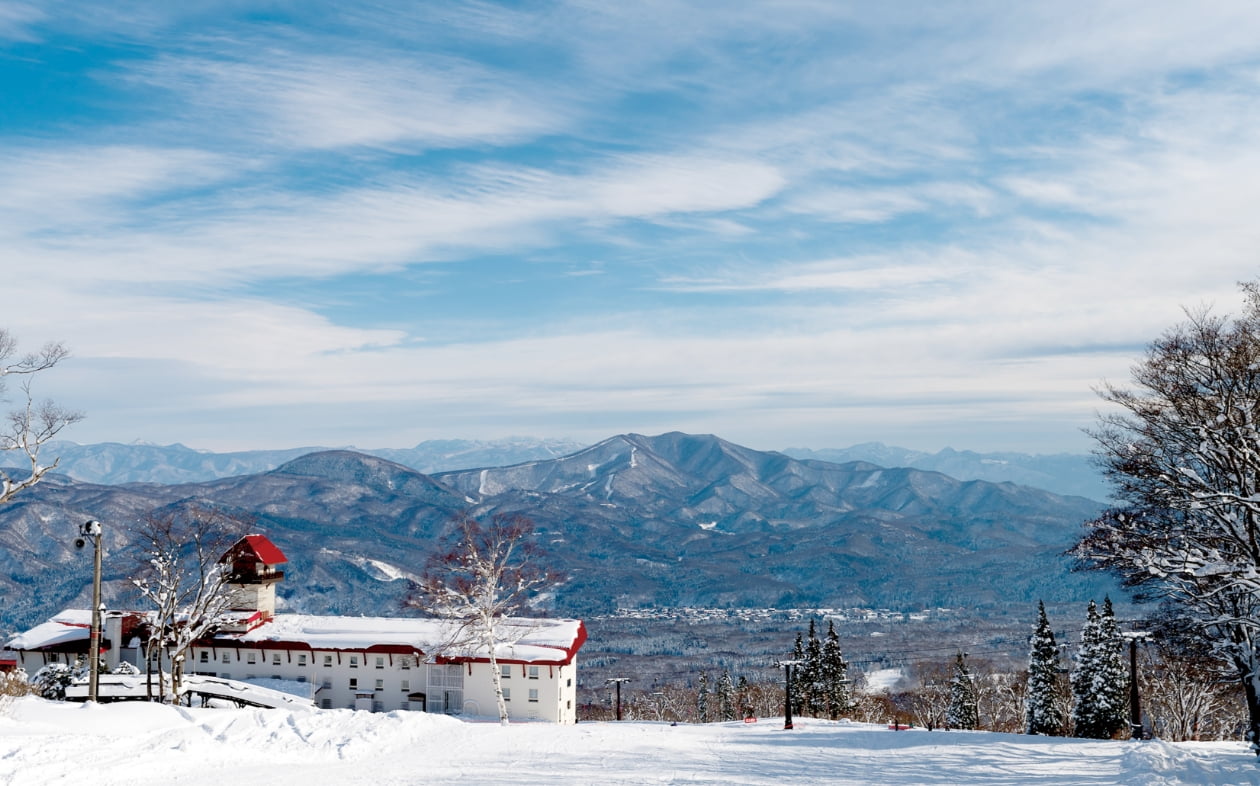 Myoko is a winter sports paradise home to several ski resorts based around the 2,454-metre-high Mt. Myoko, located in Niigata Prefecture near the border of Nagano. It is renowned for its long winters with heavy snowfall, yielding abundant fluffy, high-quality powder snow, along with its easy access from Tokyo by train. The history of skiing in Japan is deeply connected to Myoko – Myoko's Akakura Kanko Resort, founded in 1937, is one of Japan's oldest ski resorts, while the first-ever officially recognized ski lift also hails from Myoko. Over the decades since, several more top-class skiing and snowboarding facilities have opened, offering plenty of selection for both beginners, intermediates, and experts alike.
The Ski Resorts of Myoko
The seven ski resorts in the Myoko area have a distinctive appeal attracting its own fanbase, from those with advanced powder runs and ski jumps, to gentle, family-friendly resorts with kids areas and lessons. Each resort is fully equipped with rental gear, so you can forget about the hassle of bringing your own! Let's take a look:
Akakura Kanko Resort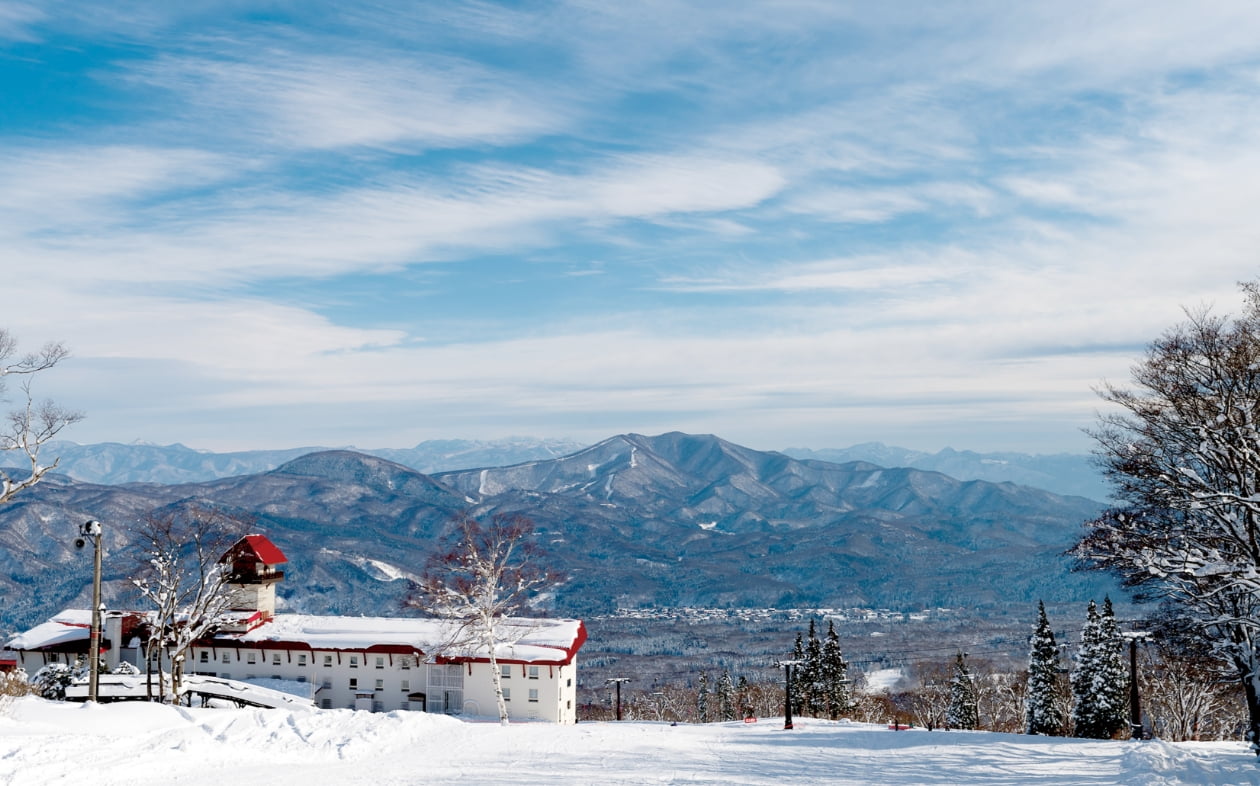 Akakura Kanko Resort (nicknamed Akakan) sits on the eastern slopes of Mt Myoko and is directly connected to the iconic Akakura Kanko Hotel, which opened in 1937 as one of the first ski hotels in the country. The 10 courses accommodate skiers of all levels, and its longest run is a sizable 4.5 kilometres starting from the resort's highest altitude of 1,500 metres. Alongside accommodation, the Akakura Kanko Hotel has high-end restaurants, an infinity pool, a hot spring with natural geothermal water from Mt. Myoko, and more. Skiing and snowboarding lessons in English are also available here through Myoko Snowsports.
 Akakura Kanko Resort: https://myokotourism.com/akakura-kanko-resort/
Akakura Onsen Ski Area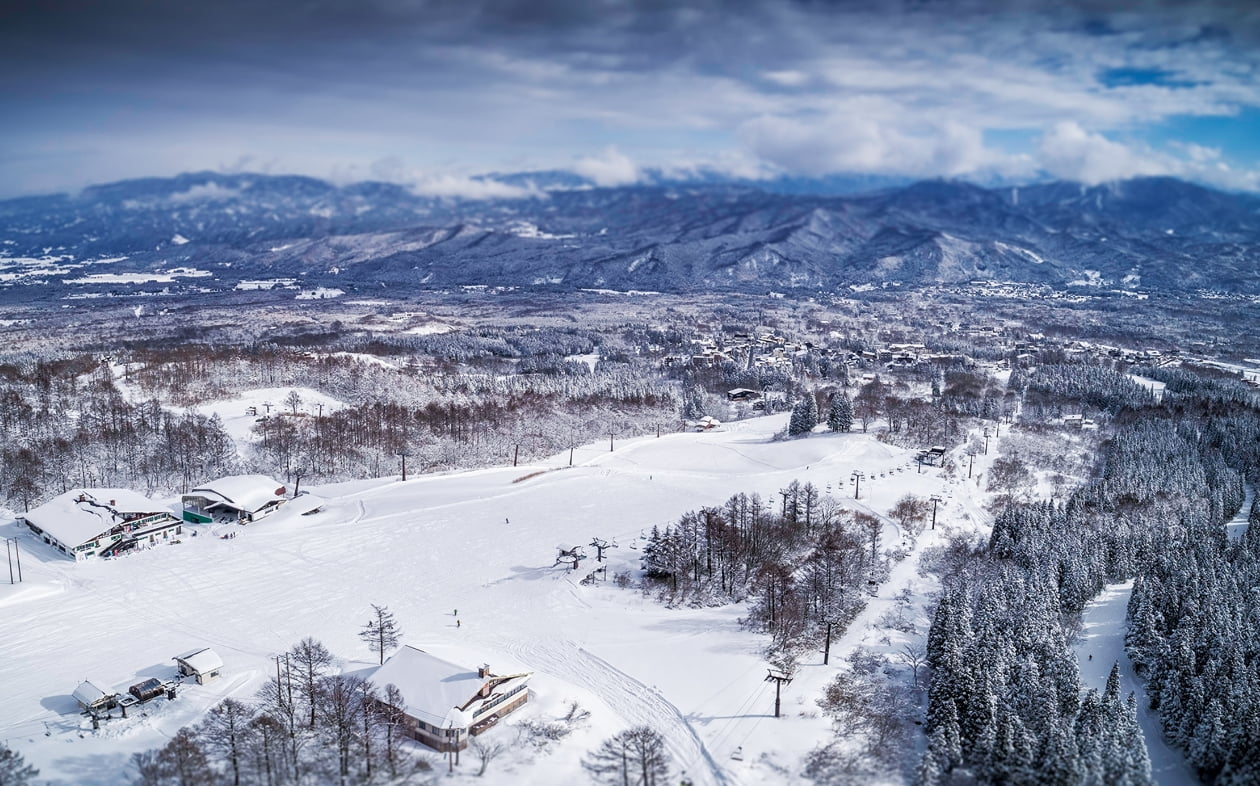 Akakura Onsen Ski Area has 17 diverse courses all with top-quality natural snow. Most of these are aimed at beginners and intermediates, with wide, open runs, making it a comfortable yet exciting adventure for those still getting their footing. There are four restaurants dotting the slopes, offering plenty of opportunity for rest and a meal. It is also conveniently located in the Akakura Onsen township, which is loved for its retro vibes and is home to multiple accommodations, restaurants, and hot spring bathhouses.
Akakura Onsen Ski Area: https://akakura-ski.com/english/
Myoko Suginohara Ski Area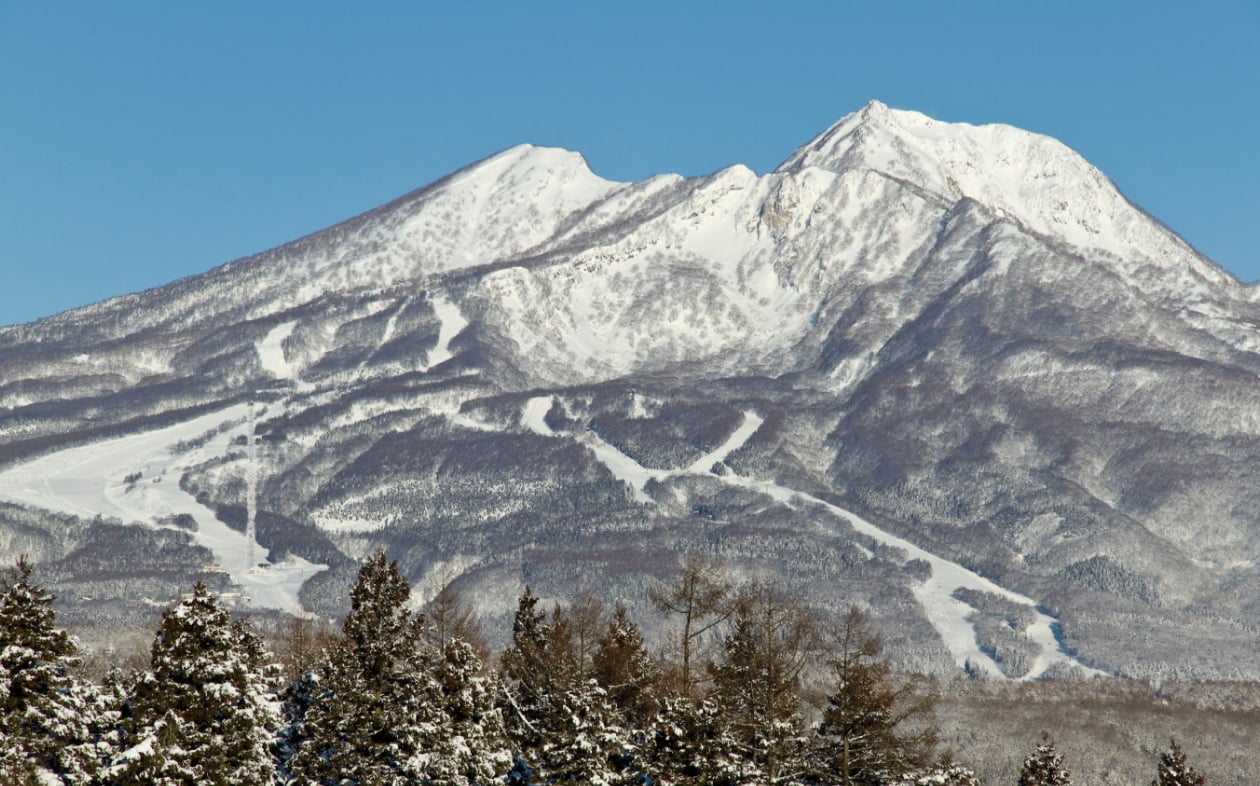 Myoko Suginohara Ski Area is most famous for its 8.5-kilometre-long trail, which has a mighty elevation difference of 1,124 metres. There is also an even spread of beginner and intermediate runs with spacious, clear terrain, alongside two advanced slopes at the peak with ungroomed snow. Daredevils can also run wild at Sugi Park, which boasts jib bars and more for stunts, while those feeling fatigued can recharge at five different eateries.
Myoko Suginohara Ski Area: https://www.princehotels.com/en/ski/myoko_kogen/
Lotte Arai Resort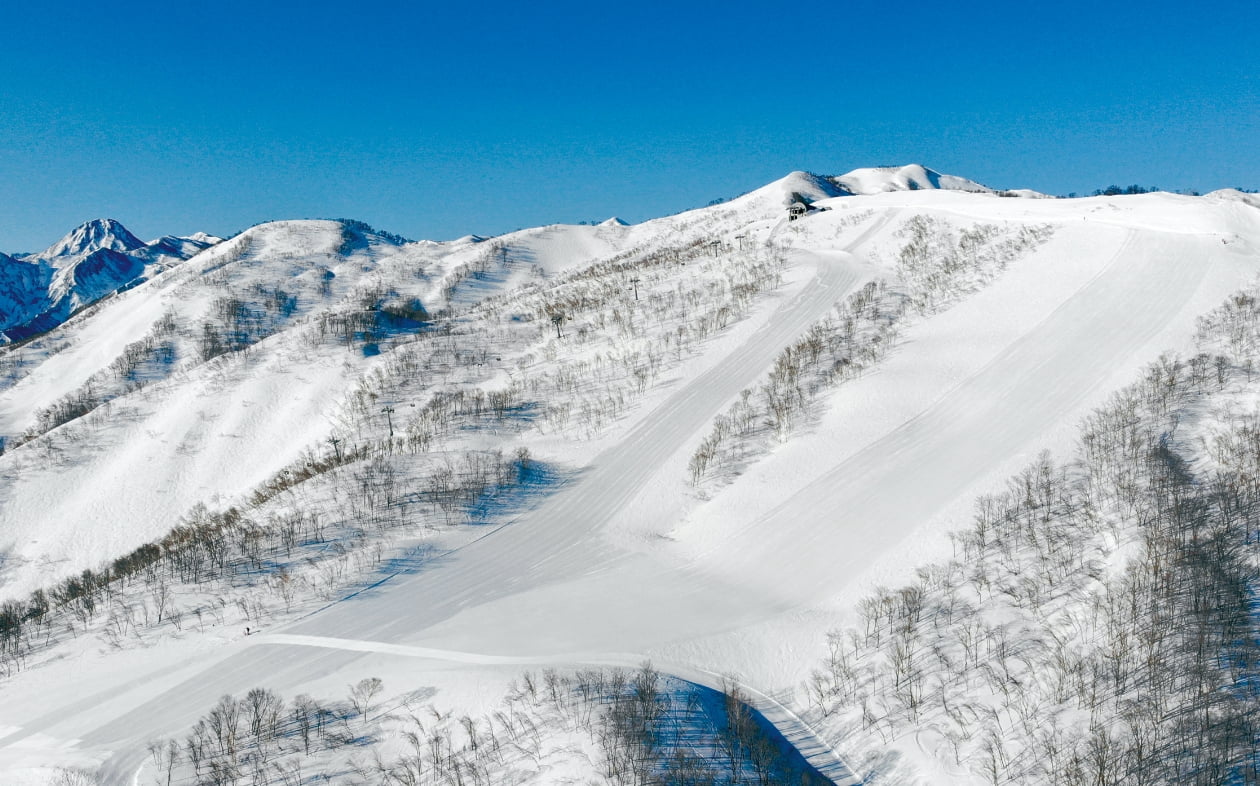 Lotte Arai Resort straddles the side of Mt. Okenashi, which presents grand views of the nearby Mt. Myoko. It allows off-piste skiing for advanced skiers on a multitude of slopes with all kinds of terrain covered in thick, untouched non-groomed snow. There's also plenty for beginners and intermediates, like the 2.3 kilometre Myoko Long Run and 1.1 kilometre Roppongi Road, combining to form the resort's longest run of 7 kilometres. There are also English lessons courtesy of Myoko Snowsports, ample luxury accommodation options, and a collection of premium restaurants.
Lotte Arai Resort: https://www.lottehotel.com/arai-resort/en.html
Ikenotaira Onsen Alpen Blick Resort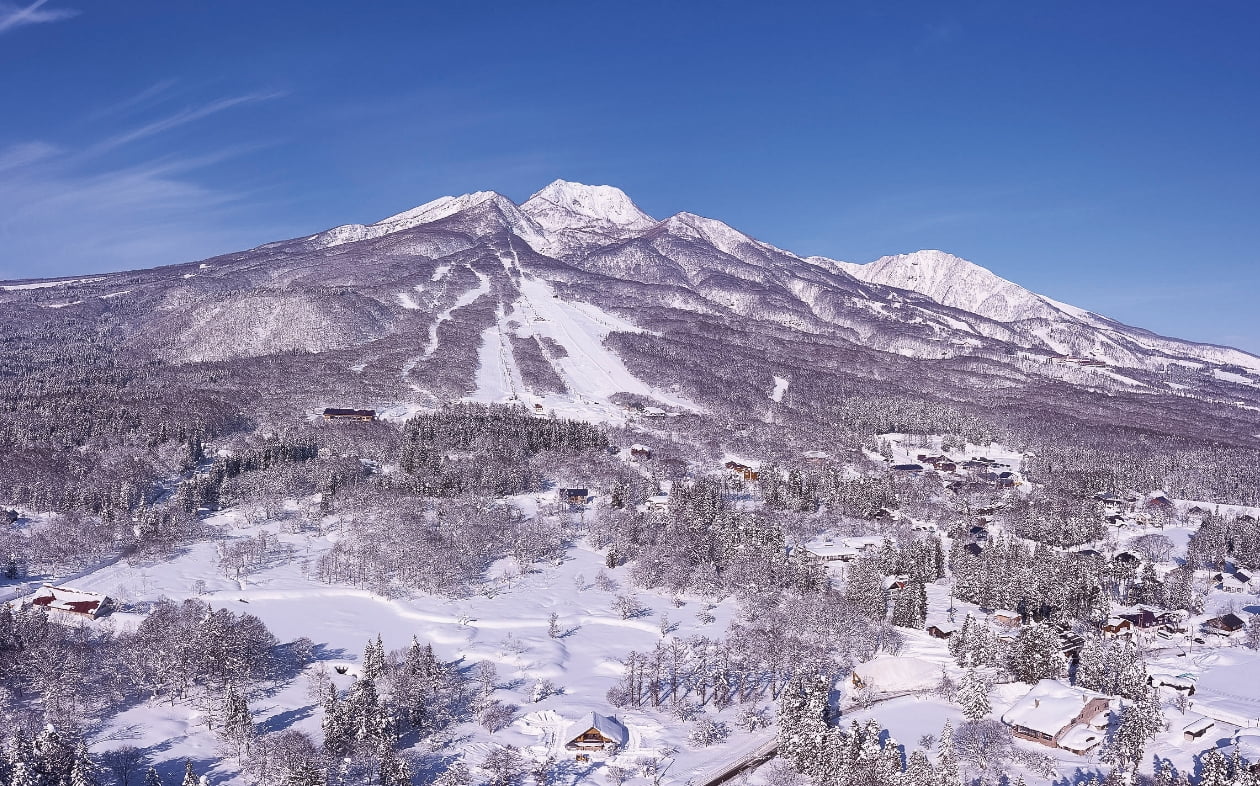 Between Akakura Kanko Resort and Myoko Suginohara is Ikenotaira Onsen Alpen Blick Resort, which is packed with 15 courses suiting mostly beginners and intermediates, plus two short advanced runs. Its "Wide, Long Run" slope gives skiers plenty of room to spread out, the Mavericks Park boasts jumps, rails, and more for those chasing an adrenaline rush, and the Kids' Garden is fitted with a conveyor belt for fun and effortless sledding. Accommodation is available at the Hotel Alpen Blick, where there are also natural hot springs with black mineral water plus saunas and bedrock baths, while the Alpen Blick Beer Brewery Restaurant serves fresh craft beer on tap brewed from Myogo water.
Ikenotaira Onsen Alpen Blick Resort: https://joetsu-myoko.com/joetsu-myoko-ski-resorts/ikenotaira-onsen-ski-resort/
Myoko Kyukamura Runrun Ski Resort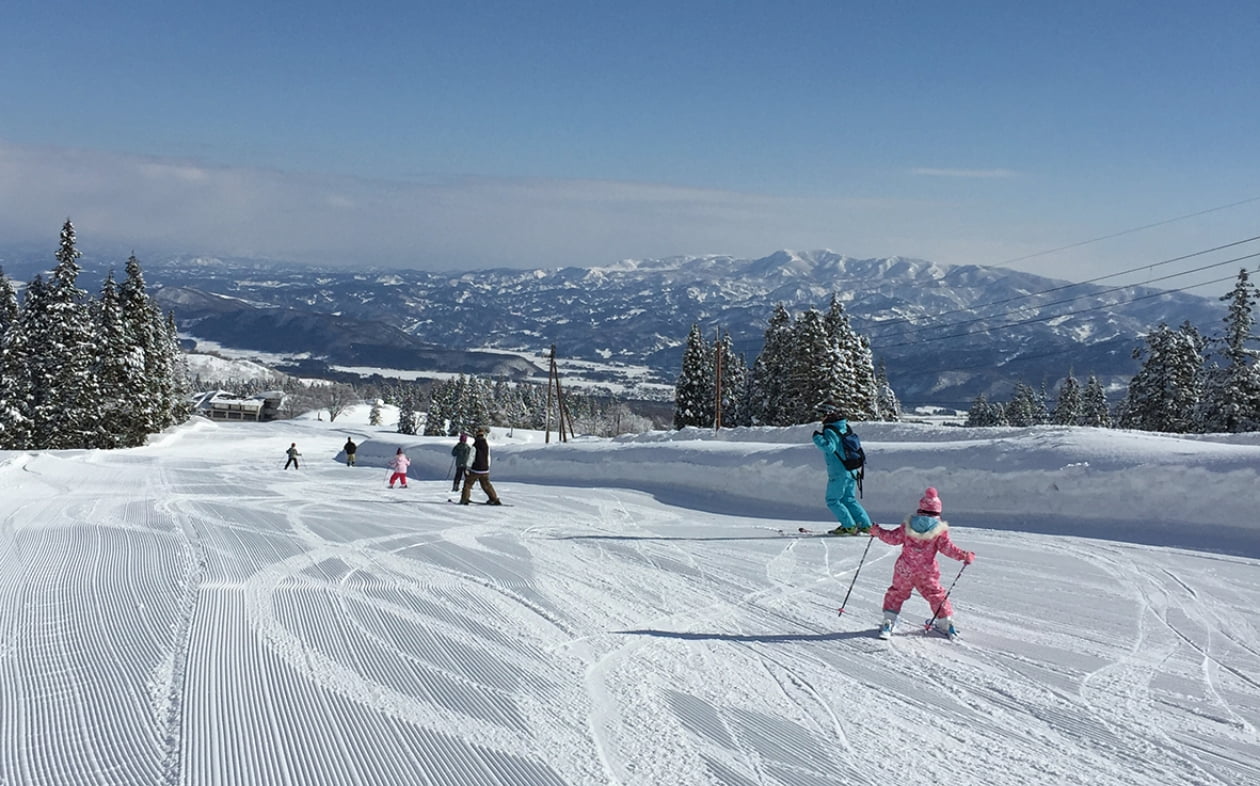 Myoko Kyukamura Runrun Ski Resort is the ultimate beginner's ski resort. It contains a single lift and a 900-metre-long course with gentle elevation and plenty of space ideal for skiing debuts. With the brand-new RunRun Kids Park open on weekends, and free lift rides for all preschool children, it's also a must-visit for families with young children. The slope is directly connected to the hotel Myoko Kyukamura, which has hot springs and scrumptious meals cooked with local ingredients.
Myoko Kyukamura Runrun Ski Resort: https://myokotourism.com/kyukamura-myoko-runrun/
Madarao Mountain Resort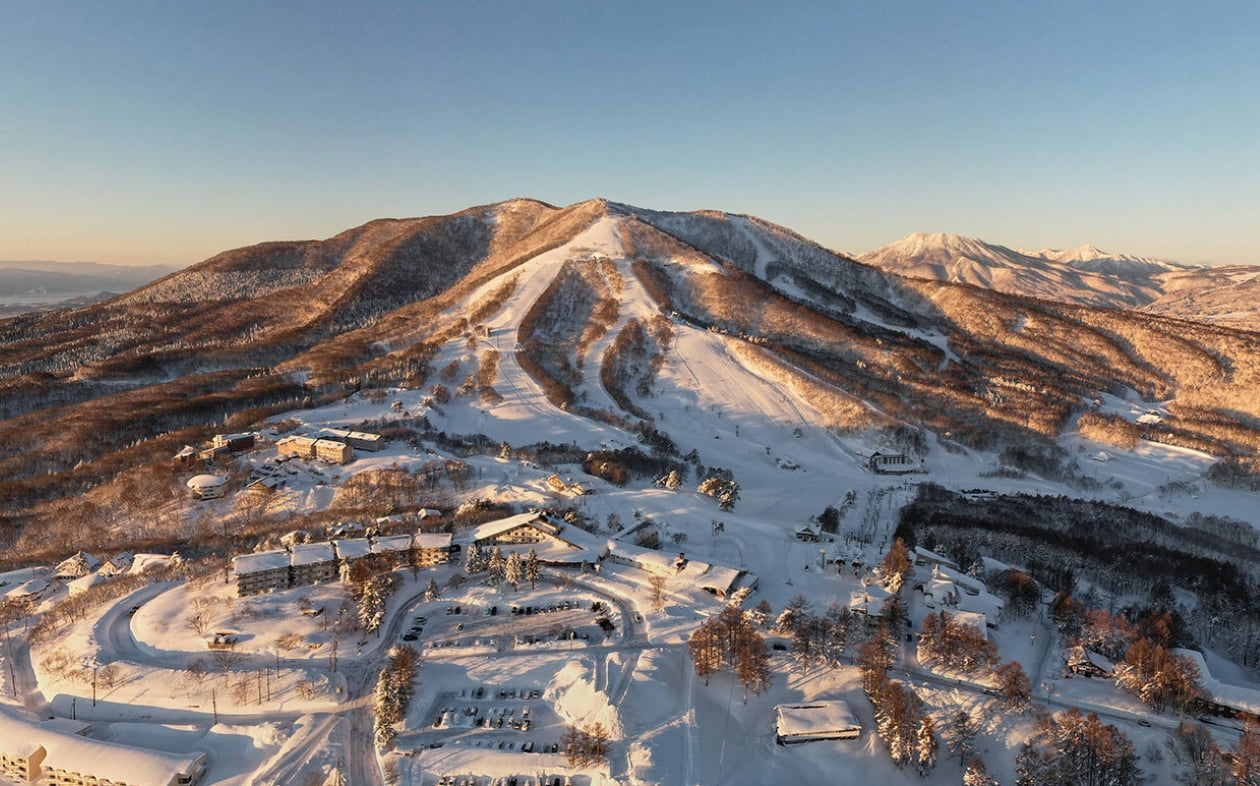 Madarao Mountain Resort is a massive skiing complex with 30 courses covering the side of the 1382-metre-tall Mt. Madarao. It has a good range of levels, including both groomed and ungroomed courses, so skiers of all abilities can enjoy the wonder of Japan's powder. There are also 10 designated "tree runs" for advanced skiers seeking adventure within resort boundaries. Kids-only slopes and sledding courses make it a worthwhile destination for families, and the resort's direct connection to the Madarao Kogen Hotel grants superb convenience. Hot springs and a wealth of restaurant choices makes it equally appealing to those who prefer luxury. English-speaking instructors are also available for both group and private lessons.
Madarao Mountain Resort: https://www.madarao.jp/en
When Is the Best Time to Ski At Myoko?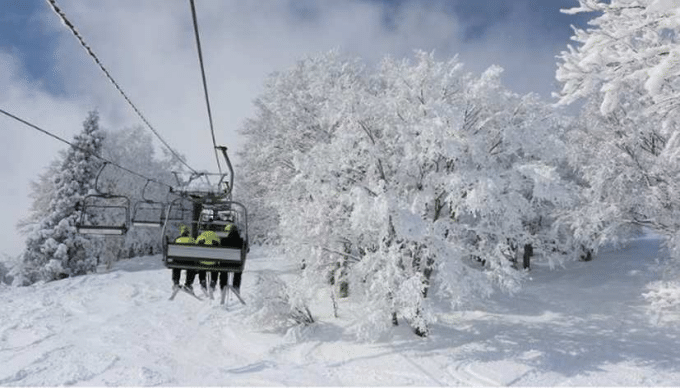 While the operating period differs between facilities, most ski resorts in Myoko open between mid-December and late March or early April/May, depending on conditions. Generally, the best snow conditions are during January and February, when days with a metre of snowfall or more are not uncommon.
What Else Is There to Do at Myoko?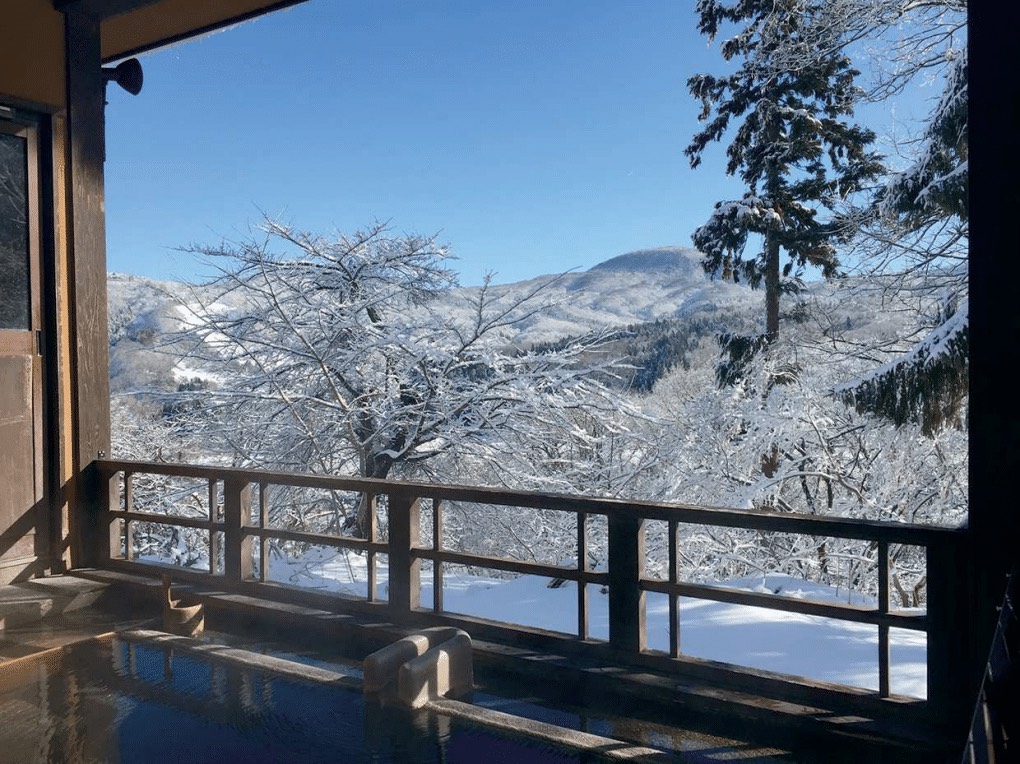 Along with skiing and snowboarding, Myoko is a popular tourist destination full of sightseeing, activities, leisure, and cuisine. In winter, snowshoeing can be experienced around Imori-ike Pond, near Ikenotaira Onsen, taking you deep into untouched nature otherwise inaccessible.
Myoko is also famous for its hot springs, with seven different hot spring resort towns surrounding the base of the mountain flaunting natural geothermal water with a swath of healing properties. Coming from five sources of varying qualities, the hot spring hues change depending on the area, running from crystal-clear transparent water all the way to the milky-white Tsubame Onsen, reddish-brown Seki Onsen, and more.
Myoko is also a foodie destination with a wide mishmash of cuisines, from traditional Japanese to offbeat, creative Western. Being surprisingly close to the Sea of Japan, Myoko restaurants have consistent access to fresh hauls of top-tier seafood, while the "koshihikari" rice of Niigata Prefecture is considered the best in Japan.
 How to Get to Myoko
To get to Myoko's central Myoko Kogen Station, take the Hokuriku Shinkansen bullet train from Tokyo to Nagano Station, then change to the Shinano Tetsudo Line and get off at Myoko Kogen Station. Alternatively, take the Tokaido Shinkansen bullet train to Nagoya Station, and change to the Special Express Wide View Shinano train until Myoko Kogen Station. From Myoko Kogen Station, you can take a bus or taxi to your chosen ski resort or hotel.
Alternatively, Myoko Shuttle also runs a direct Narita & Haneda Airport Service bus, which can be booked online. This is a great option for those short on time, and who don't want the added stress of dealing with trains in Japan.
Read more about Myoko: https://www.gdayjapan.com.au/travel-tips/travel-information/myoko-2/