To go where no piste has gone before
Tokachidake is nature in the Hokkaido Powder Belt 'as is'. There are no lifts, no groomed runs, and no crowds; just pure powder to be enjoyed.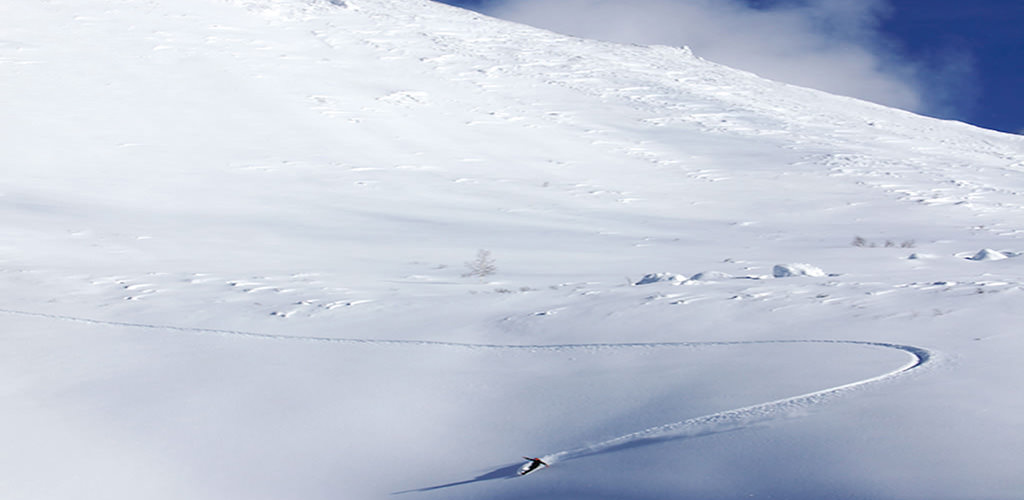 The area consists of Tokachidake, a 2,077m high volcano, and Tokachidake Onsen, a hot spring village dotted with welcoming inns. They provide hearty country hospitality with the facilities you need to relax, the transport you need to get around, and the contacts to get you out and back from the powder safely.
Backcountry Skiing and Snowboarding
If you haven't done avalanche rescue training before setting out for Tokachidake, you will have with a guide by the time you hit the mountain. The danger of inadvertently ending your trip somewhere underneath deep powder, or having to take a crash course in igloo-building and spend the night hoping to be rescued on the 2,077m high volcano is very real, and commands the expertise of a local to show you the ropes.
The reward though, of gliding weightlessly across the powder as plumes of smoke billow into the air from its cone above, is priceless. It's the stuff of dreams for hardcore riders, coming down in hefty instalments of up to 30cm a night. To get started arranging a guide to go and experience it, contact any of the inns on this page if you're staying with them, or Kamifurano Tokachidake Tourist Association.
Natural Hot Spring Inns
The volcanic rumblings of Tokachidake heat up natural springs below to temperatures of more than 40°C, which are harnessed by a cluster of hot spring inns in the village of Tokachidake Onsen. Perched at altitudes in the 1,200 metre range, they command superb views above the clouds and are a welcoming haven for riders who have been out enjoying the powder all day. The views aren't just from inside, either. The inns have set up outdoor baths true to the Japanese hot spring tradition, from which guests enjoy the luxury of gazing back on the mountains they've been riding down. Getting to the inns during the winter season is simple, thanks to their coach pickup services from major Hokkaido transport hubs like Sapporo and Asahikawa, and once you're there, you're within walking distance of rideable terrain. The inns provide a combination of Japanese tatami and western-style rooms, and with local food also on the menu, are an excellent choice for experiencing Japanese culture and country hospitality along with the powder.
How close is Tokachidake Onsen to?
Kamifurano (Next to Furano): 25 min (bus)
Asahikawa: 1 hr 55 min (bus)
Further Information
www.kamifurano.jp/?lang=en
REGION INFORMATION
COMMENTS