A place of never ending fun – in and out of the snow"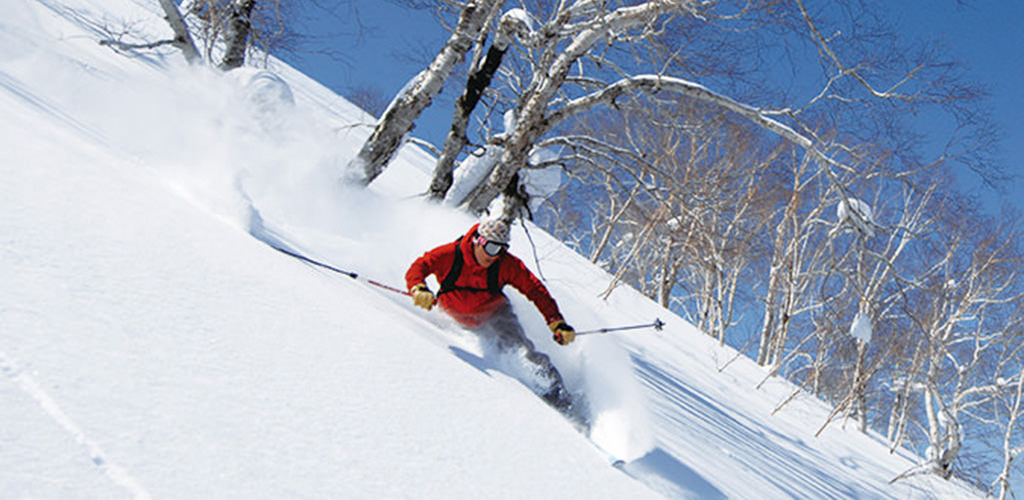 Whether it's your first snow holiday or your 100th, a holiday at Hoshino Resorts Tomamu is a new kind of holiday experience you must try. Located between Asahikawa, New Chitose and Obihiro Airport, the resort is accessible by train or car which takes anywhere from an hour to just under 2 hours.
Of course, the first thing you're going to want to do is to test the snow. Behind the resort is a vast area of powder snow with a peak of 1,239m. There are 25 courses set for various levels of experience but all
equally exciting. For the first timers, there's a ski school with certified English speaking instructors. Those between beginner and intermediate level should try Adventure Mountain. It's open for children 7 and up as well as adults and is packed with powder snow and fantastic courses. The non-groomed, open powder runs in untouched areas of the mountain are an absolute treat for any experienced skier or snowboarder. Although the real treat here are the guided backcountry tours. The guide will take you up to different peaks – some away from Tomamu – where you can rip up fresh snow and experience the exhilarating freedom that comes with backcountry skiing. While staying at the resort, you have easy access to Mt Tomamu, Mt Furano and Mt Sahoro – three fantastic ski spots. There's even a bus going to and from Furano and Sahoro from the resort, available for booking in October. The fun doesn't stop when you get back from the snow; children and adults alike will absolutely enjoy exploring the Ice Village and the Polar Village where you can take part in cross country skiing and much more. Relax and have fun at the wave pool in Mina-Mina Beach, a tropical waterpark or simply unwind in the Kirin-no-Yu hot spring for a quiet evening. The resort is surrounded by a myriad of restaurants, cafes and bars; from the Hokkaido Sea Market where you can enjoy in quality meat and seafood, to Mikaku, where you can indulge in a delicious Japanese breakfast. It's needless to say what a fantastic stay you'll have at any of the hotels available at Hoshino Resorts Tomamu. The decadent and family friendly Risonare Tomamu is surrounded by nature, and the reasonably priced The Tower is perfect for active couples and groups looking for a great time. Regardless of where you stay within the resort, the fun that can be had at Hoshino Resorts Tomamu is fun like no other.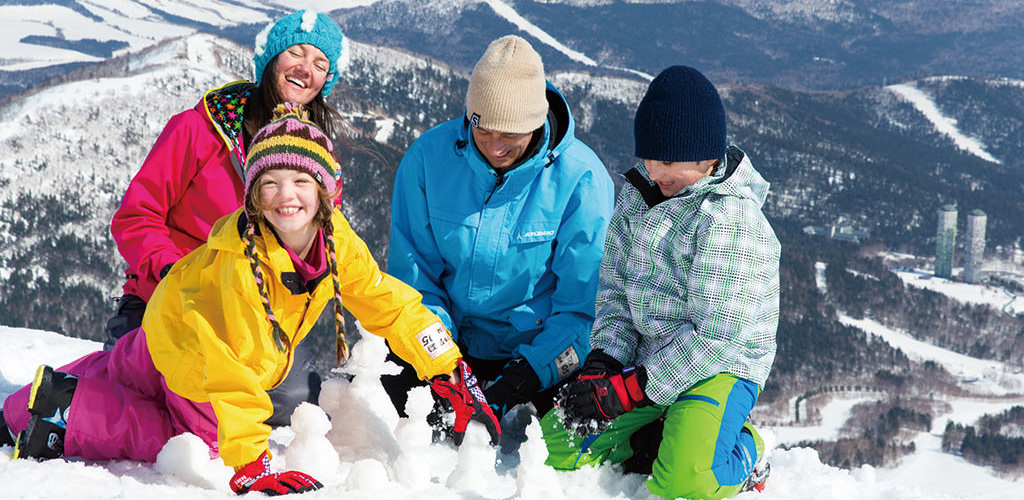 The real winter wonderland is in Tomamu…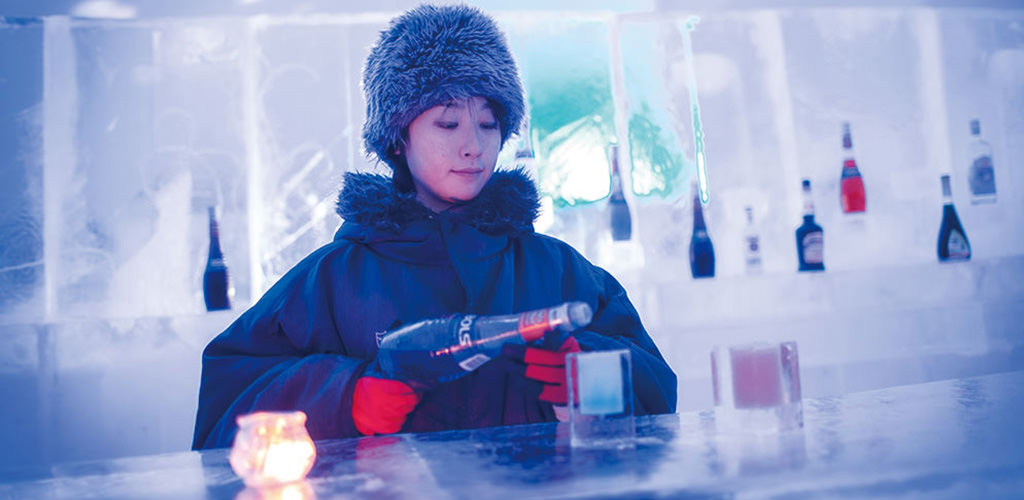 Walking into the Ice Village at Hoshino Resorts Tomamu is probably the closest thing you'll get to walking into winter wonderland. This enchanting village appears only after sunset during winter, and every feature of this village is fun for both adults and children.
As the name suggests, almost everything is made from ice or snow. There's the Snow Park with a slippery slide made of ice, an Ice School where you can take craft lessons, and an Ice Chapel for weddings just to name a few. Some of the attractions at the Ice Village does cost a fee, but all is set at a reasonable rate.
Start your adventure in winter wonderland, aka Ice Village, by having a twirl and a slide at the Ice Skate Rink, then move on to explore the Ice House, complete with icy tables and beds. If you're feeling a little cold, you can head over to the Ice Fire Place and roast a few marshmallows, grab a hot drink at the Ice Cafe, or for the grown ups, there's an Ice Bar for a tasty cocktail drink served in a cup made of ice.
There are various events hosted throughout the season including Christmas events where the kids can meet Santa, New Year's celebrations and even a Sweets Carnival where there's a sweets buffet in the Ice Cafe. Without a doubt, this is a unique place where everyone – no matter what age – will make fantastic memories.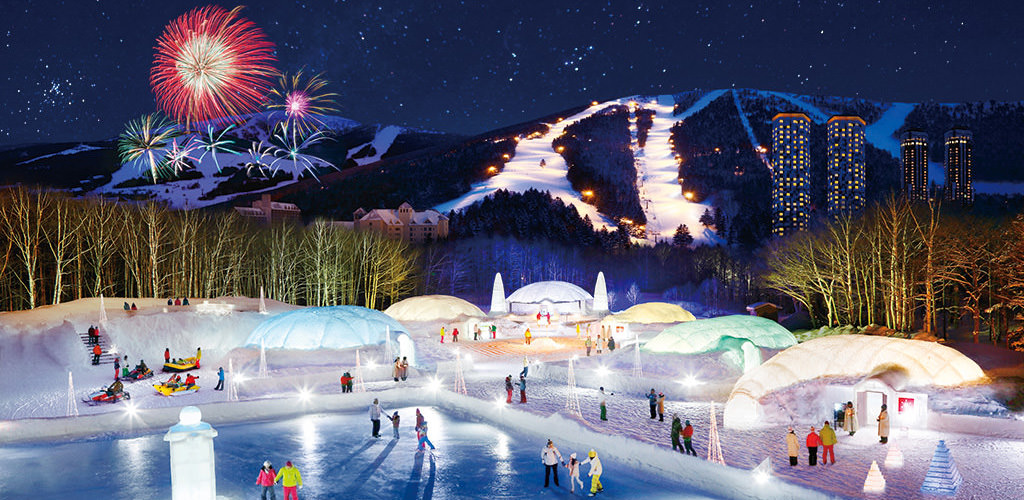 www.snowtomamu.jp/winter/en/
Nakatomamu, Shimukappu-mura, Yufutsu-gun
2 +81-167-58-1111
Days 9:00-16:00, Nights 16:00-18:00
Travelling times to Hoshino Resorts Tomamu New Chitose Airport: 1 hr 30 min (car), Asahikawa Airport: 2 hrs 5 min (car)