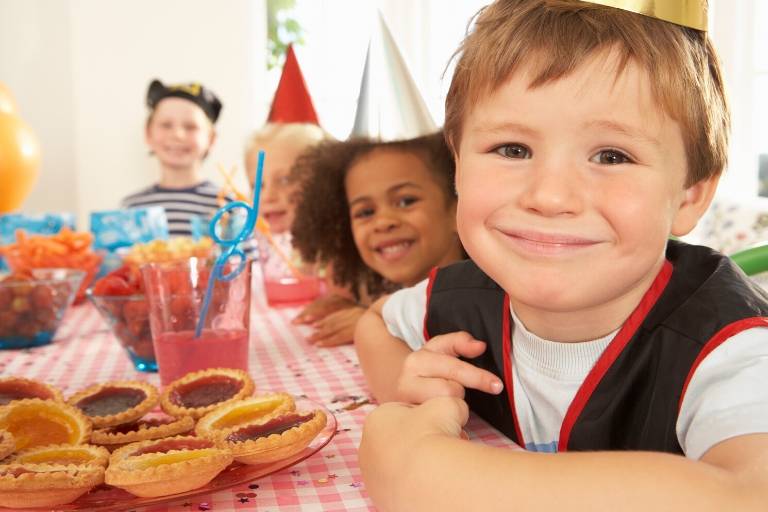 Did you know that Japanese snacks are drawing a lot of attention from abroad? An increasing number of people are becoming interested in Japanese culture through anime and manga, which is leading them to favour unique Japanese flavours like matcha and soy sauce.
Nowadays, souvenirs are not just limited to snacks found in Japanese gift shops. Ones that can be easily bought in regular Japanese supermarkets are also popular to bring back home as souvenirs. Japanese snacks are widely acknowledged for their moderate sweetness, variety of flavours as well as their safe and healthy ingredients.
However, not knowing how each one tastes and what snacks are popular often leads to confusion for those attempting to buy Japanese snacks for the first time. Thus, Japanese snacks often remain out of reach due to these reasons.
We have compiled a list of the top 10 most popular Japanese snacks favoured by locals. These snacks can be easily purchased at Tokyo Mart, which offers a wide selection of Japanese food, drinks and basic and essential goods.
This is a must-visit place for anyone who is keen to try Japanese snacks but has never had the chance! Take your interest in Japan to the next level by trying these snacks which are filled with Japanese charm.
We will cover the Top 10 most popular Japanese snacks at Tokyo Mart. Keep reading to find out more; some might even be familiar.
No.10 / UHA-MIKAKUTO CORORO GUMMY CANDIES 40g
Almost like eating real grapes! Cute, small candies made from 100% fruit juice.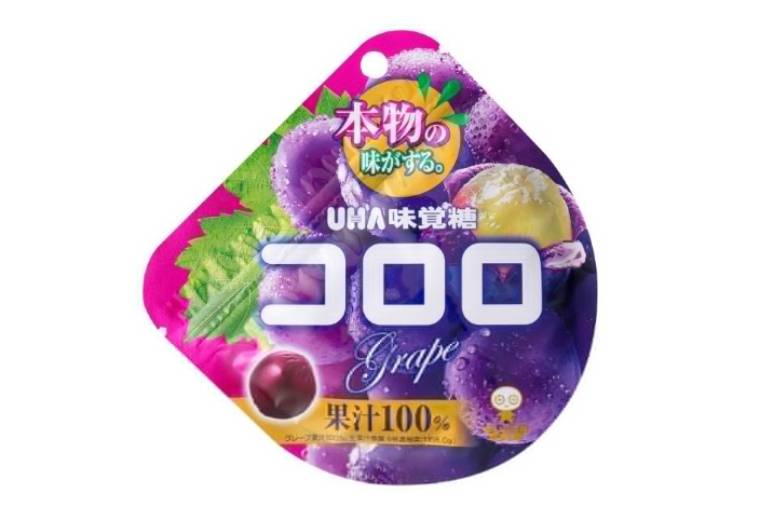 With the rich and juicy flavour from 100% fruit juice, these Kororo gummy candies taste like actual grapes. Its soft but chewy texture distinguishes it from other gummy products. The most popular flavour is grape because their colour and appearance make them look like real grapes. The round packaging design is cute and attention grabbing. In addition, the resealable packaging makes it convenient and easy to carry around.
No.9/ NOMURA MAJIME MILLET BISCUITS 130g
The secret to its popularity is its good old simple sweetness! Its Japan's best-selling snack.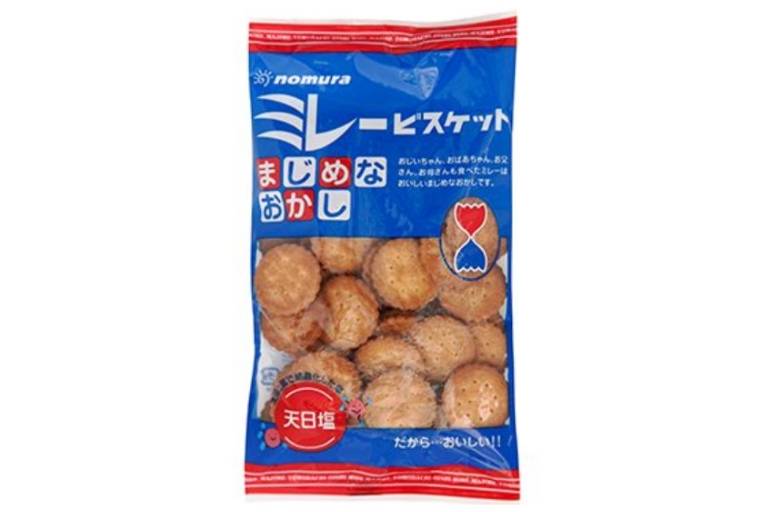 Nomura Majime Millet Biscuits are Japan's simple and all-time classic biscuit. They are a good balance of sweet and savoury, with the salt accenting the flavour well. Its history dates back to 1955 and has been a long time favourite since then, favoured by everyone regardless of age and gender.
Blended with fried-bean oil, millet biscuits boast a unique crispness and subtle sweetness. In addition, they are bite-sized, which makes them easy-to-eat and deliciously addictive.
No.8/ RYUKAKUSAN HERBAL DROPS 88g
Widely favoured by Japanese singers. These soothing drops gently moisten and lubricate your throat.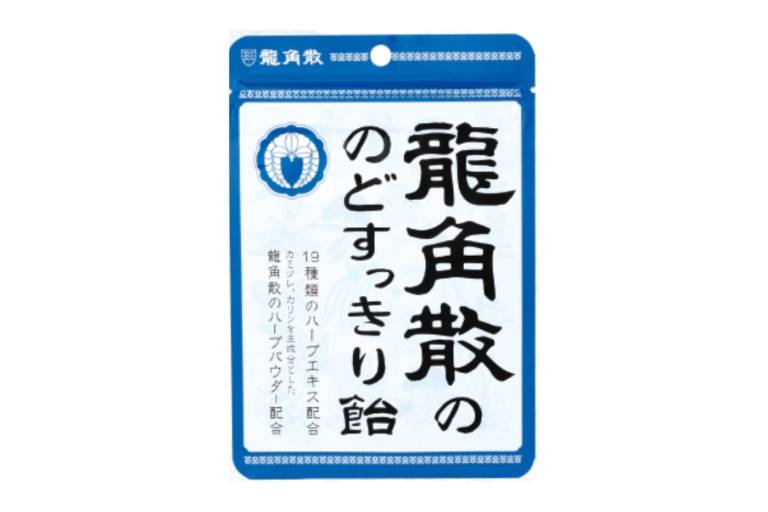 These herbal drops were created by a Japanese company dedicated to throat treatment and developed with the concept of 'RYUKAKUSAN'- a superfine powdered herbal medicine. Due to the dry weather, they are also gaining popularity here in Australia. The main ingredients in RYUKAKUSAN powder are chamomile and Chinese quince, which are easy on the throat. 19 kinds of Japanese herbal extracts are also added to form these drops, making the subtle sweetness and refreshing herbal scent last longer.
Whenever you have an irritated or dry throat and are in need of both relief and refreshment, these herbal drops accommodate every situation. They have also been given the stamp of approval as effective cough drops by a well-known Japanese singer.
No.7/ MORINAGA RAMUNE SODA CANDY 29g
A best-selling product for 40 years. It contains glucose that will boost your concentration skills.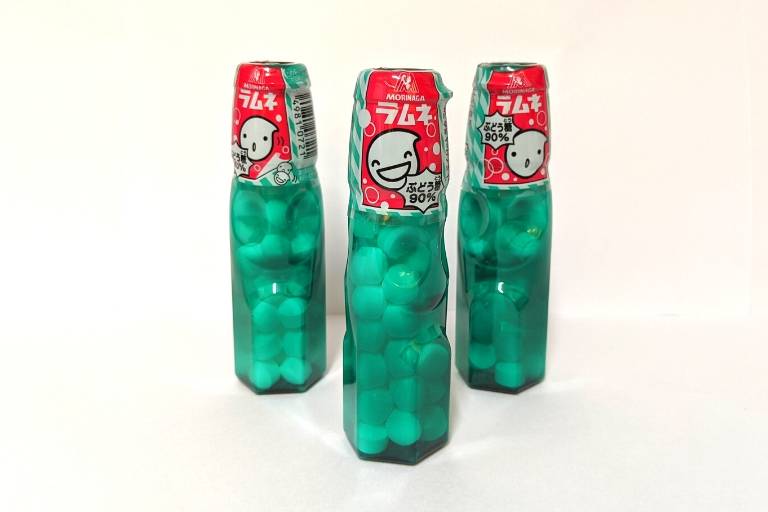 Ramune, Japan's all time popular, citrus flavoured refreshing soda drink, has been transformed into tablet candies. They are widely popular with Japanese teenagers for their distinct fizzy taste and have been enjoyed for over 40 years by both young and old.
Consisting of 90% glucose, which is the source of energy for the body and brain, they will boost your attention span making them great for studying, working and exercising.
No.6/ MORINAGA HI CHEW 12 pieces
The more you chew, the juicier it gets! Fruit-flavoured candies with a very satisfying chewy texture.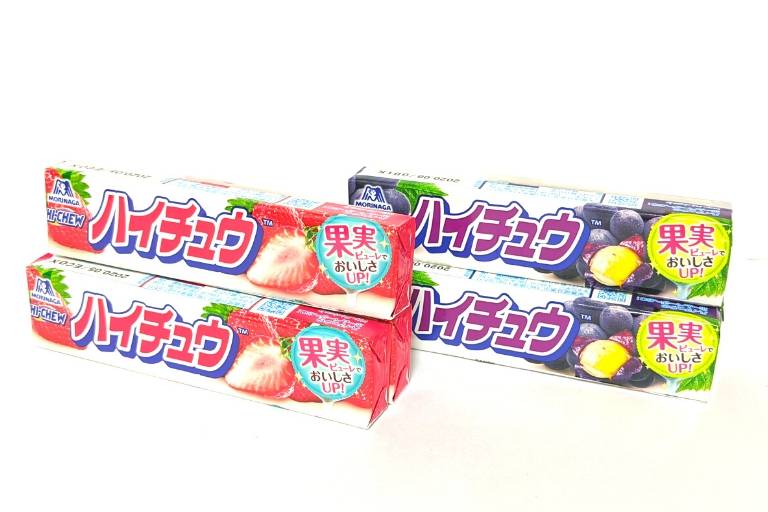 HI CHEWs are a well-known soft candy in Japan. They have a unique chewy texture similar to bubble gum, caramel and gummy candies; you will quickly become addicted. This candy is not only well-known in Japan but also popular at Tokyo Mart, gaining great popularity with all customers regardless of age and gender. There is a wide selection of flavours to enjoy such as strawberry and grape. The most important distinction of this product from other candies is its special layer containing fruit puree, which gives it its original juicy, sweet and sour taste. Being noticeably different from the other soft candies, HI CHEWs will never disappoint you.
No.5/ KRACIE POPIN' COOKIN'
A DIY candy making kit where kids and adults alike can learn the fun of cooking.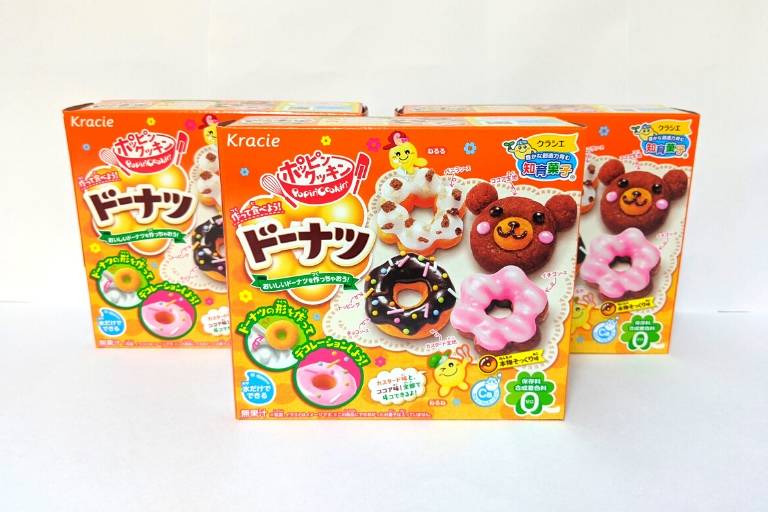 This tasty and educational treat offering a fun way to learn how to cook, has been drawing a lot of attention both domestically and abroad. The POPIN' COOKIN' series especially, offers a variety of products and has been adored by children for sparking their imaginations. They allow you to enjoy the process of designing and making your very own sweets.
One appeal for this donut kit is that it can be completed very easily; all you need is water. There is no preparation needed and you don't need any equipment such as a bowl or a whisk. Simply add water to the vanilla and cocoa dough included in the kit and decorate them to make your own donuts.
Ingredients: vanilla and cocoa dough, a tray, vanilla, strawberry and chocolate sauce, crunchy and sprinkle toppings.
No. 4/ NESTLE KITKAT 24 pieces
A perfect balance of crispy wafer and the exquisite sweetness of chocolate that makes you crave more.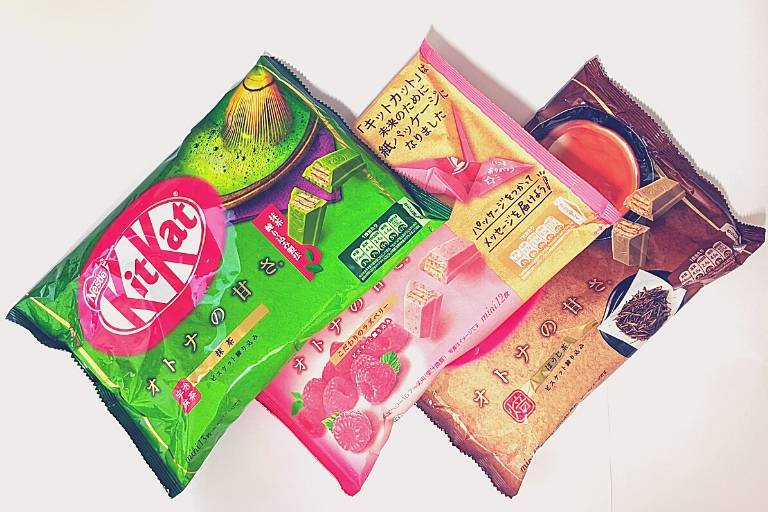 A globally loved confectionary, Kit Kat is a combination of vanilla cream, sandwiched between two crispy wafers, covered in chocolate. At Tokyo Mart, a great variety of Kit Kat flavours are offered, from the standard chocolate flavour to Japan-exclusive flavours such as strawberry, green tea and Hojicha (Roasted Green Tea). People who have been to Japan often stop into Tokyo Mart to make a repeat purchase of these limited editions.
For a secret way to enjoy Kit Kats, toast them just a little; this will give them a chewy brownie-like texture. The individual packaging is perfect for a quick snack, especially for outings.
No. 3/ ORIHIRO KONJAC JELLY 12 pieces
Guilt-Free jiggly jelly, perfect for weight loss.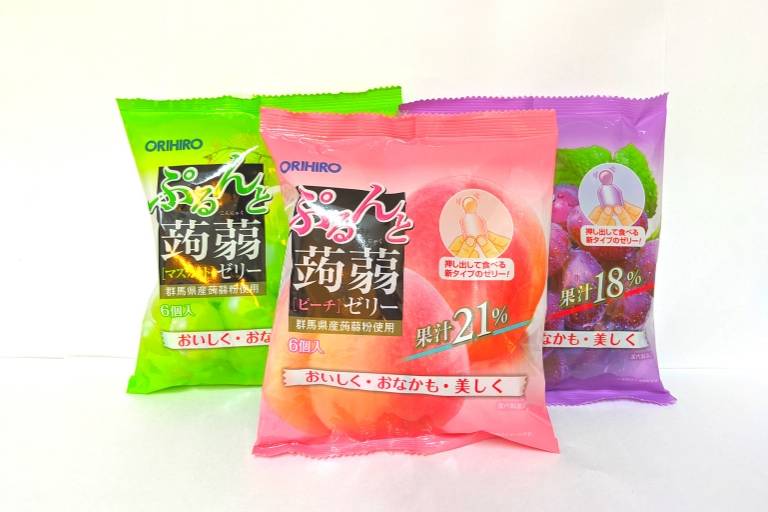 Konjac jelly is popular among those concerned with health and beauty. It is well known as an excellent ingredient for improving the body's intestinal environment due to its abundance of dietary fibre. Although it has almost zero calories, the springy texture makes your stomach feel full. Served in peach, grape and Muscat flavours, they will certainly play an essential role in losing weight.
They come in individual squeezy pouch bags, keeping your hands clean as you eat them and making them a perfect travel-friendly snack.
No. 2/ SANKO SEIKA RICE CRACKERS 111g
Fill up your stomach with these deliciously crispy crackers.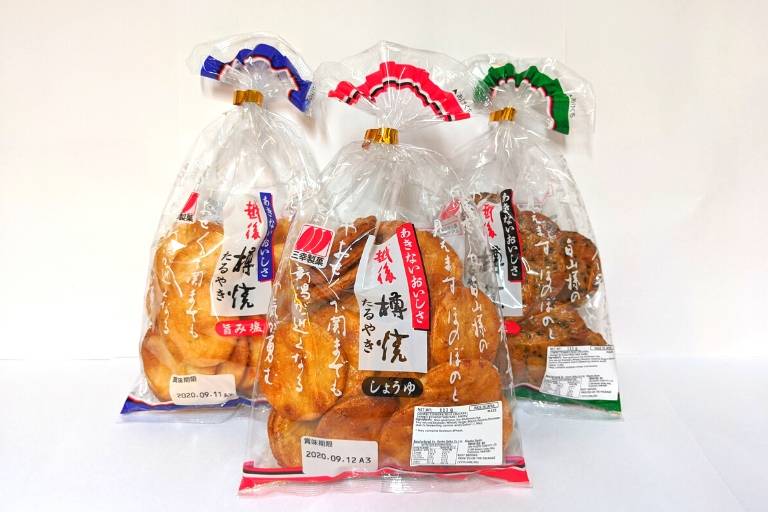 Rice crackers are a healthy snack made from rice. They are also gluten-free and contain no flour. Japan's geography accounts for its high-quality rice, making Japanese rice crackers hard to beat. There are roughly 20 to 40 varieties of rice crackers from classic to seaweed-wrapped to sugar-coated. Among numerous selections, the Echigo Taruyaki series is the most popular, even with just its simple salt and soy sauce taste. The crunchy texture and rice flavour make them the greatest snack of all time.
No.1 / GLICO POCKY
Share the happiness! The irresistible taste- Once you start, you can't stop.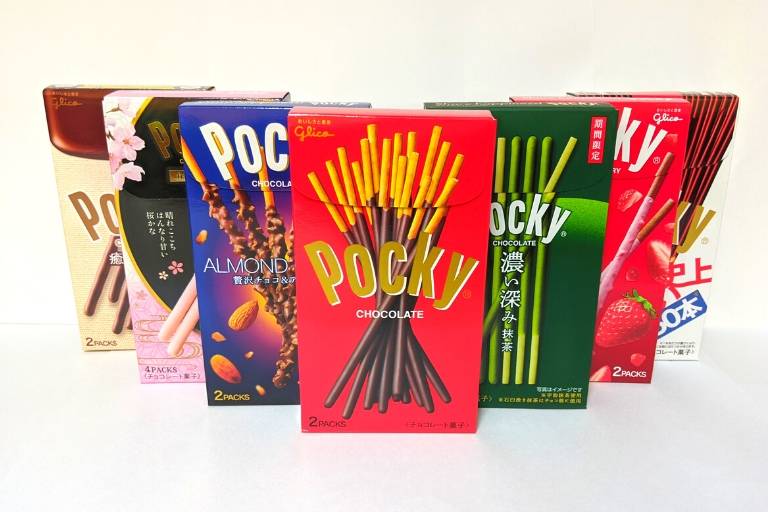 Crispy pretzel sticks coated with a creamy chocolate create a perfect harmony of sweet and savoury. They have been a Japanese staple snack for a long time but are also massively popular in Australia. The pretzel stick is partially covered with chocolate leaving the other end uncovered, which prevents your fingers from becoming sticky, making it a perfect snack to eat while studying. Aside from the classic chocolate flavour, a variety of flavours can be enjoyed such as almond, strawberry and green tea. It is the best snack to bring to any party.
Tokyo Mart

Rice, vegetables, pickles, dried goods, snacks, frozen and instant food- from the basic Japanese ingredients to rare day-to-day lifestyle items, Tokyo Mart seeks to bring Japanese 'washoku' to Australia with its fantastic selection of everyday necessities.

Shop 27, Northbridge Plaza, Sailors Bay Road, Northbridge, NSW 2063
 (02) 9958-6860
Monday, Tuesday, Wednesday and Friday 9:00 – 17:00/Thursday 9:00 – 18:00/Saturday 9:00 – 17:30/Sunday 10:00 -16:00
www.junpacific.com
 www.facebook.com/tokyomartsydney