The Australian summer is coming to an end with cooler nights and a growing apatite for something delicious and soupy. If we were in Japan, it'll be around the time when we pull out the table top stove to get 'Nabe season' started. Sydney's number 1 Japanese supermarket, Tokyo Mart shared with us their complete guide on how to Nabe at home.
So what is Nabe?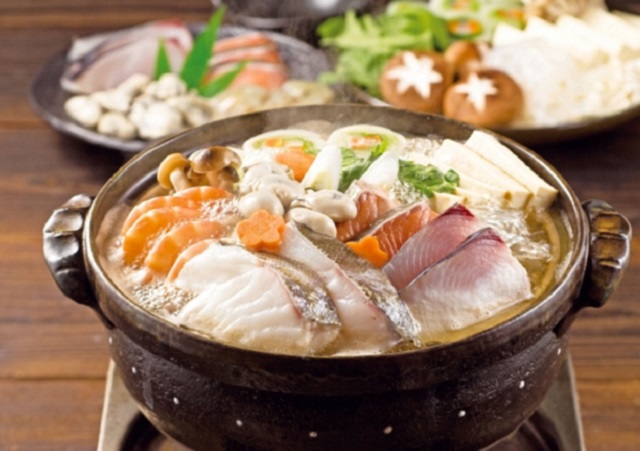 Nabe is the Japanese style of hot pot. It's a tasty, warm, soupy dish that involves cooking an array of vegetables, mushrooms and meat in a tasty soup. Nabe is a super healthy comfort food that's also perfect for helping with a nasty cold, stomach problems or even a terrible hang over.
Though it can be made on a normal stove top like a normal soup dish, but the standard way of enjoying Nabe is to sit around a table with family and friends, watching fresh produce cook away in a pot on the table top stove. Nowadays, people host Nabe parties where people bring their own contribution to put in the pot, and take their time enjoying cooking and eating with a couple of drinks.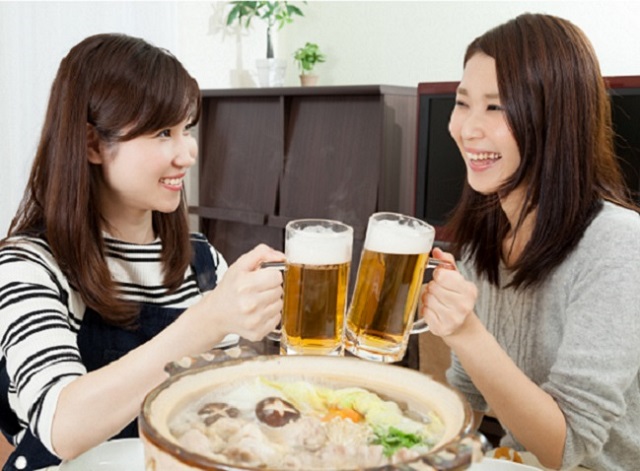 What's great about this particular dish is that it's so easy to recreate here in Australia as well. You can find pre-made soup base at Tokyo Mart. Once you've put the soup base in, the rest is easy. You just need to cut the ingredients in bite sizes and chuck them in the pot and let it do its own thing.
There is no set 'must-have' ingredient to Nabe, so you can improvise, trial with different combinations and create your own interpretation of Nabe.
After eating all of the chunky ingredients, the Japanese then make another dish out of the leftover soup, known as 'Shime'. You can throw in your choice of noodles like Udon noodles or some cooked rice and add some fresh toppings like cheese or shallots to your taste. Heat it up once again to make a noodle soup dish or a Japanese risotto. You can say Nabe is a dish that keeps giving!
Imagine sitting around a table together, sharing a meal out of one pot full of tasty soup — that will surely warm not only your body but your heart.
Nabe is also a great match with Japanese Sake, so having a bottle of your favourite Sake prepared for your Nabe party is highly recommended.
The Basics of Nabe
Making Nabe starts with selecting the right soup base. There are many flavours you can choose from, and the great thing is, all you need to do with the pre-made soup base is to simply put it in the pot and heat it up.
Here are top 9 soup bases available at Tokyo Mart with some tips on what produces go best with them. So be sure to bookmark this article for when you shop at Tokyo Mart!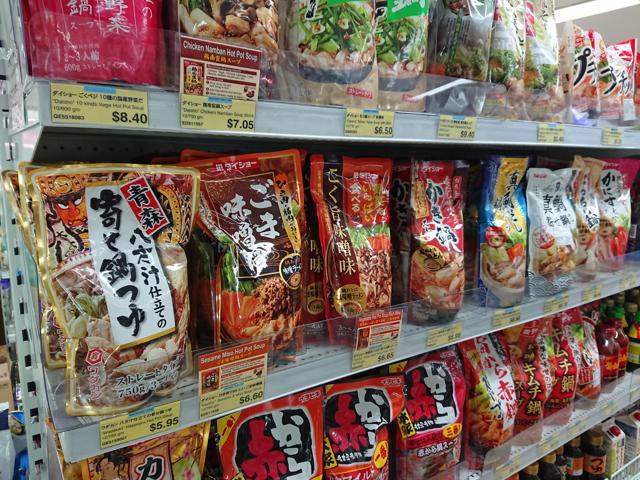 Salt Base
A simple, clear soup base. Especially good with chicken. For the 'Shime' dish, use Champon noodles to create a salty ramen style fish.
Soy Sauce Base
Soy sauce is a traditional Japanese sauce made from soy beans, wheat and salt. It's sweet and salty so it matches perfectly with chicken or pork. Add in tofu and mushroom for extra oompf!
Bonito Base
A bonito dashi base which is a standard soup base for Nabe. It's packed with umami flavours and works well with any ingredient but the best match is with Chinese cabbage and pork. For 'Shime', create Japanese risotto 'zōsui' with some rice and chopped shallots as the topping.
Kimchi Base
Those who love chilli and spicy food must try the Kimchi base. It's a great match with bean sprouts and tofu; the spicy bite will have you coming back for more! To finish off add in some rice and cheese and create a risotto.
Soy Milk Base
The rich and creamy soy milk base is both vegetarian and vegan friendly. (However be mindful that some pre-made bases have bonito dashi in them.) Turn it in to a carbonara style dish for the 'Shime' by throwing in Pasta or Udon at the end.
Vegetable Base
Much like the salt base, the vegetable is simple but packed with flavours of delicious veggies. It's the bast way to consume as much nutrients as possible so this one is highly recommended for when you're feeling under the weather. Make it a super healthy, nutrient charged dish by adding udon, egg and shallots as the 'Shime' dish.
Japanese Konbu (seaweed) Base
The Konbu base can be used for many different things. It's a simple tasting soup base that matches well with pork and fish. Use the powdered Konbu dashi to make it vegan friendly. For 'Shime' add in rice and egg to make a Japanese risotto.
Curry Base
Everybody love curry, and the curry base Nabe is especially a hit with children. Add in pork or sausages to this spicy soup base to help you warm up during the colder months. Turn it into a curry risotto with some cheese and rice added in at the end.
Miso Base
A rich, sweet yet salty soup base. Back in the feudal period, the Japanese said the Miso kept the doctors away, so this is one of the most healthiest soup base option. Matches well with chicken and pork entrails. For 'Shime' adding in noodles like Udon or Ramen is highly recommended.
There are many kinds of pre-made soup bases available at the store, some are combination of a few flavours, so you have much to choose from. The style of Nabe also comes in many variations; from the standard Nabe to tomato based Nabe, 'Motsu-Nabe' which has entrails of pork and beef, as well as the vegetarian Nabes.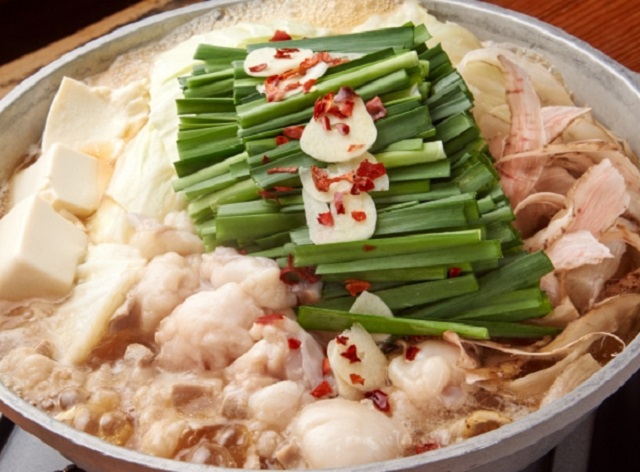 If you can't decide on what to put in for your first go at Nabe, you won't go wrong with the below list:
– Chinese Cabbage
– Pork or Chicken
– Shallots
– Mushroom
– Tofu
What's great about Nabe is that it's delicious even without any meat or fish. Testing out different combinations during your Nabe party could be a fun way to explore the art of Nabe.
The Basic Nabe Recipe
Here are the basics of making a standard Nabe, using the pre-made soup bases.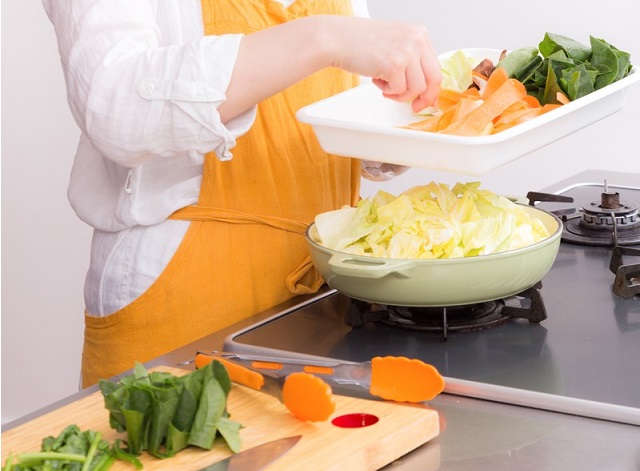 Cut your meat and veg to easy to eat sizes. Chinese cabbage tend to shrink with heat so make sure you have plenty.
Put the soup base in the pot and bring it to boil. Pop in harder veggies and meat first to cook evenly. Be careful with tofu as it's easy to break apart. Be sure to skim off the scum. to conserve the taste.
Once the veggies and meat are cooked through, it's ready to go!
To make your 'Shime' closing dish, be sure to leave some soup and a bit of the ingredients in. If there isn't enough soup, add some water and salt and pepper to balance the flavour. Throw in your choice of filling; rice or noodle and cook until ready. Add in your choice of topping and your second dinner (or breakfast) is ready to go!
Pick Up 3 Popular Soups
Tokyo Mart also shared with us their best Nabe recipes too! You can purchase all of the soup bases at the store!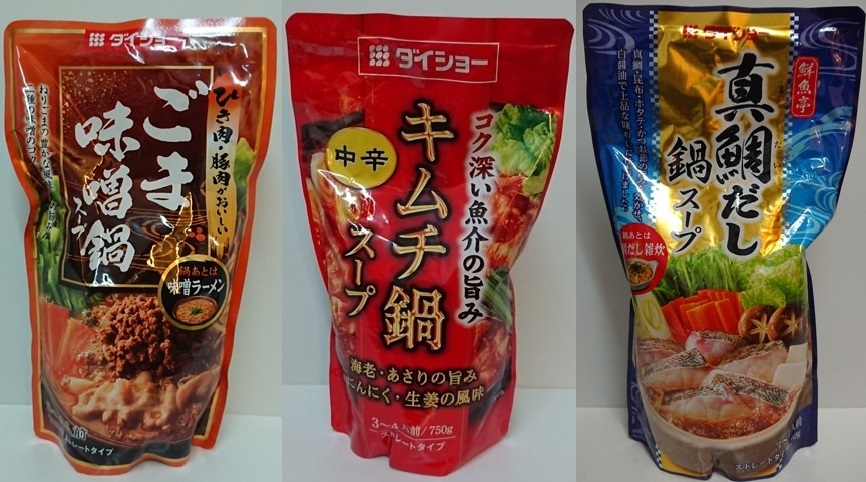 (Sesami Miso Nabe Soup)            (Kimuchi Nabe Soup)                    (Sea Bream Nabe Soup)
Sesame (Goma) Miso Nabe 
The Sesame Miso Nabe is a popular style in Australia and it's very easy to make. Using a soup base made with a sesame seeds and miso, it creates a rich, flavoursome Nabe. Garnish with shallots and sesame seeds! Best with: Pork or Beef, Chinese Cabbage, Chives, Shallots, Bean Sprouts, Shimeji Mushroom, Onion, Shiitake Mushroom and/or Tofu.
For 'Shime': Add in ramen or udon and top with shallots and sesame seeds. The aroma of sesame seeds is very enticing.
Kimchi Nabe
You can't go wrong with the spicy aftertaste of the kimchi. The gochujang paste with the chilli goes perfectly with seafood. If you're a spice fanatic, you'll want to try this.Best with: Beef or Chicken, Chinese Cabbage, Shallots, Bean Sprouts, Enoki Mushroom, and/or Japanese meat balls.
For 'Shime': Add in rice and chopped tomato then cook for three minutes on medium heat. Once it comes to a boil, pop in some parmesan and cheddar cheese and cover it. After a minute or two you'll have a tasty, spicy chilli tomato risotto!
Sea Bream Nabe
This soup base is made with soy sauce, seafood stock and Junmai (pure) Sake rich in aroma. Those who love Japanese food and seafood will certainly fall in love with this Nabe! Best with: Sea Bream, Chinese Cabbage, Shallots, Potherb Mustard, Shiitake Mushroom,Tofu, Daikon Raddish, Enoki Mushroom, Prawns and Scallops.
For 'Shime': Add in rice and cook for three minutes on medium heat. Once it comes to a boil, add in beaten eggs and cover to simmer for a minute. Garnish with chopped shallots and nori seaweed will create a truly indulgent Japanese risotto.
Let's find out your favorite Nabe Soup!
Tokyo Mart is your one stop shop where you can create a whole Japanese dining and living experience at home. They have a vast selection of food, snacks, sake, lifestyle items and dinnerware. Also you could find some goods for cooking Nabe.
Be sure to visit when planning your next dinner party!
Shop 27, Northbridge Plaza, Northbridge 
 (02) 9958-6860 
 Mon-Wed, Fri 9am-5pm、Thu 9am-6pm、Sat 9am-5:30pm、Sun 10am-4pm 
 www.junpacific.com 

 www.facebook.com/tokyomartsydney