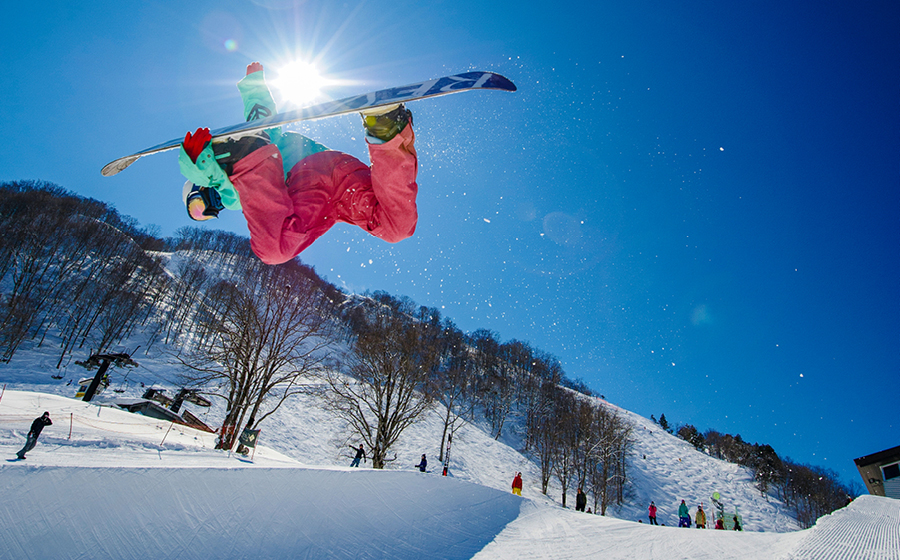 AMAZING TERRAIN AND PARKS
A distinctively Gen Y resort in comparison to the many baby boomers in the Hakuba Valley, Hakuba 47 was born in 1990, and has since risen to prominence as one of the valley's premier all-season resorts. Its winter scenery is nothing short of magical, with a skyline dominated by jagged peaks reaching towards 3,000 metres, and its 23 courses down them offer a wide range of terrain – including moguls and designated off-piste areas – that will satisfy all riders.
Some of Hakuba 47's biggest draw cards are its terrain parks, the R4 and R6 Snow Parks. R6 caters to all levels, and was designed by pro team TOMBOY, using the best of both Hakuba 47's natural and artificial terrain. It's a friendly place to learn the ropes, before heading to R4 – an artificially constructed terrain park. Pro team HYWOD designed its popular R4 Snow Park, which features as a stage for events like the Hakuba 47 Slopestyle, and the North Alps Terrain Park Tour. There's also the half-pipe, a behemoth in the three-metre class that opens with the park in the heavy snows of early February each year – one of the best times to be at Hakuba 47 in winter. The snowfall is abundant enough for the resort to build an igloo village and ice sculptures in addition to the artificial terrain, as part of the Hakuba 47 Thanks Week – a festival which happens in conjunction with the We Love Snow Festival across the Hakuba Valley.
Not just for show, some of the igloos function as rest houses complete with ice bars – naturally serving ice-cold beer – and even Japanese hot pot dishes. Over in the base area, Pizza House Luis is a fantastic choice for a meal, having won a top place in the local 'Gereshoku Battle' for four years running. A contest between slope-side eateries around Nagano Prefecture, this battle typically features a strong field of more than 60 dishes. One of the recent prize-winning menu items from Pizza House Luis is its 'Nozawana Pizza', topped with the famous pickled vegetables of Nozawa Onsen.
Hakuba 47 stands out as a must-visit resort in the Hakuba Valley, and with the longest winter season there from December to May, there's ample opportunity to go and experience it.
Hakuba 47 Mountain Sports Park
24196-47 Kamishiro, Hakuba, Kitaazumi-gun, Nagano
Phone: +81-261-75-3533
Open: 8:00am-4:30pm
http://www.hakuba47.co.jp/winter/en
Travelling times to Hakuba 47
from Tokyo: 2 hrs 40 min (train), from Osaka: 4 hrs (train)
Resort Data
Snow depth: Dec 164cm/Jan 281cm/Feb 336cm/Mar 324cm/Apr 118cm
Terrain: Beg 30%/Int 40%/Adv 30%
Longest run: 6.4km
Gondolas: 1
Chairlifts: 5
Vertical drop: 794m
Steepest slope: 32°