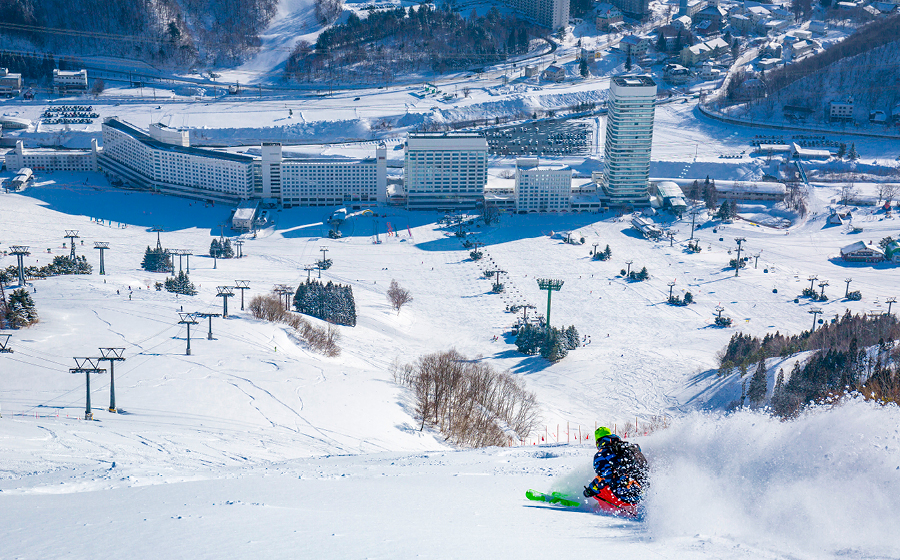 Naeba Ski Resort is a massive ski resort off 200 hectares with the experience of hosting the Alpine Ski World Cup. Within its huge field there are 22 courses as well as three types of kids parks and three gondolas operating. Naeba Ski Resort is a highly versatile ski resort that's family friendly and can accommodate any skill level.
You also have plenty of terrains to try out within the 22 courses at the resort. The quality of snow is known to be of one of the highest in the area, and with it sitting on a higher altitude than other ones in the area, it provides all kinds of terrains.
During the season, Naeba Ski Resort operates from daytime 8am until nights 8:30pm every day so there's almost no time limit on how you spend your time at the resort! The Dragondola, the longest gondola in Japan at 5,481 metres, connects Naeba Ski Resort with the three areas within Kagura Ski Resort. This means you get access to four ski areas across two resorts!
At the base of Naeba Ski Resort is the ski-in and out Naeba Prince Hotel. You can step right on to the snow from the entrance of the hotel. Within the hotel, there are 1,200 guest rooms and convenient facilities including a multi-lingual ski school and three equipment rental stores stocked with the latest goods.
Other après ski activities at the resort includes lunch and dinner at the hotel restaurant, shopping and hot spring baths. Being located just 2 hours from Tokyo. The hotel also operates courtesy shuttle buses for its guests to and from Echigo-Yuzawa station.
Naeba Ski Resort
202 Mikuni, Yuzawa-machi, Minami-Uonuma-gun, Niigata
Phone: +81-25-789-2211
Open: Daytime 8:00am-5:00pm / Nights 4:00pm-8:30pm
http://www.princehotels.com/en/ski/naeba/index.html
Travelling times to Naeba Ski Resort
from Tokyo: 2 hrs (bullet train and bus)
Resort Data
Snow depth: Dec 70cm/Jan 170cm/Feb 290cm/Mar 260cm/Apr 190cm
Terrain: Beg 30%/Int 40%/Adv 30%
Longest run: 4.0km
Gondolas: 3
Chairlifts: 10
Vertical drop: 889m
Steepest slope: 32°