> 14 metres of amazing powder a season
> Five different types of hot spring water
> Fresh seafood from the Sea of Japan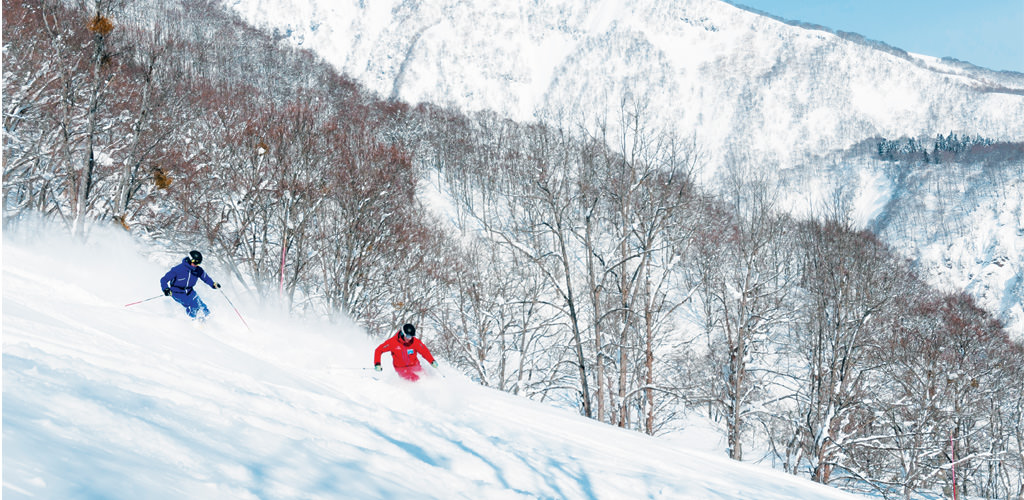 Myoko is a vintage Japanese alpine retreat, comprised of nine different slopes and seven hot spring villages. The area is situated in the heavy snowfall prefecture of Niigata, 2 hours and 40 minutes from Tokyo in the mountains of Joshin'etsu Kogen National Park. Spread around the foothills of the 2,454-metre Mount Myoko, one of Japan's 100 famous mountains, it has four main resorts: Akakura Onsen, Akakura Kanko, Ikenotaira Onsen and Suginohara. They receive an average of 14 metres of high-quality powder snow each season, and are accessible with convenient lift passes.
Resort guests staying at selected hotels are eligible for a Myoko Big-4 lift pass; book through the Myoko Tourist Office for this great-value pass, starting from ¥4,800 for an adult 1-day pass. Akakura Onsen, Akakura Kanko, Ikenotaira Onsen and Suginohara offer riders 43 runs between them, including kids slopes, and eight terrain parks over 1,125 metres of vertical. After a day in the snow, there are the hot spring villages of Akakura, Shin-Akakura, Ikenotaira, Suginosawa, Myoko, Seki, and Tsubame to explore at Myoko, featuring five types of hot spring water. With varied combinations of revitalising minerals, the colours of these springs range from black clay to reddish-brown and milky white.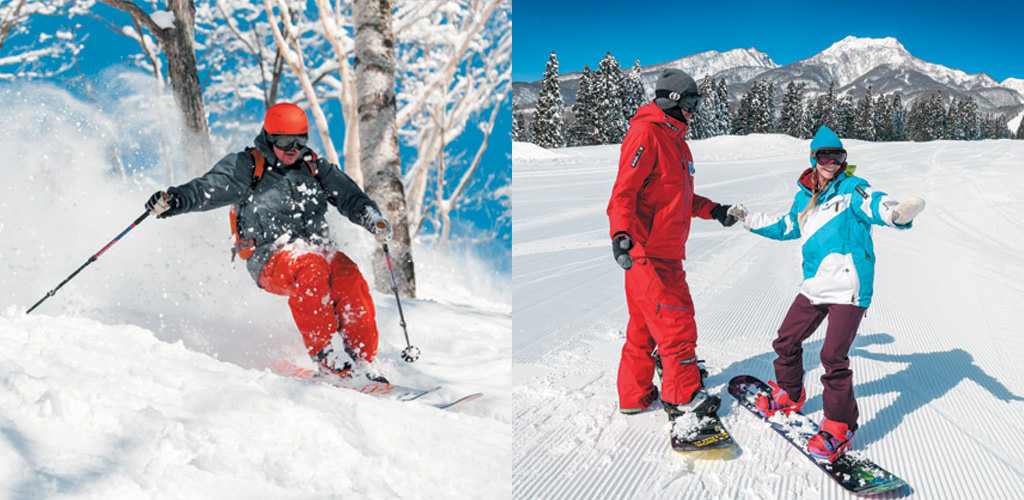 The Akakura area has many of Myoko's hotels and restaurants, followed by Shin-Akakura, a ten-minute walk away, and Ikenotaira, Myoko Onsen and Taguchi, which are all connected by town shuttles, taxis and hotel vans. Myoko is just 30 minutes away from the Sea of Japan, making it a delicious choice for enjoying a traditional kaiseki banquet of sushi, featuring the best of seasonal fish. Thanks to its location in Niigata Prefecture, one of Japan's best rice farming regions, premium local rice and sake also adds more flavour when dining and drinking around Myoko.
---
How close is Myoko to?
Tokyo: 2 hrs 40 min (train)
Osaka: 4 hrs 20 min (train)
Further Information