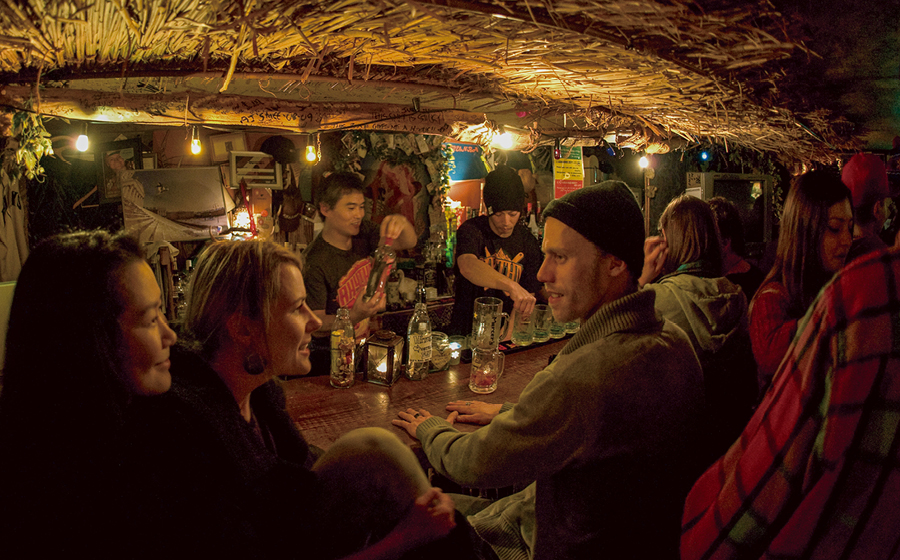 Niseko is very well known for their magnificent ski slopes and resorts, for their serene, atmospheric hot springs and Japanese baths, and for their mouth-watering restaurants and divine bars. Niseko is the perfect getaway where tourists have access to a range of sight-seeing activities and experiences that this classic northern town has to offer.
In the large town of Niseko, Bar Barunba, which also means 'good wave' in Indonesian, is a rustic, cosy bar that is a welcoming treat for many during the winter season. The interior looks like a small underground room, but it encapsulates a good-natured atmosphere where tourists can mingle and they can get to know the Japanese locals.
This friendly establishment seats 20 people but can easily fill with many more. The design is rustic and warm, with the perfect mixture of mood lighting with a few bright coloured spotlights, the bar's designer intention aims to be an island theme. With a surfboard hanging from the balcony at the front of the building, you'll know when you have reached the right spot. The ceiling of the main room is even decorated with graffiti and gives off a cool hipster vibe appreciated by the youngsters.
Guests travel from around the globe to visit this special bar for their unique range of signature cocktails. For the daring, visitors are encouraged to try the 'Bruce Lee' cocktail, but if you think Jet Li could take him in a fight, the 'Jet Li' cocktail may be your preferred beverage. For appreciators of Hollywood action movies like, The Fifth Element or Die Hard, the 'Bruce Willis' cocktail is an unmissable delight that will give many tourists a run for their money – this cocktail presents a challenge for many!
For extra refreshment, the ice cubes used by the bar are made from pure Hokkaido spring water, a fresh and delicious addition to every drink. The bar also sells a variety of local sake, whisky and other alcoholic beverages, plus a selection of entrees, salads, small grills and also provides vegetarian options.
With drinks starting as low as ¥600, this is a great spot for tourists after a day out in Niseko. What's better than winding down after a day of skiing, or an outing of adventurous hiking, when you can take pleasure in affordable drinks, with hospitable staff at a great location to meet new people and make unforgettable memories!
The owner of Bar Barunba loves to share their establishment with a range of people from all around the world and wishes to show everyone what a great night in Niseko looks like. He also encourages his staff to teach tourists how to order their drinks in Japanese!
As Bar Barunba is only open during the winter season, this is an unmissable location that every couple, group of friends, or family (minus the children!) must experience. There is always an on-site security guard posted at the door, so guests can be assured that their safety is always put first, and they can enjoy their drinks responsibly.
If you're looking for your next destination to unwind, to learn a new Japanese word, to experience the culture and customs in a unique, relaxing environment, Bar Barunba is an excellent choice to venture to in the Niseko area. This fine bar caters for all, with the most hospitable staff, affordable prices, delicious snacks and with their exclusive range of signature cocktails, your experience will be unforgettable and fantastic.
Bar Barunba
170-5 Aza-Yamada, Kutchan, Hokkaido
Phone: +81-136-55-5615
Open: 7:00pm-2:00am (L.O. 1:30am)