www.tsugaike.gr.jp/english  |  Tsugaike Kogen, Otari-mura, Kitaazumi-gun  |  2+81-261-83-2515  |  Days 8:00-17:00, Nights 18:00-21:00  |  Travelling times to Tsugaike Kogen Tokyo: 3 hrs 10 min (train & bus), Osaka: 5 hrs (train)
VAST POWDER  PLAYGROUND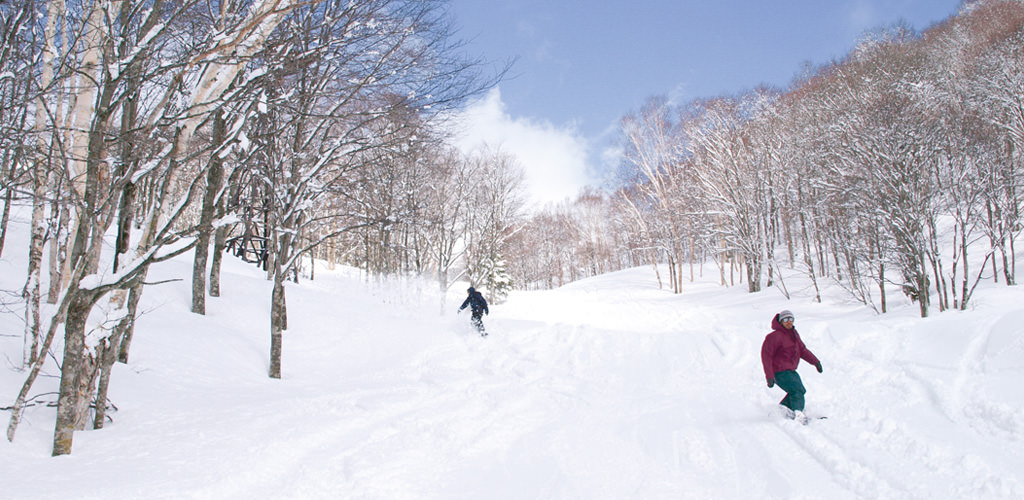 Tsugaike Kogen is one of the Hakuba Valley's biggest resorts, and transforms from a highland oasis of colour in the off-season to a powder paradise in winter. The ten courses within its 196 hectares are connected by 20 lifts, giving everyone more than enough space to stretch out and enjoy themselves. Views of the valley around the resort are magnificent, especially from the courses descending its upper reaches around 1,700 metres. They include the Tsugano-mori Course, a wide intermediate slope, and the Uma-no-se Course, a 32°expert's run with tighter turns and moguls. Also located high up at Tsugaike Kogen is its Hit Park, the highest terrain park in the Hakuba Valley. It opens during January on the Han-no-ki Course and shifts to the Tsuga-no-mori Course during March, offering a mix of kickers up to twelve metres high, boxes and banks.
And if you prefer your powder off-piste, the Tsugaike Powder DBD off-piste area offers expert backcountry runs. Helicopter trips take skiers and snowboarders to the Tsugaike Kogen backcountry from March every year, dropping them off at 2,200 metres to enjoy the long 14-kilometre run back to the base. The area is a part of Chubu-Sangaku National Park, and the unforgettable journey through its dynamic surroundings can also be enjoyed on a guided snowshoe hiking tour.
Back at the base, Tsugaike Kogen has plenty of wide open spaces for beginner and intermediate riders, like the Kene-no-naru-oka, as well as play areas and other facilities for kids. With plenty of accommodation in the village as well as local hot springs, Tsugaike Kogen is a great choice for a long stay in the Hakuba Valley; for even more variety, a Hakuba Valley All Area Season Pass will let you pop in and out of its eleven resorts whenever you desire.