Hakone Kamakura Pass – Your ticket to a holiday within a holiday!
What if we told you that you don't need to hop on a plane or a bullet train to enjoy a little time away from the hustle and bustle of Tokyo?
Within a fairly close distance from Tokyo, there are many gorgeous holiday destinations that the Tokyoites frequent on their days off – even for a day trip! And the great news is it's all easily accessible by train.
After some time in the city you might be craving some nature, perhaps the aroma of an old town and relaxing in natural hot springs. You can enjoy all of these things and some more, thanks to Odakyu Electric Railway.
On December 1st 2017, Odakyu Electric Railway released the Hakone Kamakura Pass. Previous to this they had the Hakone Free Pass and the Enoshima-Kamakura Free Pass, which were both popular amongst overseas visitors. But this brand new pass combines the benefits of both passes and it also allows you unlimited rides on the Odakyu Line.
This pass is valid for three days and it costs ¥6,500 per adult.
On top of all of that, you can receive discounted services and entry just by presenting the Hakone Kamakura Pass at any of the seventy partnering facilities, including art museums and gift shops in the Hakone, Enoshima and Kamakura areas.
To get you started planning on your 'holiday within a holiday' here we put together a model itinerary.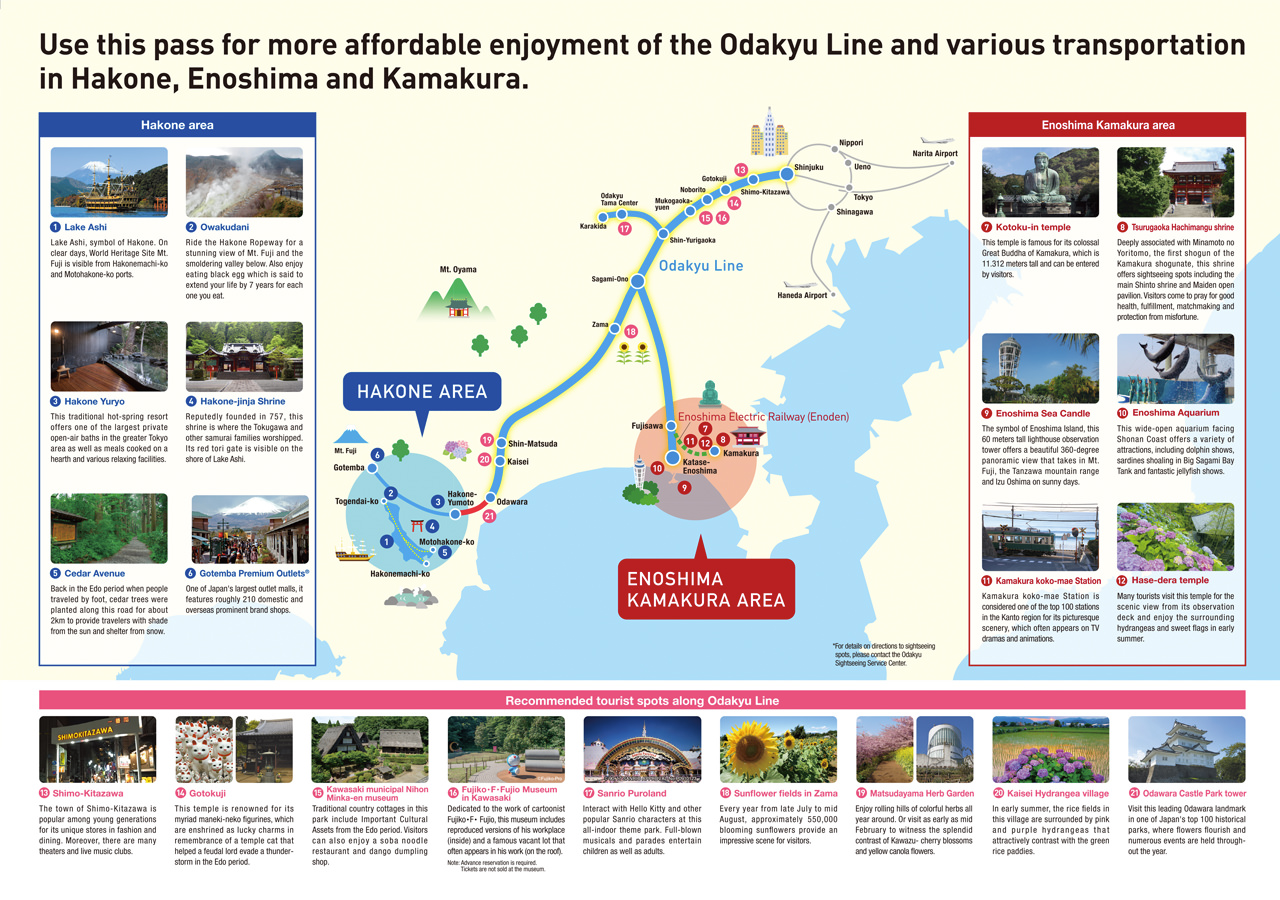 DAY 1 – Day Trip to Enoshima and Kamakura
Journey from Shinjuku to Enoshima:
Take the Odakyu Limited Express 'Romancecar' to Katase-Enoshima Station.
The journey takes 55 minutes and an extra limited express fee of 620 yen.
Alternatively, take the express train (with no extra fee) for 55 minutes to Katase-Enoshima.
To get to Kamakura from Enoshima:
Take the Enoden line from Enoshima station (10 minute walk from Katase-Enoshima) and hop off at Kamakura station.
The journey is about 20 minutes.
There's no better way to start your three days adventure on the Odakyu Line than to start with exploring the coastal towns of Enoshima and Kamakura.
Enoshima is a small island, accessible by the Enoshima-ohashi Bridge, about a 600 metre walk. There are a couple of must see items in Enoshima; starting with the Enoshima Shrines. There are three shrines that are located throughout the island, all dedicated to Benten, the patron goddess of Enoshima and of music, good fortune and knowledge. Shrines are free to enter, and a beautiful way to start your trip by paying respect to the gods and goddesses of the area.
If you are visiting Japan with your significant other, add in the Love Bell (also known as Koibito no Oka – lovers hill) to your Enoshima itinerary. Located upon a hill and looking down on the Sagami Bay, there is a bell that couples ring together and they place padlocks with their names written on it to the fence near by. This is said to ensure an everlasting love between the two.
For a bit of family fun, Enoshima Aquarium is perfect. What's more is that you can gain discounted entry into the aquarium with your Hakone Kamakura Pass!
There are many lovely little coastal towns that are easily accessible from Enoshima, one of these being Kamakura. You can hop on the adorable green retro train on the Enoden line from Enoshima to get there.
Kamakura was once the centre of politics in Japan, specifically back in the 12th and 13th century. There are still many heritage sites left in the area, including the hard to miss 11.4 metre tall Buddha statue at Kotoku-in Temple.
There are many shrines and temples on the way to and around Kotoku-in, and the walk also includes a stroll through Komachi-Dori. This is the main shopping and dining hub of Kamakura, and it starts right near the station; just look for the big red Torii gate! Here you can enjoy local delicacies and buy some gorgeous, traditional Japanese crafts.
There are beaches within 20-45 minute walks from Kamakura as well, many of which in summer comes alive with Umi-no-ie (beach house) set ups, where beach goers can enjoy delicious street food and drinks right on the beach!
After a nice long day of walking, hop on to the train back to Shinjuku via Enoshima. Back in Shinjuku explore the many hundreds of small izakaya restaurants for a few drinks and delicious Japanese izakaya pub foods, and back to your accommodation to prepare for another day out!
More infromation about Enoshima/Kamakura
DAY 2 – A night away in Hakone
Journey to Hakone from Shinjuku:
Take the Odakyu Limited Express 'Romancecar' to Hakone-Yumoto Station.
The journey takes 75 minutes and an extra limited express fee of 1,090 yen.
Alternatively, take the express train (with no extra fee) and the journey will take 115 minutes.
Hakone has been long loved by the people in the greater Tokyo area and Kanto region for its convenient location and wonderful offerings. It takes just under 80  minutes to get to Hakone from Shinjuku, so you could easily take a day trip here. But with many historic hot springs and traditional Japanese style accommodations (Ryokans) on offer, you will want to take full advantage by at least spending a night here.
Hakone is famous for its hot springs. And the hot spring water there are drawn from natural hot springs, packed with healing minerals. The mineral content vary from one spring to another, which is why trying out more than one hot spring is highly recommended. Conveniently many Ryokans and accommodations allow for day use of their hot spring so this is easily achievable!
To get to Hakone-Yumoto from Shinjuku, you'll take the Odakyu Romancecar. This gorgeous tourist train is roomy, comfortable and features large windows on both sides of the train to show you the lovely scenery of regional Japan.
Your journey into Hakone will start at Hakone-Yumoto station, the last stop on Odakyu Romancecar. Adventure begins on a bus to Motohakone-ko from there; take the Hakone Tozan bus going towards Moto-Hakone Port, and after approximately a 25 minute bus ride, you will arrive at the Amazake-chaya stop.
Amasake Chaya is a real treat for those that are looking to experience authentic wagashi (Japanese sweets).It's much like a traditional teahouse but instead of tea, they offer Amazake, a type of sweet Japanese non-alcoholic rice wine. Amasake Chaya has been open for several centuries, offering a rest stop for those walking along the Old Hakone Highway.
You can enjoy mochi sweets together with amazake, and no need to worry about ordering – they have an English menu available.
From there, hop back on the bus to Moto-Hakone Port located on Lake Ashi. There you can take a scenic tour from abroad a fully decked out pirate ship!
On the shoreline of Lake Ashi is Hakone Shrine. This shrine is truly mystical and picturesque, hidden behind  a dense forest. Something to keep in mind is that it is at its peak beauty and mystique when it's wrapped in mist – so if you go on a particularly misty day, you are going to enjoy an extra gorgeous view of it. To access it, you must take the steps leading from the big red Torii gate on the shoreline. It's only a short walk from the Moto-Hakone boat pier and it's free to enter.
After you've enjoyed the surrounding scenery of Lake Ashi, take the ropeway from the nearby Togendai station right up to Owakudani.
Owakudani is what is left of what was once a volcanic mountain. After the eruption and collapse of Kami-yama, a boiling sulphuric valley and Lake Ashi formed. A unique offering here is the boiled eggs, cooked in  the sulphuric waters which creates a black boiled egg. The egg itself is a normal boiled egg, but it is said having one will extend your life for 7 years!
Hakone is not all hot springs and nature either; there are plenty of unique modern offerings available that you can easily fit into your day too.
One place of note is the Hakone Open Air Museum and the journey there adds to the overall experience; hover over the smokey Owakudani on the Hakone Ropeway to Sōunzan station, then switch to the Hakone Tozan Cable Car to Gora station. From there you may take a 12 minute walk to the museum or catch the Hakone Tozan Train, and the Hakone Open Air Museum (Chokoku-no-Mori) station is the next stop over.
With the Hakone Kamakura Pass you'll receive discounted entry to the museum. The museum itself is based on a unique and interactive concept. Visitors get to walk through a gorgeous parkland sparkling with amazing sculptures and art installations . It's a must have on your list especially if you are a modern art buff.
After a day of exploring Hakone, you'll be more than ready to tuck into a delicious meal at the ryokan and indulge in a long dip in the hot spring.
Grab your chance to Win!
"Win a Romantic Getaway to Hakone, Japan!" Giveaway
https://www.gdayjapan.com.au/win-a-romantic-getaway-to-hakone-japan/
*Entries close at noon the 21th of January, 2019.


DAY 3 – Adventure back to Shinjuku
Journey back from Hakone to Shinjuku:
From Hakone to Machida – take the Odakyu Limited Express 'Romancecar' to Machida
The journey takes 60 minutes, and an extra limited express fee of 820 yen.
Alternatively, take the express train (no extra fee) for 80 minutes to Machida.
From Machida to Gotoku-ji, take the local (all stops) train on the Odakyu line, which will take approx. 30 minutes.
From Gotoku-ji to Shimo-Kitazawa – take the local (all stops) train towards Shinjuku, will take 5 minutes.
From Shimo-Kitazawa - take the local(all stops) train towards Shinjuku, which will take 12 minutes or on the express train that will take 8 minutes.
On Day 3 it's time to leave Hakone and back on the beautiful Romancecar to start your journey back to Shinjuku. But not without grabbing some souvenirs and snacks that you can only get in Hakone.
Yosegi-Zaiku is a traditional craft that began in Hakone. It is a form of marquetry, creating mosaic patterns with different coloured wood. You'll find plenty of pill boxes, puzzles and giftware made with Yosegi-Zaiku and it certainly makes for a unique souvenir.
At the Hakone-Yumoto station, you can purchase snacks to take home like the black boiled eggs and Onsen(hot spring) manju, a red bean filled sweet snack perfect for nibbling on in the Romancecar.
You can easily make your way back straight to Shinjuku, but why not make the most of the Hakone-Kamakura Pass by doing a little bit of hop-on-and-off on the Odakyu line? You can literally get off at any Odakyu station on your way back to Shinjuku. So where to start?
Hop off the Romancecar at Machida station and change trains for another half an hour to Gotoku-ji. Gotoku-ji is home to Gotoku-ji Temple, which has been said to be the birthplace of the classic Japanese good luck charm, maneki-neko (fortune-beckoning-cat).
Hundreds of the maneki-neko figurines fill the temple grounds and the streets leading up to the temple is filled with cat related artwork.
After grabbing your very own maneki-neko, head back to Gotoku-ji station, but it's not time to return back to Shinjuku just yet. Take another detour in Shimo-Kitazawa, just 5 minutes from Gotoku-ji. Shimo-Kitazawa is a little bit of a modern contrast to the very traditional day you've had in Hakone and at Gotoku-ji.
Shimo-Kitazawa is a really fantastic place to get to know the more quirky, more bohemian side of Japan. You can take your pick on how to conclude your adventure with the Hakone-Kamakura Pass in Shimo-Kitazawa, there are plenty of things to do. From vintage clothing shopping, unique cafes to music venues and kooky hair salons… How would you like to wrap up your journey?
So where can I get this wonderful Hakone-Kamakura Pass?
It's very simple and easy to get your hands on the Hakone-Kamakura Pass!
Head into the Odakyu Sightseeing Service Centres, Shinuku West and Shinjuku South in Shinjuku! Shinjuku West is located Grand Floor, Odakyu Line Shinjuku Station West exit. The friendly, English speaking staff there will help you with purchasing the pass and can assist you with any questions you might have in creating your own 'holiday within a holiday' itinerary! Shinjuku South is located outside Odakyu Line Shinjuku Station South exit.
For further information on Hakone Kamakura Pass, follow the link below
https://www.odakyu.jp/english/passes/hakone_kamakura/