Exploring Japan's iconic peak and local lakeside hot spring town
The instantly recognisable Mount Fuji presides over the Fuji Five Lakes area; step into its historic hot spring base town of Fujikawaguchiko in Yamanashi, and discover the many ways to enjoy this World Heritagelisted attraction.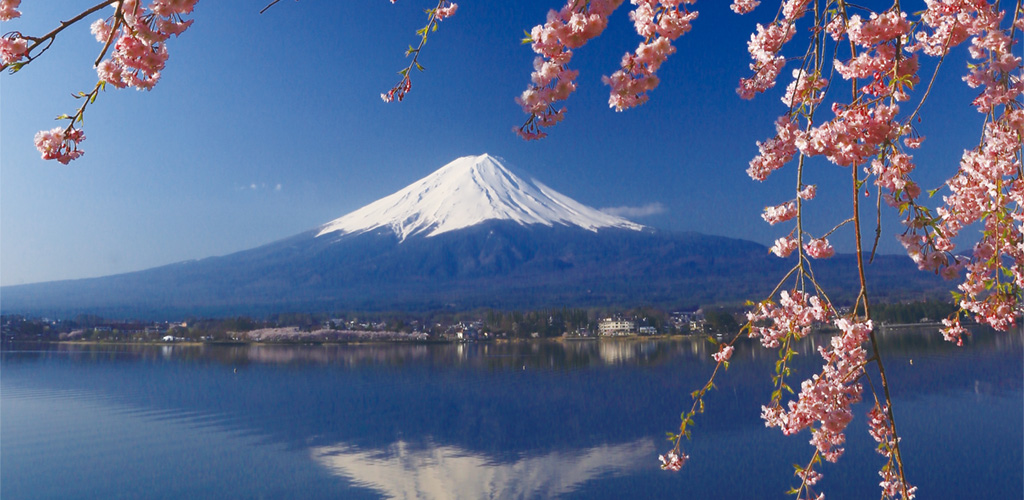 Fujisan, sacred place and source of artistic inspiration
Mount Fuji's perfectly cone-shaped, snow-capped peak stands tall and proud on mainland Japan. At 3,776 metres, this active volcano is Japan's highest, and extends into both Shizuoka and Yamanashi prefectures. In June 2013, Mount Fuji was World Heritage listed as 'Fujisan, sacred place and source of artistic inspiration', reflecting its huge influence on Japanese culture since ancient times. Now a symbol of Japan itself, the mountain continues to captivate people from all over the world.
Fujikawaguchiko – the gateway to Mount Fuji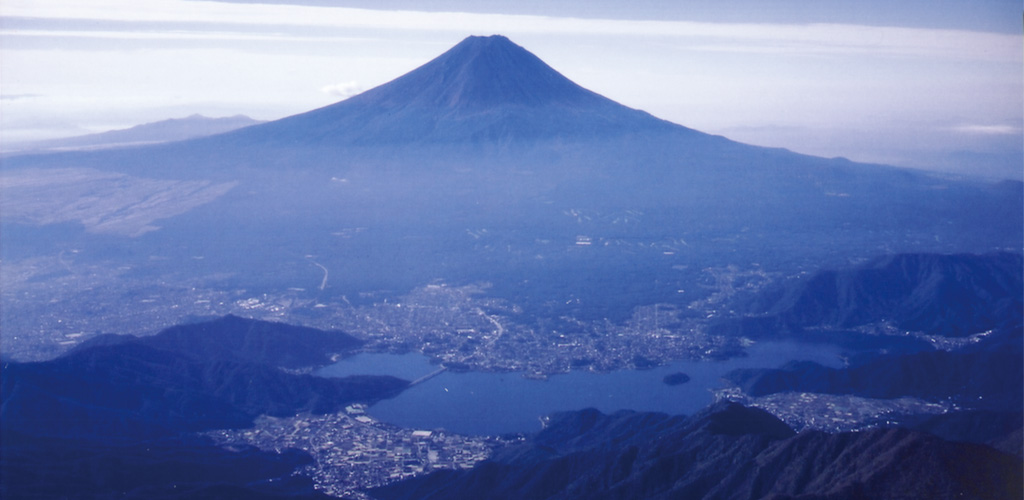 At the foot of Mount Fuji is an area known as Fuji Five Lakes. As the name suggests, this area holds five lakes that were created by Mount Fuji's volcanic eruptions: Lake Kawaguchiko, Lake Saiko, Lake Motosuko, Lake Shōjiko and Lake Yamanakako.
From the Fuji Five Lakes area, there are two routes that climbers take up to Mount Fuji: the Lake Kawaguchiko route, loved by many mountaineers, and the Yoshida route, which you can climb from the base on foot. Both routes are accessible from the town of Fujikawaguchiko, which holds eight World Heritage properties, and has a long history as a place of mountain worship.
Surrounded by beautiful, abundant natural scenery, Fuji Five Lakes is an enchanting gateway to Mount Fuji.
Access to Fujikawaguchiko from Tokyo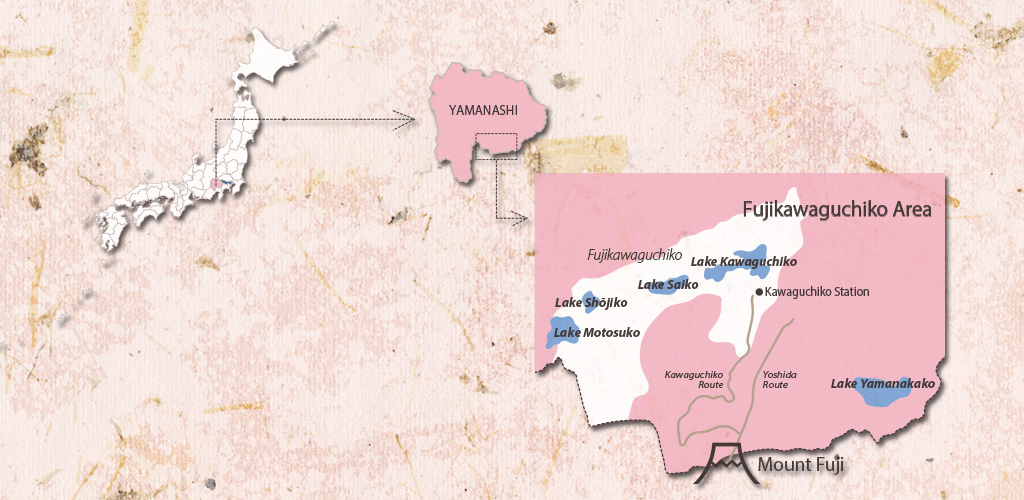 By train
From Tokyo Station: JR Chuō line to Otsuki Station; change there to Fuji Kyūkō line to Kawaguchiko Station. Allow approximately 3 hours for the trip.
By express bus
Take a Fujikyu Express Bus out of the Tokyo area, straight to Kawaguchiko Station. From Tokyo station JR Express Bus terminal: approx. 2 hours
Getting around Fujikawaguchiko
Two types of buses, the Retro Bus and the Omni Bus will take you on a circulating trip around the Fujikawaguchiko and Mount Fuji area, straight out of Kawaguchiko Station. There are also several rental bike shops close to Kawaguchiko Station where you can rent a bicycle to take a cycling tour of the area on your own.
MOUNT FUJI AND FUJIKAWAGUCHIKO