Hokkaido is well known for its winter skiing, but there is also a lot more on offer on this serene snow-covered island. This article takes you through our recent three day excursion to discover Hokkaido's array of interesting cultural activities including a deep dive into the history of indigenous Ainu people, who mainly inhabited Hokkaido.
Day 1: Sapporo Snow Festival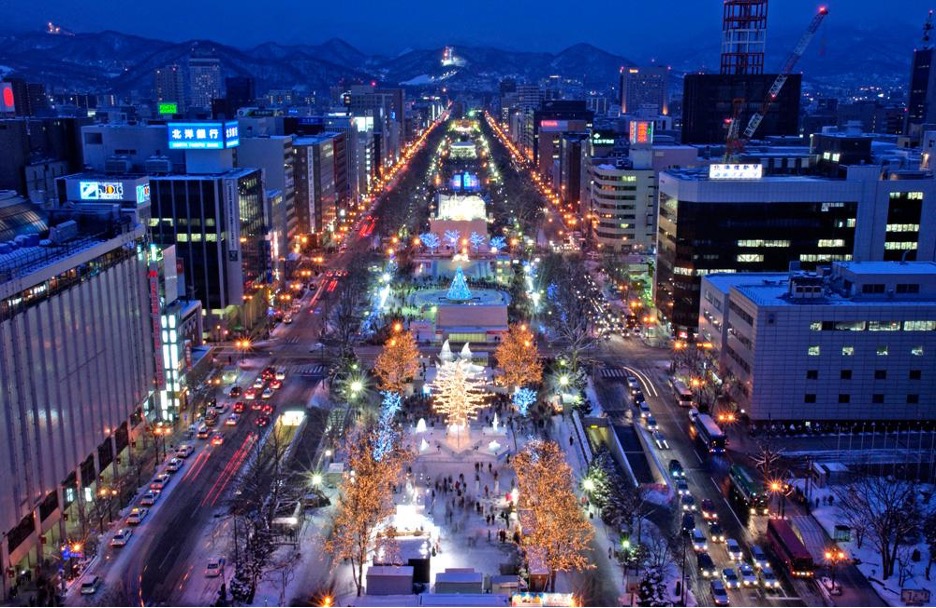 We start the journey in Sapporo at the annual Sapporo Snow Festival. Odori Park, which hosts the festival, is only a short (approximately 1 hour) bus, train or drive from New Chitose Airport, with plenty of great accommodation options available in this bustling city. The festival attracts more than two million visitors from Japan and abroad annually. The Odori Park site stretches for 1.5 kilometers and hosts a range of intricate, and in some cases enormous snow sculptures. There are also fun activities for the kids, including curling experiences and small slides.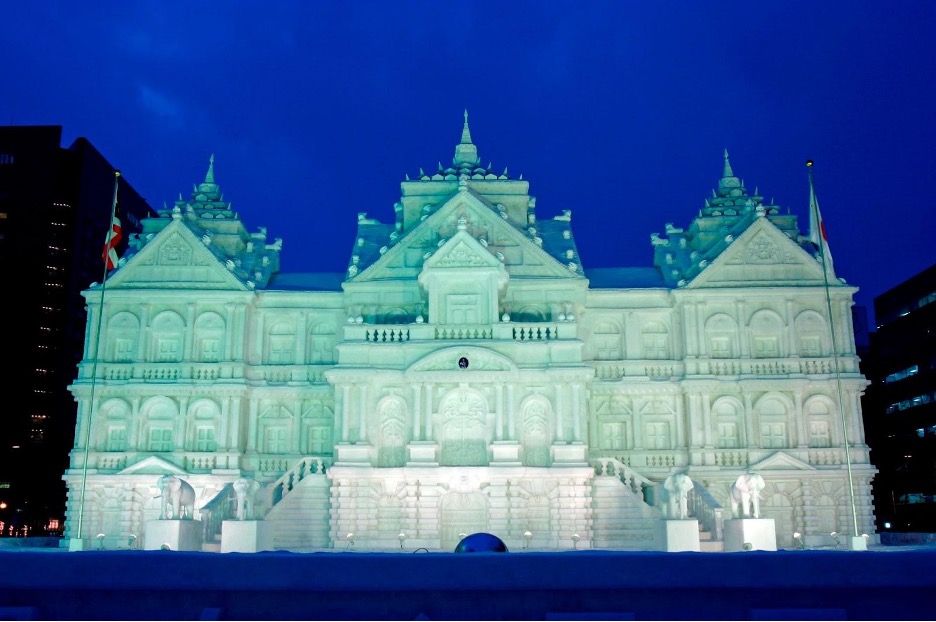 In Sapporo's famous bar and dining district – Susukino, there is an area dedicated to ice sculptures where you can enjoy the experience. Both the snow and ice sculptures are lit up each evening, making it without a doubt the most spectacular snow event in Japan. You can literally spend hours roaming the site admiring these incredible pieces of art. Your heart will be fulfilled after a visit to the Sapporo Snow Festival.
*The Sapporo Snow Festival will be held from the 4th of February to the 11th of February 2023.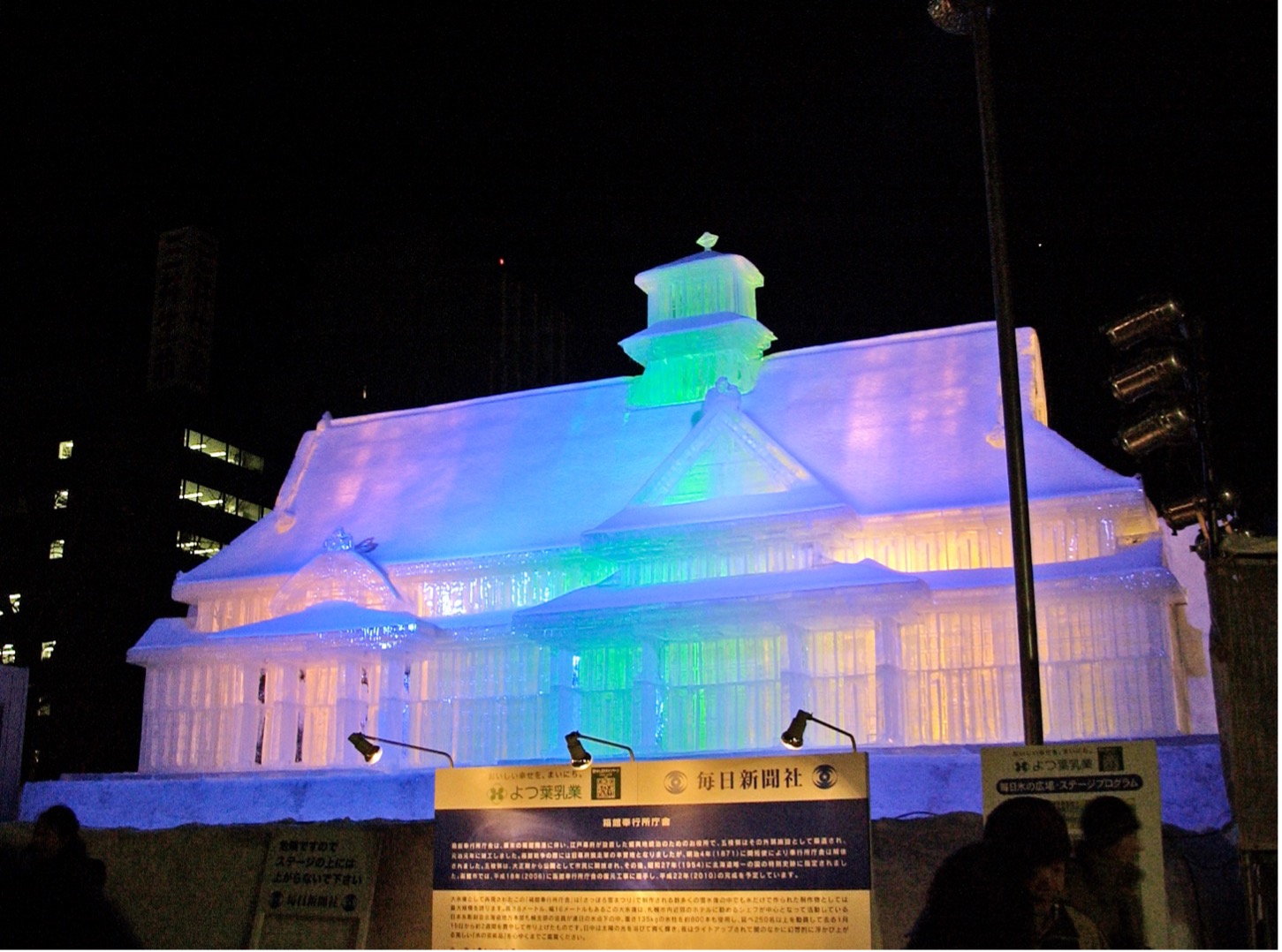 Day 2: Noboribetsu
Noboribetsu is a popular hot springs village only a short drive from Sapporo and New Chitose Airport (1 hour drive). There are various water sources used by the onsens and hotels at Noboribetsu, each with their own mineral makeup and individual healing characteristics.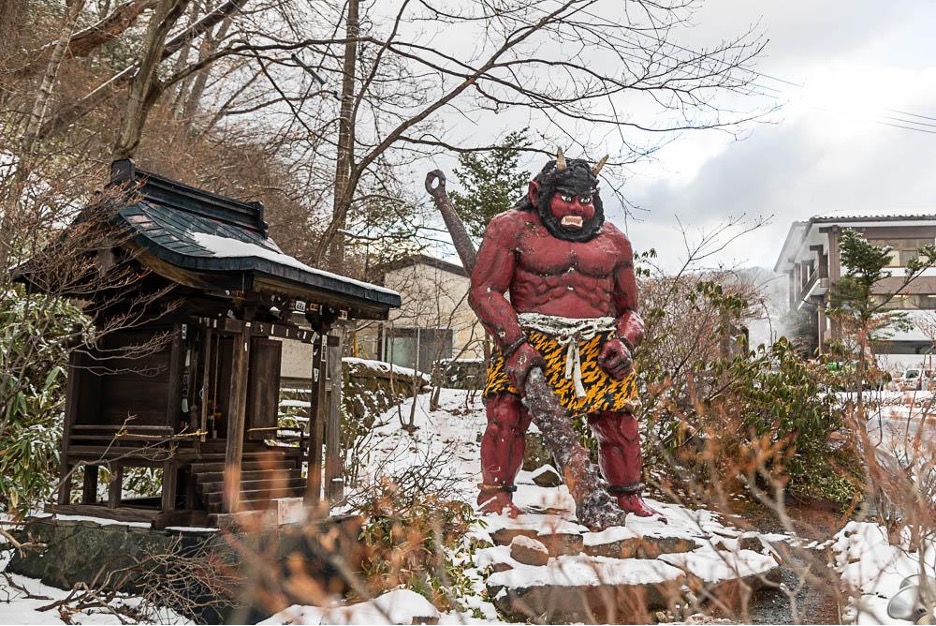 However, apart from having a nice relaxing soak, there are also a number of great things to see and do in Noboribetsu.
Jigokudani (Hell Valley)
Known as the gateway to hell, this extraordinary valley is a smoldering, rocky, desolate stretch of earth where no plants grow, and hot water, steam and volcanic gasses spew from the ground. The scene really does depict what you imagine an entry to hell would look like.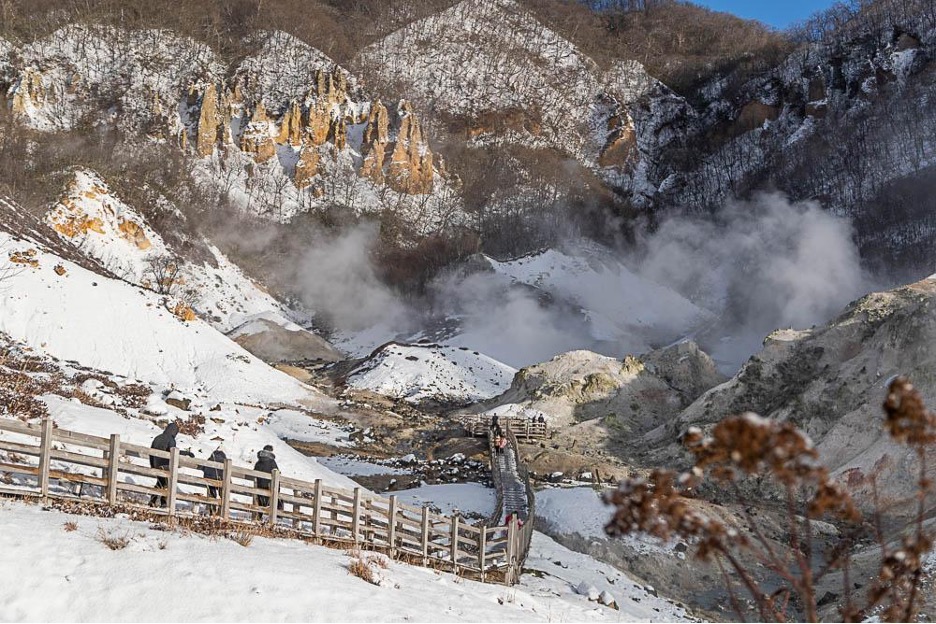 It is said that the water has healing qualities and that once some sulfur miners from the Meiji era who damaged their eyes, washed them in the water and were miraculously healed. However, we were not willing to test this theory.
You can follow the promenade all the way into the middle of the steamy barren land to the Sanzu River and Tessen Pond.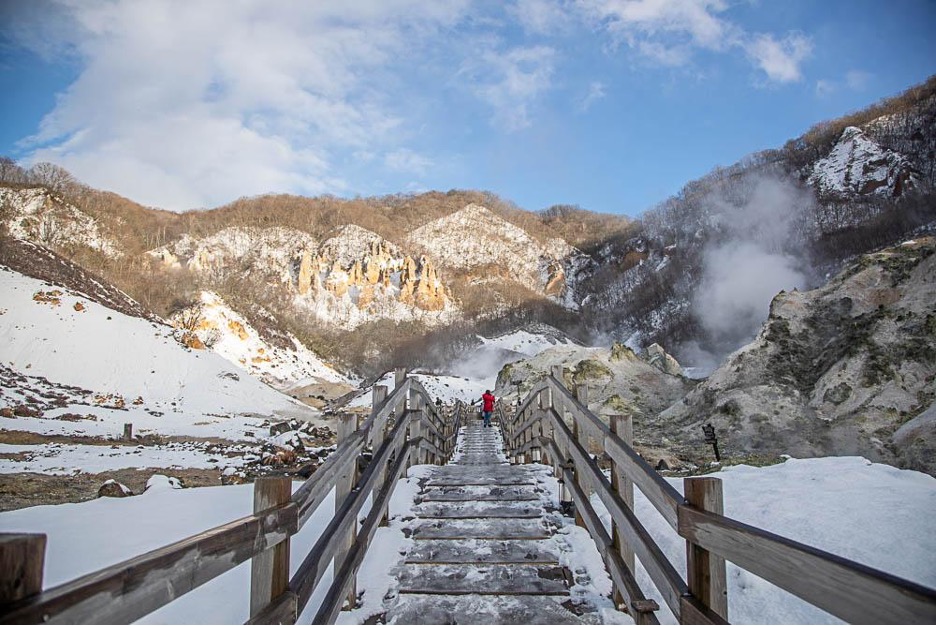 The Sanzu river (Sanzu-no-Kawa) in Buddhism is said to be the river between this world and the other world where we go after death. Once we go across the river, we are never able to come back to this world. We call the river flowing in this area as "Sanzu-no-Kawa" based on the word used in Buddhism.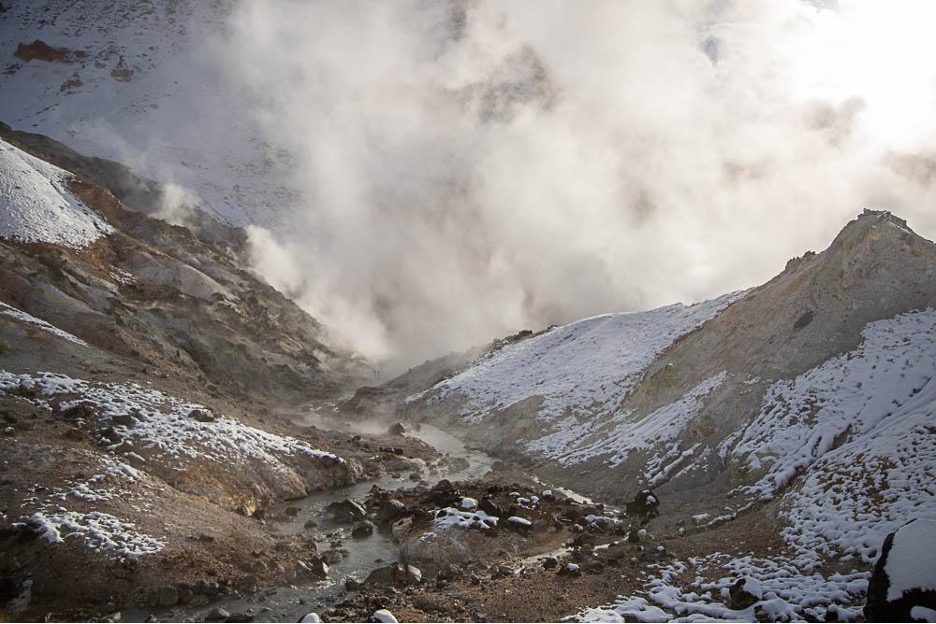 Tesson Ike (pond) is a geyser in the center of Hell Valley with a high iron content.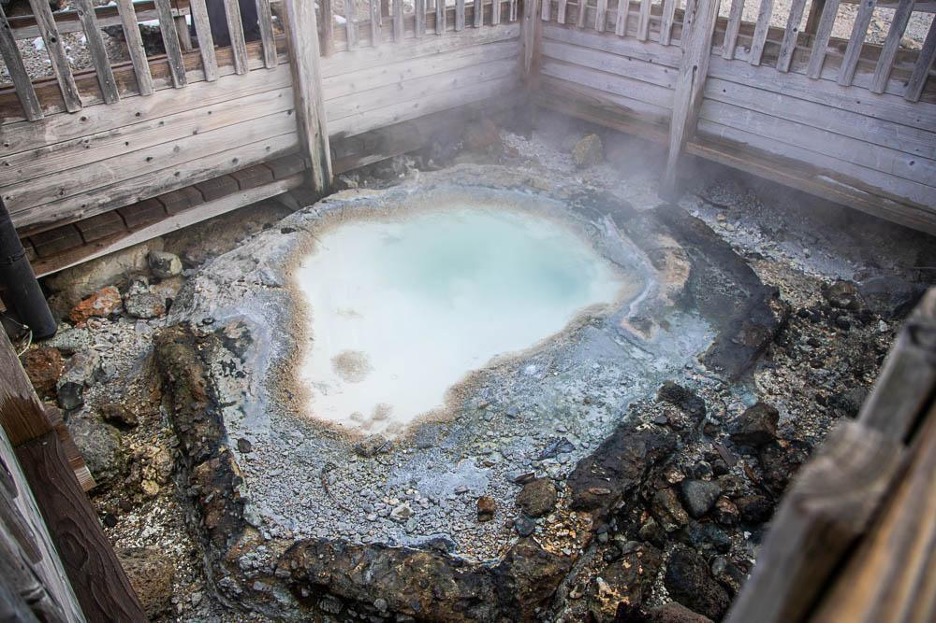 Oyunuma Esplanade and Okunoyu
Oyunuma and Okunoyu are sulfur springs which release water as hot as 130 degrees but have a surface temperature of 40-50 degrees. Okunoyu feed the onsens used in some of the hotels.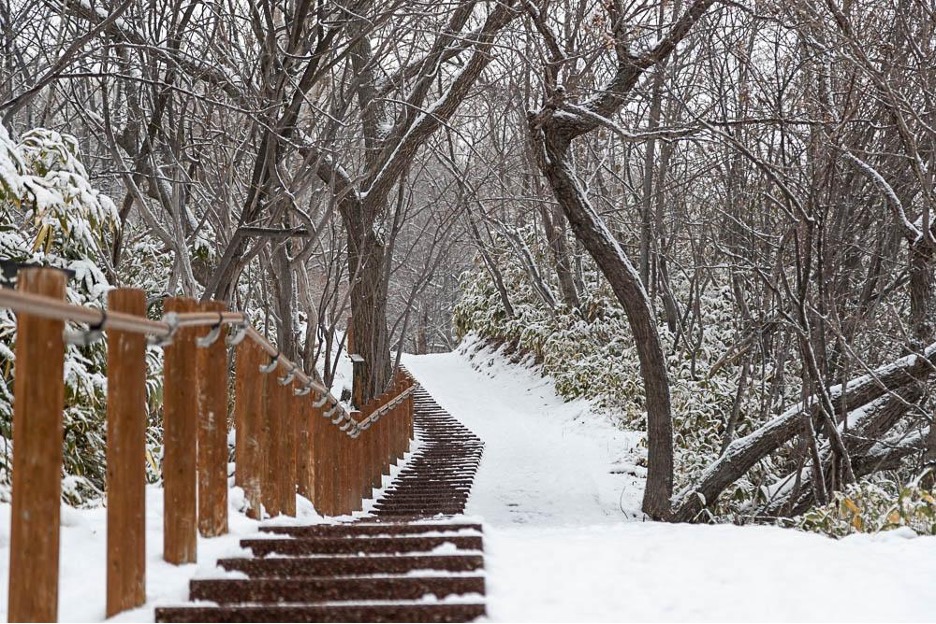 In the summer time, you can take a walk through the forest from Hell's Valley on the Oyunuma Esplanade to Oyunuma and Okonoyu. In winter time when there is too much snow, this walk is closed. However, during the low snowfall periods, you can go to the other entry point to experience the Oyunuma River Natural Footbath.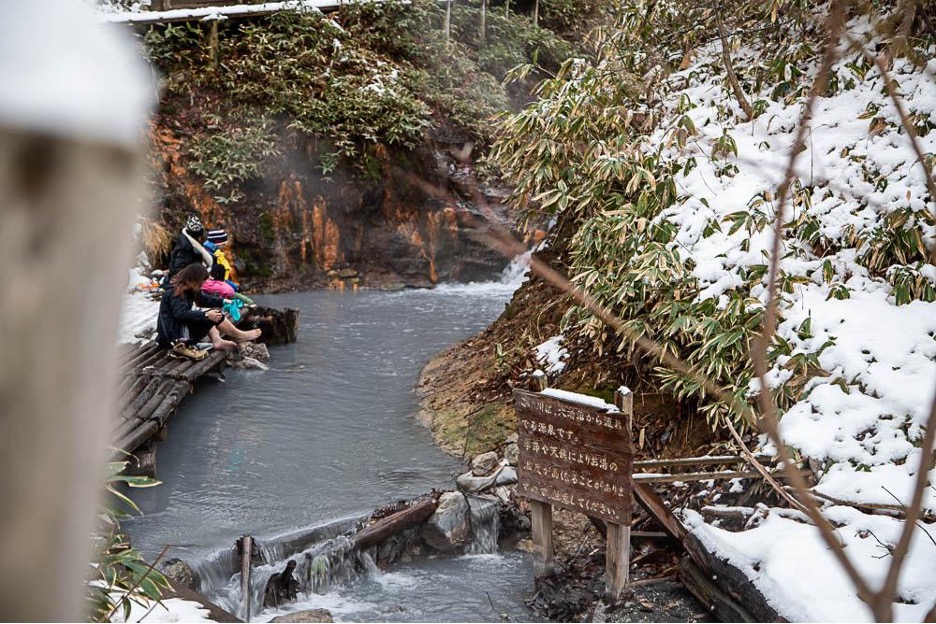 Oyunuma River Natural Footbath
The water that overflows from the Oyunuma forms the Oyunuma River, which is a hot, gray river perfect for resting those tired feet at the end of a long day. You can walk up to your knees in the river or just sit as we did with our feet in the water off the log decks. Your feet will feel soft and subtle ready for the next adrenaline filled adventure after this lovely natural soak.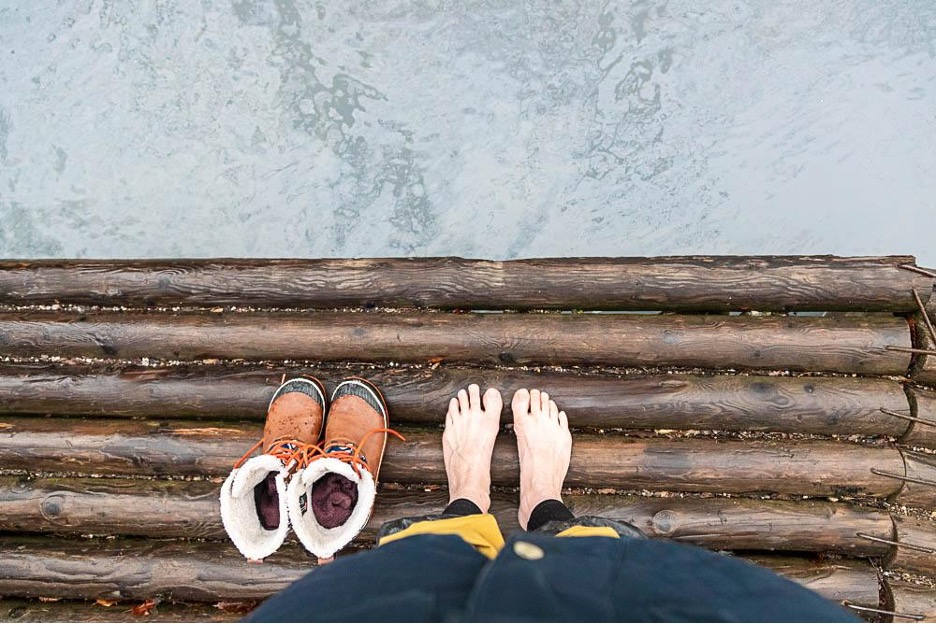 Noboribetsu Off-road Park
Our relaxing Noboribetsu trip took a wild turn in the afternoon with a visit to the Noboribetsu Offroad-road Park. Here they have an extensive array of beginner and advanced courses which you learn to ride ATV quad motorbikes (in summer or low snow periods) or snowmobiles. There are 5 different course lengths, ranging from 30 to 120 minutes.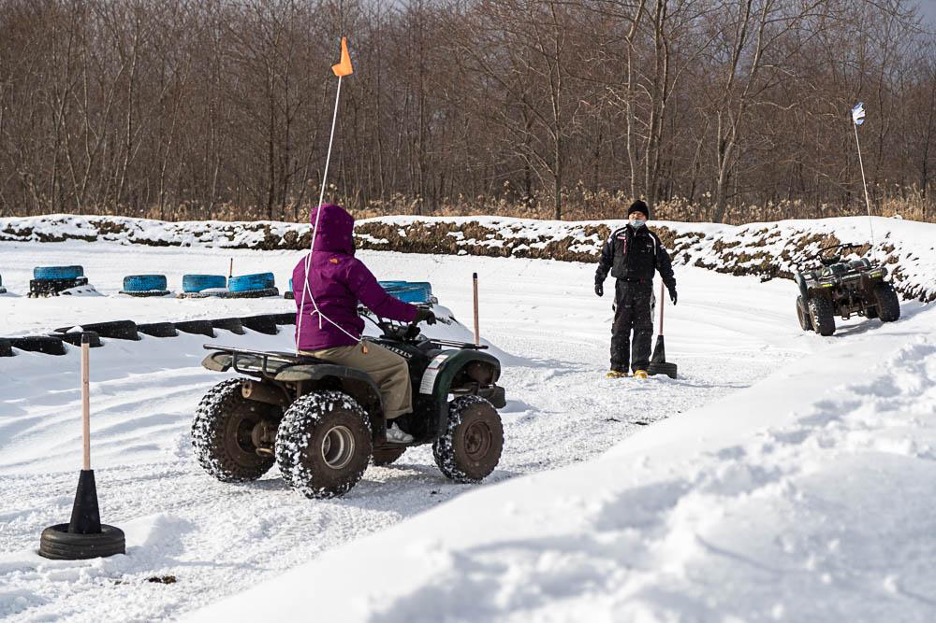 We did the full 120 minute course where they start you on the beginners course and teach you the basics, before taking you off road into the forest where there are turns, bumps, humps and many other fun obstacles to navigate. Our instructor was incredibly funny and helpful, and it was truly an incredible blood pumping experience.
Day 3: Upopoy National Ainu Museum and Park
The Ainu people are the indigenous peoples of the northern part of the Japanese archipelago, particularly Hokkaido. It is said that 30,000 years ago when the cooling of the Earth's climate and the fall in sea levels caused Hokkaido, Sakhalin and continental Asia became connected by land bridges and Nomadic peoples came to Hokkaido via Sakhalin. Another 20,000 years later, global warming and rising sea levels caused these land bridges to disappear and Hokkaido once again became surrounded by water. The island people established more permanent settlements, forming the Ainu culture.
Upopoy is an Ainu term meaning "singing in a large group." The Upopoy National Ainu Museum and Park is set in a vast area in Shiraoi amidst the natural splendor of the Lake Poroto area. It is a 40-minute drive using the local road from Noboribetsu to Upopoy or just 40 minutes directly from New Chitose Airport by highway.
Upopoy aims to showcase, revive and develop the Ainu culture that was on the verge of extinction.
The park is grand and everything is carefully designed to express Ainu culture, nature and art. On arrival, you enter the park through the 'Kankan' or path to the Ainu Spirit. It is a corridor adorned with breathtaking imagery depicting Hokkaido's natural scenes.
National Ainu Museum
The mission of the National Ainu Museum is to promote a proper understanding and awareness of Ainu history and culture. It also showcases the evolution of the culture including the contemporary Ainu people of today.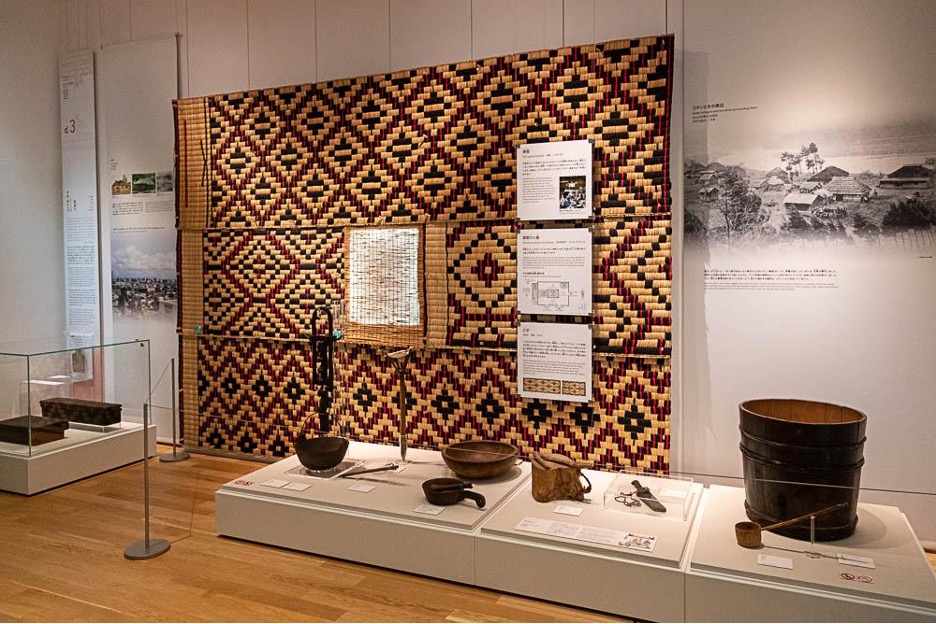 It is well appointed and laid out in a way that you can navigate to your own interests. It also appeals to many different learning styles, with a plethora of still displays, audio recordings, movies and interactive exhibits where you can learn hands on. There is even a very 'Kawaii' kids area, where children can try on traditional Ainu wear, and learn and read about the culture at a level that suits them.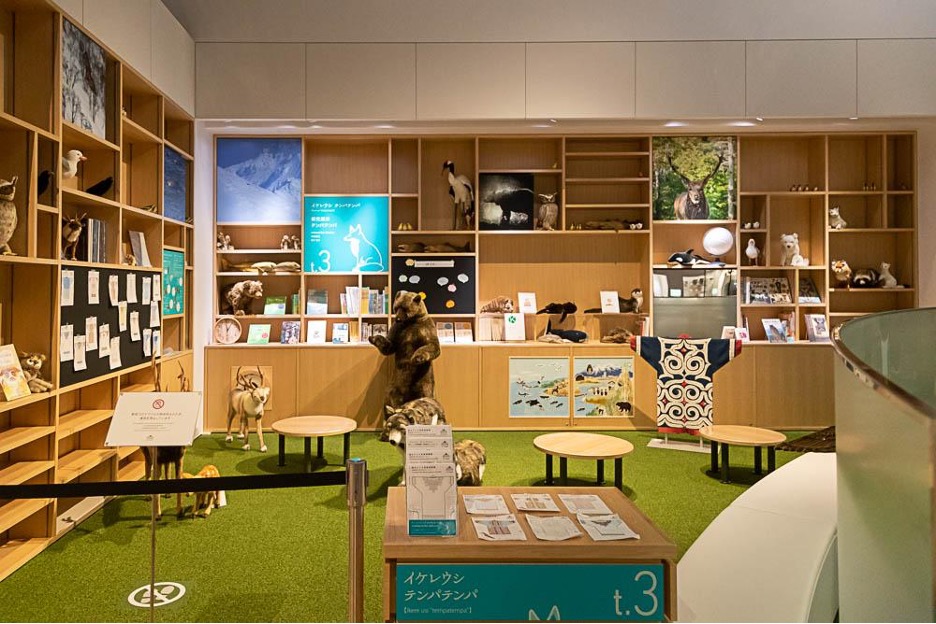 The Upopoy phone application further helps you to navigate the facility and has written information and audio recordings about each display in a number of different languages.
〈iTunes〉
https://apps.apple.com/jp/app/%E3%82%A6%E3%83%9D%E3%83%9D%E3%82%A4%E5%85%AC%E5%BC%8F%E9%9F%B3%E5%A3%B0%E3%82%AC%E3%82%A4%E3%83%89%E3%82%A2%E3%83%97%E3%83%AA/id1503370916
〈Google play〉
https://play.google.com/store/apps/details?id=com.acoustiguidemobile.am_ainu&hl=ja&gl=US
The museum takes you through every aspect of the culture, showcasing the intricate handwoven clothing made from bark, grass fiber and animal skins, fish skin shoes, hunting apparatus and tools, cooking wares, models of the houses (known as cises), wood carvings, jewelry, handicrafts and most importantly inaw. Inaw is a ritual element that connects living human beings with Kamuy (spirit deities). It plays an important role acting as a messenger to the Kamuy to convey human words.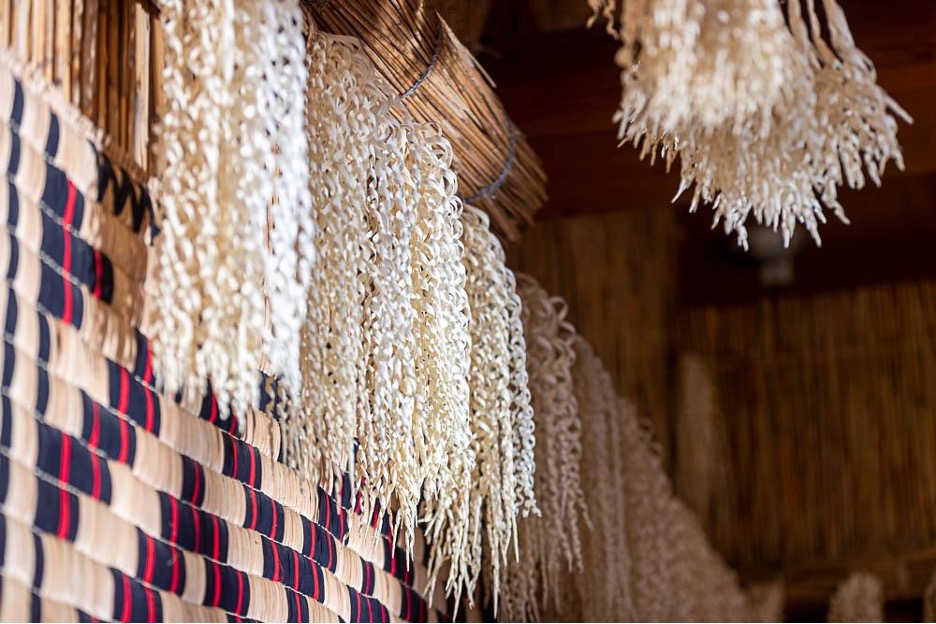 The Ainu people are extremely spiritual and the museum provides in depth descriptions and stories about the Ainu beliefs and rituals, which often included a ceremony to send the bear cubs spirit to the land of kamuy.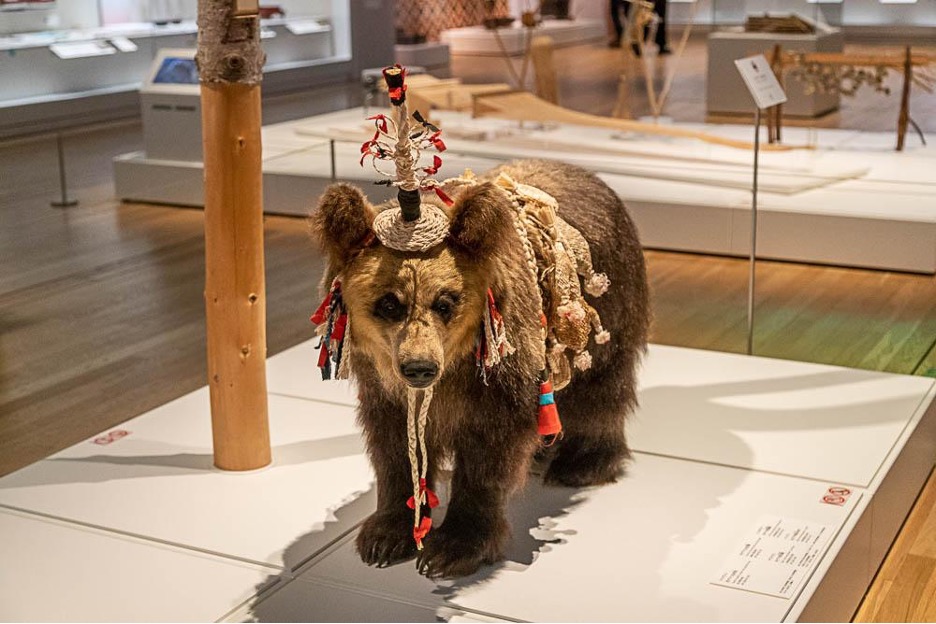 National Ainu Park
The Ainu exist as one with nature, and the National Ainu Park aims to immerse you in this, with its open-air style and participatory approach. In the park, you can watch traditional performances as well as directly engage in a number of hands-on programs, such as the Archery Experience "aksinot" and Winter sledding on deer hides.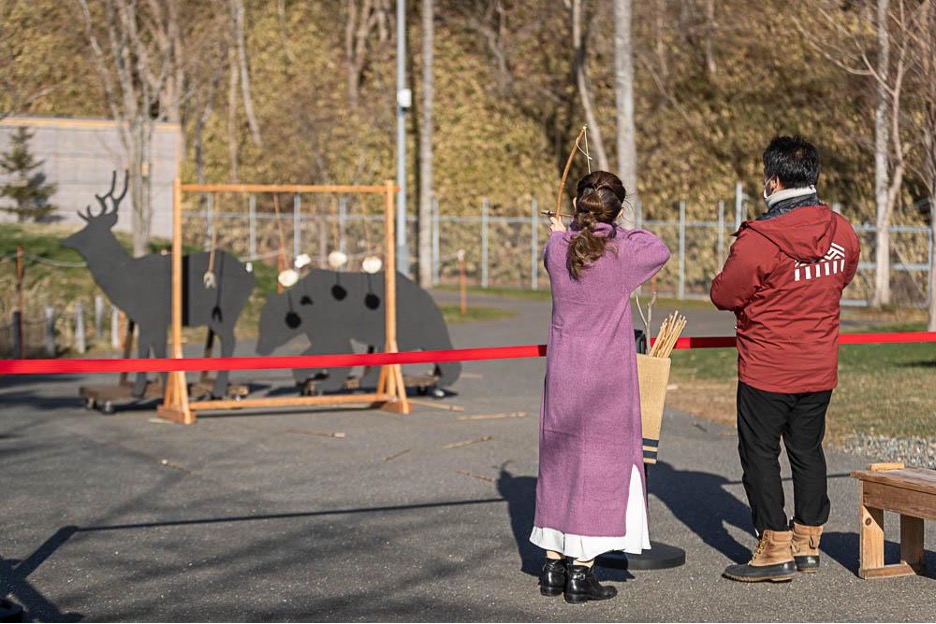 Alternatively, you can just relax and take in the spectacular lakeside setting and exhibitions, such as the intricate winter lights display on exhibition from early December to mid-February.
*The winter lights display is held between 2nd of December to 12th of February, 2023.
Performing Arts
Music is an important component of Ainu celebrations and rituals. Ainu people would also sing while working and caring for their children.
There are a few different workshops that visitors can participate in and learn to play traditional Ainu musical instruments, such as a mukkuri (a kind of mouth harp) and a tonkori (a five-stringed instrument). We participated in the mukkuri workshop and soon learned that there is quite a technique that can only be acquired after many years of practice!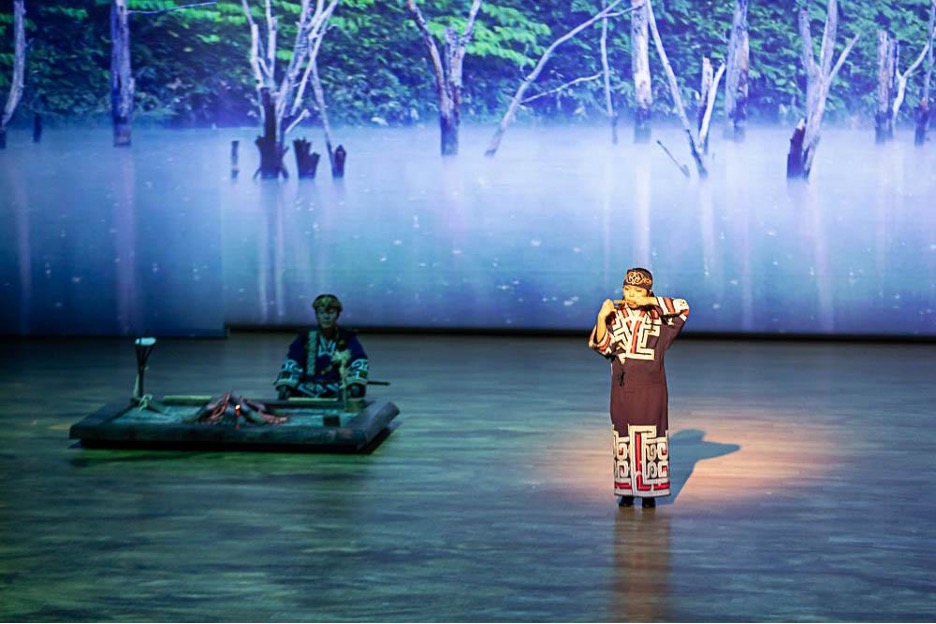 Following this workshop, we visited the Cultural Exchange Hall (uekari cise) to watch a live performance showcasing traditional stories, singing, dancing and instruments. It was an extraordinary and immersive experience. We were provided with an ear piece which acted as an audio guide where everything was translated for us. The hall boasts a large screen that behind the show depicts images of Hokkaido's expansive landscapes, seasons and nature.
Craft making and Traditional Ainu Village
The Crafts Studio (ikar usi) demonstrates Ainu woodworking and embroidering. We then moved to the Kotan – the Traditional Ainu Village (teeta kane an kotan) where we were taught to embroider our own unique Ainu patterns.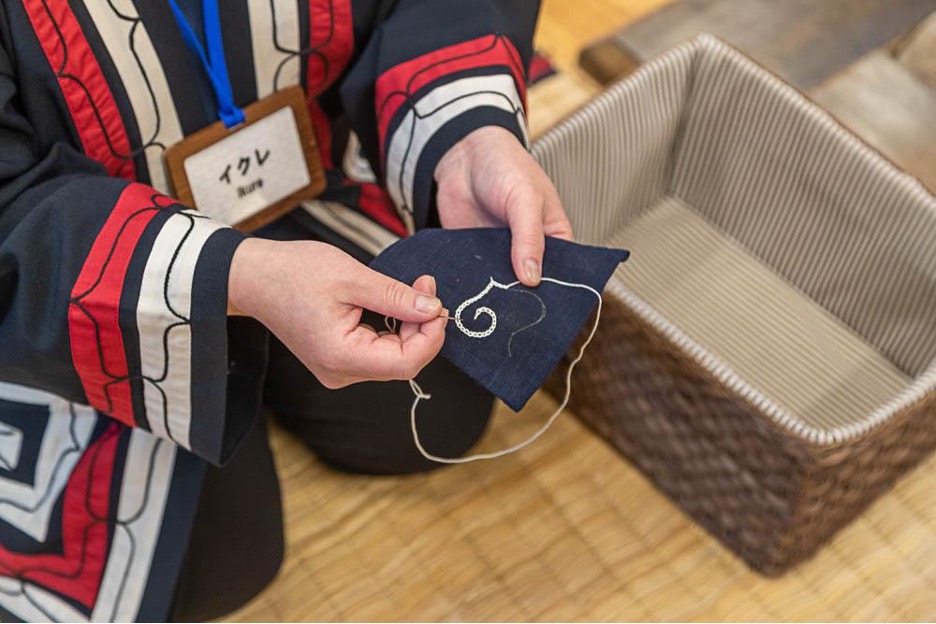 It was interesting to sit by the hearth like one would have hundreds of years ago, in a replica of what a traditional house would have been like – Inaw and dried salmon hanging above the fire, traditional garments, tools and furniture laid out in the house as they once would have been. We learnt about the house, such as the sacred window through which the Kamuy could come and go and other traditions such as the order people sat to eat around the hearth depending on their status.
Cooking Workshop
 There are a number of cooking workshops available daily where you can learn hands-on about the food culture of the Ainu people at the Workshop (yayhanokkar cise).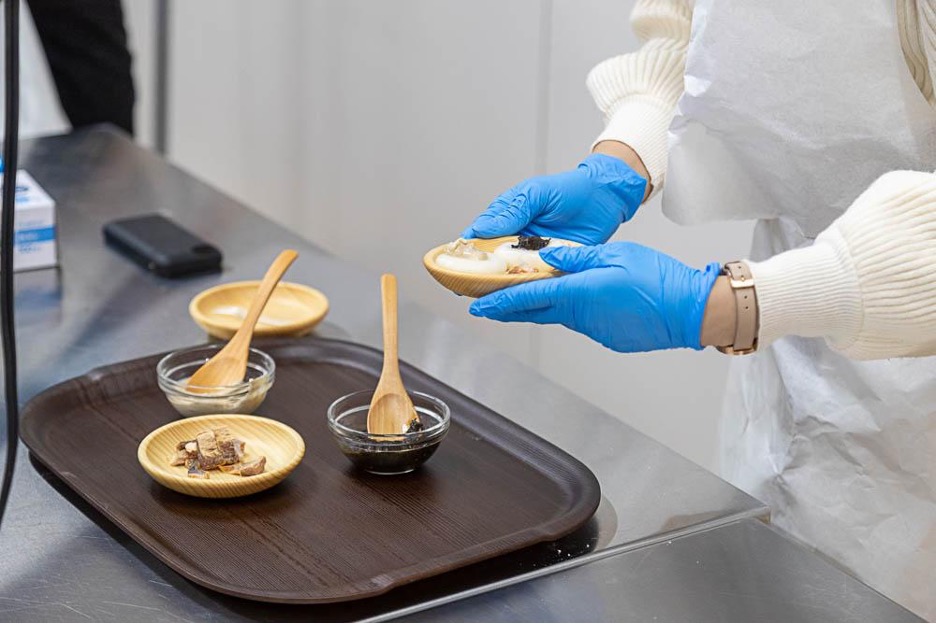 During our cooking workshop, we made mochi with two different toppings – a walnut paste, and a kombu (seaweed) paste. Both used very simple ingredients but were incredibly tasty.
We learned about the significance of the mochi, as it was eaten only a few times a year during ceremonies, weddings and funerals, and it was not only the living humans that ate these special dishes. They were also provided to the ancestors and Kamuy who also could enjoy these in the other world. Each region had their own sauces, depending on what was most abundant in their area.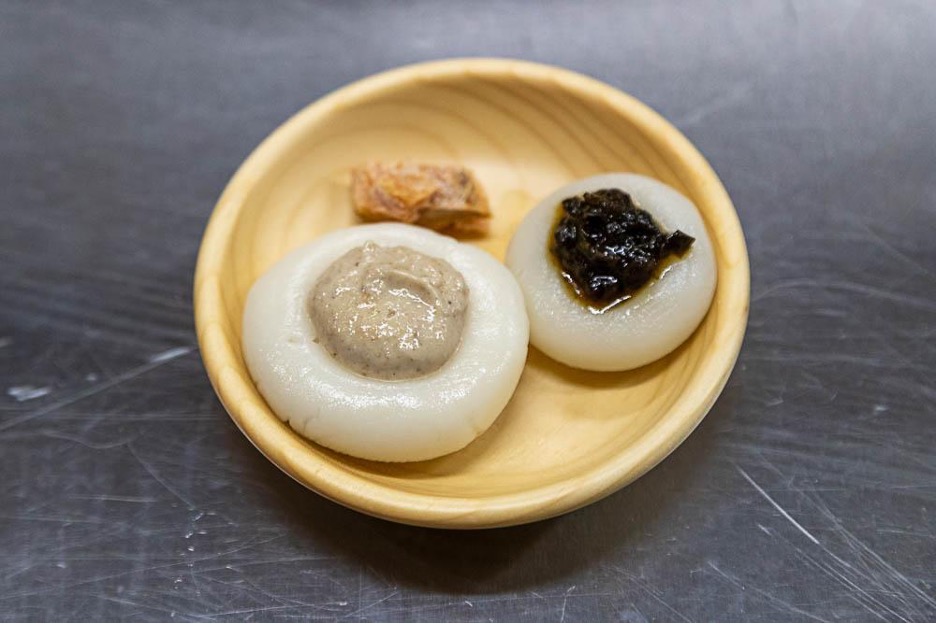 Takibi Dining Café Haru Ran Na
Our day at Upopoy was completed by lunch at Takibi Dining Café Haru Ran Na. This is a beautifully appointed restaurant that carefully uses Ainu design elements across the restaurant – from the vases to the engraved timber chairs. Dining in this restaurant is a stunning experience only made better by the delicious cuisine on offer. The dishes are inspired by ingredients of Ainu origin and local Hokkaido produce.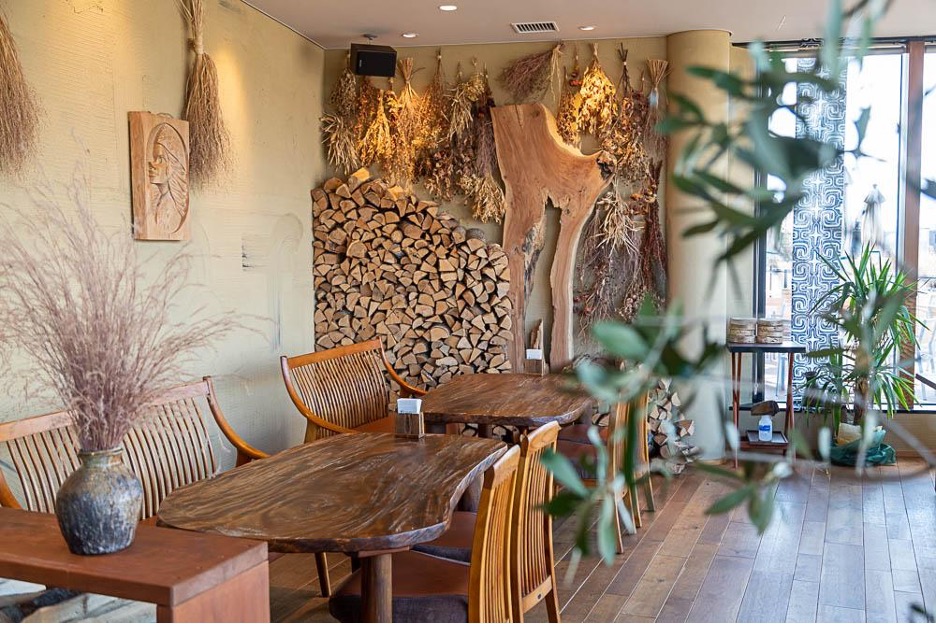 The venison plate was particularly delicious and delicately laid out on dried leaves, creating a lovely natural setting.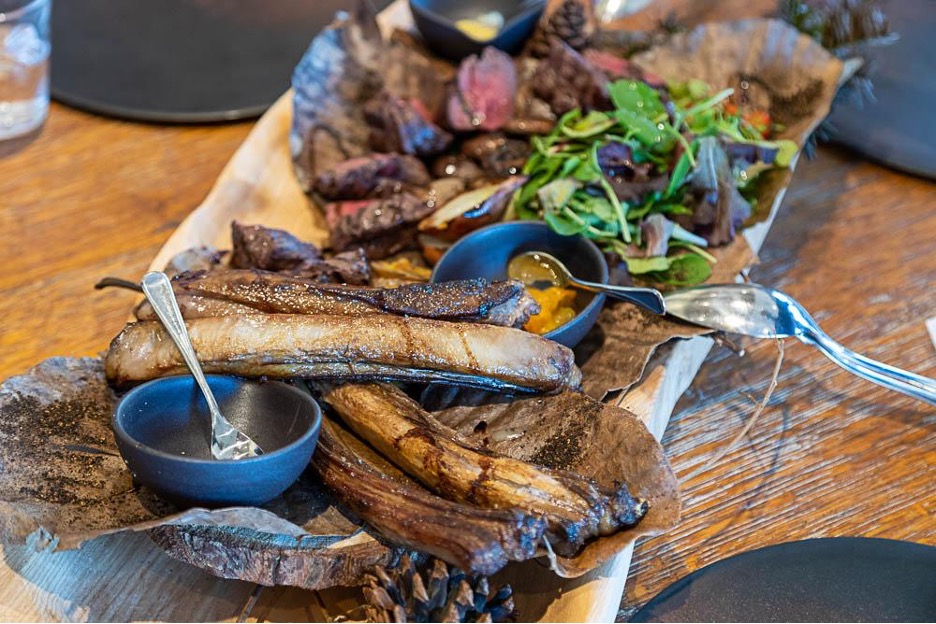 Accommodation: Heartful Resort Villa on the Beach, Furukawa
If you are looking to take your love of Ainu culture and nature one step further, then we definitely recommend the Heartful Resort Villa on the Beach, Furukawa during or after your visit to Upopoy. It is the ultimate luxury experience. The hotel is adorned with lovely furniture and cultural artworks.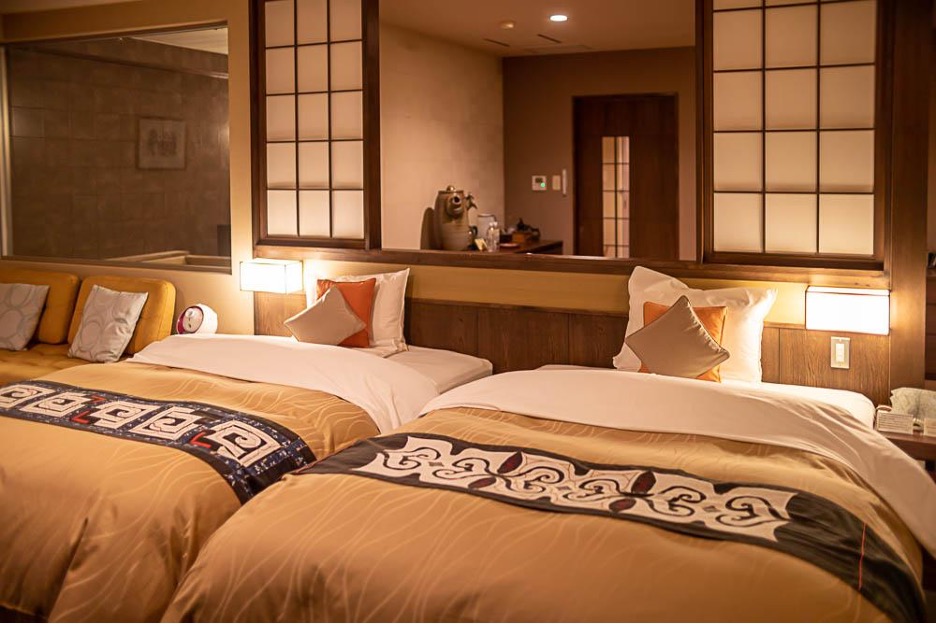 It has a striking setting overlooking the Pacific Ocean and an outdoor infinity onsen pool. The hotel aims to let you experience the full power of nature, through the views, onsen, and cuisine. A complete sensory experience.
The hotel tries to use local produce wherever possible including the famous Shiraoi beef. Dinner is a long last Kaiseki experience, and breakfast is a healthy hot pot of delectable meats and vegetables. This hotel is the perfect end to your cultural getaway.