Kumamoto is one of Japan's most stunning and underrated cities, it's home to fascinating architecture, excellent gastronomic options, and friendly locals, a spirit that's nothing short of inspiring, this is a city worth adding to your Japan itinerary. Here's a guide to just a handful of highlights.
Kumamoto Castle main tower and Kato Shrine
In April 2016, the city of Kumamoto experienced one of the biggest earthquakes in Kyushu's recent history. This massive 7.0 mainshock rattled some of Kumamoto's infrastructure and even caused significant damage to the city's iconic castle. Luckily, however, Kumamoto is a resilient city. Almost five years that have followed have managed to bounce back better than ever. One excellent example is the main tower of Kumamoto Castle.
The site is home to a museum dedicated to the Kumamoto Castle and inspiring rebuilding journey the castle is undergoing, and it's a fascinating one.  As part of the restoration efforts, the team is putting everything back together stone by stone where they once stood like the world's biggest jigsaw puzzle. The castle's main tower interior has also experienced a total makeover, one that's more accessible, modern and immersive than ever before. Part museum to the ancient history of the site, and part dedication to the restoration process of the castle, the interior museum features video displays, stills, model displays, and plenty of guidance in English with the official app.
Once you're done exploring the interior of Kumamoto Castle, be sure to put aside a little time to wander through the castle grounds, as this sprawling landscape offers plenty to keep you entertained for at least half a day. Kato Shrine is one key highlight, its name a dedication to Kato Kiyomasa (1562–1611), the first-generation lord of the Higo (Kumamoto) and man behind the castle.
Sakura no Baba Johsaien
Heading out to the front of the castle grounds is Sakura no Baba Johsaien, a perfect place to spend a little time before heading deeper into the cultural depths of Kumamoto. This area is home to seasonal performances and a quaint collection of food stalls that line the Sakuranokouji Shopping Arcade streets selling Kumamoto specialties like karashi renkon (spicy mustard lotus root) and jindaiko (a type of red-bean and mochi sweet). There's also an information centre offering plenty of multilingual guides on the best things to do, eat, see and experience in the city.
If you're a history buff, or you'd just appreciate a little deeper context on the city's history and its developments, a visit to the Kumamoto Castle Museum Wakuwakuza is in order. It's also located within Kumamoto's Castle grounds, right by Sakuranokouji Shopping Arcade, making it very easily accessible.
There are three facilities: Sakuranokoji Shopping Arcade, Kumamoto Castle Museum Wakuwakuza and the Information Tourist Center in Sakura no Baba Johsaien, which is located in the Kumamoto Castle grounds.
The displays you'll find inside this interactive and modern museum offers guests a glimpse at the 300-year history and culture of the region. There are also detailed exhibits (with English available) outlining the development of the castle itself, both pre- and post-earthquake, making it the perfect accompaniment to your Kumamoto Castle visit. It's the best to purchase the "Two Hall Joint Admission Ticket" which includes the entry to the Kumamoto Castle and Kumamoto Castle Museum Wakuwakuza.
Suizenji Jojuen Garden
Also, just more casually known as Suizenji Garden, Suizenji Jojuen Garden is without question one of the highlights of Kumamoto and well worth visiting if you're in the city. The famous Hosokawa family built this stunning Japanese landscape garden during the 17th century (1671) and one of the highlights is, according to the locals, the crystal clear water of the pond, welling from the subsoil water of Mt. Aso, a result of the abundant supply of mineral-rich limpid underground water in Kumamoto.
With its swooping and rolling green hills, artfully manicured pines, koi-filled ponds and hidden surprises like the classic Noh (traditional Japanese) theatre, the park offers plenty of charm for those looking for a peaceful stroll. But to properly take it all in, head to the teahouse for matcha and traditional Japanese sweets with a view.
Kumamoto City Suizenji Ezuko Park
Not too far from Suizenji Jojuen Garden sits another, though quite different park, Kumamoto City Suizenji Ezuko Park, a popular hangout. This Park is centred around Ezu Lake, an excellent summer spot complete with rental paddle boats, and swimming is permitted. There's also a jogging circuit and nearby cafés, so if you have some time up your sleeve and want to enjoy the city like a local, pack some food, drinks, a rug, set up a picnic and enjoy watching the world go by.
Japanese sweets making at Kitagawa Tenmeido
As much an art form as a culinary speciality, 'wagashi' is the name given to traditional Japanese sweets (和 wa – Japanese, 菓子 gashi – sweets), typically designed to combine with tea. Unlike western sweets, the main ingredients of wagashi are typically azuki (red beans), mochi (rice), and fruit; they're often a little lighter and more simple flavour-wise than western snacks, but when it comes to presentation, it's a whole different story.
One of the best places to learn about the 'art' of wagashi is at Kumamoto's legendary sweets store, Kitagawa Tenmeido. Kitagawa Tenmeido is 230 years old, but the staff's passion and innovative designs are as fresh as ever. Here you can sign up for a 'hands-on' sweet making workshop with the team and discover just how easy – and delicious – making wagashi can be while discovering the purpose, history and legacy of this fascinating culinary culture.
Kappou Izakaya Syaraku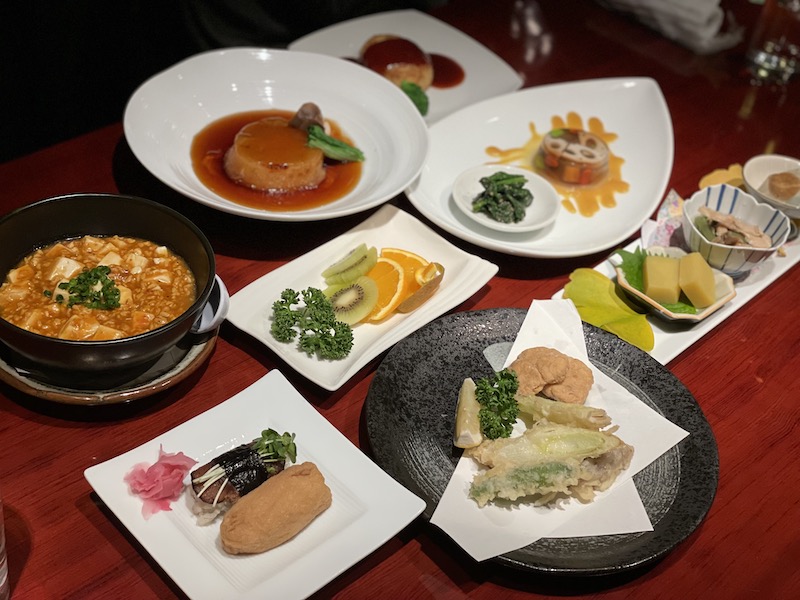 As food lovers visiting Kumamoto will be quick to learn, this city is an adaptable culinary haven for all sorts of eaters. For those looking for the classics, it offers excellent ramen; for the more adventurous, there's always basashi (horse sashimi), and for vegetarians/ non-meat eaters, there are plenty of stores catering to your tastes, and Kappou Izakaya Syaraku is just one example. Kappou Izakaya Syaraku is not a strictly vegetarian restaurant – meaning is great for diverse groups, but they offer an excellent vegetarian course menu. From elegantly marinated daikon (Japanese radish) steaks to vegetarian nigiri sushi and all-tofu mapo tofu, this course offers excellent value for money (around ¥3,500) and an all-encompassing showcase of the city's finest vegetables and seasonal options.
Shimotori Shopping Arcade
After enjoying dinner at Kappou Izakaya Syaraku, put aside a little time to explore the nearby  Shimotori Shopping Arcade, which is home to plenty of after-dark entertainment options, from bars and cafés to game centres.  For more information on vegetarian options, head to the Kumamoto City Information Centre (located right by the Castle), here you'll find guidance and pamphlets outlining the city's gastronomical choices.
Getting around Kumamoto in Style, bike and tram
Sure, the city has taxis and trains, and getting around on foot is a great way to explore up close, but to see the city in style, consider renting an electric bike. You can rent 20 inch compact e-bikes from the Kumamoto City International Center, located just outside the Kumamoto Castle grounds, and at ¥1,000 for the entire day (including a helmet), they're a very budget-friendly way to get around. There are also 26-inch regular road bikes available for ¥800 per day. Ask the friendly staff for cycling route suggestions.
Alternatively, if you'd like to take the more leisurely approach, there's always the Kumamoto City Tram (streetcar) services that travel between many of the city's main tourist destinations. To ride the trams, it costs ¥170 for a single ride and you can use your IC (Suica/ Pasmo) card or pay cash-per-ride but be sure to prepare the exact change ahead of time to avoid holding up traffic. The 1 Day Pass (¥500) can be purchased at the station, Tourist Information Centre located in Sakura no Baba Johsaien or on board.
Where to stay: The Ryoriya Residence TUDZURA
The Ryoriya Residence TUDZURA is a stylish hotel-guesthouse hybrid located in a renovated 130-year-old building used as a cooking inn for large scale events like banquets and weddings. Today it's a combination accommodation that offers shared style sleeping (dorms) and luxurious private rooms (the VIP executive room, JIKU-NO-MA SHIROTSUKI being a highlight).  A wonderful example of the city's innovative new businesses; it's the perfect place to stay in comfort while appreciating the city's rich history.
*The areas and facilities featured in this article have been following measures to prevent the spread of COVID-19. This was also carried by taking extra precautionary measures to prevent the spread of COVID-19.
Visit the following link for more information.
Kumamoto City Tourism Kumamoto City Official Club
Words: Lucy Dayman
Area Information
KUMAMOTO CITY
Kumamoto City is the second-largest city in Kyushu, where tradition and present-day coexist in harmony. With the long-awaited reopening of the iconic Kumamoto Castle main tower in 2021, the city offers a profound insight into its unique history and culture, inviting you to slip back in time into the Samurai period. It is also a perfect stop to discover the timeless elegance of Japanese aesthetics. Kumamoto City makes every effort to accommodate travellers' dietary requirements, offering a complied list of eateries with vegetarian, vegan, gluten-free and halal options.