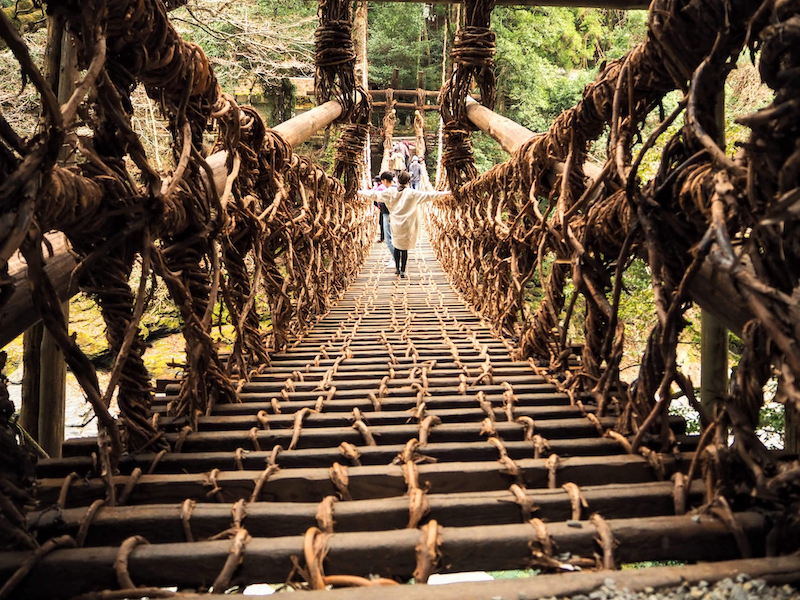 Tokushima, located on the eastern corner of Shikoku, may well not be Japan's most famous prefecture, but those who visit will agree it's definitely one of the country's most mystical. Home to it's a land where low hanging, lazy clouds frame lush sky-high mountains, where the song of the local bird song harmonize with the roar of the rivers and where rich merchants artfully show off their wealth. Easily accessible, full of adventure and with attractions for the whole family, it's a must-add to your next Japan holiday. 
Brompton Bicycle Pottering Tours
If you really want to soak up the sights, admire the views, and get in touch with Japan's more rural side, one of the best ways to get around is by bicycle. Local company Brompton Bicycle Pottering Tour (pottering as in pottering around) runs regular bicycle tours taking guests through Tokushima's more scenic pockets. Brompton Bicycles for those uninitiated are compact folding bikes that, while small, are incredibly easy to use. 
Brompton Bicycle Pottering Tours run a few touring routes throughout Tokushima, from the depths of lush Iya Valley to the dizzying heights of Mt. Bizan. There's a route – and of course, bike – for riders of all interests and abilities. One highlight is the tour through the historic town of Wakimachi. This tour takes guests along the Yoshino River to the historic town of Wakimachi, offering riders ample opportunity to both admire the natural beauty of the Yoshino River and also the fascinating history of Wakimatchi.

Wakimachi
Wakimachi looks like a film set; there's no other way to say it. Walking down the wooden building lined streets, you half expect a Japanese film star decked out in samurai garb to step out from behind the shadows. But in reality, Wakimachi is a real place, one that's been so well cared for by the local community it retains almost all of its Edo-era (1603-1867) charm. The town was once a hotbed of prosperity. It was a place where Tokushima's iconic indigo merchants made their way through the world, crafting and selling garments and other daily items dyed in deep shades of indigo blue. 
Japanese Aizome (indigo dyeing), crafted from the leaves of the Japanese indigo plant, is rich in antibacterial, insect repelling and odour-reducing properties. During the indigo-era peak, merchants from the area were incredibly rich, so rich they'd build flashy firewalls for their homes. Known as 'udatsu,' these firewalls were erected between two-story buildings made from clay-rich earth. They were designed to prevent fires from crawling from roof to roof. 
While those firewalls were too expensive for most owners to construct, Wakimachi's buildings featured lavishly designed firewalls, which wealthy merchants crafted arguably both for safety and to show off. The area is lined with buildings showcasing expensive, artfully designed and meticulously cared for architecture. It's also been designated by the government as an important national preservation district; today, inside many of the buildings, you'll find store and workshops keeping the history and culture of Wakimachi alive.
For something else a little special, head on over to the eastern end of the udatsu buildings, here you'll find Wakimachi Gekijo Odeonza theatre, a stunning wooden theatre once used for kabuki performances. After World War II it was modified to screen movies.
Oboke Gorge
Tokushima is without question a prefecture synonymous with near-gravity defying valleys, roaring clear water rivers, and lush wild foliage that transforms with the passing seasons, and Oboke Gorge is the embodiment of all those features. According to historians, this vibrant corner of Tokushima was created when some 200 million years ago; water from the Yoshino river tore its way across Shikoku's mountains, carving these incredible natural landscapes along the way.
One of the best ways to get around this area is to hop on a pleasure boat cruise through Oboke Gorge for a fresh perspective on the area. Sliced jagged white rock formations emerging from the crystal blue water, seasonal foliage, deep ravines leading down to small zig-zagging rapids, it's nothing short of a masterpiece.
From sailing down the rivers to climbing over them, Iya Valley's Iya no Kazurabashi is another icon of Tokushima and natural wonder in its own right. Kazurabashi are the area's long, thin suspension bridges crafted by vine. The origins of their perilously hanging pathways are disputed. Some say they were made by Kobo Daishi, founder of the Shingon Sect of Japanese Buddhism, while others believe Heike refugees crafted them while in hiding following the Gempei War (1180-1185).
One thing we can all agree on is that they're not for the faint of heart. Built using wires and overflowed by vines, the bridges' slats offer plenty of space for viewing the roaring rivers below (and maybe getting a foot stuck if you're not careful!) Dotted throughout the area they're spectacular pieces of design and well worth a weary climb next time you visit.
What to Eat in Tokushima
One food you can't miss when exploring Tokushima is Awa-Odori chicken, a special type of chicken unique to the area. The name comes from both from the fact that Tokushima was once known as Awa Provence and the idea that the chickens resemble Awa Odori dancer grazing freely in the fields. This fried chicken is rich, flavorful and best enjoyed at Tokushima's restaurant Sairai. 
How to Get to Tokushima
Jetstar services frequent domestic flights between Tokyo and Takamatsu (Kawgawa), Tokushima's neighbouring prefecture. It's about a 2-hour ride from Takamatsu Airport to Tokushima by bus and train.
Countermeasures against new coronavirus infections have been taken at each destination, and disinfectant solutions for hand disinfection are installed, temperature is measured, staff masks are worn, and social distance between customers is secured. We recommend Shioku as a destination where you can travel with peace of mind.
REGION INFORMATION
COMMENTS