A naturally blessed town surrounded by agricultural lands and hot springs,
including the renowned Konbu Onsen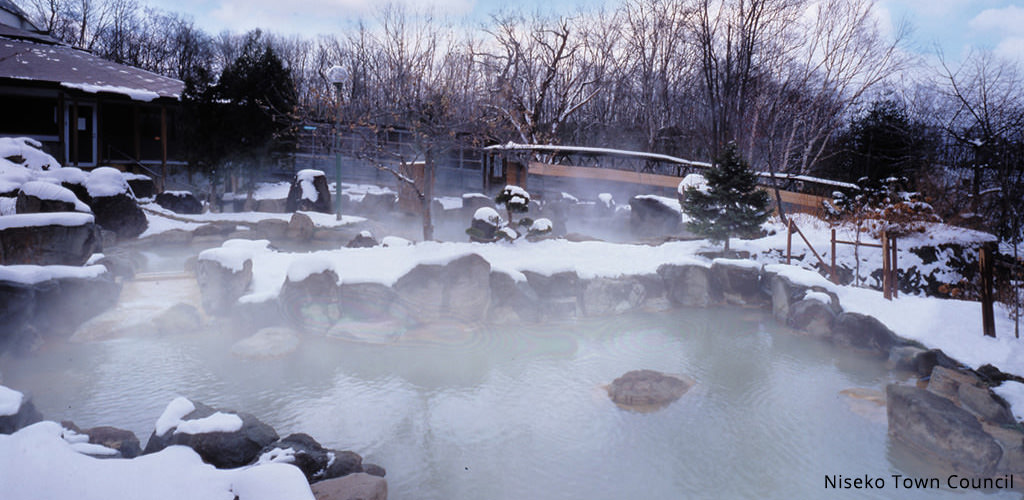 It's no secret that Australians love Niseko and its deep, fine powder but Niseko has a few lesser known secrets up its sleeve. Niseko Town, or Niseko Cho in Japanese is quietly tucked away at the base of Mt Niseko-Annupuri, a popular ski spot and also the namesake of Niseko Town.
Over 90% of this small but fantastic town is covered by forestland and rivers – some a part of Niseko-Shakotan-Otaru Kaigan Quasi National Park.
It's also rich in agricultural lands, known for their melons, asparagus and tomatoes. The eateries in town use dairy and meat products like ham and sausages that come from local farms and their award winning, additive-free cheese is definitely worth a try.
Niseko Town will look after your complete wellbeing with a healthy combination of fresh foods and physical activities like skiing and mountain climbing.
There's nothing higher in the rank of Japanese luxury than a hot spring bath, which is also a great way to keep up your wellbeing especially in the cold. The network of 15 hot springs in Niseko Town is so good it has gained the approval of the Japanese Ministry of Environment.
One of the 15 hot springs is Konbu Onsen, which was the starting point of tourism in the area as well as it being the best out of all the others. Looking out to the ever-changing views of the surrounding environment while fully immersing oneself in a healing, relaxing hot spring bath is the finest way to end any day.
Grab yourself a Yu-meguri Pass, which will give you three visits to any of the participating hot springs in the area for just ¥1,440. Then hop aboard a Niseko United shuttle bus that runs between the hot springs and the ski resorts right from Niseko Station up to the neighbouring town of Kutchan. A day exploring the finest indulgences Niseko Town has to offer is totally worth being away from the slopes.