Pioneering powder resort with historic hot springs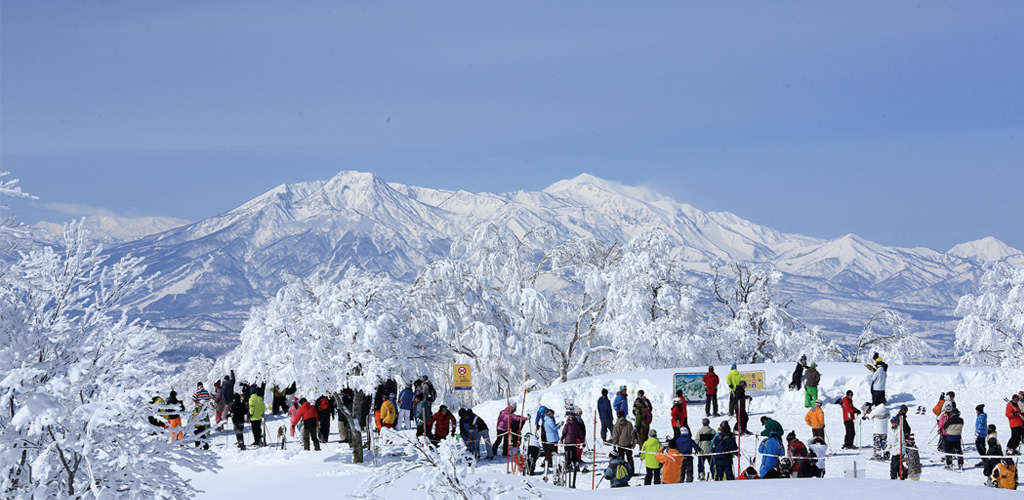 Nozawa Onsen has depth as a snow holiday destination in more ways than one. The first things that come to mind for skiers and snowboarders are
its average 12-metre snowfall every year, and snow pack exceeding five metres in the highest sections of the resort during the peak of the season.
Another for more seasoned riders is Nozawa Onsen's deep history as one of Japan's legendary ski villages, having produced no less than 15 Olympians over close to a century of involvement with the sport. Then of course is the even deeper history of the village's abundant hot springs, long famous for the healing properties of their mineral-rich waters. The classic way to experience them is by visiting one of the soto-yu, 13 public hot springs in magnificent feudal buildings scattered throughout the village. They are a great place to soak up the local atmosphere at the same time.
Luxury private hot spring baths are also available for guests to enjoy in a number of Nozawa Onsen's hot spring inns. Ryokan Sakaya, a 17-generation inn which won the title of Japan's best boutique ski hotel in the 2013 World Ski Awards, is one of the many other inns, bed-and-breakfasts, restaurants and izakaya bars in Nozawa Onsen that showcase the delicious local food and sake. A free shuttle bus conveniently connects the accommodation facilities in the village with the slopes, operating every day from December to March.
Getting to Nozawa Onsen from Tokyo is easier than ever; the Hokuriku bullet train line now connects Tokyo with Iiyama, and Nozawa Onsen is only a 25 minute drive from there.
Nozawa Onsen is a great place to visit and enjoy during your snow holiday. The hot springs will aid with resting your body, and it's also a fabulous holiday destination to enjoy purely for its hot springs and luxurious hospitality.
Travelling times to Nozawa Onsen
Tokyo: 2 hrs 25 min (train); Osaka: 4 hrs 30 min (train)
Nozawa Onsen's treasures
Nature's gifts passed down from generation to generation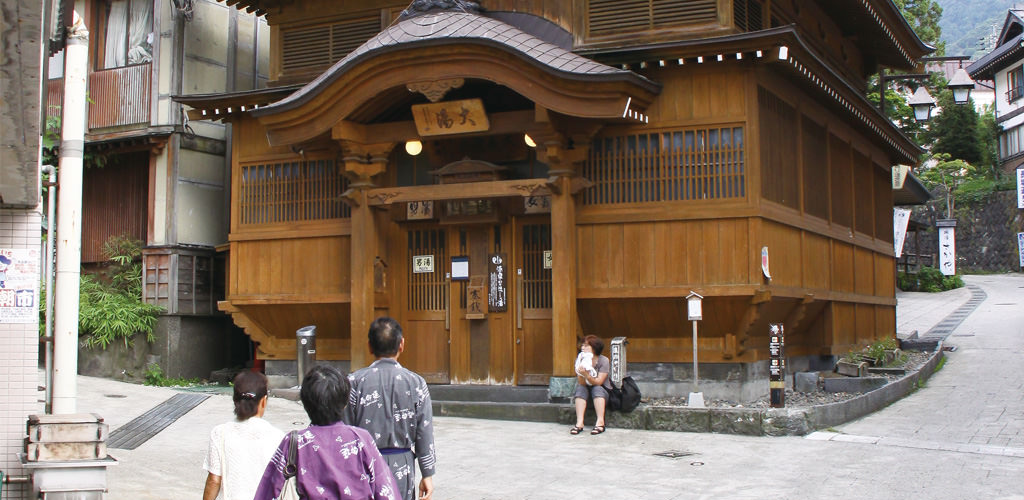 The 13 soto-yu (public baths) spread across the village of Nozawa Onsen are a shared asset of all the people in the village. These baths get their mineral-rich waters from 30 different hot springs, including one, Asagama-no-yu, which pulls its water from the 'ogama' – a large, public boiling pot used to cook vegetables and eggs.
These shared baths are enjoyed by locals and visitors alike; while there is no set fee, there are small money boxes in which visitors leave a donation on entry, so that the locals can maintain the baths the way they have for hundreds of years.
Ask any Japanese and they'll say that there's never a bad time to take an onsen trip. It's a luxury and tradition that should be enjoyed no matter what the season.