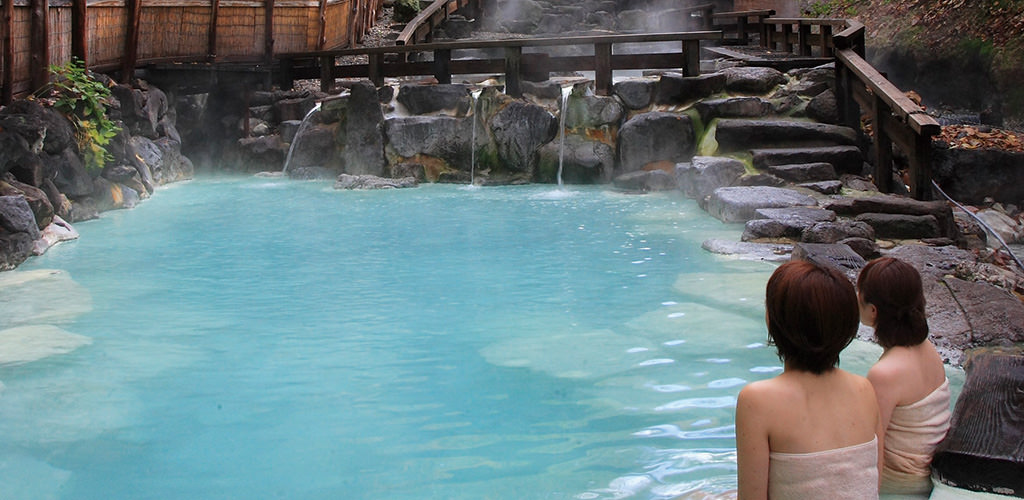 Steaming mineral-rich pools of health and happiness are found everywhere in Yamagata from the coastline to its mountainous interior, and can be enjoyed quickly on a day trip or slowly and decadently on a hot spring holiday.
For visitors on a snow holiday, local hot spring (onsen) villages are the ultimate way to authentically experience the traditional culture of Japan while enjoying its powder snow. Zao Onsen – a hot spring village next to the famous Zao Hot Springs Ski Resort – combines these two highlights superbly.
Additionally, there are four day-trip hot spring facilities in the area, as well as three shared hot spring baths, which can be entered for ¥200 each.
The milky-white springs at Zao are especially rich in nourishing minerals for the skin, the sulphur found in the spring works to sterilise the skin of any bacteria or dirt, leaving a clean, smooth skin and earning them the title "The Fountain of Beauty". Legend has it that a warrior first discovered a spring in the area after a battle 1,900 years ago, using it to bathe his wounds, and since it has grown into one of Yamagata's most prominent hot spring areas.
You can take home a part of Zao Onsen's silky water as the gift stores here sell Yu-no-hana, which can be put in a tub to recreate Zao's nourishing hot spring at home.
Almost 50 different spring heads now supply water to more than 100 hotels, inns and bed-and-breakfasts spread throughout this alpine retreat, and many offer the luxury of hot spring bathing just minutes from the slopes.
REGION INFORMATION
COMMENTS