Furano Tokachidake Tomamu Kamui Asahikawa Asahidake Kurodake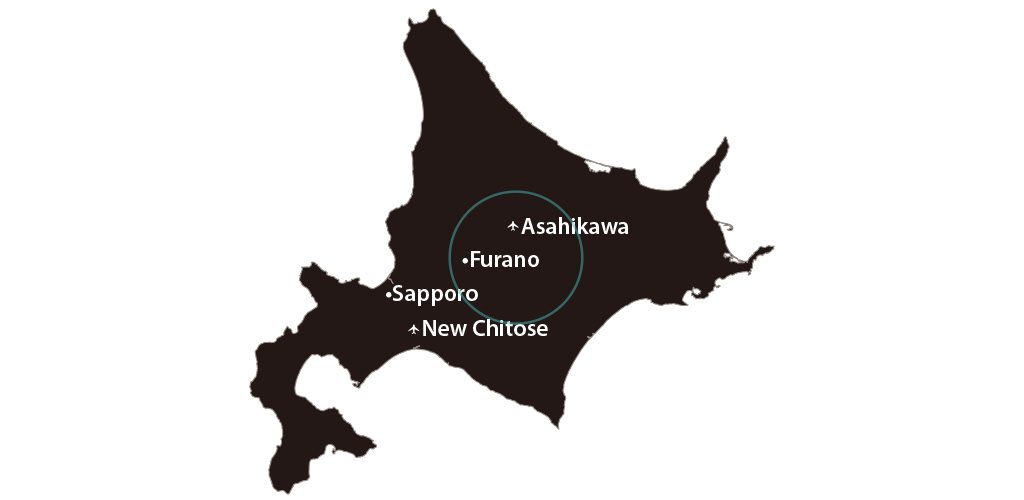 It's official. Powder has acquired the status of a religion on Hokkaido, with some of its staunchest exponents found spreading the gospel throughout the Hokkaido Powder Belt. There's not a lot of convincing to be done about its greatness as a snow holiday destination though, if a mix of powdercovered slopes and traditional Japan are what you're after. Centred around Furano – an area known for its fresh, dry powder – there are seven powder-rich areas that make up the Hokkaido Powder Belt.
As well as hot spring villages nestled amidst some of Japan's most hardcore backcountry terrain, it has family-friendly resorts and plenty of opportunities to experience genuine Japanese culture and cuisine, all with warm country hospitality. Sheltered in Hokkaido's hinterland, this is the place to experience frontier Japan on a snow holiday.
The first and last word in fluffy powder 
Furano, heart of the Hokkaido Powder Belt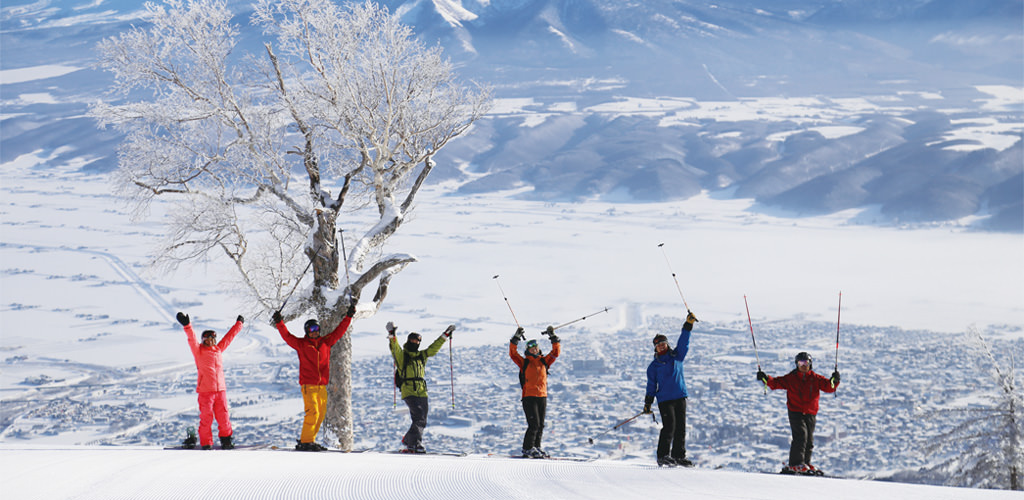 Furano has the natural climate of a great ski resort. It has brought FIS World Cup competitions to the town more than ten times since the 1970s, with an average of more than 8 metres of fluffy powder each season.
Powder from yesterday, or even the day before yesterday is famously still fresh at this resort; with low inland humidity and extreme sub-zero temperatures, it hardens up in slow motion.
The international recognition of Furano in the skiing and snowboarding world has also introduced more people to the quality of its local farm produce, and the fresh seafood available in the town from local Hokkaido fishing ports. Furano Wine did a tasting demonstration at the FIS World Cup in 1977, and today, it is joined by craft beer, artisan cheese, and many other great local specialties on the menu at the town's cafes, restaurants and bars.
The rich variety of cultural attractions in and around Furano include the former studio of eminent Japanese artist Sumio Goto, now a gallery in picturesque surroundings exhibiting some 130 of his incredible works. In town, there is also a great line-up of winter cultural workshops and performances.
Furano's flagship accommodation facilities are the two ski-in, ski-out Prince Hotels at Furano Ski Resort, with 519 rooms; staying here, or at one of the town's many other hotels, inns and bed and breakfasts makes an ideal base for exploring the rugged frontiers of the Hokkaido Powder Belt…
Set out from Furano to conquer the seven corners of the Hokkaido Powder Belt!
Asahidake
Chairlift and hot spring village, with access to the 2,291m volcano Asahidake – the highest mountain on Hokkaido.
 Asahikawa
See polar bears swimming at the famous Asahiyama Zoo in Hokkaido's second-largest city, and air and shuttle access hub.
 Furano
Enjoy the resort and cultural life in this friendly town, which is also a great base for exploring the nearby backcountry.
Tomamu
Family-friendly resort, with some novel entertainment facilities including an ice village, complete with an ice bar.
Kamui
14 courses with great variety and a relaxed off-piste policy – naturally with powder snow – just 40 minutes from Asahikawa.
Kurodake
Ride the powder here via chairlift from Sounkyo, a well – manicured hot spring village with an otherworldly Ice Festival.
Tokachidake
No lifts, and no crowds. Just powder on Asahidake's smoking cousin, with the island's highest hot spring inn at 1,280m.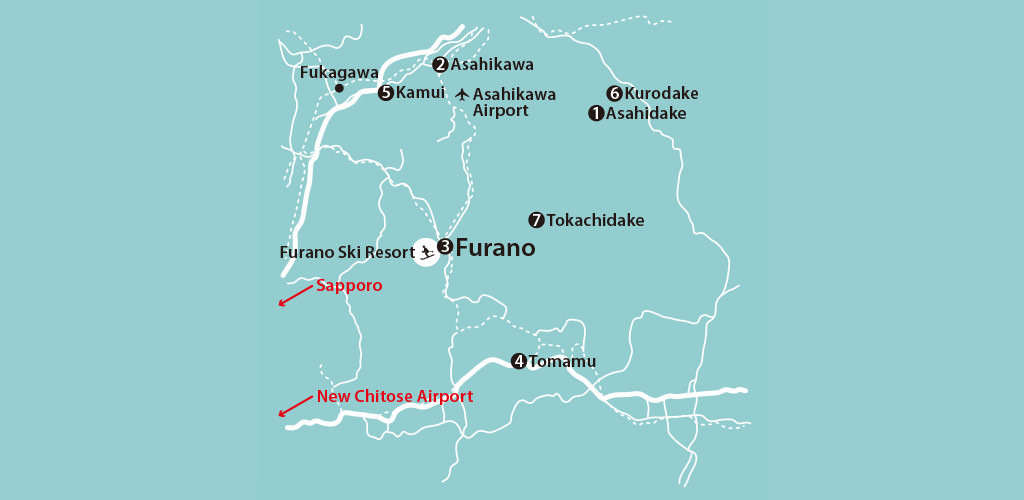 Asahikawa Airport
Domestic Flying Times
Haneda (Tokyo): 1 hr 40 min
Narita (Tokyo): 1 hr 45 min
Kansai (Osaka): 1 hr 50 min
New Chitose Airport
Domestic Flying Times
Haneda (Tokyo): 1 hr 30 min
Narita (Tokyo): 1 hr 40 min
Kansai (Osaka): 1 hr 50 min
Riding the J-pow in Central Hokkaido
by Ken McBride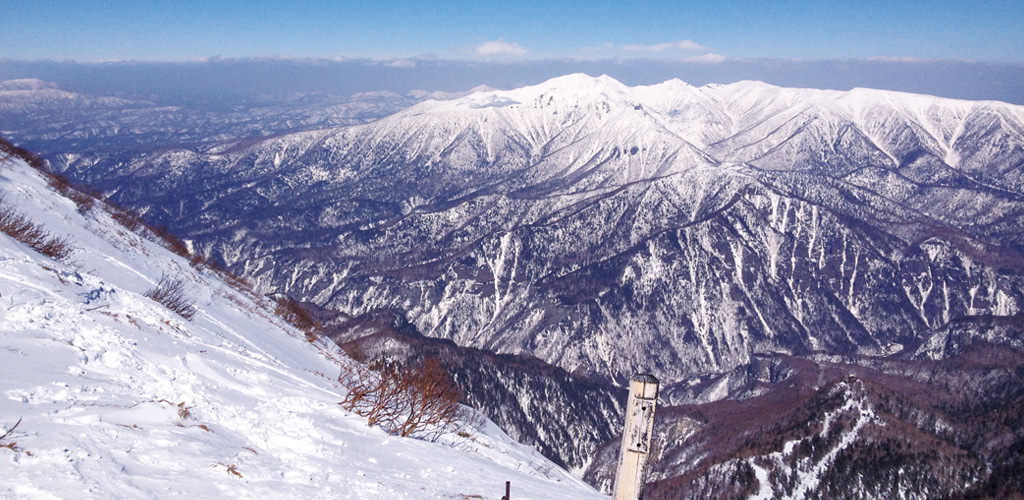 Back in the 90s, I was a skater punk living in Sydney on the North Shore. My dream: to teach English in Japan anywhere near a ski field, and go snowboarding every chance I got.
Born in Methven – a village at the foot of New Zealand's Mt Hutt ski area – to an Aussie surfer/skier dad and Japanese skier mum, it was always in my blood to connect with my roots and discover Japan's snow country. I taught English, experienced heaps of cool culture and went snowboarding!
Six years later, working nine to five in an office in Sydney, I received an email informing me of a job in Furano. 'Where?' I thought.
Knowing that I needed to be shredding in the mountains again, I decided to go for it – and soon found myself getting ready to start a new job at the Furano Tourism Association.
Even after many years of experiencing extraordinary snow around Japan, the powder in Furano and the surrounding mountains of Central Hokkaido just blew me away. Its colder inland climate produces super dry powder with no moisture – which reignited my passion for snowboarding.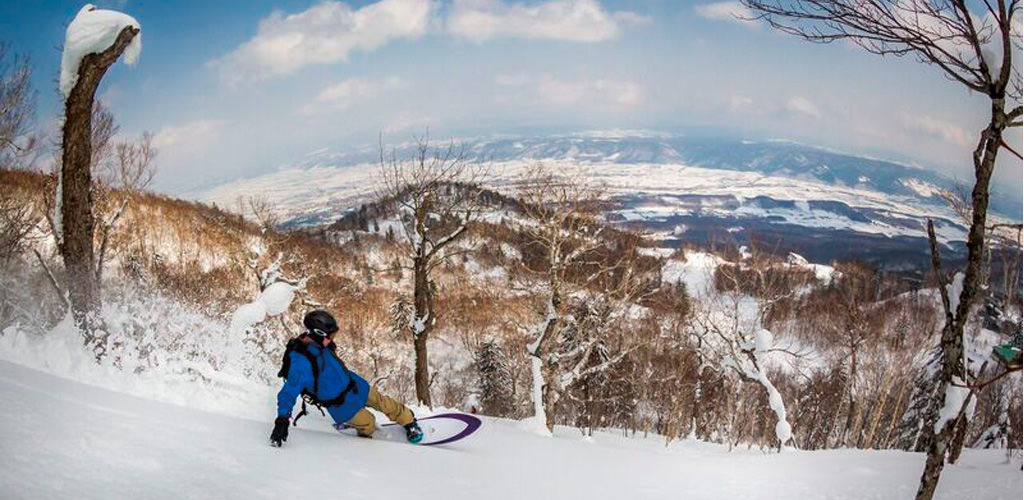 'So, what's the best mountain in the region?' people ask.
They are all good, on a good day. All are unique, and offer variety of terrain suitable for different riding styles and abilities – so I keep a number of snowboards in my quiver.
I love Furano for the challenging off-piste terrain it offers; steep, deep, tight trees, and some great pillows to launch off. Then there are the mountains of Asahidake, Tokachidake and Kurodake, which are part of Daisetsuzan National Park – the largest in Japan.
These places offer both great backcountry skiing and fantastic onsens (hot springs), which to me are a big part of the skiing culture in Japan.
Asahidake and Kurodake both have lift-accessible backcountry, while Tokachidake, situated across the Furano Valley, offers pure backcountry skiing, with no lift access. Getting well-earned fresh powder turns at this place gives me a sense of achievement and satisfaction. It's great looking back at your lines – your signature on the mountain.
For me, riding powder is about connecting with nature – and the best skier or snowboarder is the one having the most fun!
Ken McBride operates Furano Snow Tours, a Furano-based offpiste/ backcountry guiding company offering personalised private tours around Central Hokkaido.