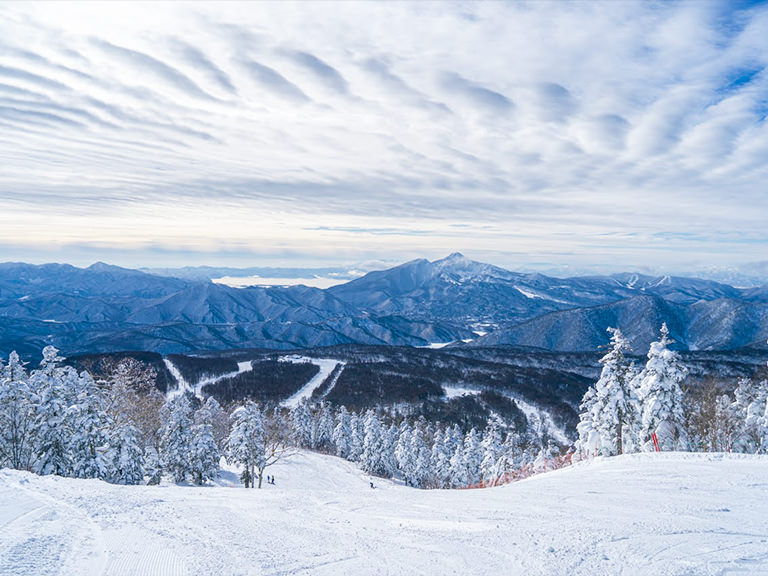 Fukushima Prefecture is one of Japan's premier "powder snow" havens, with plenty of ski resorts flaunting fluffy snow perfect for skiing and more.
Why Fukushima for Winter Sports and Snow Activities?
Being the 3rd largest prefecture in Japan, Fukushima is chock-full of large-scale ski resorts boasting a diverse range of courses for all levels. In addition to skiing, snowboarding and snow trekking are extremely popular in Fukushima.
Many of these ski resorts have wide, spacious slopes, preventing them from feeling crowded even when busy. With plenty of room for all, you can relax and enjoy a fun-filled day of winter sports without fear of colliding with others.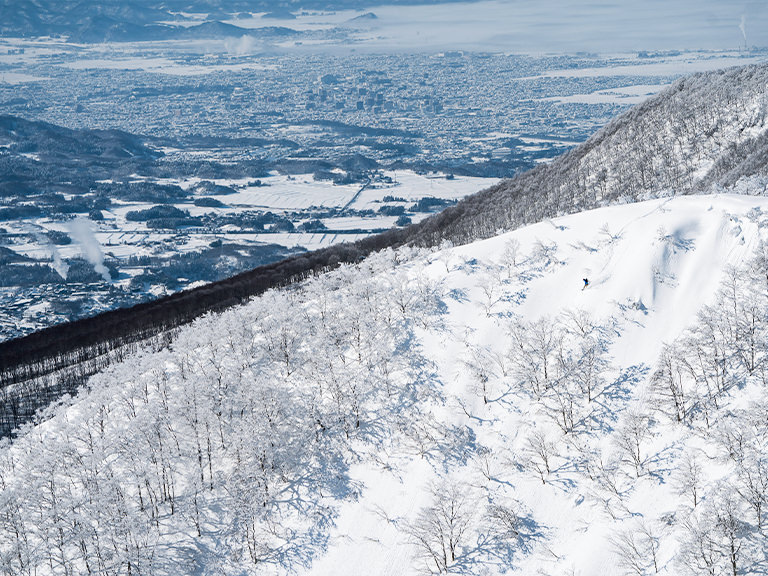 The ski resorts of Fukushima have stable snowfalls throughout the season, and the high-quality powder snow remains for a surprisingly long time. Being soft and luscious, Fukushima snow is ideal for beginners and children too!
Many ski resorts also have "snow parks," allowing children and adults plenty of opportunity to unwind in the snow. Kids can also partake in sledding and more at the "kids park," making them great places for family holidays. Some are even equipped with childcare facilities (for certain ages) and ski schools, so parents can ski while their children are left in good care.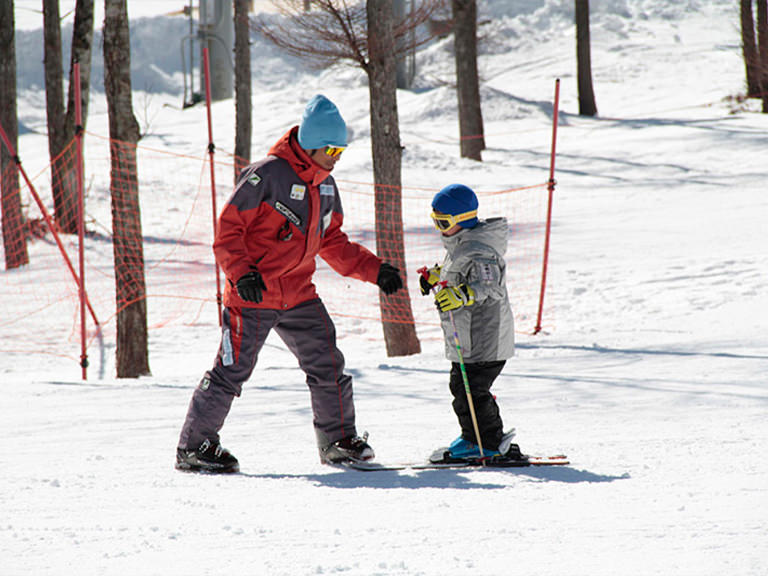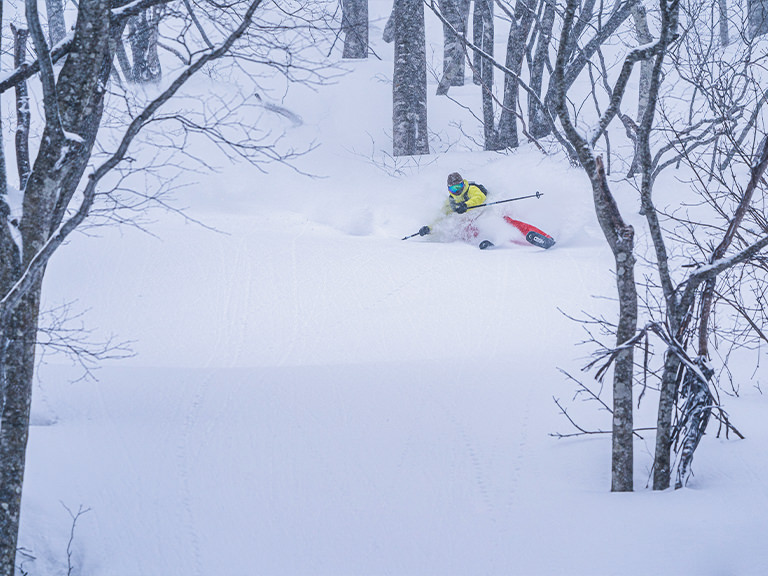 Here are some of the ski resorts in Fukushima Prefecture.
| | |
| --- | --- |
| Adatara Kogen | Hoshino Resorts Alts Bandai |
| Nihonmatsu Shiozawa | Hoshino Resorts Nekoma |
| Minowa | Ura Bandai |
| Numajiri | Sannokura |
| Listel Ski Fantasia | Ski Resort Tenei |
| Grandeco Snow Resort | Grandee Hatoriko Ski Resort |
| Inawashiro | Aizu Kogen Takatsue |
| Aizu Kogen Nango | Aizu Kogen Daikura |
| Tadami | Aizu Kogen Takahata |
| Oze Hinoemata Onsen | Fairy Land Kaneyama |
For more information, visit this page.
Must-See Winter Attractions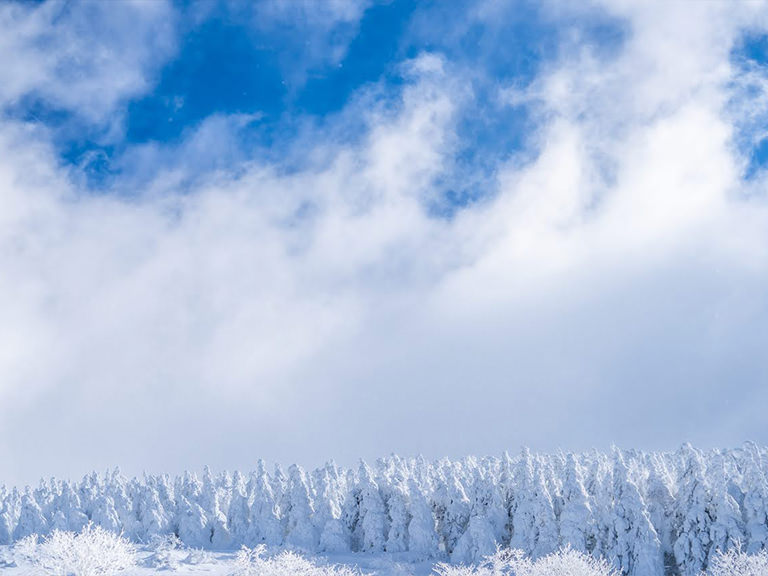 The trees of Mt. Nishi-Azuma, one of Japan's most famous snowy mountains, are short and densely packed, becoming engulfed in a deep frost during the winter. While the phenomenon of frost-covered trees can be found in several places throughout Japan, the unique miniature size of those on Mt. Nishi-Azuma have led to their adorable moniker: "Little Snow Monsters." You can view this surreal spectacle up close while hiking the ridgeline – an enchanting, otherworldly experience!
Peaks in mid-February
Snowshoes essential
Tour guides available
How to Get There:
Take the gondola lift from Grandeco Snow Resort (round trip) + No. 4 Chairlift (runs on public holidays/weekends, one-way, cannot be used for descending)
Take the gondola lift (round trip)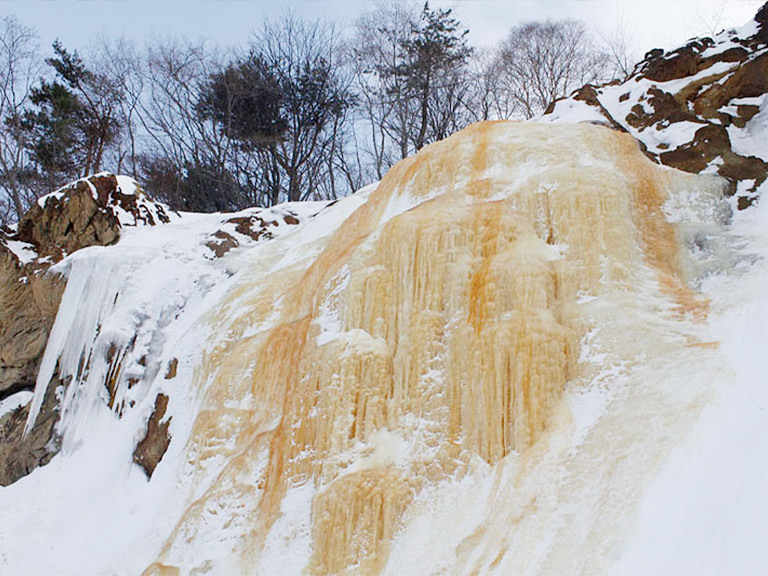 Yellow Falls, an ice cascade appearing during winter in the crater of Mt. Bandai, is coloured yellow by water droplets mixing with sulphur and iron before freezing. You can witness the beauty of this phenomenal natural wonder up close while hiking atop the snow.
Peaks between mid-January and late February
Guided tours with snowshoe rental recommended
Tour Companies:
Mokumoku Shizen-juku (mountain climbing)
Natural Biz
Outdoor Sports Club Bucks
3. First Tadami River Bridge Viewpoint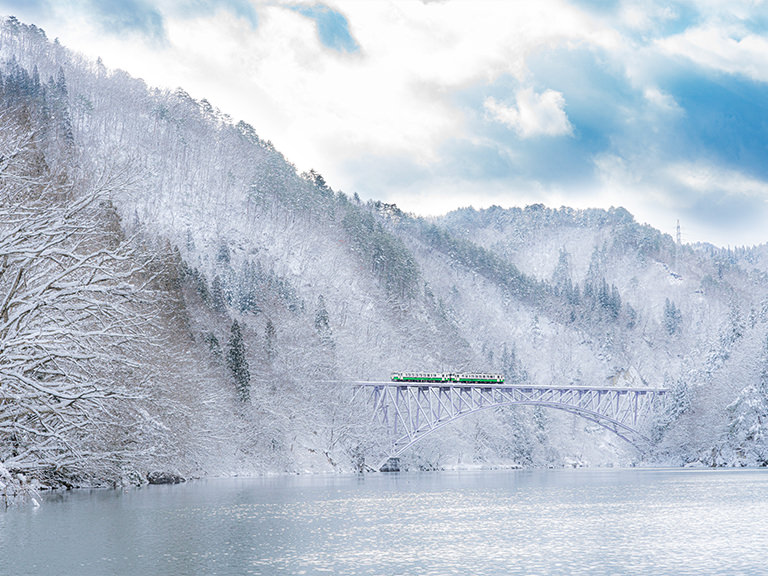 The JR Tadami Line, nicknamed the "world's most romantic railway," runs alongside the remote Tadami River through gorgeous valleys reminiscent of Northern Europe. The First Tadami River Bridge Viewpoint is super popular come winter, and the stark monochrome scenery enchants all who visit.
Peak winter scenery is between late December and late February
Closed between 1-3 January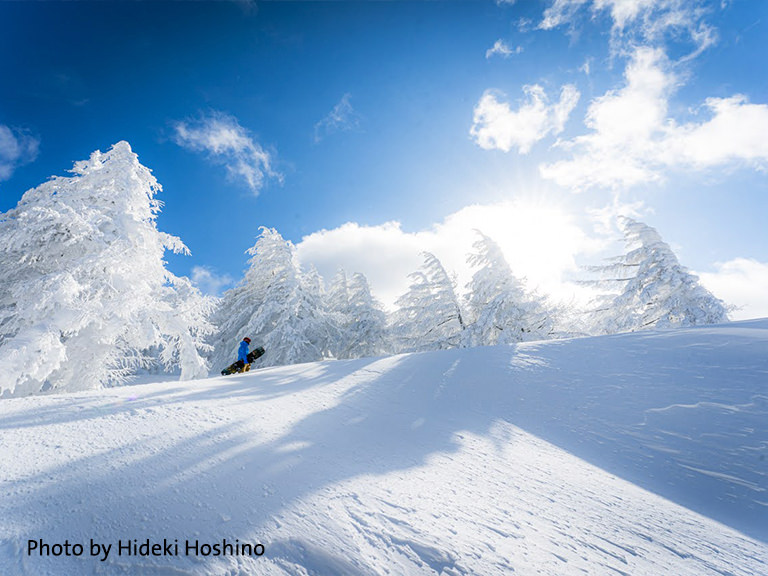 Special skiing packages are also available.
Please feel free to inquire regarding shuttle buses (return services between airports and destinations), hotels, lift tickets, ski rental gear (skis, clothing, etc.), and more. Visit this page.
Australia's Official Fukushima Prefecture Representatives
For any enquiries regarding Fukushima tourism, please feel free to reach out to
sales_fukushima@nta.com.au or call
Simon Williamson (Australian Attractions): 0438 744 633
Nippon Travel Agency Australia Sydney Office: (02) 9275-9661
REGION INFORMATION
COMMENTS