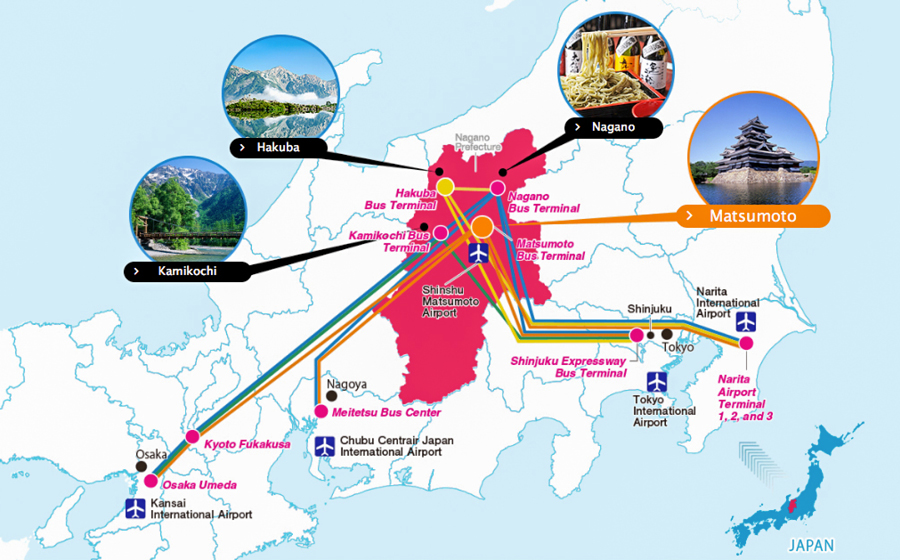 The Alpico Group provides multiple transport options to connect you to Nagano and the Shinshu region of Japan all year around. From buses that connect you directly from the airport to popular holiday destinations in the region, to charter vehicles that accommodate groups as little as four people, Alpico has your holiday transportation needs covered.
The direct express bus services to Hakuba operate exclusively during the winter season, starting in December all the way to March. The buses operate out of both Narita and Haneda Airport, so you can be on your way to the snow in no time after landing in Japan. This is such a convenient service considering the luggage most skiers and snowboarders must lug from the airport to the station and to any other transport swaps you may need to take between there and Hakuba. This way, a smooth, hassle free trip is ensured.
Alpico's service goes beyond your average bus services, they have even adjusted a part of their timetable to coincide with flights arriving from Australia. The Narita Airport line is timed to Japan Airlines flights from Melbourne, while the Haneda Airport line has two round trip buses that's in time with the arrival of direct flights from Sydney.
Those that plan to head to Hakuba from elsewhere can also enjoy a ride on the Alpico direct express bus too. Alpico operates out of Shinjuku, Tokyo, Osaka, Kyoto and even Nagano!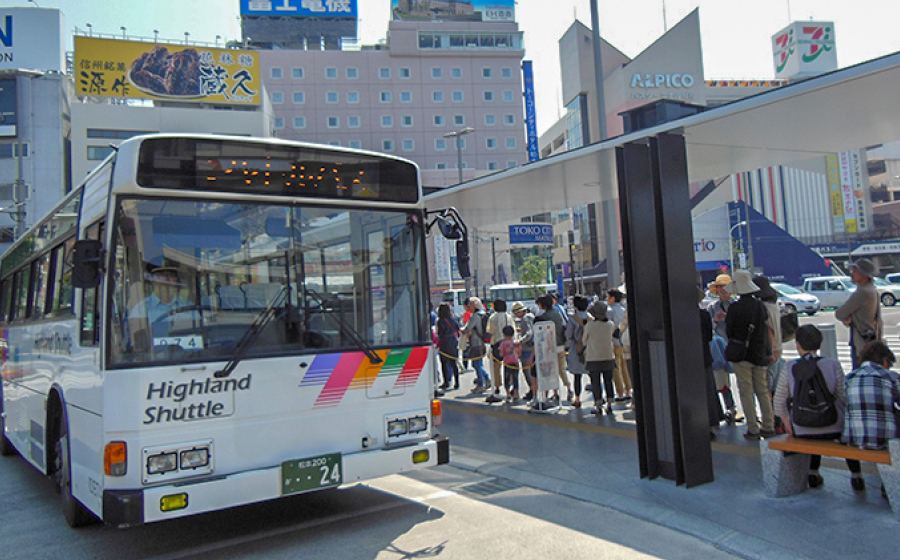 The direct express buses are designed with the utmost comfort in mind. The bus itself is very spacious with only three seats per row. The regular seating, called the Prime seat, is a wide plush seat with its own table, power socket and blanket.
The more premier seating, the S-Class seat is an even more plush, reclining lounge chair with leg support. These seats also come with its own table, power socket and blanket. With such fantastic seating you can take a comfortable ride and rest your body between your flight and the snow.
Wi-Fi is available for an extra fee upon request at the time of checking into your bus.
When travelling with a larger group, booking seats on the same bus might be more of a hassle. In this case, hiring a charter bus might be the answer for you. There are several options when hiring charter vehicles. For groups of 20-25, there's the micro bus, for 5-9 people, the van would be suitable. For families with small children or those wanting a charter for a small group, there's the VIP van option which accommodates up to 5 people and a Sedan option for up to 4 people.
The charter vehicles also travel between Hakuba and Haneda and Narita Airport in Tokyo or Chubu Centrair Airport in Nagoya. A transport service is also available between your hotel and Hakuba. With your own private charter, you not only get comfortable spacious seating but also free Wi-Fi aboard.
Alpico's unique service allows you to customize your own courses with a free estimate. Accepting online booking is the most suitable for travel in Japan! Of course their support team is available to help you with all of your transportation needs in English.
There are plenty to be explored in Nagano and the Shinshu region after the snow season is over. The white snow is replaced by fields of bright greens with pops of colour as the sunshines upon the snowy mountains of the area.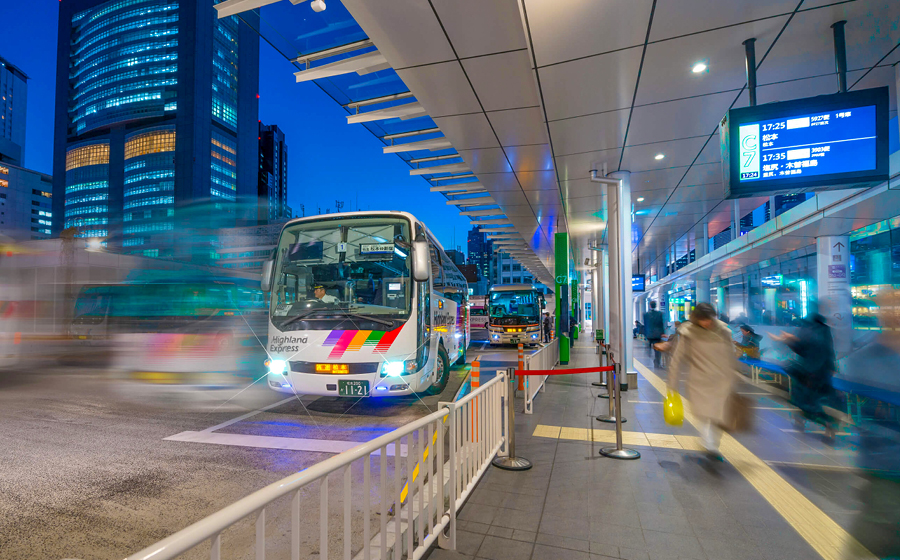 The Kamikochi location is an especially gorgeous place, located within Chūbu-Sangaku National Park. It is possibly one of the most popular mountainous area within the region and it's no surprise.
From freshly green fields in spring, to gorgeous mountain flowers blooming in the summer, all the way to autumn, when the leaves of the tree changes into hues of reds and oranges – Kamikochi is an ever-changing scenery you won't want to miss.
One spot to check out here is the famous Kappa bridge which goes over the Azusa river. The bride was named after a novel written by Ryunosuke Akutagawa, one of Japan's most respected writers. The novel was about a man's journey into the land of Kappa – the frog-like water spirit from Japanese folklore. The bridge comes with a spectacular back drop of the Hotaka Peaks and Mt. Myojindake – it's a definite happy snap spot indeed.
Alpico not only offers direct express buses to and from Shinjuku to Kamikochi but also available are meal ticket inclusive deals for day trippers, as well as accommodation packages too, so you can explore as much of Kamikochi as your heart desires!
Whether you're planning your ski holiday in Hakuba or planning for a nice spring or summer vacation in Nagano/Shinshu region to get away from the Australian winter next year, be sure to call upon Alpico to help you with all of your transportation needs.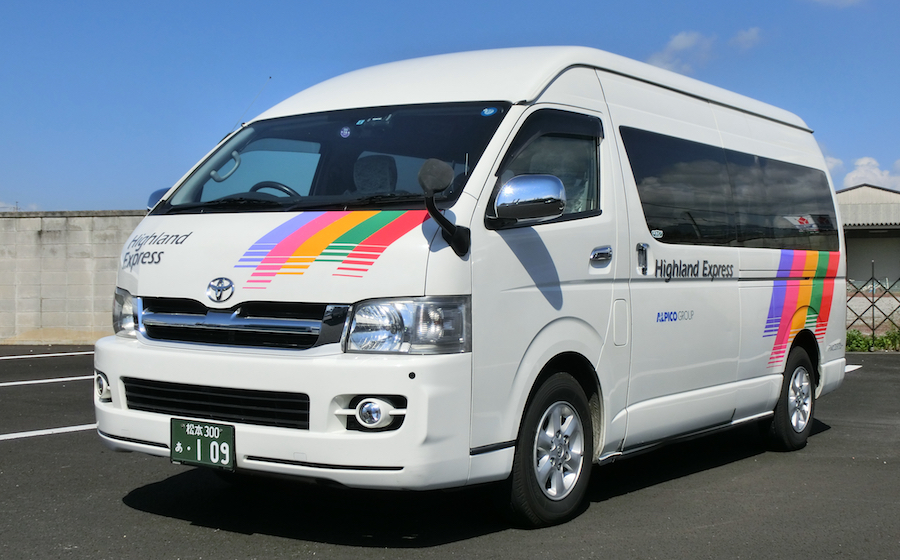 Alpico Group
To book or for further information:
http://www.alpico.co.jp/en/transportation