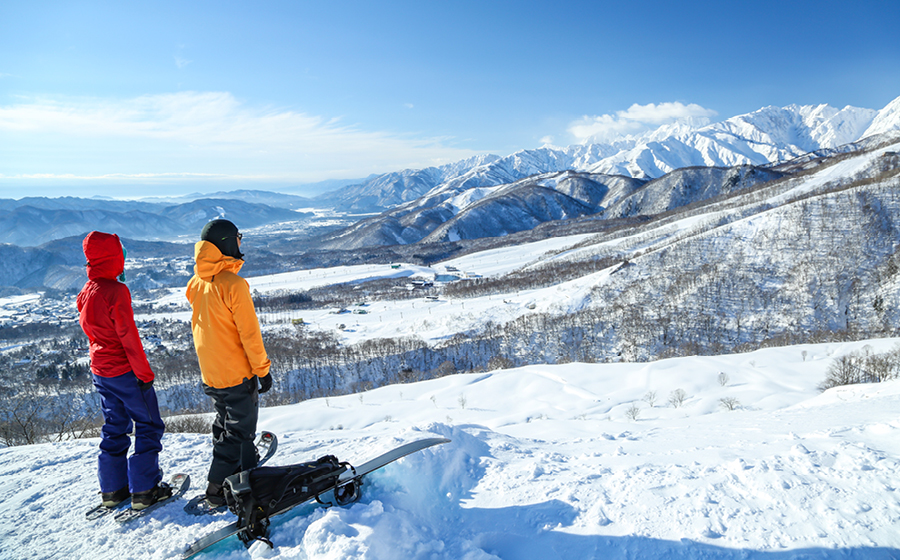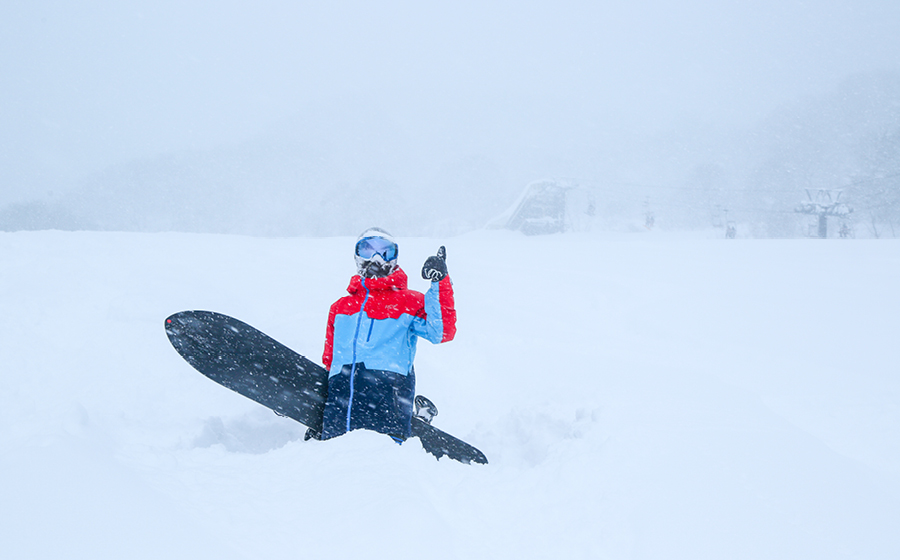 Many people visit the Hakuba Valley in search of some of Japan's and the world's finest powder snow. Hakuba Norikura Onsen Ski Resort, nestled among the rugged mountains at the northern end of the Valley, is well known for providing all the powder a freak could ever hope for in addition to a relaxed, local vibe, meaning immersion isn't just reserved for the snow. The relaxed atmosphere provides a supremely welcoming opportunity to explore and enjoy an extensive array of unique courses which cater to any mood and all experience and skill levels.
Capturing that welcome vibe and offering convenient and comforting extras to help guests really get the most from their stay, Hakuba Alps Hotel's slope front accommodation features enticing added extras such as onsen and a health spa, as well as room options both for those who want to delve further in to the Japanese way of life and those who are looking for their home away from home. To help guests from booking through to waving goodbye, and every moment in between, the hotel employs bilingual staff who speak both Japanese and English. This means guests may book from the Hakuba Alps Hotel website, via email, or by phone, and seek assistance during their stay without fear of a language barrier.
Hakuba Alps Hotel is well located directly at the base of the ski lifts of Hakuba Norikura, the nearest ski lift a mere 50-metre walk. With such ease of access to the famed powder snow of the Hakuba Valley, the location may speak for itself. However, what guests truly rave about are the little additions which make the place the perfect, unique base. Hakuba Alps Hotel includes both an outdoor, open-air onsen (hot spring) and an indoor onsen, each of which hotel guests typically find a glorious refuge for weary muscles in reward for a hard day on the slopes of Hakuba Norikura. Japanese people have been indulging in onsen for centuries, both for warmth and, more importantly, the healing and regenerative qualities they provide. No Japanese ski experience is truly complete without including an onsen at the end of the day. Most skiers and boarders quickly become converts if they weren't already sold on the idea from the beginning. From these particular onsens, bathers can take in the scenery of the surrounding mountains and the ski runs themselves. In addition to the indoor and outdoor hot spring baths, the hotel also features a Kurhaus spa, with the whirlpool bathtub proving to be a real hit.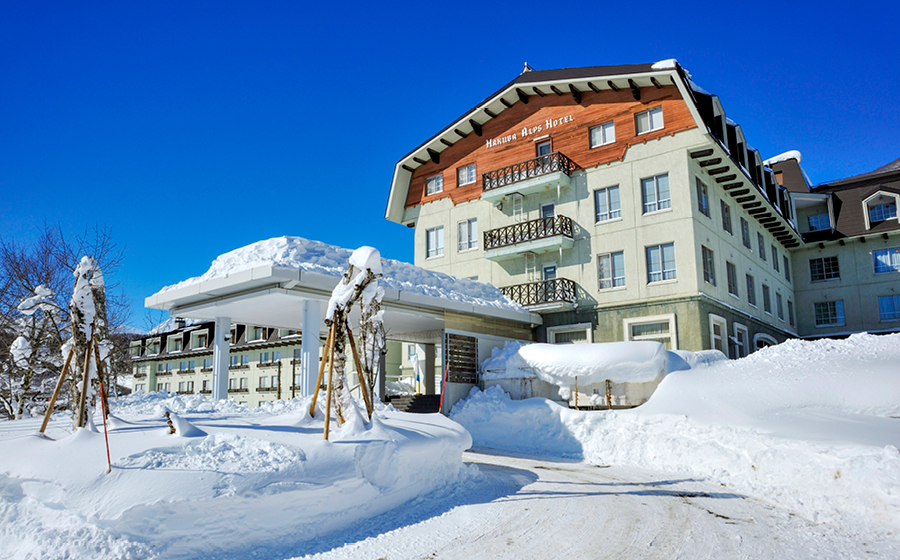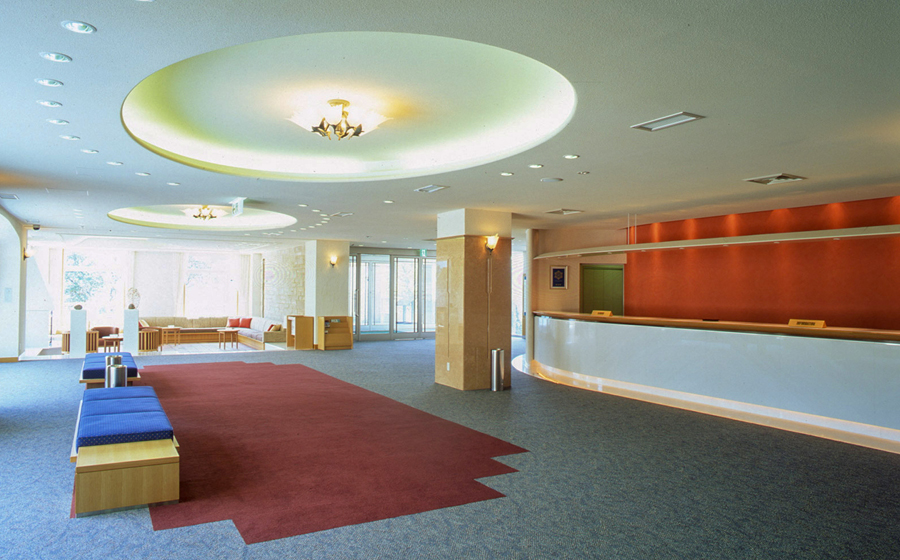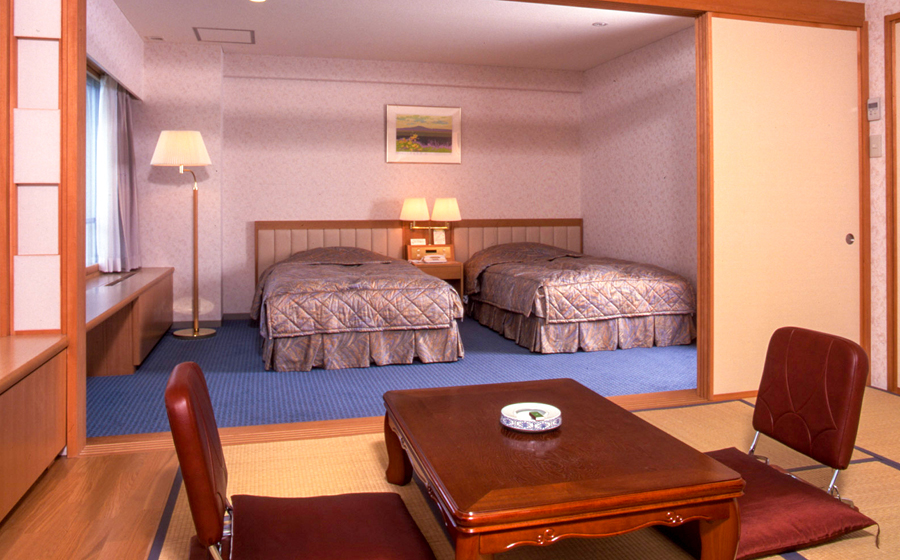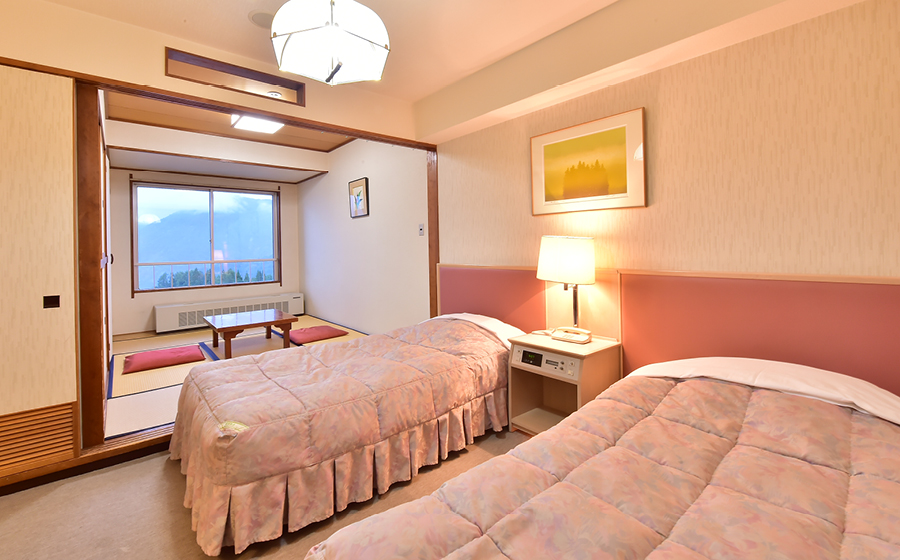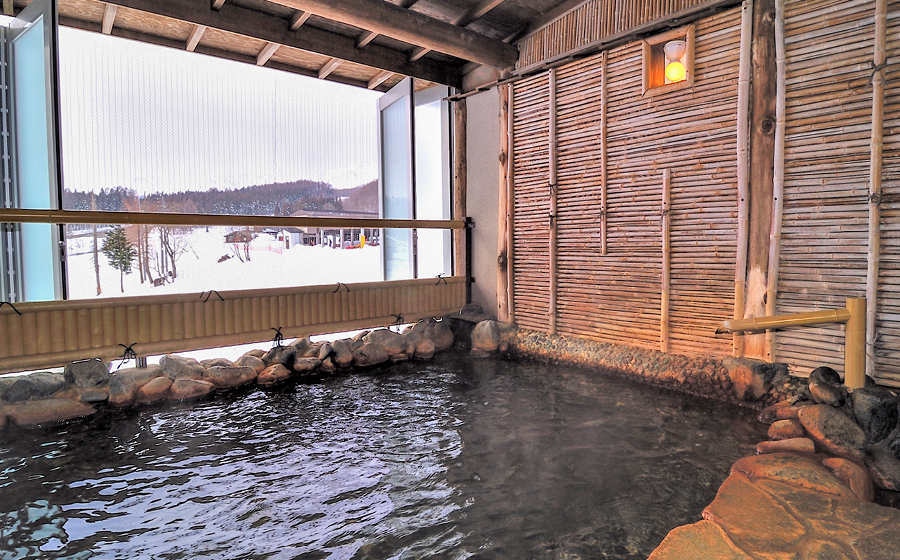 Accommodation at Hakuba Alps Hotel is varied in that they are able to cater for those interested in staying in a Japanese style room or Western-styled rooms with which Australian guests will be more well-acquainted. In total, there are 201 rooms at the hotel, each one containing comfortable beds (whether Western or Japanese futon), an ensuite bathroom and a television. Some rooms afford guests breath-taking views of the surrounding mountains. Guest rooms all include the handy amenities such as bath towel, face towel, soap, shampoo, shower cap, comb and razor.
Being Japan, you can expect even further convenience at Hakuba Alps Hotel, starting with plenty of vending machines, and also including a gift shop selling snacks and beverages, massage chairs, a play area suitable for small children, a games arcade, and even karaoke.
There is also a ski and snowboard locker room which fronts directly out on to the slopes. As guests may have come to expect, there are rental options available within the hotel as well as ski and snowboard lessons with local instructors who know the mountain well and can cater for riders of all levels, whether old, young, experienced or first-timers.
Dining options aim to cater for all tastes and as such, there is a range to suit everyone. The main restaurant is an extensive buffet set-up and overlooks part of the slopes. Open for both breakfast and dinner, the buffet includes many dishes of both local Japanese origin and more Western flavours. In addition, Hakuba Alps Hotel also has two other restaurants, where guests will find authentic Japanese, French and Chinese cuisine. Beyond the generous array of food options available at the hotel itself, there are a handful of dining alternatives both at Norikura Village, or guests may like to access the shuttle service into Tsugaike and try one of the few local treats on offer there. Most of the dining options mentioned include local produce from the Nagano Prefecture. This coupled with the Japanese reputation for care in their culinary craft ensures taste buds will certainly not be left wanting.
Back to the main reason why so many people visit, love and keep coming back to this place; the snow. The sixteen unique courses at Hakuba Norikura cater to each and every skier and snowboarder, with the inclusion of some real challenges for those who are up for it, and some gentler, family-friendly runs too. Then there's everyone in between. The Skyview and Expert Courses is where the powder addicts can get all steep and deep. The Skyview, in particular, owes its popularity to declines ranging from 10 degrees to almost 40, a liberal width of 250 metres, and absolutely magical views of Japan's unequalled winter backdrop.
Over at the aptly named Family Course is where everybody gets to spend a bit of quality time together without fear of any tears and bruises. Of course, there are many slopes for everybody else in between, with ample tree runs, moguls and a terrain park, as well as a kid's park. If that's not enough to keep everyone in the family satisfied, Hakuba Norikura Onsen Ski Resort also happens to be interconnected with neighbouring Hakuba Cortina Ski Resort, meaning there is a whole other world of different and unique runs not too far away. For those with families, or simply those who want to take things easy, the shuttle to Tsugaike provides access to Tsugaike Kogen Ski Resort. Known as "Queen of Green", this resort caters tremendously well for the less experienced skiers and boarders, meaning it's a great place to take the kids without fear of them being run over or accidentally getting themselves in too deep. All in all, within simple reach of Hakuba Alps Hotel, riders of all abilities have an abundance of riding options.
Back at Hakuba Norikura, recent times have seen the addition of ticket gates for Hakuba Valley's relatively new electronic ticketing system, making it a much more streamlined process in accessing the lifts. What makes it even more seamless is that the lift passes are available directly through local hotels, including Hakuba Alps Hotel.
Combining all the necessary ingredients of a memorable Japanese ski holiday, Hakuba Alps Hotel is popular among seasoned skiers and boarders, and family first-timers alike. The relaxed local atmosphere only adds to the memorability factor of a stay in Hakuba Norikura at the Hakuba Alps Hotel.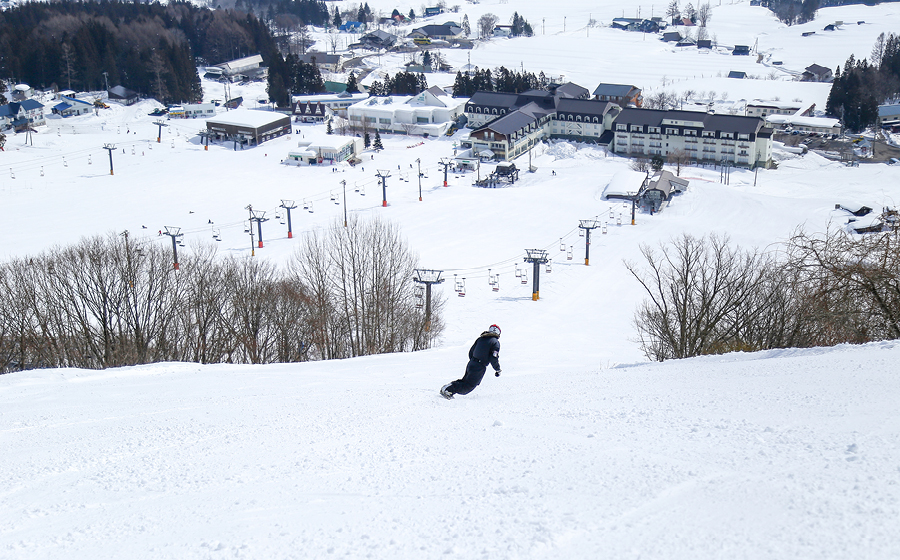 Hakuba Alps Hotel (Hakuba Norikura Onsen Ski Resort)
Norikura Kogen, Otari-mura, Kitaazumi-gun, Nagano
Phone: +81-261-82-2811
Email: hotel@hakuba-alps.co.jp
http://www.hakuba-alps.co.jp