NAGANO CITY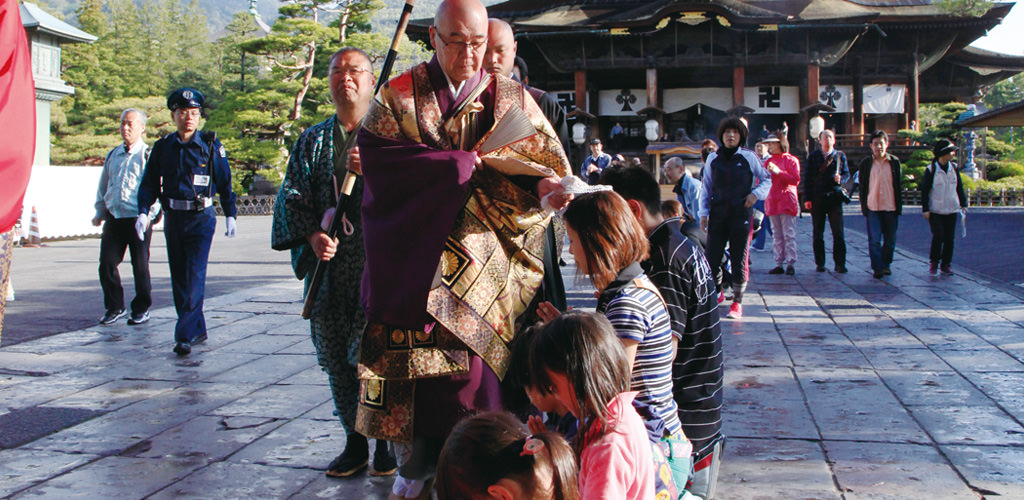 -> Convenient winter holiday base 79 minutes from Tokyo
-> Close to the Hakuba Valley, Nozawa Onsen and the snow monkeys
-> Local attractions include Zenkō-ji temple, a National Treasure of Japan
Nagano City is more than a famous gateway for pilgrims to Zenkō-ji, its iconic 1,400-year-old Buddhist temple. Since the Nagano Winter Olympics of 1998, the city has also welcomed increasing numbers of skiers and snowboarders on a pilgrimage to the snow resort areas that surround it. The Winter Olympics brought the bullet train to Nagano City from Tokyo, shortening the journey to 79 minutes.
With the 11 resorts of the Hakuba Valley 70 minutes away, and Nozawa Onsen Snow Resort 75 minutes away from Nagano Station by bus, the city is in a favourable snow holiday location that enables riders to pick and choose between top-class options depending on local weather conditions.
Many winter visitors to Nagano City are also en route to the famous Snow Monkeys, near the resort area of Shiga Kogen. The Nagano Snow Resort Pass is a convenient way to see them together along with areas such as Hakuba, Nozawa Onsen, Togakushi and Zenkō-ji. And when arriving in Nagano on the bullet train, a good first stop for information, bookings and free Wi-Fi is the Nagano City Tourist Information Center, inside JR Nagano Station. Long established as an ancient pilgrimage site, Nagano offers many great options for a stay in a shukubō, or temple lodging, to experience the city's Buddhist heritage. This includes amazing 'shōjin ryori', a type of Buddhist vegetarian cuisine, while other local specialties to try at the many restaurants in Nagano include Shinshu soba – delicious and healthy buckwheat noodles – and oyaki dumplings.
Nagano's Buddhist and Winter Olympic traditions are commemorated during the second week of February in the Nagano Tōmyō Festival at Zenkō-ji. This major highlight on the winter event calendar brings an art exhibition to the streets around the temple, and bathes its grounds romantically in the five Olympic colours – honouring the Olympic spirit with 'lights of peace'.
Close by, the samurai estates, gardens and temples in the Matsushiro Castle area, and the ninja heritage of the Togakushi area make for fascinating and exciting short trips while staying in Nagano City.
NAGANO CITY OFFICIAL TRAVEL GUIDE
LOCAL HIGHLIGHTS AROUND NAGANO CITY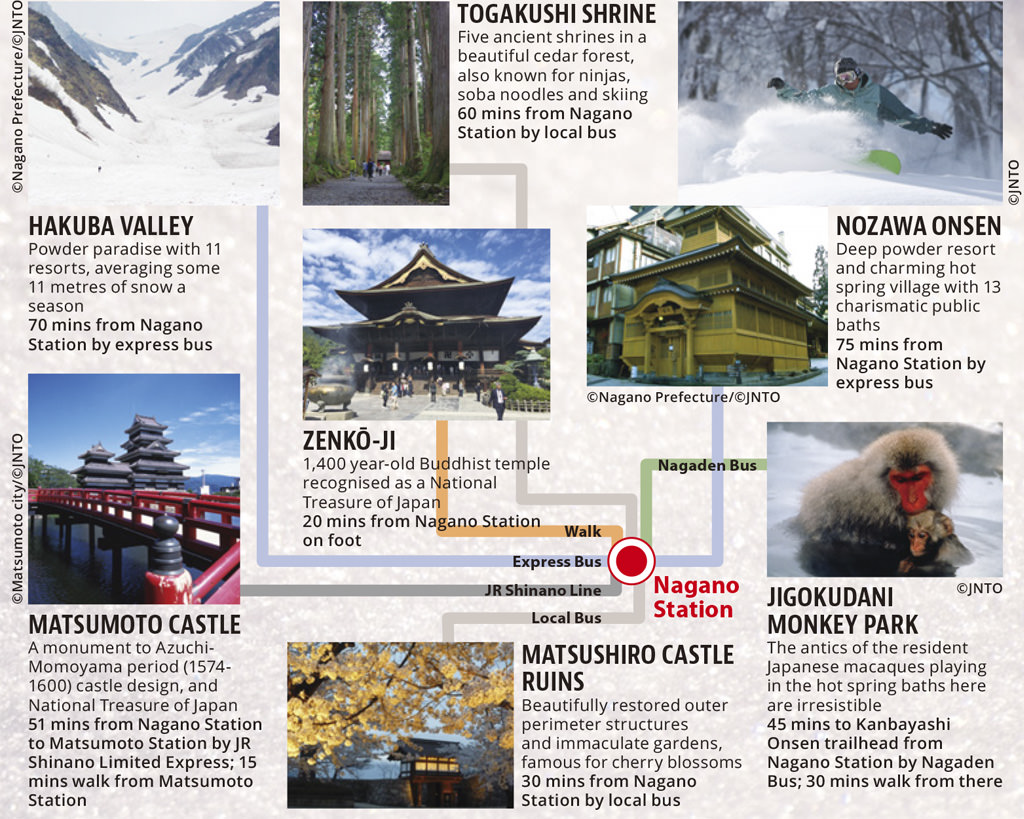 'The reason I moved to Nagano City was because of the natural beauty.' Aussie expat and local businessman Adam Hara on life in Nagano
'One of the main reasons I chose Nagano to live was because the climate and feeling are very similar to Australia. The only real difference between Brisbane or Sydney and Nagano is the winters. In winter we are close to some of the best ski slopes in Japan. And in late summer and spring, we have many great camping areas and onsens to visit. Recently, Jigokudani Monkey Park in Yamanouchi has become quite popular with many Australians. You can see many monkeys soaking in a hot spring. It is around 45 minutes from Nagano Station, but during winter most of the ski resort areas have day tours.'
Travelling between Tokyo and Nagano Station
The bullet train runs from Tokyo to Nagano on the Hokuriku Shinkansen line. Nagano Station is also a major transfer point for local services on private bus and rail lines operated by the Alpico Group and Nagano Dentetsu (Nagaden).
Nagano Snow Resort Pass
The Nagano Snow Resort Pass is a convenient way to see the Snow Monkeys together with areas such as Hakuba, Nozawa Onsen, Togakushi and Zenkō-ji. A two-day pass valued at ¥5,000 for adults and ¥2,500 for children, it provides hop-on, hop-off access to local trains and buses in designated areas.
NAGANO STATION AREA
A walk back in time around Nagano Station:  taking in the city's traditional heritage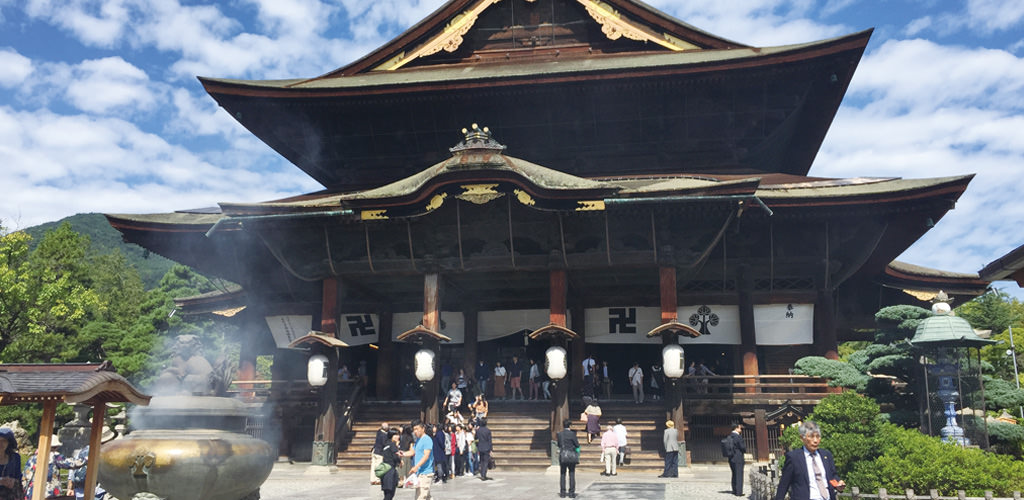 HISTORIC temples, traditional neighbourhoods and delicious food, all set against the backdrop of the beautiful Japanese Alps. Just an hour and a half from Tokyo, at the intersection of several train lines, the Nagano Station area is one of the perfect places to experience the best of traditional Japan. Originally a temple town, Nagano is focused around the majestic Zenkō-ji. This 1,400-year-old temple is one of the largest and most important in the country, home to Japan's first Buddhist statue, which was given to Japan when Buddhism was introduced in 552 AD. In addition to the main hall, a National Treasure, there is a dark prayer chamber where you can search for what is known as the key to salvation.
Opposite is Nakamise-dōri – a street lined with traditional-style stores and food vendors offering Nagano's specialties. The area is known for its buckwheat, and Shinshū soba, handmade buckwheat noodles eaten dipped in a hot or cool broth, are famous as some of the best in Japan.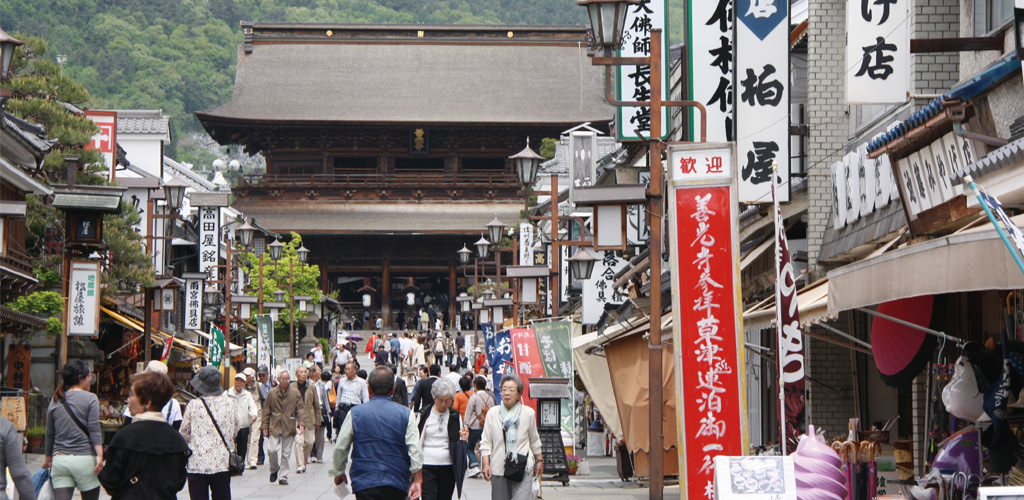 Another favourite is oyaki – a roasted dumpling made with soba flour and filled with a variety of ingredients, including local vegetables and sweet apple slices. Street vendors also offer snacks such as grilled rice balls, beef croquettes and soba ice cream – perfect to enjoy as you stroll the picturesque streets.
Naturally, Nagano also offers rich cultural experiences. For example, you can try making 'nioi-bukuro' – traditional scent bags filled with incense. Thought to ward off bad fortune, they were worn with kimonos during the Edo period (1603-1867), and remain popular today as gifts. Choose from a selection of wonderful natural aromas to create your very own relaxing scent that you can take with you anywhere – a perfect souvenir.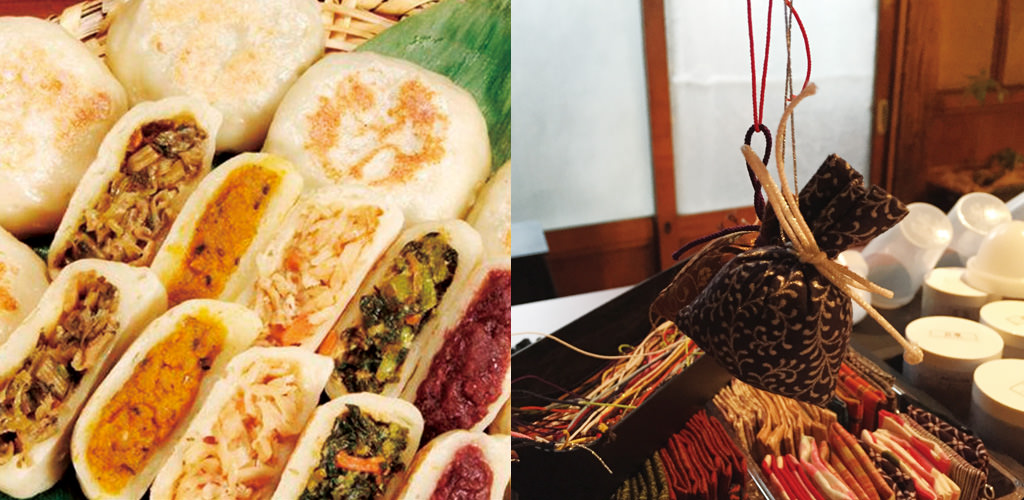 While a destination in itself, Nagano is also the gateway to the snow of the Japanese Alps, making it an ideal winter holiday base.
A SHUKUBŌ TEMPLE STAY Experience the traditional Buddhist lifestyle of a Nagano temple for a night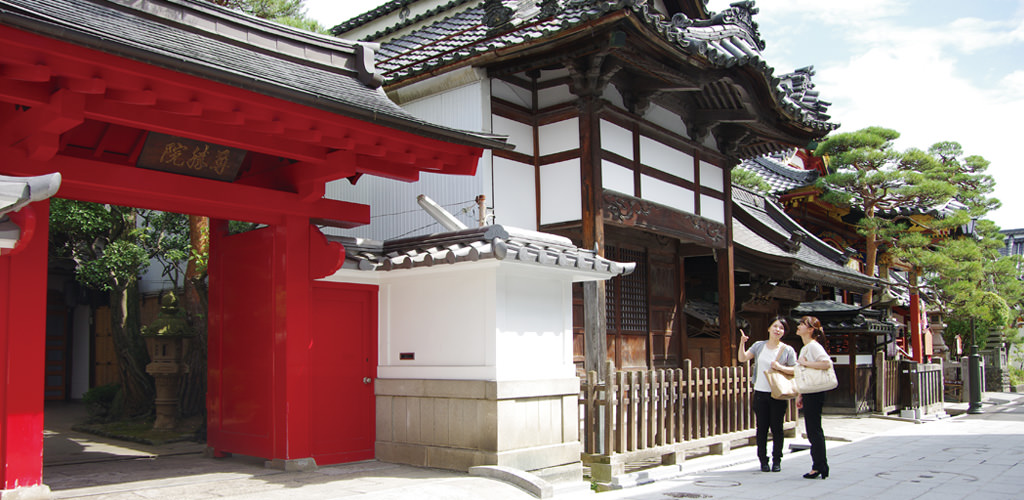 For centuries, pilgrims visiting Nagano have stayed at temple lodgings, which are known as 'shukubō'. Today, many offer tourists the chance to spend a night experiencing the traditional Buddhist way of life. Discover your spiritual side with Zazen meditation, relax overlooking Zen gardens, and enjoy delicious traditional vegetarian dishes. In the morning, you can participate in Zenkō-ji's morning prayer, where priests recite the sutra in a practice that is believed to have taken place there every day for many centuries.
Togakushi, around 1 hour by bus north of Nagano, also offers shukubō. This traditional village of pilgrim lodgings nestled in the mountains around Togakushi Shrine has been designated as an important traditional building conservation area due to its rich history. The nearby Kagamiike Pond is famous for its natural beauty, reflecting the mountain scenery in its calm water.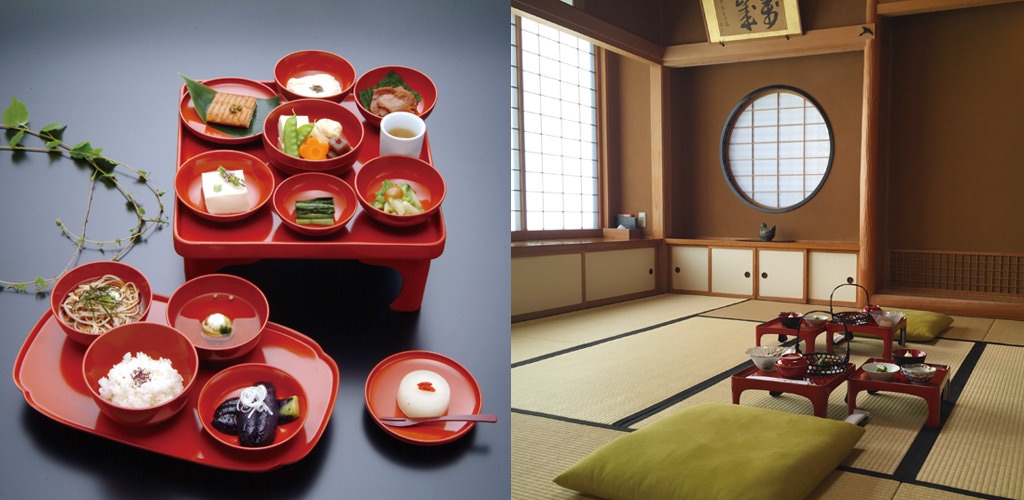 The Nagano Convention and Visitors Bureau website below provides information about shukubō that offer assistance in English.
NAGANO CONVENTION AND VISITORS BUREAU: ACCOMMODATION
http://en.nagano-cvb.or.jp/modules/content/stay/
THE NAGANO TŌMYO FESTIVAL Lights of peace warm up the mid-winter nights around Zenkō-ji Temple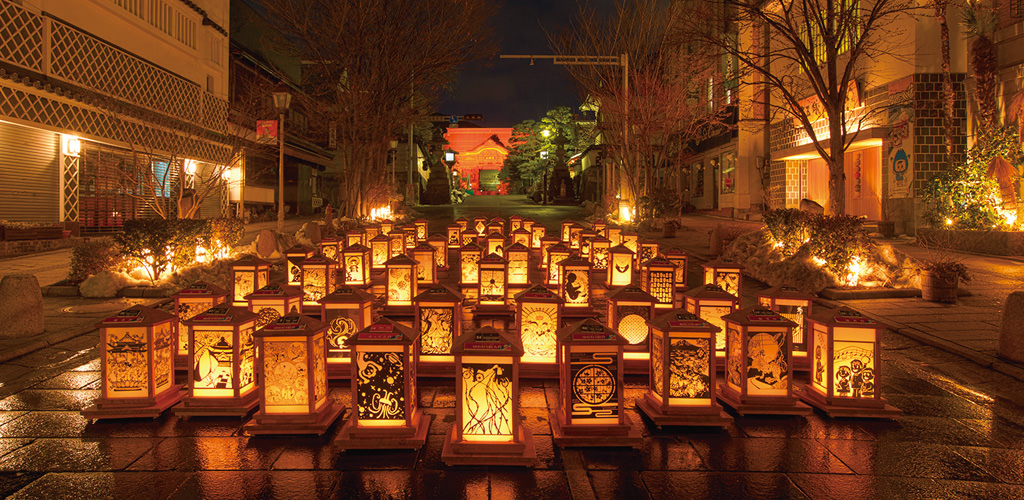 Nagano's Buddhist and Winter Olympic heritage are celebrated every February with lantern processions, art, food and sake at the Nagano Tōmyō Festival, around the Zenkō-ji Temple area. The festival opens fittingly with an Olympic-style torch relay, bringing a procession of lanterns to Zenkō-ji where a light-up performance bathes the temple gates in brilliant colour. Including a palette of the five Olympic colours, light displays are created in honour of the Olympic spirit, as symbolic lights of peace.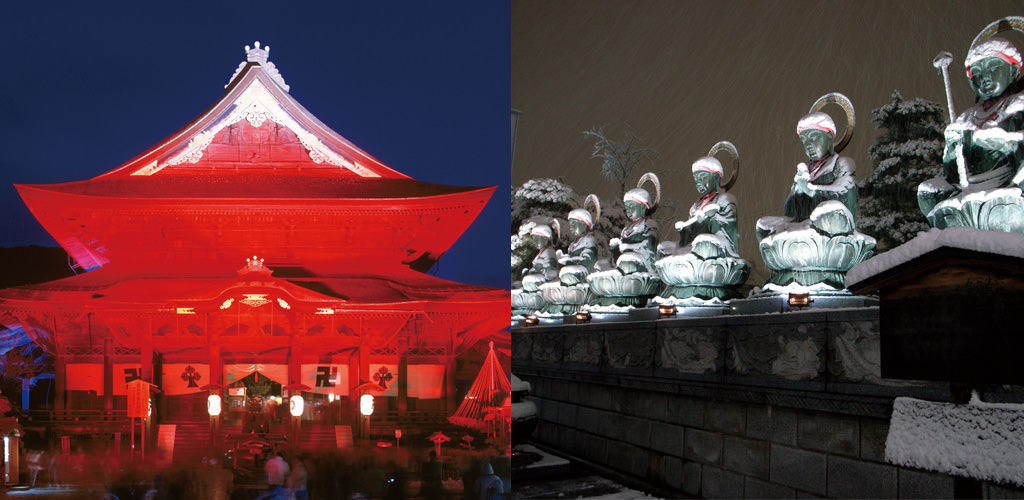 The Nagano Tōmyō Festival also includes an art exhibition on its program, as well as special tasting events featuring the food and sake of Nagano. Premium local produce and drinks are available for free tasting here, and delicious discoveries can also be purchased; see the official Nagano City travel guide below for further details on this memorable winter event.
NAGANO TŌMYO FESTIVAL
http://en.nagano-cvb.or.jp/modules/event/page/66
MATSUSHIRO CASTLE AREA
Exploring the samurai heritage of a prosperous castle town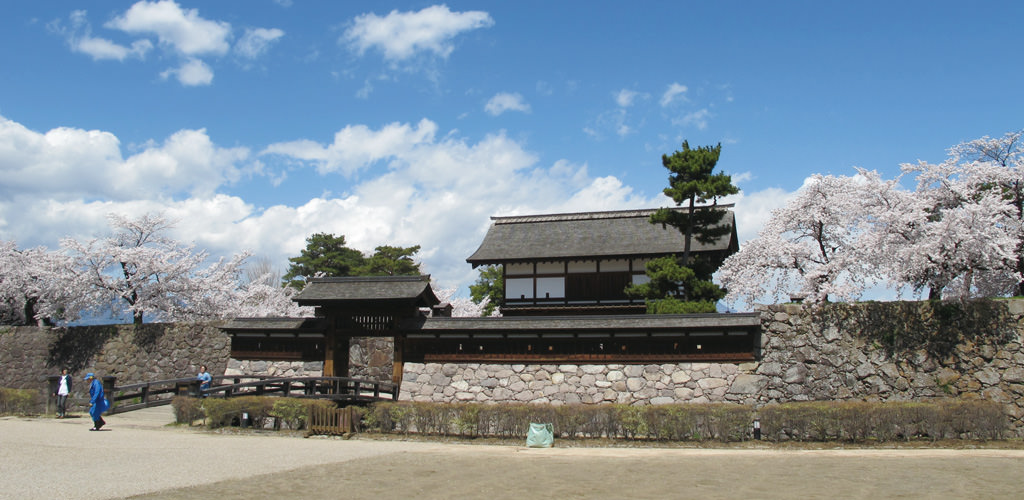 THE Matsushiro Castle area of Nagano City is a must-visit for its precious samurai heritage buildings, gardens and artefacts. They are the legacy of the Sanada clan, who established themselves in Matsushiro Castle during the late Muromachi period (1338–1573).
Around 30 minutes from Nagano Station by bus, the ambience of old Japan endures at the Sanada Residence and Sanada Treasures Museum, where fearsome suits of armour and other antiques are on display. A rickshaw tour is a wonderful way to see this area. Try Japanese archery and swordplay at the Bunbu Literary and Military School, and don't miss the Matsushiro Castle Ruins – famous for gorgeous cherry blossoms during late March and early April.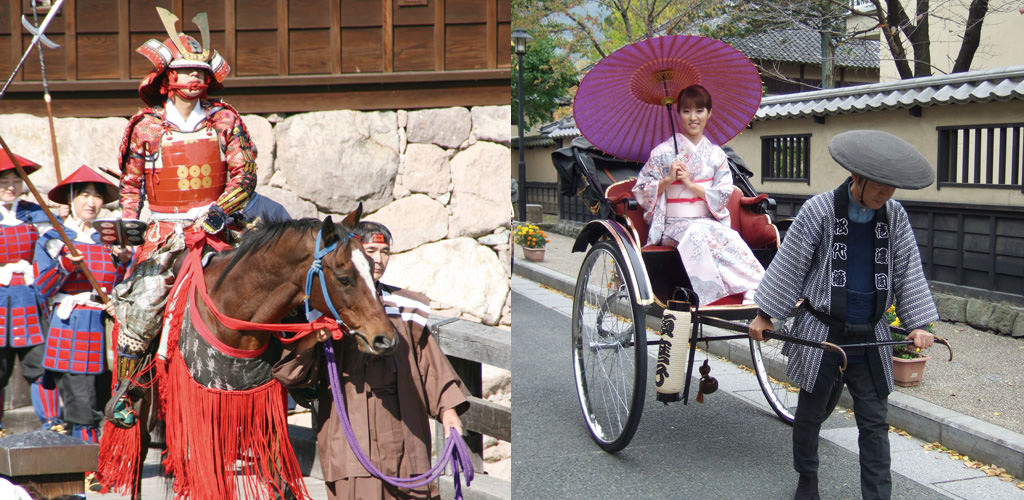 Under the Sanada clan, Matsushiro became known as 'Sanada Jūmangoku', meaning that it produced enough rice to feed more than 9,000 people a year – a mark of prestige in ancient Japan. The Sanada Jūmangoku Festival commemorates this with a grand parade every year, during the second week of October.
MATSUSHIRO CASTLE RUINS
http://en.nagano-cvb.or.jp/modules/sightseeing/page/31
TOGAKUSHI AREA
Unmasking the birthplace of the Togakure ninja school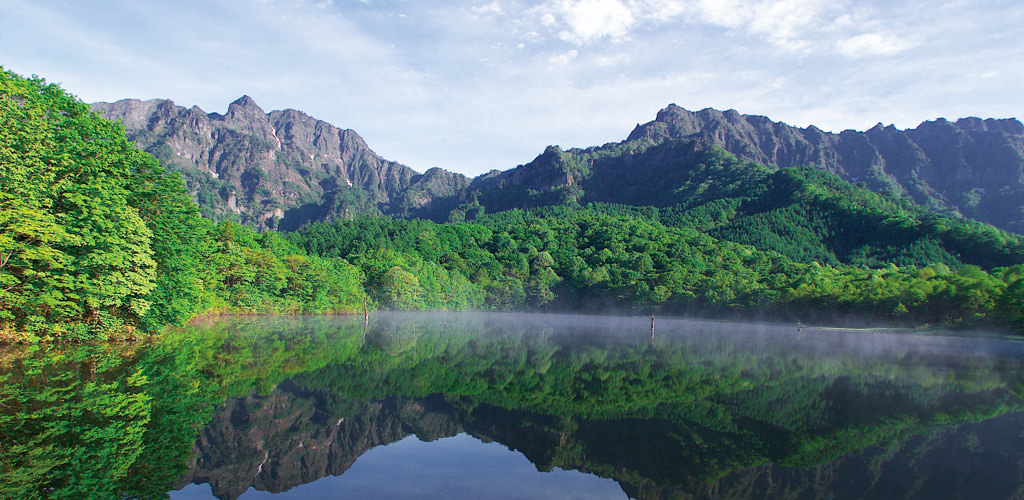 TAKE a journey to the Togakushi area, some 70 minutes by bus from Nagano Station, and step into the world of the ninja. Togakushi was once the stronghold of the Togakure ninja clan, whose arts are preserved at the Togakure Ninpō Museum, Togakushi Folk Museum and Ninja Trick House. Entry to these attractions is ¥600 for adults and ¥400 for kids; with around 500 ninja artefacts on display, and activities such as shuriken throwing and a ninja maze, they are an exciting day out from Nagano. The classic lunch menu here features delicious Togakushi soba buckwheat noodles.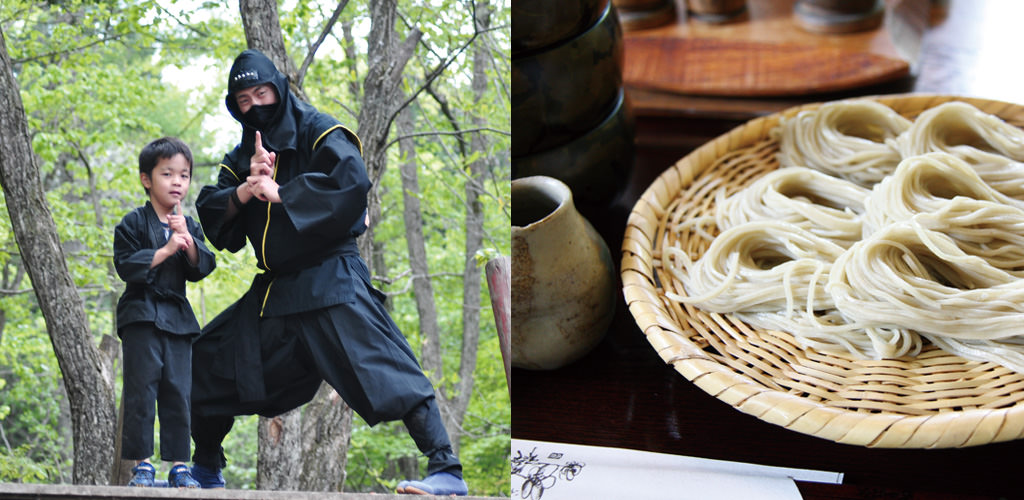 Another special highlight of a visit to the Togakushi Ski Area is Togakushi Shrine, a complex of five shrines ascending from the base of Mount Togakushi. The scenic approach to the upper shrine area overlooks Kagami-ike pond ('Mirror Pond'), which reflects the spectacular scenery, and is only accessible with cross-country skis or snowshoes in winter. While these facilities are closed during this time of the year, Togakushi Ski Area nearby holds a series of fun ninja-themed performances.
TOGAKUSHI SKI AREA
http://en.nagano-cvb.or.jp/modules/sightseeing/page/27
REGION INFORMATION
COMMENTS