An overview of 'Dental Clinic @ World Tower'- Sydney's dental practice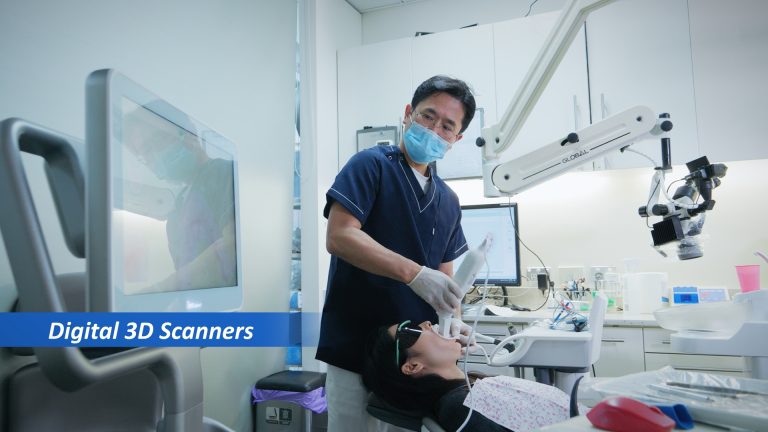 Located in the heart of Sydney's CBD, Dental Clinic @ World Tower is easily accessible from Town Hall Station with a short 2 minute walk. With over 20 years of experience in Sydney, it ranks among the top 1% of Sydney's best dentists.
Dr. Kim, a Japanese fluent Dental Clinic Director, stationed at Dental Clinic @ World Tower, among other Japanese speaking doctors and staff. It has built a strong trust within the Japanese community as it is a popular dental practitioner for numerous Japanese families. Dental Clinic @ World Tower offers a wide range of treatments associated with preventive, aesthetic and paediatric dentistry, tooth decays and various other dental problems. He is a vice-principal dentist for ANBI Dental Clinic in Tokyo, Japan.
Like any other physical illness, early detection and treatment is the most important tool when it comes to tooth decay or gum disease. Many of our clients in Sydney undergo semi-annual check-ups to maintain healthy teeth and gums even though they are not aware or subject to experiences of pain.
Dental Clinic @ World Tower was the first to introduce the most advanced dental practice equipment to accommodate all types of dental treatments. It is furnished with a surgical microscope, Three-dimensional CT scanning and Intra Oral Scanner as well as CEREC- German manufactured CAD/ CAM system for precise treatment. Its strength allows for dental crown treatment which can be completed in just a single visit. The implant treatment restores the look and feel of natural teeth to as close as possible, replacing your missing teeth.
Why Choose Dental Clinic @ World Tower?

Located in the heart of Sydney CBD, easily accessible with a 2 minute walk from Town Hall Station.
Strong trust from the Japanese Community, built on over 20 years of experience in the dental health services. Paediatric Dentistry is also available.
Highly recommended as an Invisalign Dentist, winning 6th place in
High reputation for total oral care treatment including dental check-ups and cleaning as dentists are using microscope for use of dental treatment.
With the strong connections within the Japan Dental Community, continuous treatment is promised after returning to Japan.
Kim being a vice principal at Tokyo ANBI dental clinic. We can provide a long-term support for our Japanese patients.
Completing over 1,000 Invisalign Treatments in Sydney


Invisalign is a new orthodontic treatment utilising a removal aligner. With this transparent bracing, it is even less noticeable on the teeth even when someone is up close. Hence, this is presented as an easy alternative to transitional braces, enabling to start treatments for teeth straightening or bite reconstruction regardless of the age.
In cases where the tooth extraction is required due to the misaligned teeth, it depends on the dentists' skills whether the Invisalign can be applied. It is ideal to undergo a treatment at the dentist with an extensive experience and who is able to create a treatment plan optimizing the gains and accommodates to each patients' needs.
Dental Clinic @ World Tower is highly recommended as an Invisalign Dentist. Dr. Kim is an official Invisalign's clinical speaker for Australia and New Zealand. As a result, it has strong connections with dental clinics in Japan as patients will be able to continue Invisalign treatments at Tokyo-based affiliated clinic 'ANBI Shinjuku Dental & Orthodontic Clinic' after returning to Japan.
The Pros of Invisalign Treatment

Less noticeable during the treatment thanks to the transparent aligner.
Relatively pain-free and little
Able to start the treatment regardless of age.
Fewer consultations required.
Skin-friendly material.
Can remove aligners when eating.
Orthodontic treatments by an award-winning Invisalign dentist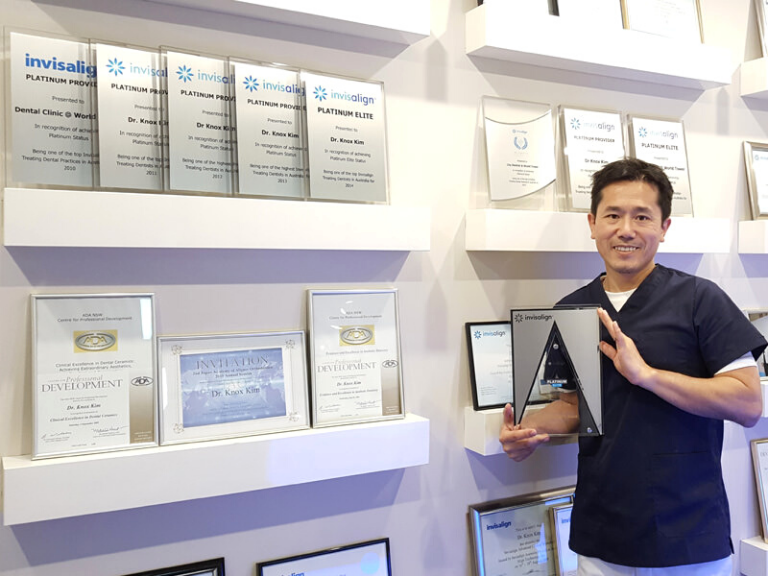 Dr. Kim Knox is a leader of Invisalign, who has administered over 1,000 Sydney's Invisalign treatments at Dental Clinic @ World Tower and is a highly recommended Invisalign dentist. 90% of the patients who have completed Invisalign orthodontics did not need to experience tooth extraction. The team has achieved high customer satisfaction from those who have returned to Japan.
The number of his cases for Invisalign treatment are significantly large in Australia, including some that had been primarily considered as impossible to treat. Needless to say, he is one of the most skilled dentists in Sydney.
Dr. Kim has won the 6th place in the world's ' – an award to praise Invisalign treatments. He has also been selected as the only Invisalign provider in Australia who has ranked among the top 10 in the among the dentists across the world. He is currently providing his extensive experiences and knowledge by lecturing for Invisalign Master Classes.
Dr. Kim has studied under Dr. Hiroshi Samoto, a Japanese Invisalign orthodontic pioneer who has won 1st place in the for a total of 6 times in the past. This experience has leveraged Dr. Kim's Japanese to native proficiency; hence, patients can rest assured that information including dental procedures, treatment duration and the costs will be thoroughly given in Japanese prior to the start of the treatment.
  
☑Located in the heart of Sydney CBD, easily accessible with a 2 minute walk from Town Hall Station.
☑Strong trust from the Japanese Community, built on over 20 years of experience in the dental health services. Paediatric Dentistry is also available.
☑Highly recommended as an Invisalign Dentist, winning 6th place in the World of International Invisalign Evaluation.
☑High reputation for total oral care treatment including dental check-ups and cleaning.
☑With the strong connections within the Japan Dental Community, continuous treatment is promised after returning to Japan.



Address:Suite 1104, Level 11, World Tower Commercial, 87-89 Liverpool Street, Sydney
Opening Hours:Monday to Friday 9:00-18:00
Phone: (02) 9269-0514 /(02) 9269-0517(Japanese)
Email:j.info@bestdentist.com.au

【Affiliated hospital in Japan】
ANBI Shinjuku Dental & Orthodontic Clinic
Address:5F Shinjuku East Cross Tower 6-29-11 Shinjuku, Shinjuku-ku, Tokyo-to, Japan