Only a few know about the beauty of golf in Japan as the information is not widely open to the world. Now with more and more Japan regions promoting their wonderful courses overseas, Joe Gaughwin is one of the first golfers who had his eye on the potential of golf in Japan in the early 2000s and boldly made the move to reside in Japan to promote it to the wider world. We sat down with Joe, who is currently an Ambassador of Foreign Relations at Taiheiyo Club and claims himself as 'golfaholic'. He kindly shared his passion for golf in Japan and having played in numerous golf courses around the world, he assures that the Japan golfing experience is special and unique which all prospective golfers will enjoy and appreciate.
What inspired you to come to Japan and play golf?
If I look back on why I was inspired to come here, Japan was always very closed in regards to information about golf. I always thought the golf courses looked amazing but it was just too hard to play golf in Japan due to the language barriers and the expenses. Then after that, there's a scene in a movie, 'Lost in Translation' where the main character hits a shot down the fairway and in the background, where there's just this beautiful row of trees in the middle of the fairway, and Mount Fuji is directly behind us. I just thought, "how cool is that"? That's something I'd never seen before and thought that Japan must be an amazing place to play golf. That was a huge inspiration for me.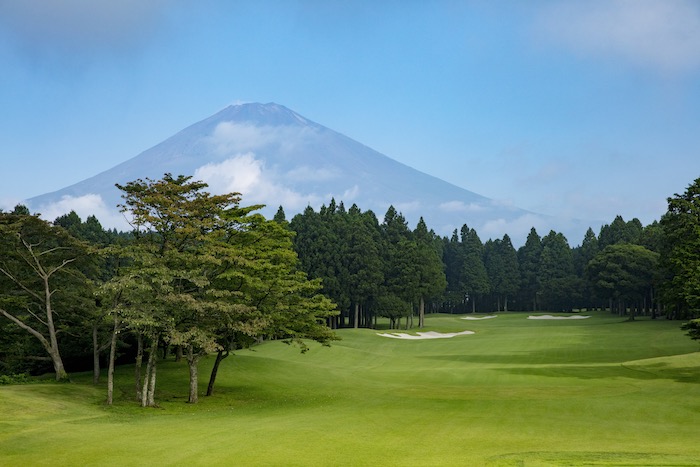 What were your first impressions of playing golf in Japan?
In Japan, there are about 2,500 golf courses. I've probably played 100 or more, but at every single one, the conditioning is immaculate. It's unbelievable, I've never seen anything like it before. They take huge pride in the condition of the golf courses. I've played golf all over the world, and Japan is by far the best conditioned golf courses I've ever seen, not a blade of grass. I liken it to Japanese gardens,  they take great pride in keeping their golf courses in great condition. Apart from that, from the beginning from the moment you arrive to when you end, the service is like nothing else in the world. It's like being at a five-star hotel.
Also, Japanese golfers are a little bit different than golfers around the world. They've got a great sense of reverence for the game. They feel that they're very privileged to be able to play golf, because it's not cheap. They have a great respect for the game, not that anywhere else doesn't respect the game, but they enjoy everything the game entails and really revel in it.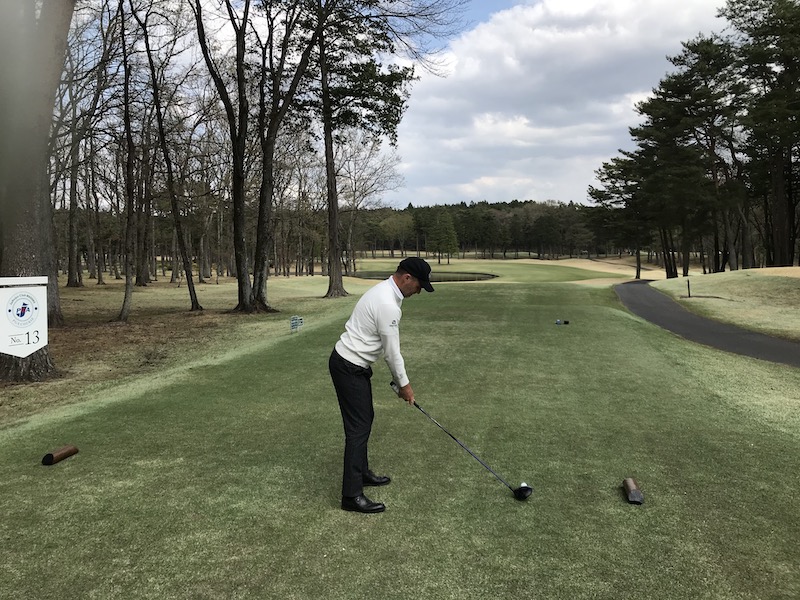 How did you come to be the foreign ambassador of Taiheiyo club Japan?
I was coaching golf in Japan and met the owners and directors of Taiheiyo club just by chance. They wanted foreigners to experience their golf courses, hence I set up a concierge service with all these wonderful golf courses around the world. It's like a partnership which allows our members to go over to those courses to play and their members can come into Japan to play our golf courses. I've been in this role since 2015, and having lived overseas, I knew all the point of contact around the regions to set up these contracts with the golf clubs. For example, the general managers of the golf professionals are friends of mine. It was a great opportunity for their members to be able to come into Japan and play golf. It's a huge value add to them, and also to us. Last year was a bit of a disaster due to COVID-19 but we're gearing up for a really big 2022.
Which areas in Japan are your favourite, or most impressive to you?
As a golfer, definitely Mount Fuji . There's 20 golf courses around Mount Fuji and it's spectacular and unbelievable to hit shots with Mt. Fuji as your backdrop, an amazing place to play. There are certainly other areas. Izu peninsula and so are Ibaraki and Chiba have got wonderful golf courses.
 What are some of the distinct, distinct or unique characteristics of Japanese golf courses compared to others across the world?
I've played in Australia, Singapore, Malaysia, Thailand, U.S, UAE, Hong Kong, China. Sri Lanka, the UK, Ireland, England, and Scotland but Japan is completely different. What's really unique here is that they have a two green system. Typically, on a golf course, you have 18 holes, and at the end of each hole is one green. In Japan, you will often have two putting greens at the end of each hole, which is never seen anywhere else in the world. It's a system where each green has a different type of grass, and they work at different times of the year- summer grass and a winter grass. Not all Japanese golf courses have this but it's really quite unique.
There's also a very heavy use and emphasis on trees. Trees are sort of synonymous with the Japanese culture which they believe that there's gods and virtues such as courage and strength within the trees. There's a real respect for trees, which are often used as obstacles on the golf course and are in the middle of fairways. This is incredibly unusual. In other countries, there are usually trees on the left and right side of thes fairway, but in Japan, possibly three or four times in a hole, they'll actually position them right in the centre of the fairway. Golfers might get a little bit annoyed because if they manage to hit a good shot down the middle of the fairway, then a tree is in the way. However, trees are beautiful, and especially with a full canopy. It's quite amazing.
Other than that, a lot of the Japanese golf courses are very hilly up and down, also quite narrow as there is a lot of work done on layouts. However, that's why it's fun because it's so much different to the rest of the world.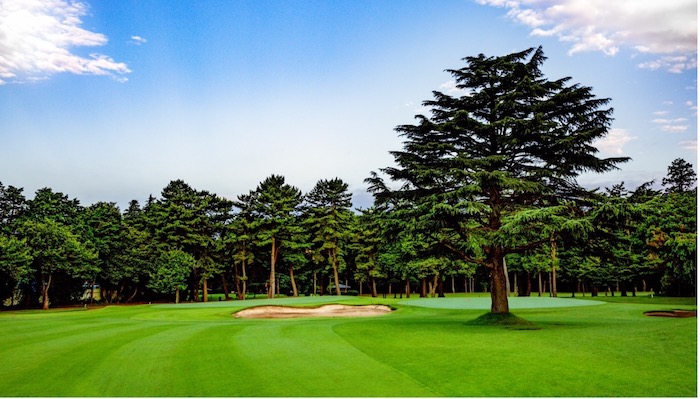 What are the differences in golf etiquette or customs in Japan, compared to the other countries that you've been to?
The first would be wearing jackets to the golf course. There's an expectation in Japan to arrive in a jacket, even during the summer. You arrive and register in your jacket. Then, you take it off and change into your golf gear in the locker room. Once you're finished playing, you put your jacket back on to go out for a drink or to eat in the clubhouse. There's still a very much a formality here of dressing and people are dressed amazingly.
The second difference in Japan is that there's an hour stop in between each nine holes. The caddie will give you a call saying, 'second tee time' and you either have breakfast, lunch or a couple of drinks, depending on what time you play,
Finally, there's the onsen experience after the game, which people don't have to partake in, but I think it's a great experience. Usually after around a golf, you need a shower anyway, so I always encourage people to go in the onsen even if they don't know what it is. Some are a little bit reluctant because it's quite different, but once they do it once, they love it. It's all the cultural part of the experience. Ask or just follow the locals, go have a shower, sit in the onsen for a little while, have a soak, talk to your buddies about the day's game and have a couple of beers or a sake after that. It's surely great and amazing experience.
Why do you believe golf in Japan to be the one of the best experiences in the world?
It's very transactional to play golf in other parts of the world- You turn up at tee time, pay your money to play the golf course. That's about it. The service is not bad, but they don't go out of their way to help you. Whereas in Japan, there is always someone to greet you and take out your golf bags to take everything inside the reception when you arrive. They will look after you and escort you to the change rooms. Every touchpoint in Japan, from the beginning until the end, is very well thought off and while you're in the golf course, you truly feel like you're appreciated. Even when you leave, they bow and stand there until you're out of sight. The service is unparalleled. In other countries, you walk away from the golf course thinking whether that was a good golf course or not. Whereas here, it's all about the whole experience. I think the best way to express Japan golf is- you don't pay for a green fee but you pay for ans experience.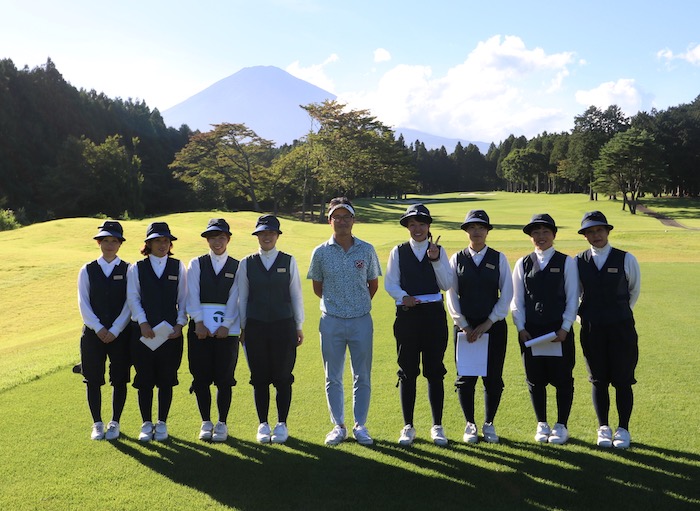 What are your favourite off course activities?
I'm a golfaholic and I'll play golf even during my free time. I'm also a voracious reader of golf content, whether it's YouTube or any of the social media, I read and follow lots about golf around the world. I'm passionate about everything golf whether it's equipment, golf course architecture and I also still coach people. Other than that, I also like to travel around Japan. The food here is great and the culture is something that we don't have in Australia and I appreciate that. Overall, I describe myself as a tragic golfaholic Japanophile too.
Do you think it is important to learn basic Japanese to play at Japanese golf clubs?
I think I would encourage people to just learn the basics like "Good morning" or "Thank you". It's not necessary but if you do a little bit of practice, it's really truly appreciated. However, a few of the staff speak basic English, and have dealt with foreigners before or have gone through English classes. They've got very basic English in order to take care of the overseas guests. In summary, it's not absolutely necessary, but it is very much appreciated.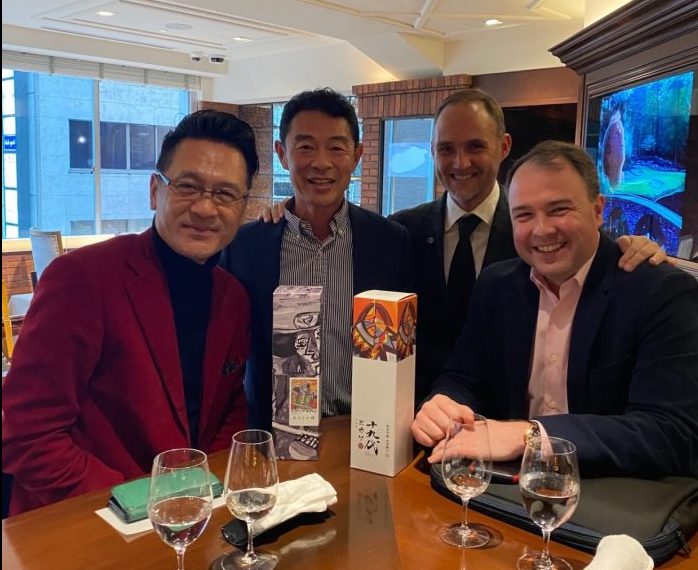 Is there anything that golfers should prepare or no priority visiting Japan for golfing?
The two main things are making sure that you are attired properly, wearing a jacket upon entry, and being aware that after nine holes is a stop for an hour. It's important to be open minded as well as immerse yourself in the culture and accept that the way golf is played in Japan is different from the rest of the world. Once you immerse yourself in this culture and understand that the golf here is a full day experience, it's wonderful and very unique. When people come in with an open mind and just understand that it is different, they want to book their game for the next year to return to play golf in Japan.
I think this is partially parallel with skiing. For Australians, it is very popular to travel to Japan for that reason and I believe golf is going the same way. Also, the timezone is similar, safe and it's easy to travel here. I really think Australians would love playing golf in Japan.
 Is there anything you would like to tell those who are interested in Japan golfing?
The doors are now open to play golf in Japan. The old narrative of green fees being too expensive, courses are too far away, language barrier and other reasons are no longer true. I've played everywhere in the world, and there's nothing like playing golf in Japan. You can probably take that with a grain of salt because I'm an ambassador for Taiheiyo club, but even if I wasn't, I would still be singing Japan's praises. Still, there are only a few people coming over to play golf in Japan, but I think once the word spreads, it could go very popular. I think people should get in soon before the rest of the world starts taking over the golf courses.  It's honestly an experience you should not miss. It's golf, tourism, it's culture, the food, the service-it's the whole package.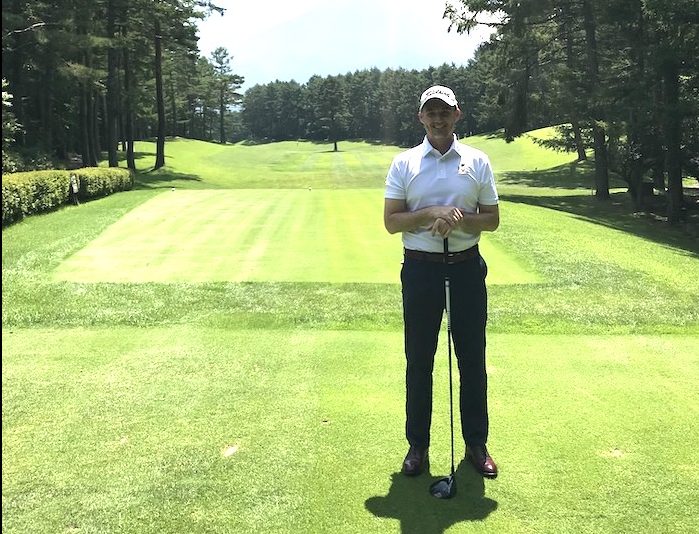 Joe Gaughwin

Born in 1975 and lived in Melbourne his whole life. Joe Gaughwin completed his Australian PGA traineeship in 2001 and spent the next year playing professionally. Decided in 2002 that he would pursue a career in coaching and moved to Singapore where he was the Head teaching professional at the Keppel Club for 12 years. He then moved to Tokyo in 2014 and continued his coaching career. In 2015, he began working for Taiheiyo Club where he began organising reciprocal and affiliate relationships with the best clubs around the world. This allowed Taiheiyo Club members to travel and play the best courses in the world and the members of those overseas clubs to come and enjoy playing their courses. He takes care of the overseas guests as well as the international members who reside in Japan. He still coaches golf in the evenings and is a Titleist ambassador and club fitter. He is passionate about all things golf, but his focus is creating awareness of how wonderful golf is in Japan.
COMMENTS