Welcoming hot spring town with retro charm
Togura-Kamiyamada Onsen carved itself a place on Japan's hot spring destination map just over 120 years ago in 1893. Times were tough, and to revive the local economy, the head of the town implemented a plan to dig for hot springs.
Since the waters began to flow, Togura-Kamiyamada Onsen has been transformed from just another country town to a local relaxation and entertainment spot. This was spurred on thanks to the pilgrims and travellers who visited the town after spending time at the nearby Zenkōji Temple.
The town is wrapped within a nostalgic atmosphere: warmly lit neon lights decorate the streets, where visitors and locals continue to mill around in wearing yukata (light kimono), as they have for many decades.
Everyone comes out to play in Togura-Kamiyamada for its countless local eateries and authentic traditional performances, as a complement to the main attraction: the hot springs. Over 8,000 litres of pure, mineral-rich hot spring water flows from over fifty spring-heads in the town, gushing into its multitude of hot spring baths.
Togura-Kamiyamada Onsen essentially has the whole package as a hot spring town, offering unique entertainment, total relaxation and delicious local food – ticking all the boxes of a wonderful getaway.
The Togura-Kamiyamada Onsen top three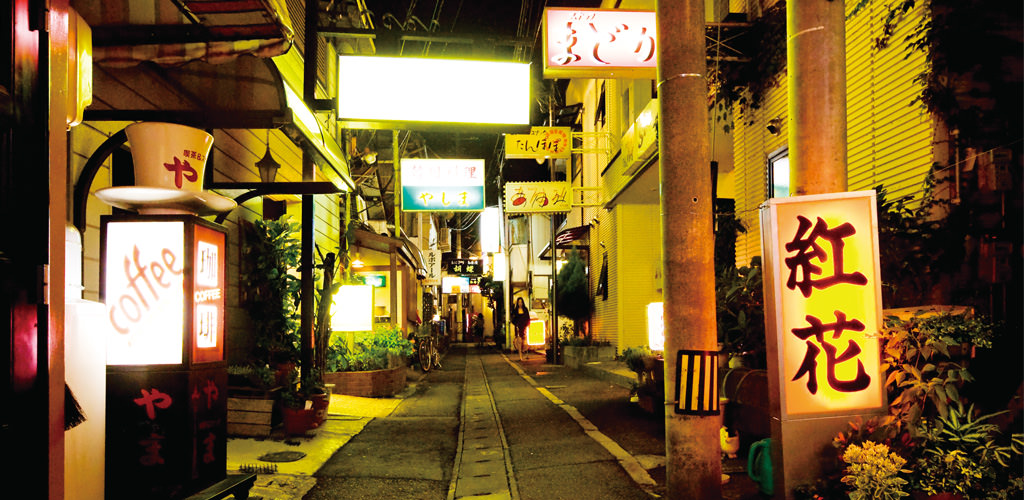 Small bars, karaoke venues and restaurants make Togura-Kamiyamada Onsen a lively town. Its retro entertainment districts are home to some 200 establishments, where visitors can enjoy the fresh food and sake of Nagano together with the locals.
Geisha shows in Togura-Kamiyamada Onsen are available as a 30-minute performance, and are a fun way to experience traditional Japanese entertainment in the town.
Cycling tours take in the townscape, alpine scenery and rice paddies of Togura-Kamiyamada Onsen, uncovering historic points of interest that would otherwise remain hidden to the visitor.
Further Information
Delightful authentic Japanese arts and hospitality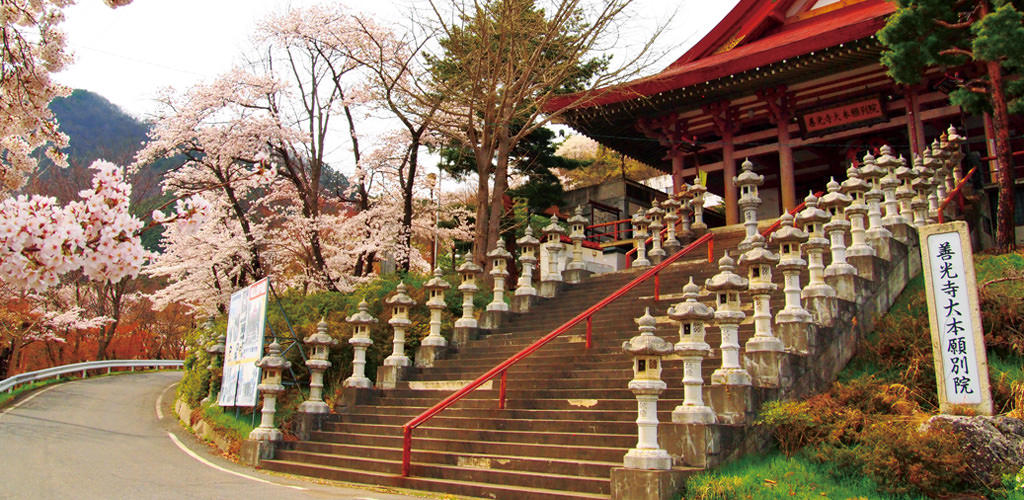 One of the biggest reasons Togura-Kamiyamada Onsen has become such a hub of entertainment and relaxation is its proximity to Zenkōji Temple, about 30 minutes away by train in Nagano. The local springs are especially renowned for their revitalising, cleansing effects on skin, and generations of Zenkōji pilgrims have visited them on their return from the temple.
In Japanese, this stage of a pilgrimage is known as 'shōjin-otoshi', and involves a transition back to partaking in worldly pleasures. Typically a festive occasion, Togura-Kamiyamada Onsen is accordingly clustered with a plentiful array of great restaurants, entertainment and accommodation. The town has a mix of over thirty traditional Japanese hot spring inns, modern hotels and other accommodation types to choose from, and most notably, is home to a small but active population of geisha entertainers. Traditionally, geisha entertain audiences at private banquets for hours, but today, visitors to Togura-Kamiyama Onsen are able to book introductory performances with two geisha – one dancer and one shamisen player – of just half an hour. These performances feature geisha songs and dances, which audiences can participate in, and traditional party games – both of which easily transcend the language barrier.
Togura-Kamiyamada Onsen may be an old, traditional town, but it's always welcoming to new faces.
The Seven Hot Springs of Fortune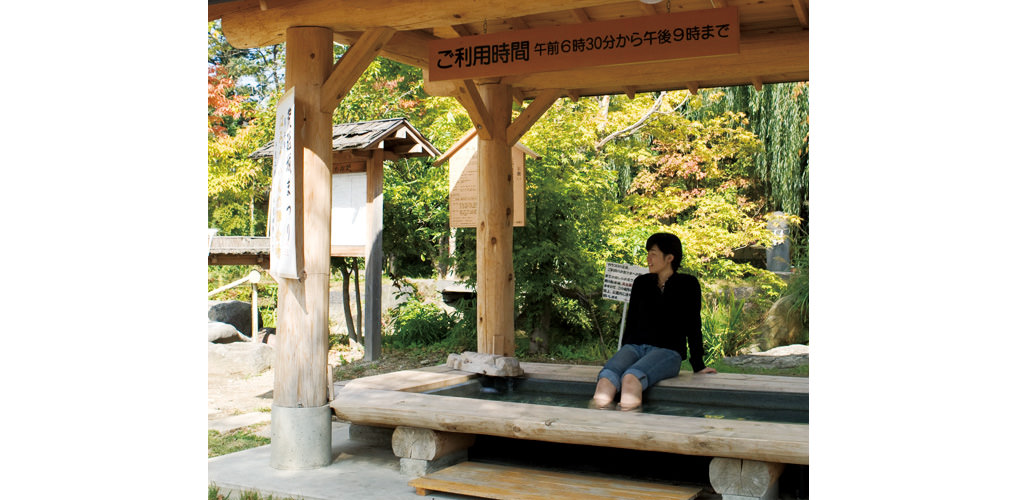 In Togura-Kamiyamada Onsen, there are seven 'soto-yu' public hot springs dedicated to seven deities of good fortune, with turquoise to silver and jade spring waters that have a variety of healing properties. The character of each bath varies interestingly from the Zuisho Yunohana Sento, with special features including an open-air bath infused with minerals from medicinal maifan stone, to the cute Karakoro Footbath, a relaxing and free open-air footbath.
The Tour de Togura-Kamiyamada Onsen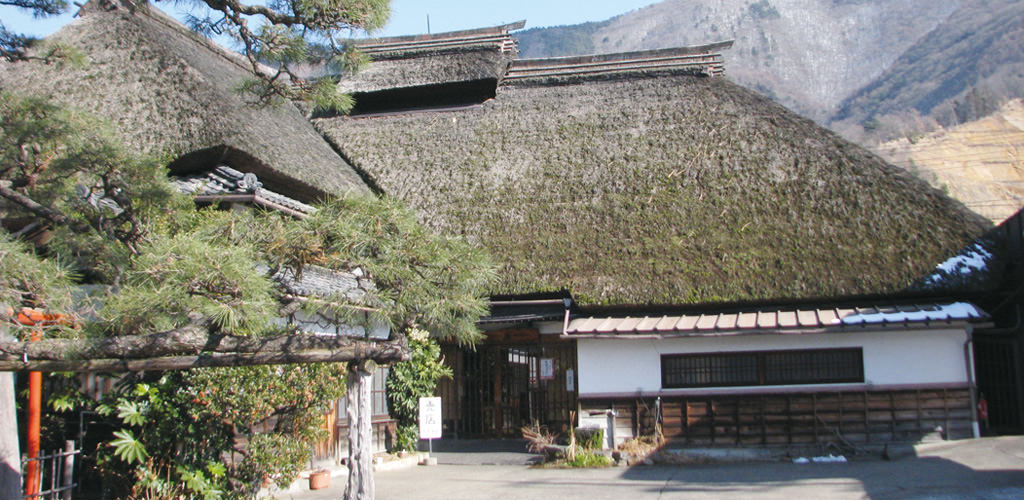 Once you become fully immersed in the relaxing, luxurious offerings of Togura-Kamiyamada Onsen, it's quite easy to spend the beginning, middle and end of a day there in the bath.
However, taking off your yukata and saddling up is its own reward: there are plenty more highlights around town, including the Arato-jō mountain fortress, 400 year-old Sakai Meijō sake brewery, Zenkōji Daihongan Betsu-in Temple, and specialty oshibori udon restaurants – serving fresh local noodles.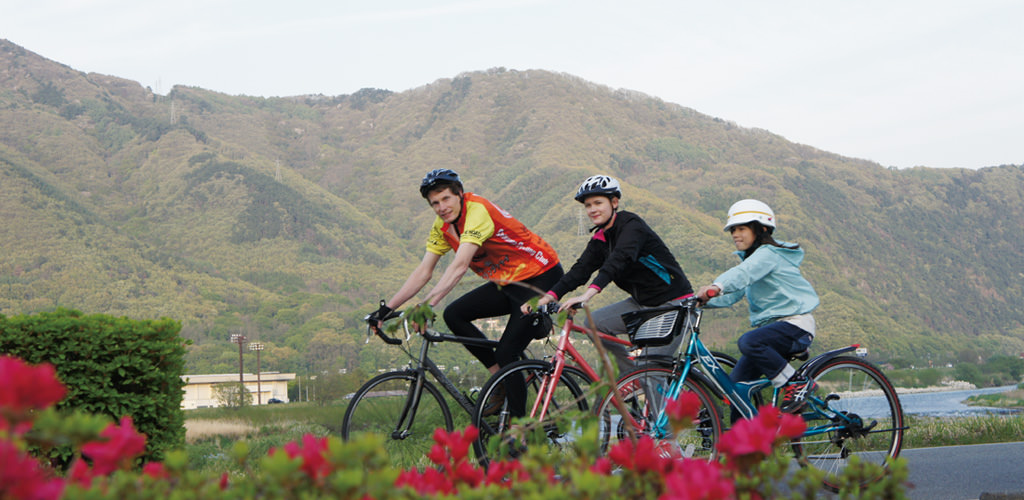 One of the best ways to discover these and other local points of interest is by bike, on a tour de Togura-Kamiyamada Onsen – making the baths even better when you return.
Local guiding company Zukudashi Eco Tours introduces visitors to Togura-Kamiyamada Onsen on two wheels, as well as two feet, with a tour line-up designed to take both local and overseas visitors off the beaten cycle path. They also do quality bicycle rentals for all ages and sizes, including a two-seater bike, and provide local area information for visitors.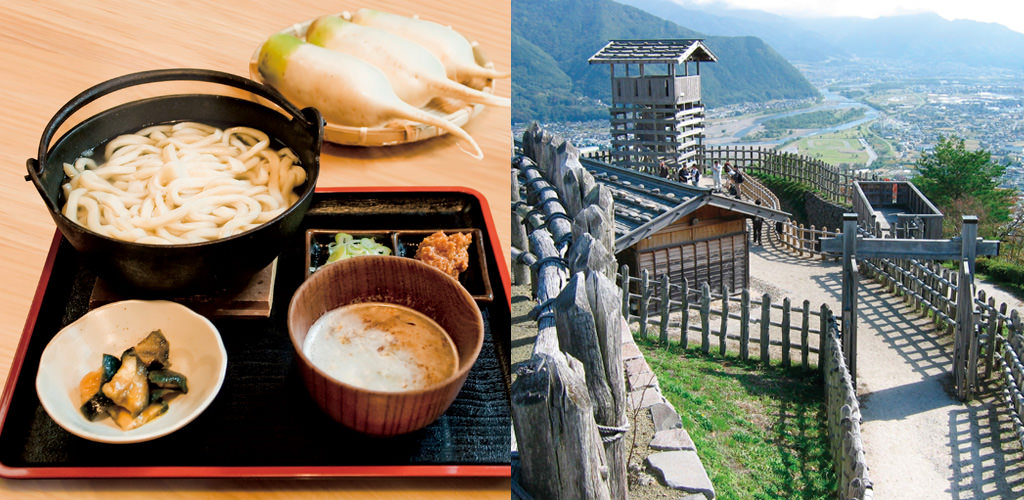 Zukudashi's country life cycling tour is led by a friendly staff member of the Kamesei Ryokan inn, and covers an 8-kilometre course in an easy 2.5 hours; passing through the local neighbourhoods of Togura-Kamiyamada Onsen, the tour sheds light on into the design aesthetic of the town's tiled rooves, and farming methods used in the local apple orchards. Historical points of interest bring tales of digging for local hot springs, and life in the town amidst the clashes of the turbulent Warring States period (1467-1573); the tour also cruises along the Chikuma River, and concludes fittingly at a relaxing footbath to soft-serve ice cream. Then of course, it's off to the bath again…
Further Information