Kyushu is a vast, nature-filled region in southern Japan brimming with volcanic landscapes, historical sightseeing, and oodles of local cuisine. In this article, we'll outline a four-day Kyushu itinerary honing in on the cities of Kitakyushu, Fukuoka, Kumamoto, and Kagoshima. Read on for a taste of what this dynamic slice of Japan has to offer!
Day 0 – Fukuoka Airport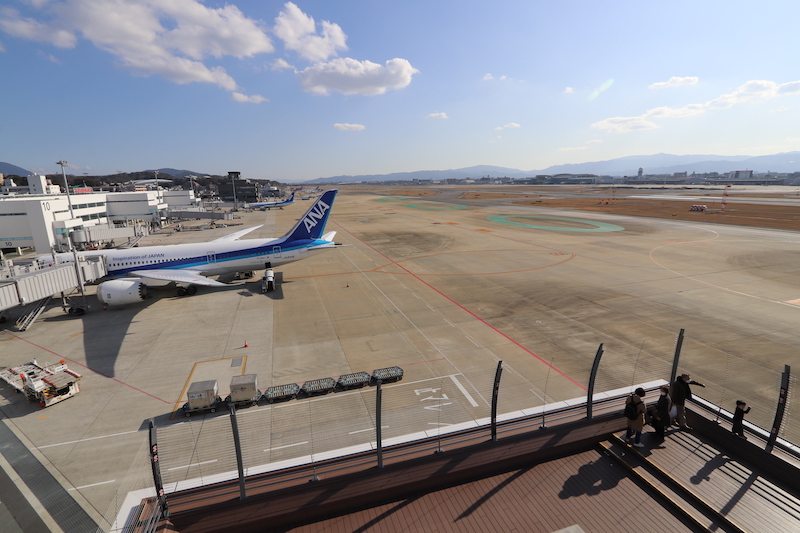 We begin our four days in Kyushu at Fukuoka Airport, which can be accessed directly from cities like Tokyo, Osaka, Sendai, and Nagoya. The airport is split between a domestic and international terminal, which are both connected via a 10-minute shuttle bus ride. Fukuoka Airport is conveniently positioned right in the heart of Fukuoka City and linked to the Kyushu-wide transport hub of Hakata Station in just 5-minutes on the Fukuoka City Subway. This has led to it being dubbed as one of the most accessible airports in the world! 
Open: 5:30 AM – 10:30 PM
Address: 778-1 Shimousui, Hakata Ward, Fukuoka City, Fukuoka 812-0003
Access: Fukuoka City Subway is located on the B1 floor of the domestic terminal.
Day 1 – Kitakyushu
Approximately 15 minutes on the Sanyo Shinkansen from Hakata to Kokura (Kitakyushu City), or approximately 1 hour on the JR Kagoshima Honsen rapid train from Hakata to Kokura.
Kawachi Wisteria Garden
Included in CNN's "Japan's 31 most beautiful places," this gorgeous floral wonderland launches into full bloom between late April and early May. The most popular scene on the vast grounds is the wisteria tunnel and pergola, which shroud visitors in an enchanting, exotic purple glow. There are 22 different types of wisteria on display, making it well worth spending at least an hour here. 
Address: 2-2-48 Kawachi, Yahatahigashi Ward, Kitakyushu, Fukuoka 805-0045
TOTO Museum
 
Kitakyushu is the headquarters of TOTO, one of the world's leading home equipment manufacturers. TOTO Museum showcases the history of Japanese bathrooms and the evolution of sanitary facilities, demonstrating the latest in high-tech Japanese "washlet" toilets and more! 
*"Washlet" is a registered trademark of TOTO LTD.
Address: 2-1-1 Nakashima, Kokurakita Ward, Kitakyushu, Fukuoka 802-8601
Lunch: Mojiko Retro Beer Restaurant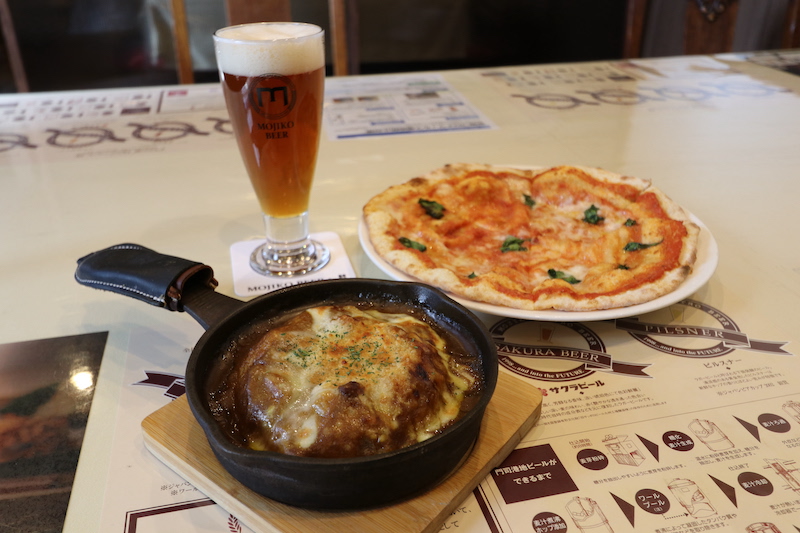 The local specialty of Kitakyushu is "yaki-curry", a hefty plate of steamed rice baked with curry and cheese. You can chow down on this hearty dish at the Mojiko Retro Beer Restaurant, whose brews have won first place at Japanese craft beer competitions.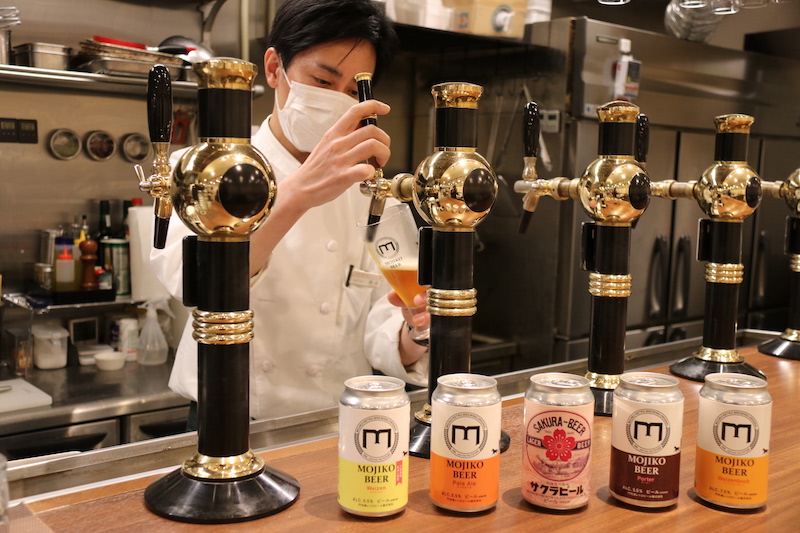 With a range of pale ale, weizen, and more, these home-brewed beers are the perfect accompaniment to piping hot yaki-curry!
Address: 1-3-19 Komemachi, Kokurakita Ward, Kitakyushu, Fukuoka 802-0003
Mojiko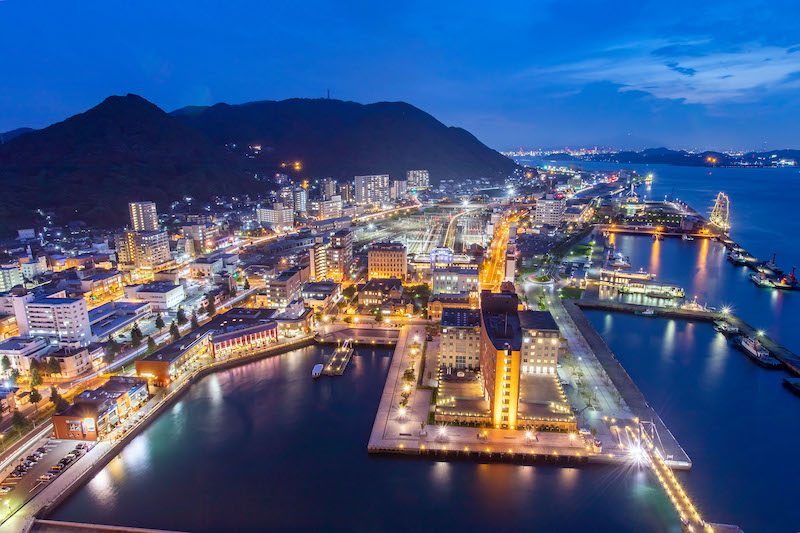 Mojiko is a port town facing the Kanmon Straits separating the landmasses of Honshu and Kyushu. It flourished through international trade from the latter half of the 19th century and remains chock full of historical buildings like the magnificent Mojiko Station. The splendid streetscape can be explored by pulled rickshaw or rental bicycles, while Shimonoseki on the opposite shore can be reached via ferry or pedestrian tunnel. A stunning lookout over Kitakyushu can be enjoyed from the Mojiko Retro Observation Room, which is said to be one of Japan's "Best Three New Night Views." Other highlights include the Kanmon Strait Museum, the Former Moji Customs Office, and the Kaikyo Plaza. 
Address: Mojiko Sta. 1-5-31 Nishikaigan, Moji Ward, Kitakyushu, Fukuoka 801-0841
Dinner: Fuku-no-Mise Shigeru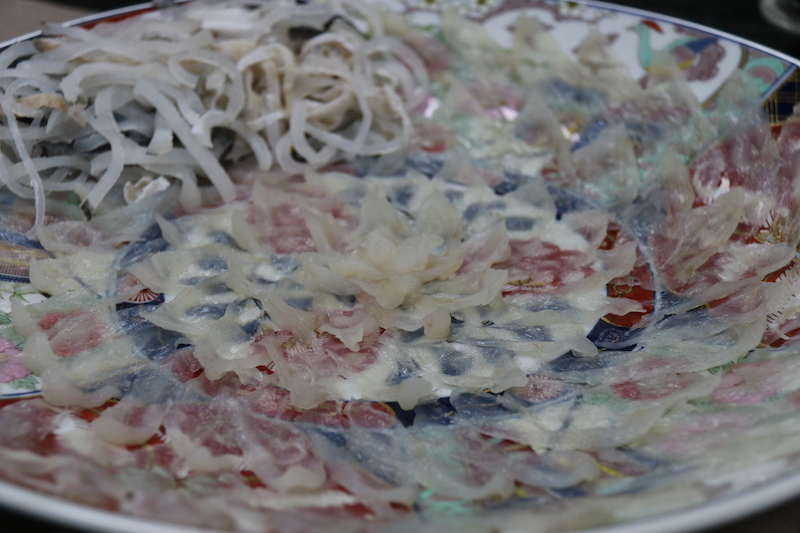 Surrounded by the ocean, Kitakyushu is one of Japan's superior seafood havens. The most popular local delicacy is pufferfish, which is called "fuku" in the local dialect. Established 100 years ago, Fuku-no-Mise Shigeru serves up a diverse menu of scrumptious dishes incorporating locally caught pufferfish and more.
Address: 1-9 Sakaemachi, Moji Ward, Kitakyushu, Fukuoka 801-0863
Stay: Premier Hotel Mojiko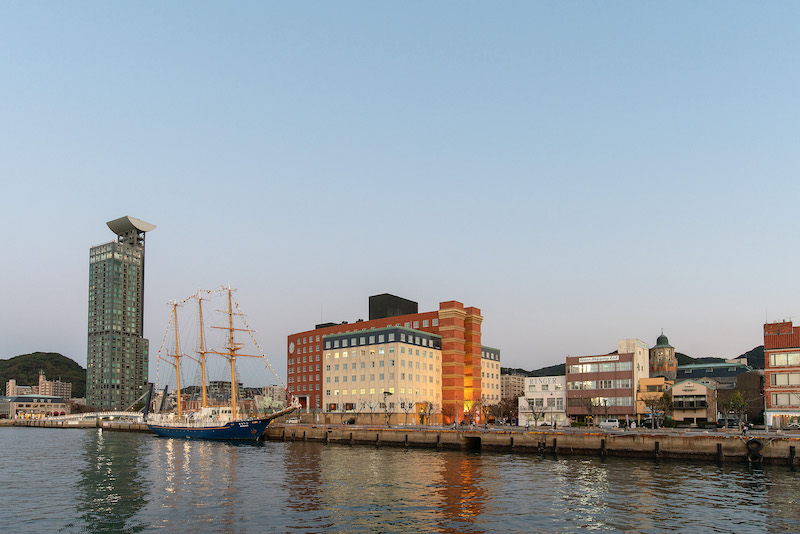 For your first night in Kyushu, we recommend staying at the Premier Hotel Mojiko, which treats guests to dazzling panoramas of the Kanmon Straits. 
Address: 9-11 Minatomachi, Moji Ward, Kitakyushu, Fukuoka 801-8503
Day 2 – Fukuoka
Approximately 15 minutes on the Sanyo Shinkansen from Kokura (Kitakyushu City) to Hakata, or 1 hour on the JR Kagoshima Honsen rapid train.
Cycling Around Futamigaura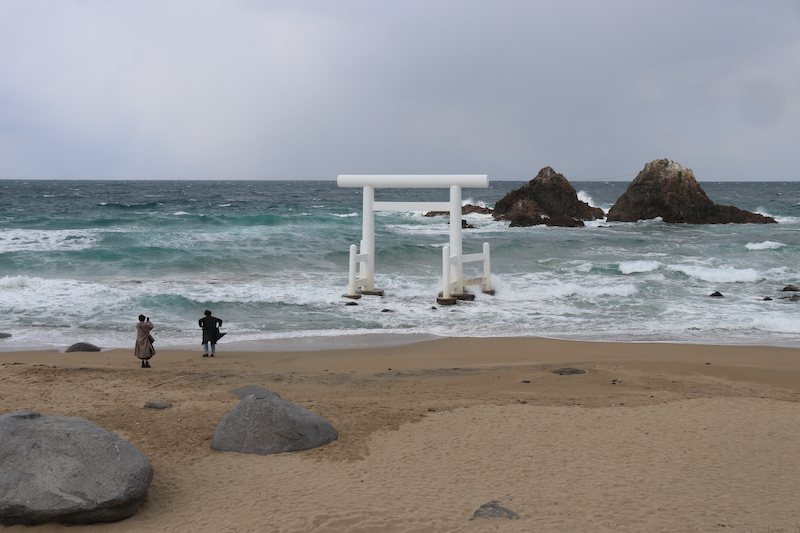 If sustainable tourism is your style, Fukuoka City is a fantastic place to visit! Despite its proximity to the centre of Fukuoka City, Futamigaura abounds with serene coastline and mountain scenery making it feel like you're on a distant island. It's a great location to stretch the legs and let your adventurous spirit loose on an e-bike, which can be rented from the TOYOTA Rent a Car Ito Branch for 3,300 yen for 2 hours or 5,500 yen for the whole day. The most famous icon here is the "Couple Rocks," which are two ocean rocks connected by a "shimenawa" Shinto rope framed by a stunning white torii gate.
Address: 1-7-8, Saito, Nishi Ward, Fukuoka 819-0367
Lunch: Fresh Produce on the Itoshima Peninsula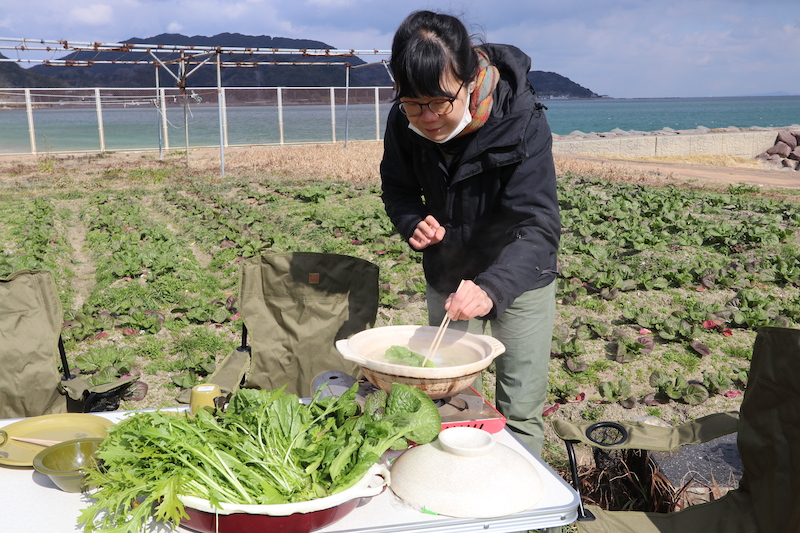 Continue cycling to the Kitazaki area of the Itoshima Peninsula to feast on the produce of Fukuoka. Facing Hakata Bay and the Genkai Sea, this lesser-known corner of Kyushu is dominated by local farming and fishing communities with superb access to the city. Here the Kitazaki Mirai Team strives to preserve the local way of life by spearheading agricultural projects to ensure the integrity of the land. You can experience this environmentally friendly farming style together with the team and savour your own freshly picked organic vegetables! After eating, continue cycling around Futamigaura to check out the remaining highlights, including the Jihangun art spot and the palmtree swing.
Price: 5,500 yen/person (from 10 people) *Children's rates available
Credit card payment accepted with advance reservation (VISA, MASTER, AMEX, JCB)
*Reservations are required at least one month in advance.
Address: Kota, Nishi Ward, Fukuoka
Hakata Old Town Area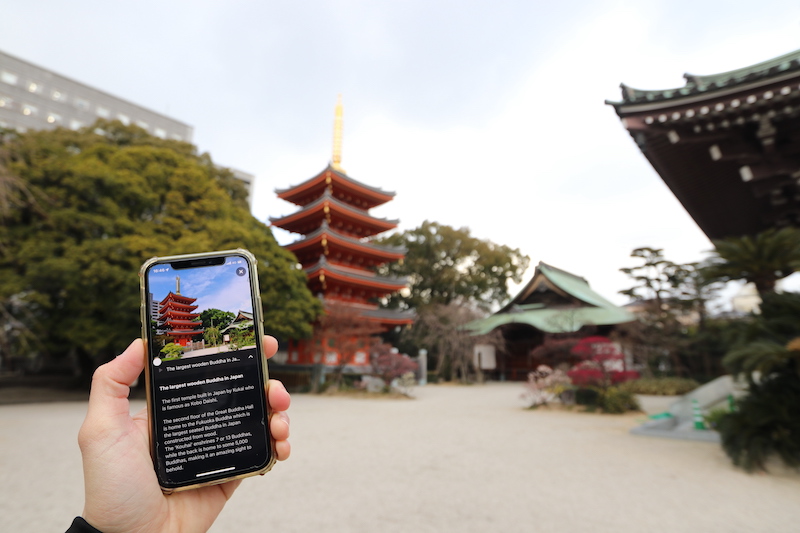 Despite being close to Fukuoka's central business district, the Hakata Old Town Area exudes an authentic, retro vibe woven together by ancient, tranquil temples and shrines and rustic streetscapes . Here you can deepen your appreciation of Fukuoka by strolling through bustling shopping arcades, discovering traditional arts and crafts, and getting up close with the lifestyle and culture of the local Hakata people, who are known for their love of festivals. By downloading the app SARF to your smartphone, you can augment your sightseeing here through informative audio guides unlocking the history of Hakata at your convenience.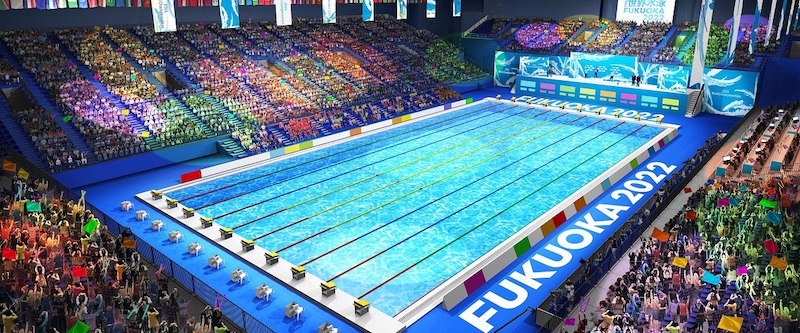 Fukuoka will also host the 19th FINA World Championships Fukuoka and 19th FINA World Masters Championships 2022 Kyushu  (the latter also held in Kumamoto City and Kagoshima City), which have been moved to the new dates of July 2023 and August 2023 respectively. The FINA World Championships is the most important aquatics event after the Olympic Games and a must-see for fans of swimming and other watersports. The following FINA World Masters Swimming Championships attracts more than 10,000 avid swimmers from about 100 countries and territories, providing a chance to compete on the world stage. If you're into swimming, lining up your trip to Kyushu with these events is a great idea! For more information, visit this link.
Day 3: Kumamoto
Approximately 40 minutes from Hakata Station to Kumamoto Station on the Kyushu Shinkansen Sakura.
Approximately 17 minutes by tram from Kumamoto Station to Kumamoto Castle/Shiyakusho-mae and 10 minutes on foot to Kumamoto Castle.
Kumamoto Castle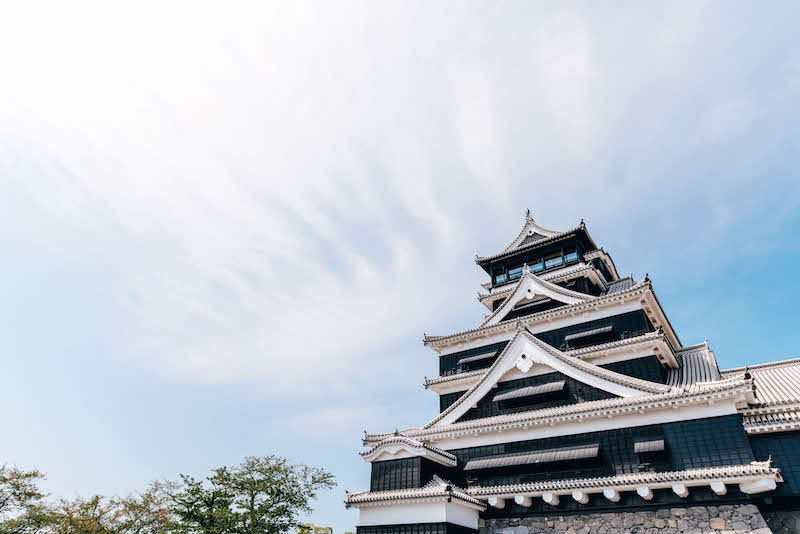 Considered one of Japan's "Three Great Castles," Kumamoto Castle is the pride of Kumamoto. Unfortunately, during the tragic 2016 Kumamoto earthquakes, the main castle tower, stone walls, and other monuments suffered immense damage and were forced to close. However, the city has been hard at work rebuilding this beloved icon, and the restoration of the castle tower was completed after just five years in 2021, with the other buildings still currently underway. The sheer amount of effort poured into this painstaking job can be seen in every florish and detail, while the yet-to-be-completed parts provide raw insight into the scale of tragedy, compounding your appreciation for the devotion displayed by residents.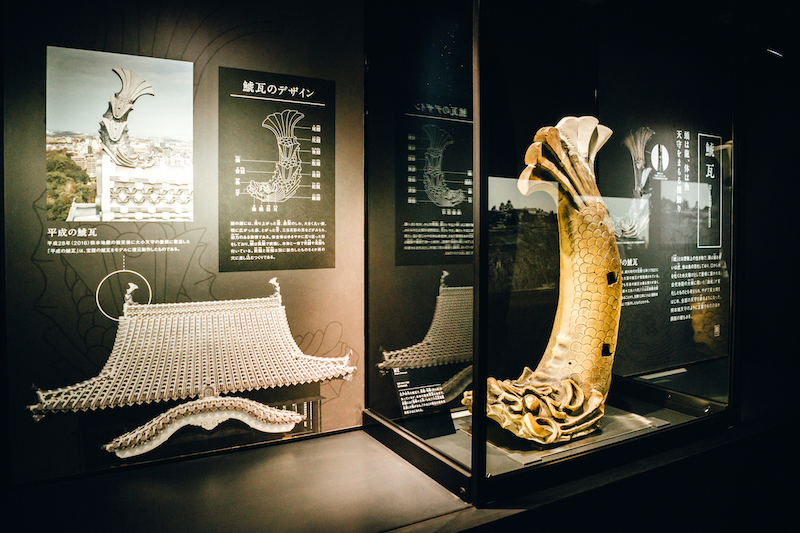 The castle has also been upgraded with projection mapping displays, multi-language guidance apps, and other exhibitions using the latest technology to detail the fascinating history of this breathtaking landmark. Also nearby is the Kumamoto Prefectural Museum of Art, Kumamoto City Museum, and the Kumamoto Prefectural Traditional Crafts Centre, giving you plenty of ammo to continue your encounter with local culture. Plus, at "Sakura no Baba Johsaien," an Edo period theme park at the foot of Kumamoto Castle, you'll be able to indulge in Kumamoto specialities like Aka-ushi wagyu beef and shochu alcohol, which are highly coveted all throughout Japan. There are also volunteer guides on standby at the Information Centre offering free tours of the castle grounds.
Address: 1-1 Honmaru, Chuo Ward, Kumamoto, 860-0002
Reigando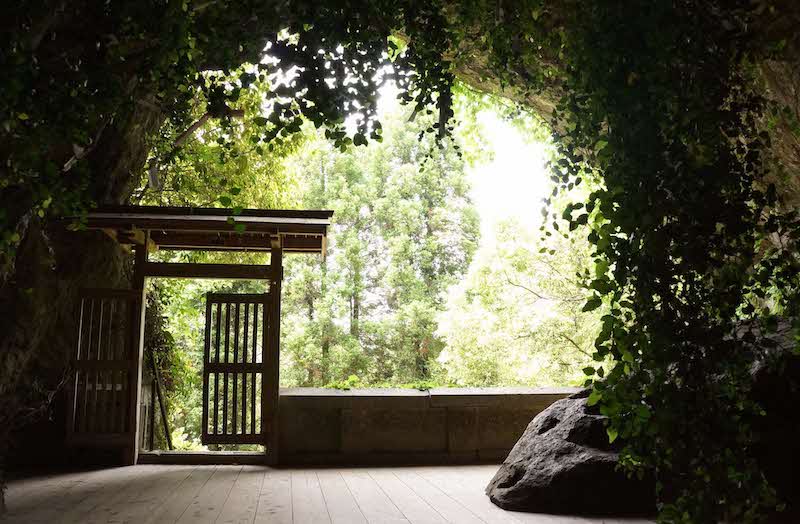 Reigando is a solemn, mystical cave where famed samurai and swordmaster Miyamoto Musashi, said to have never lost a fight in his life, spent the final years of his life writing the martial arts text "Book of Five Rings." On the way to the cave is a hillside assembly of moss-covered stone statues called Gohyakurakan, which further enhance the mysterious, somewhat haunting atmosphere. The cave is a part of Ungan-ji Temple, which houses an impressive collection of artwork related to Musashi.
Address: 589 Matsuomachi Hirayama, Nishi Ward, Kumamoto 861-5282
Iaido Swordplay Experience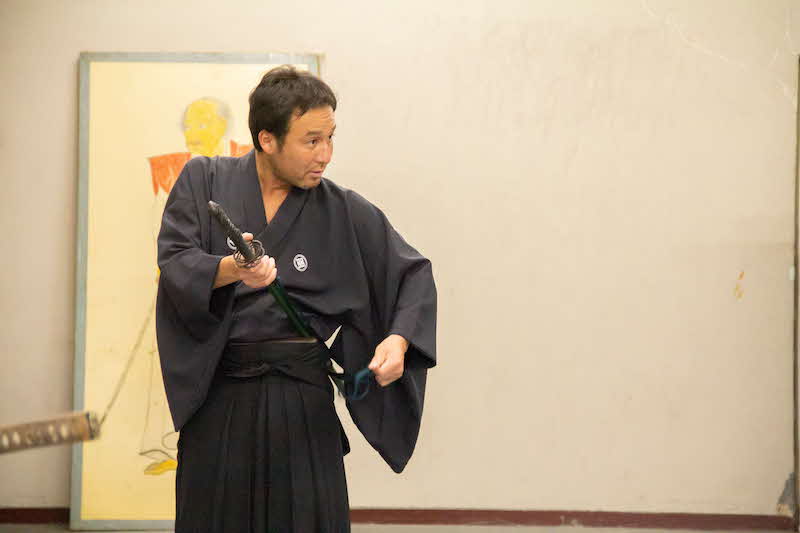 If witnessing the hideout of such a legend inspired you to take up the sword, finish your day in Kumamoto at Musashikan,  just a short walk away from Kumamoto Castle. Here you can learn the art of "Iaido" swordsmanship from a master sensei who inherited the Niten Ichiryu, a form of dual wielding established by Musashi, and practise the teachings of Musashi with a genuine Japanese katana.
Address: 3F, Musashi Bldg. 1-6s-4 Shimotori, Chuo Ward, Kumamoto, 860-0807
Day 4: Kagoshima
Approximately 1 hour from Kumamoto Station to Kagoshima Chuo Station by Kyushu Shinkansen Sakura or Tsubame.
Sengan-en
Sengan-en is a prestigious traditional "daimyo" garden considered one of Kagoshima's leading attractions. It is carefully positioned to incorporate the magnificent surrounding scenery, including Sakurajima and Kinko Bay. Here you can don samurai armour and have photos taken throughout the garden while watching a dramatic demonstration video of fearsome Satsuma swordsmanship, which has been passed down the generations for over 400 years. 
Address: 9700-1 Yoshinocho, Kagoshima, 892-0871
Sakurajima Ferry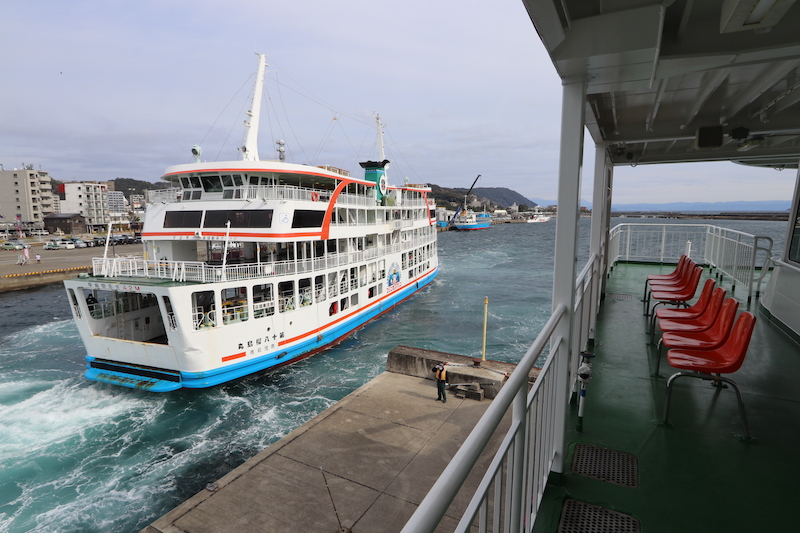 After travelling to the Kagoshima Port ferry terminal on the Kagoshima City View Bus, board the Sakurajima Ferry to spend your final day on the volcanic island of Sakurajima. This 24-hour ferry runs every 15-20 minutes during the daytime, making it a breeze to use. Alongside the striking bayside scenery, you'll also be able to relish a bowl of udon noodles onboard for lunch.
Kagoshima Port Address: 4-1 Honkoshinmachi, Kagoshima City, Kagoshima 892-0814
Sakurajima Port Address: 61-4 Sakurajima Yokoyamacho, Kagoshima City, Kagoshima 891-1419
Nagisa Lava Trail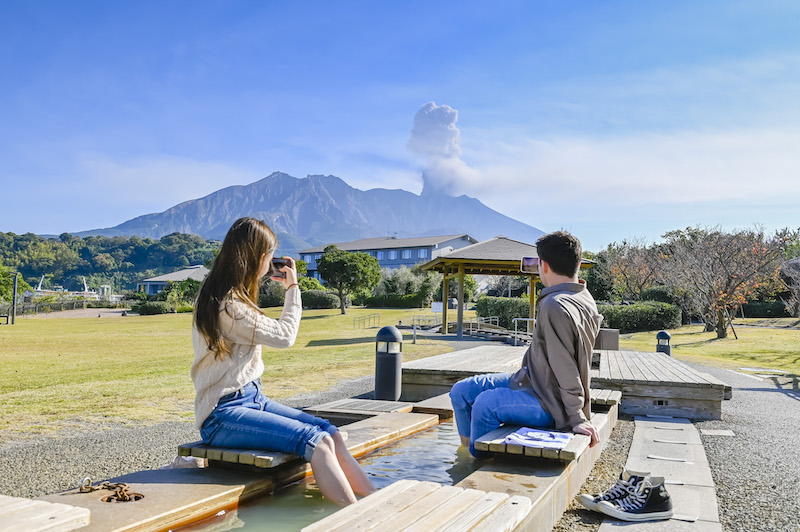 Starting near the Sakurajima Port Ferry Terminal, the scenic Nagisa Lava Trail is a natural walkway formed by lava flow during the 1914 Sakurajima eruption. Nearby is also a 100-metre footbath, one of the longest in Japan, where you can soak your feet in natural geothermal water while absorbing the gorgeous views.
Address: Sakurajima Yokoyamacho, Kagoshima City, Kagoshima 891-1419
Rent an E-bike at Rainbow Sakurajima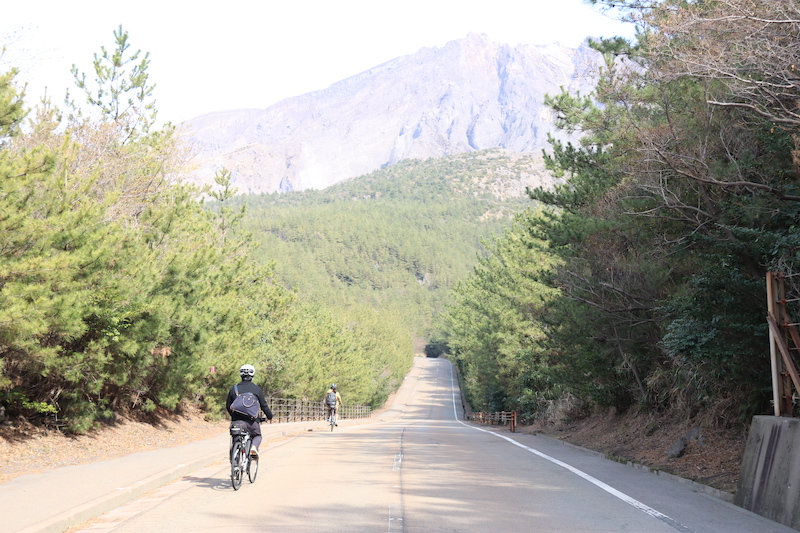 The best way to tour Sakurajima is on an e-bike, which will allow you to lap the entire Sakurajima in just 4 hours. E-bikes can be rented at Rainbow Sakurajima. Sakurajima Visitor Center is located 3 minutes' walk from Rainbow Sakurajima and you can also learn about the history of the eruption and growth of the active volcano Sakurajima, allowing a broader understanding of the powerful volcanic energy sitting beneath our feet. 
Rainbow Sakurajima Address: 1722-16 Yokoyamacho, Sakurajima
Sakurajima Visitor Center Address: 1722-29 Sakurajima Yokoyamacho, Kagoshima City, Kagoshima 891-1419
Lunch: Ofukuro no Aji Shun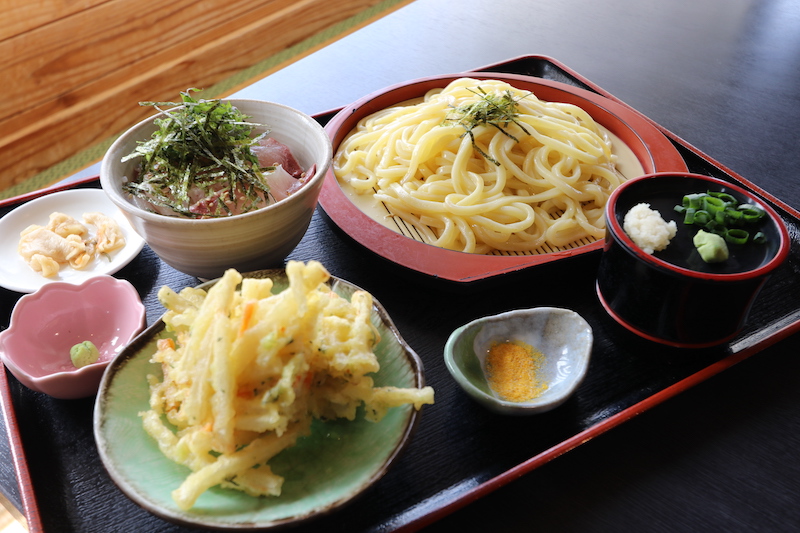 Ofukuro no Aji Shun is a restaurant specialising in local cuisine incorporating the Sakurajima mikan mandarin – the smallest mandarin in the world! Bursting with intense sweetness and a hint of agreeable astringency, this tiny treat packs a punch!
Address: 1722-48 Sakurajima Yokoyamacho, Kagoshima City, Kagoshima 891-1419
Sakurajima Volcanic Ash Art and Ogaku Togei Pottery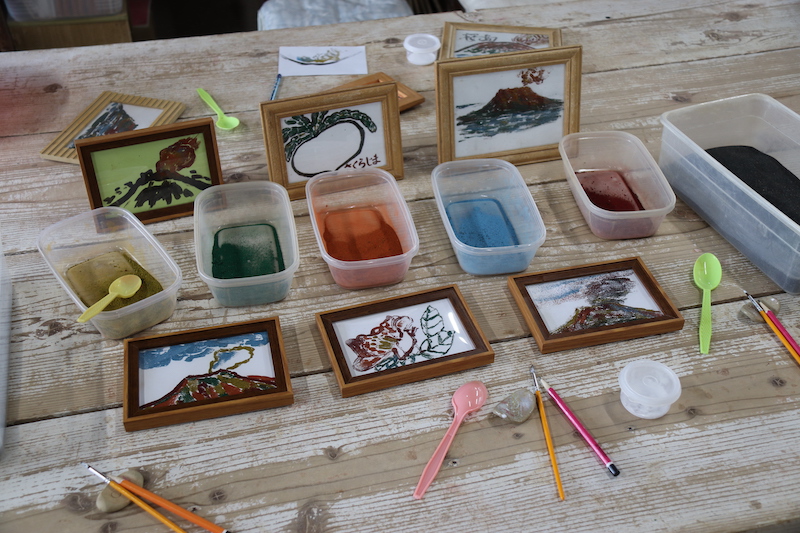 At Ogaku Togei Pottery you can make your own postcard-sized artwork using real volcanic ash from Sakurajima. With 5 colours available, you'll be free to let your creativity run wild to bring home a one-of-a-kind, personalised souvenir.  
Address: 1360 Sakurajima Akamizucho, Kagoshima City, Kagoshima 891-1420
Yunohira Observatory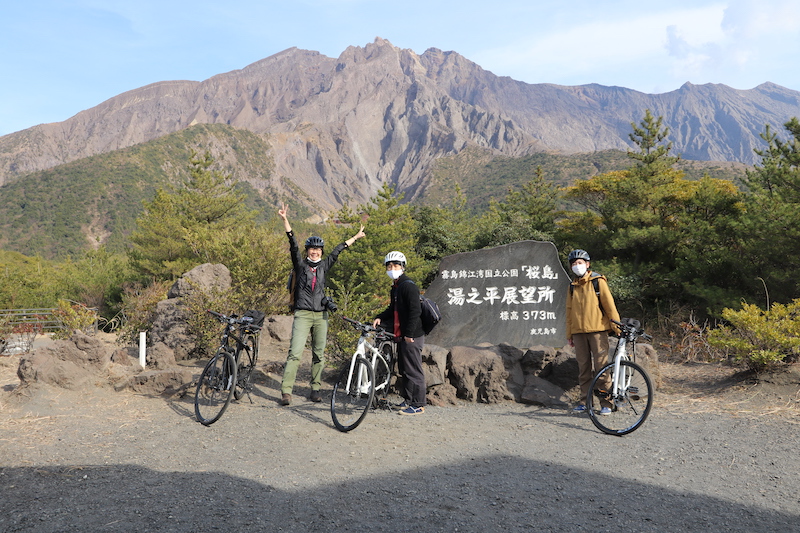 Finally, make your way up to Sakurajima's Yunohira Observatory. This 373-metre-high lookout is the highest accessible point on the island, showcasing the rugged Mount Kitadake in front and the Taisho Lava Field below alongside Kagoshima City stretching out to the west.
Address: 1025 Sakurajima Koikecho, Kagoshima City, Kagoshima 891-1418
Meizancho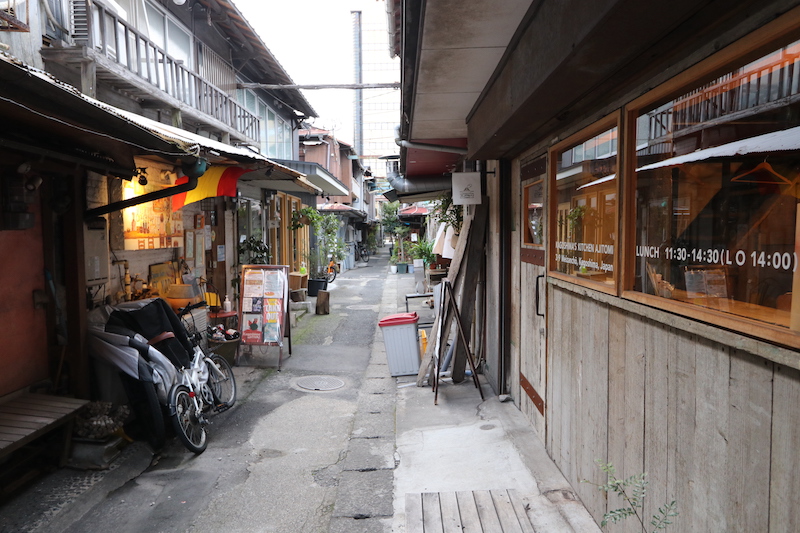 After galavanting throughout Sakurajima, we recommend wrapping up your time in Kyushu at Meizancho, right by Kagoshima Port. Lined by old-fashioned izakaya taverns and eccentric eateries cooking up local dishes, this rustic yet charming neighbourhood is the pinnacle of old-school Japanese aesthetic. 
Address: Meizancho, Kagoshima City, Kagoshima 892-0821
As you can see, there's more than enough sights, activities, and food in Kyushu to easily fill four days! Plus, the distances between the cities introduced in this article – Kitakyushu, Fukuoka, Kumamoto, and Kagoshima – are not far apart and are all connected via bullet train or regular train, saving you time otherwise wasted on traveling. From exploring historical landscapes to cycling around active volcanoes along with magnificent castles, innovative museums, and plenty of opportunities to relish Japan's rich natural resources, this four-day Kyushu tour is the perfect balance of discovery, relaxation, and heart-racing thrills – all topped off by a hefty helping of mouth-watering local cuisine!
*The areas and facilities featured in this article have been following measures to prevent the spread of COVID-19. This was also carried by taking extra precautionary measures to prevent the spread of COVID-19.
*Please participate in our questionnaire.
Fukuoka City: https://yokanavi.com/en/
Kitakyushu City: https://www.gururich-kitaq.com/en/
Kumamoto City: https://kumamoto-guide.jp/en/
Kagoshima City: https://www.kagoshima-yokanavi.jp/en
Words: Steven Csorgo