Mogami
Yamagata's scenic Mogami region, named for the 224 kilometre-long river which flows through it, is more than three-quarters covered in mountainous forest. Much of the forest is ancient, some of the trees millennium-old giants measuring three metres or more around the base of their trunks.
The impassable forest made the Mogami River a vital link in an ancient trade route from the port of Sakata on Japan's western coast to Kyoto, Osaka and Tokyo – then known as Edo. Used to transport consumables like rice, tobacco, salt, and sugar, this route was romanticised by wandering seventeenth century haiku poet Matsuo Basho in his famous work 'The Narrow Road to the Deep North'.
Today, Mogami Gorge is one of the most popular stretches of the Mogami River for cruising throughout the seasons. The winter scenery can be enjoyed on a 'kotatsu-bune' barge cruise, fitted with heated kotatsu tables; along the way, take in over 50 waterfalls, and enjoy a hearty banquet from the warmth of the kotatsu table.
Gassan-Shizu Onsen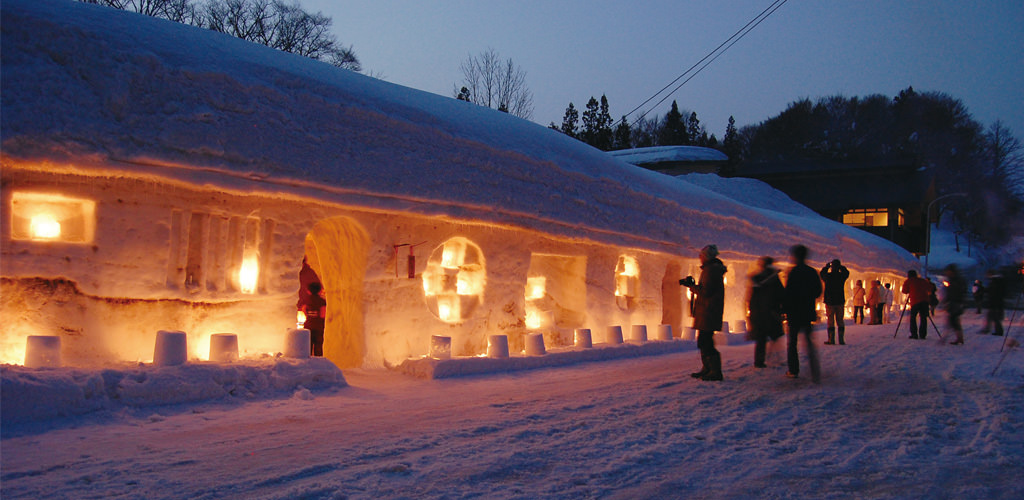 Visitors journey through deep winter snow to Gassan-Shizu Onsen, a hot spring town at the foot of the 1,984-metre Mt Gassan, for its Yuki Hatago light-up festival in late February every year. It re-creates the atmosphere of Gassan-Shizu Onsen in the days when its inns bustled with pilgrims to the nearby sacred peaks of Dewa Sanzan, featuring life-sized snow sculptures of traditional 'hatago' inns.
These intricate structures are literally carved out of the snow, which can reach depths of as much as six metres in the town. Lit up magically with candles and LED lights, they are fun to explore for visitors of all ages, and make a great venue for festival performances, and local food stalls. The snow is even used to build a giant snow slide for tubing down; a great way to round things off after a visit to the Yuki Hatago festival is its ice bar, which includes hot mulled wine on its drinks menu to enjoy in its very cool and colourful ambience.
Charming winter journeys in Yamagata
REGION INFORMATION
COMMENTS