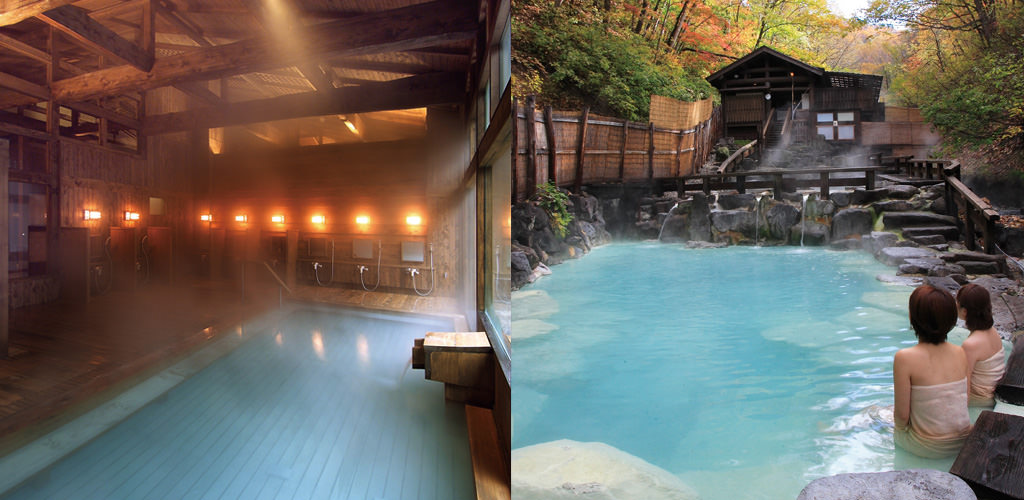 Steaming mineral-rich pools of health and happiness are found everywhere in Yamagata, from the prefecture's coastline to its mountainous interior. Its hot spring bathing culture dates back over 1,900 years, when a wounded warrior is said to have stumbled upon one of its most legendary spring-heads: Zao Onsen.
Known as the 'Fountain of Beauty', the milky-white waters of this hot spring are especially abundant in nourishing minerals for the skin, and the sulphur they contain sterilises the skin's surface of any bacteria or dirt – leaving a smooth, silky finish. These properties have even inspired special Zao Onsen bath salts ('yu-no-hana'), which visitors take home to re-create a nourishing hot spring experience.
The long-established inns and bed and breakfasts, intermingled with stylish modern hotels that make up the present-day resort area of Zao Onsen are nestled in the volcanic Zao Mountain Range. Its heart lies just 40 minutes by bus from Yamagata Station, and with Tokyo just 2 hours and 30 minutes away by bullet train, zipping up for a relaxing day-trip or weekender is easy. There are five hot spring facilities for day visitors to the area, as well as three shared hot spring baths with entry fees of just ¥200.
Almost 50 different spring-heads are clustered around Zao Onsen, and many of the resort's accommodation facilities offer the luxury of hot spring bathing just minutes from the slopes of Zao Hot Springs Ski Resort. This adds to the village's allure in winter, making it a perfect destination to experience authentic local Japanese culture, while enjoying the magic of its powder snow to the fullest.
REGION INFORMATION
COMMENTS