Onsen, or Japanese hot spring, are public baths with geothermally-heated, mineral-rich spring water. They are synonymous with Japanese culture, but maybe a culture shock to non-Japanese. After all, soaking in the same bath with friends, family or strangers is not something non-Japanese may be used to. Some baths don't separate customers by gender. For Japanese, though, bathing together is a healthy bonding experience. 
Onsen used to be known as "hot water for beauty" in ancient times, and there is a good reason for this. Soaking all the minerals from the Onsen improves blood circulation due to the geothermally-heated water. This activates your metabolism, signalling skin rejuvenation. Water vapour from the water is also incredibly moisturizing, among many other health benefits. Who knew relaxing in an Onsen would be this beneficial? 
With steam rising everywhere in Beppu, what you'll find in one of Japan's famous hot spring resorts is eight different springs, each with public baths and a Ryokan (Japanese inns) with bathing facilities. Boasting a wide range of baths and eight different Onsen areas, Beppu is truly Japan's Hot Spring Heaven. 
1. Myoban Onsen
Okamotoya
Photo via Okamotoya
An established alum manufacturing area since the Edo period, mineral deposits thrive in the natural bath salts of Myoban. Founded in 1875, Okamotoya is one of the oldest inns in Myoban and has a long-standing history of over 110 years. With traditional buildings from the Meiji, Taisho, and Showa eras around it, this is a luxurious inn with rich history and tradition. The outdoor sulfur spring is nested lush greenery, offering a calming experience while you revel in the natural landscape throughout the year.
Website:

Okamotoya (Yamanoyu)

Access: Myoban4
Opening hours:

1:00pm- 8:00pm

Admission fee:

¥500 ( Family bathhouse ¥1500/hour)
Jigoku-Mushi Pudding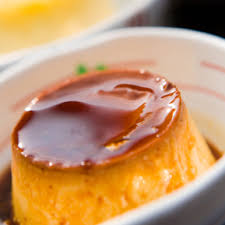 Enjoy the panoramic view from Myoban Onsen while indulging in its famous caramelized pudding. This pudding is known as Jigoku-Mushi Pudding, which is made from the steam from the hot springs. With the perfect balance of bitterness and sweetness, you cannot miss out on this sweet treat. It is still prepared traditionally, using the same method since 1988. Besides pudding, Okamotoya also offers other food, such as soft-boiled eggs, handmade udon noodles, and simple salted eggs. Don't be put off by Myoban's signature sulfur scent, as indulging in these treats will make it all worth it. 
2. Beppu Onsen
Takegawara Onsen
Photo via premium stay Kyusyu
Built during the Meiji era in 1879, Takegawara Onsen holds historical significance. Takegawara means bamboo tile in Japanese, and this Onsen is one of the most uniquely designed baths in Beppu. Its iconic roof was originally built using Karahafu, a type of gable common in traditional Japanese architecture. Although the roof was originally made of bamboo, it was replaced with tiles in 1938, hence the name. The wood gives the bath a retro, cozy atmosphere. Combined with the historical and influential design of its time, this spacious bathhouse offers everyone (this Onsen is tattoo-friendly) an authentic Onsen experience. 
Sand Bath 
Takegawara also offers sand baths, which is a must when you're there. It's a soothing experience, requiring you to lay on your back while the staff members cover you in warm volcanic sand up to your neck to be 'baked'. While relaxing under the surprising weight of the heated sand, you'll find yourself sweating in minutes. As the sand is thermally heated, it will be sure to soothe any stiff joints and muscles. 
Address:

16-23 Motomachi

Opening hours:

6:30 am to 10:30 pm (Sand baths is available from 8:00 am to 9:30 pm)

Admission fee:

¥110 (Sand bath¥1,050)
3. Kannawa hot spring
Hyotan Onsen
Photo via Hyotan Onsen
Boasting a three Michelin star award, the only one in Japan awarded to an Onsen, Hyotan Onsen offers the ideal one-day Onsen experience. There are plenty of hot spring waterfalls, hence boasting 19 hot spring waterfalls in the men's bath and 8 in the women's. It is known for Takiyu, or waterfall bath, which is a bathing style different from soaking in an Onsen. Standing under the pelting water, allowing it to fall on specific parts of one's body improves blood circulation. Other than Takiyu, there is an impressive variety of baths offered by Hyotan Onsen. They also offer a sand bath and a restaurant called Jigoku Steam Kitchen that allows you to cook your meals in an area that uses the steam from the hot springs. Try out the different baths for a laid-back one-day trip.
Website: Hyotan Onsen
Address: 159-2 Kannawa
Opening hours:

9:00am- 1:00am

Admission fee:

Adult ¥780(

Click here

for more information)
---
More things to do
Beppu Hatto hot spring festival
Every April, Beppu celebrates the 'Beppu Hatto Onsen Festival' in appreciation of the eight Onsen areas in the area (Hatto means eight). Onsens are undoubtedly an integral part of Beppu and even though Beppu isn't the only Japanese city to promote Onsen as their main tourism industry, Beppu takes this up a notch with this festival. Beppu is loud and proud of their amazing Onsen culture, celebrating them over five consecutive days during the festival. Each day offers a different event, from the grand Mount Ogi Fire Festival to Onsen tours and parades and even free Onsen experiences!
 Try some local food
Seafood Izutsu
How could we talk about a region without talking about the food it offers? A local mainstay located 8 minutes by foot from JR Beppu station, Seafood Izutsu is famous for fresh seafood at affordable prices. Their Kaisendon really popular with locals and is a must-try when you're there. Don't expect anything fancy here and arrive early if you can, as they're usually packed to the brim!
Address: 5-5 Kusunokimachi
Opening hours: 11am-3:00pm/ 6:30pm-9:00pm
Robata jin
Robatajin is a local 40-seat Izakaya offering a great variety of local food. It is another popular hangout spot among locals. Imagine heading for an ice-cold beer and some grilled Yakitori after soaking in the Onsen… what a dream! Do note that it gets really popular especially on weekends, so be sure to make a reservation beforehand.
Address: 1-15-7 Kitahama
Opening hours: 5:00pm-11:00pm
---
Access
You can easily get to Beppu from Fukuoka via bus or express Sonic trains. The train ride takes two hours from Fukuoka's Hakata Station to Beppu and costs around 5,500 yen. On the other hand, a bus ride takes 2.5 hours and costs 3,250 yen, which you can take from either Fukuoka's Hakata station, Tenjiin Station, or Fukuoka Airport.
As one of Japan's most famous Onsen resorts that produce the hottest spring water than any other resort, Beppu certainly has a lot to offer. The variety of the baths are unmatched. From ordinary baths to sand baths for you to relax in, each Onsen provides a unique experience. Revel in the tranquil settings of the Onsen and enjoy the warm Onsen delicacies cooked by the natural heat of the hot springs. Soak in the healthy benefits the Onsens of Beppu has to offer for a truly refreshing experience!