A scenic 'hot spring kingdom' filled with natural and cultural highlights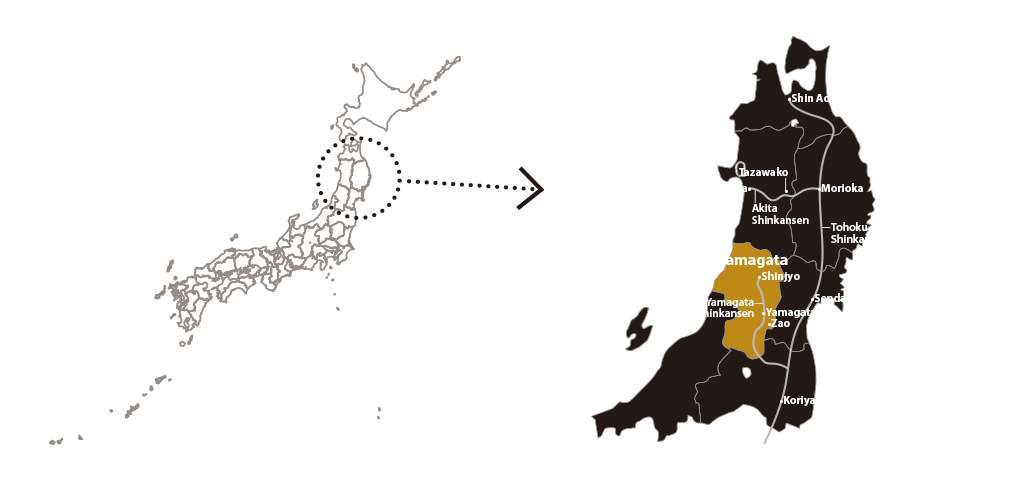 Yamagata Prefecture is one of Japan's heaviest snowfall areas, making it a naturally blessed snow holiday destination just 2.5 hours north of Tokyo by bullet train. Some 160,000 hectares of the prefecture is national park and other natural reserve area, with some stunning scenery that melts from the white of winter to a lush green in summer, flaring with vibrant red and gold in the autumn.
The winter conditions and mountainous terrain of Yamagata create its rare and beautiful 'snow monsters': trees covered in ice crystals that expand and contort into twisted, surreal shapes. Illuminated beautifully at night, they are one of the highlights of Zao Hot Springs Ski Resort in Yamagata, which is renowned as a historic resort with superb powder.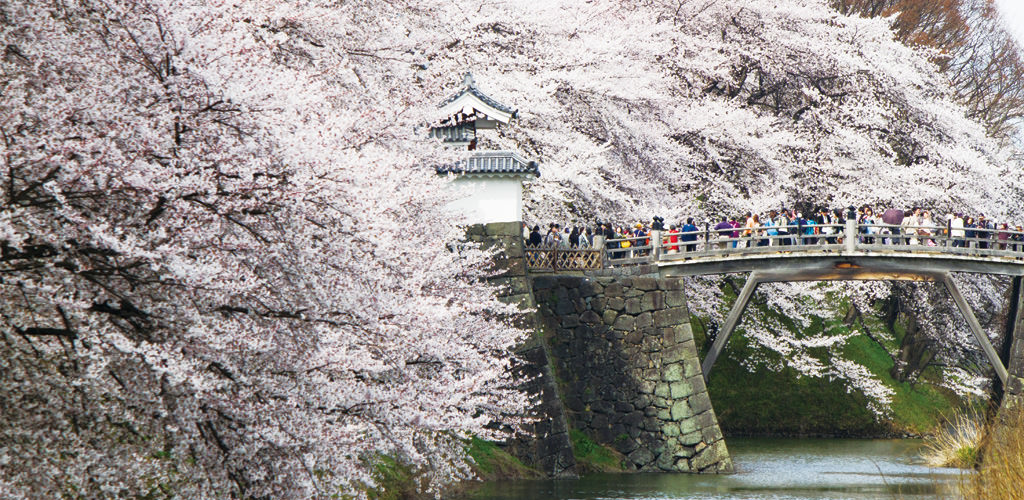 Nearby is the 1,900 year-old hot spring village of Zao Onsen, one of countless hot spring villages in Yamagata. The prefecture is famously known in Japan as a 'hot spring kingdom', filled with spring-heads that supply public and private hot spring baths at local bathhouses, inns, bed and breakfasts, hotels and other facilities.
The hot spring inns of Yamagata are especially good places to experience the local food, which includes delicacies like Yonezawa Beef – ranked in Japan's top three wagyu breeds – and regional sake from the prefecture's many boutique breweries.
Yamagata also offers some exciting day trips and other journeys in winter. Take a cruise past the waterfalls of its impressive Mogami Gorge while dining on a hearty nabe hotpot, have a drink in the ice bar at the Yuki Hatago Festival in Gassan-Shizu Onsen, or see a special performance by Yamagata maiko apprentice geisha, and let the depth of its local culture add the unique touches that turn a good snow holiday into a great one.
---
How close is Yamagata City to?
Tokyo: 2 hrs 30 min; Osaka: 5 hrs
Further Information
yamagatakanko.com
The charms of Yamagata's hot spring inns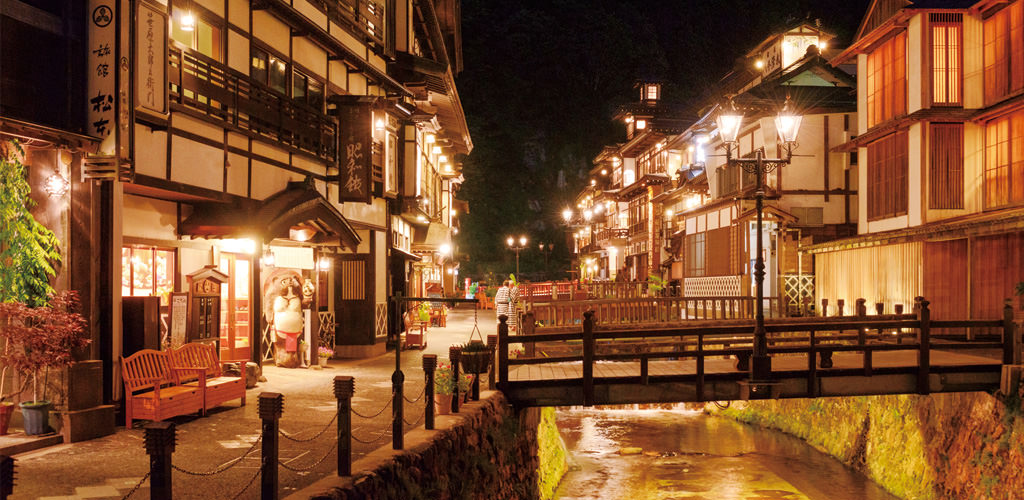 Lounging around in a comfy yukata kimono, eating delicious gourmet cuisine, ready to slide into a hot spring at a moment's notice – there's nothing quite like the luxury of a hot spring inn, or 'onsen ryokan'. Yamagata Prefecture is rich in historic hot spring inn communities, some hidden away in remote alpine regions, and others within an hour of Yamagata City.
A favourite hot spring destination for its vintage early twentieth-century townscape is Ginzan Onzen, 40 minutes from Ōishida Station on the JR Ōu Main Line in the north of Yamagata. The magnificent scenery around this town makes it a magical place to stretch out in an outdoor hot spring bath (rotenburo), listening to the murmuring of the nearby river, and watching steam waft into the air. Refreshing and revitalising for skin, the spring waters of Ginzan Onsen are a pretty crystal blue, and flow forth direct from the ground at steaming temperatures in the vicinity of 60 °C; they are comprised of minerals such as sulphur, sodium, chloride, and leave skin smooth and glowing.
After a hot spring bath, join other inn guests in yukata to stroll through the historic heart of town, and soak up the heritage of one of Yamagata's most memorable hot springs.
The perfect place to enjoy the flavours of Yamagata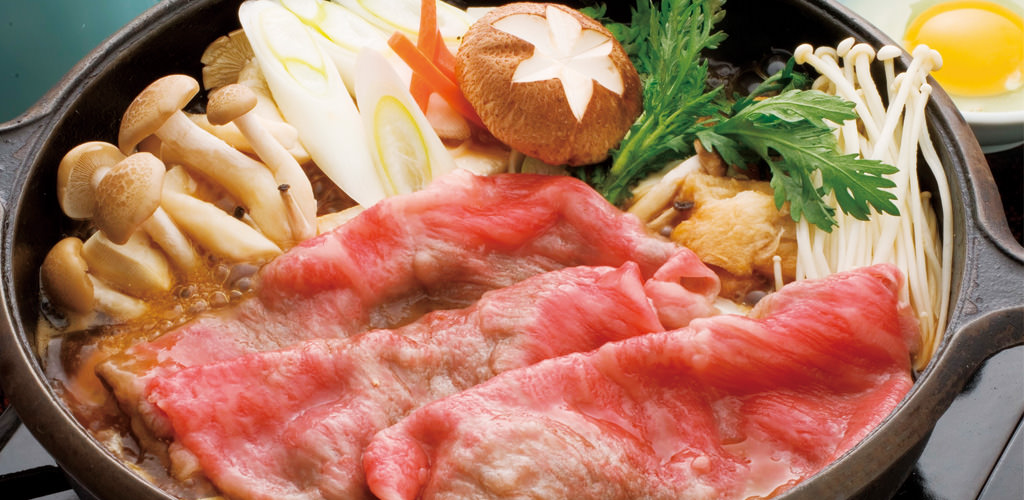 When it comes to meals, hot spring inns specialise in fresh and seasonal local ingredients – typically serving breakfast and dinner in a traditional style of cooking known as 'kaiseki'. Beautifully presented, it showcases small dishes that present a variety of colours, flavours and textures to stimulate the palate. Especially in winter, Yamagata specialises in hearty foods like nabe hotpots, which pair well with sake rice wine from the prefecture's many small but excellent breweries.
Mogami
Charming winter journeys in Yamagata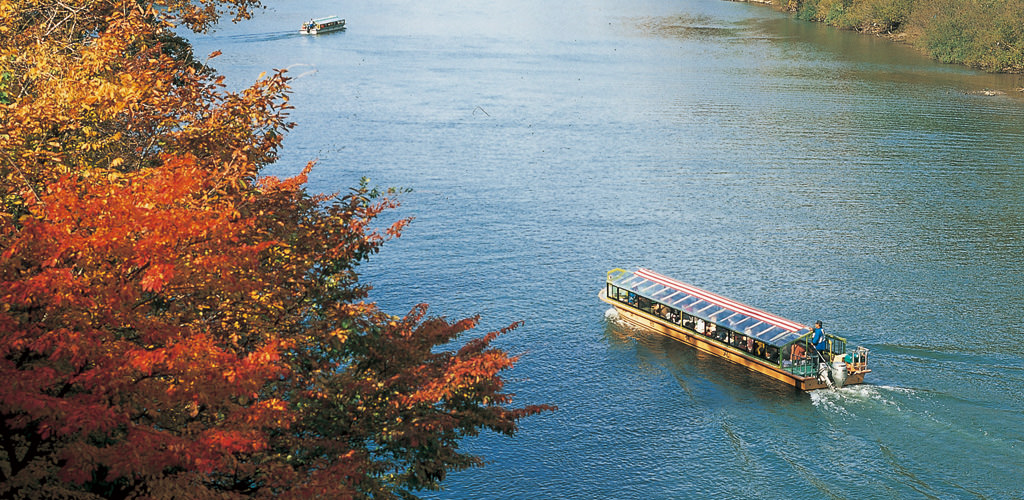 YAMAGATA'S scenic Mogami region, named for the 229 kilometre-long river which flows through it, is more than three-quarters covered in mountainous forest. Much of the forest is ancient, some of the trees millennium-old giants measuring three metres or more around the base of their trunks.
The impassable forest made the Mogami River a vital link in an ancient trade route from the port of Sakata on Japan's western coast to Kyoto, Osaka and Tokyo – then known as Edo. Used to transport consumables like rice, tobacco, salt, and sugar, this route was romanticised by wandering seventeenth century haiku poet Matsuo Basho in his famous work 'The Narrow Road to the Deep North'.
Today, Mogami Gorge is one of the most popular stretches of the Mogami River for cruising throughout the seasons. The winter scenery can be enjoyed on a 'kotatsu-bune' barge cruise, fitted with heated kotatsu tables; along the way, take in over 50 waterfalls, and enjoy a hearty banquet from the warmth of the kotatsu table.
Gassan-Shizu Onsen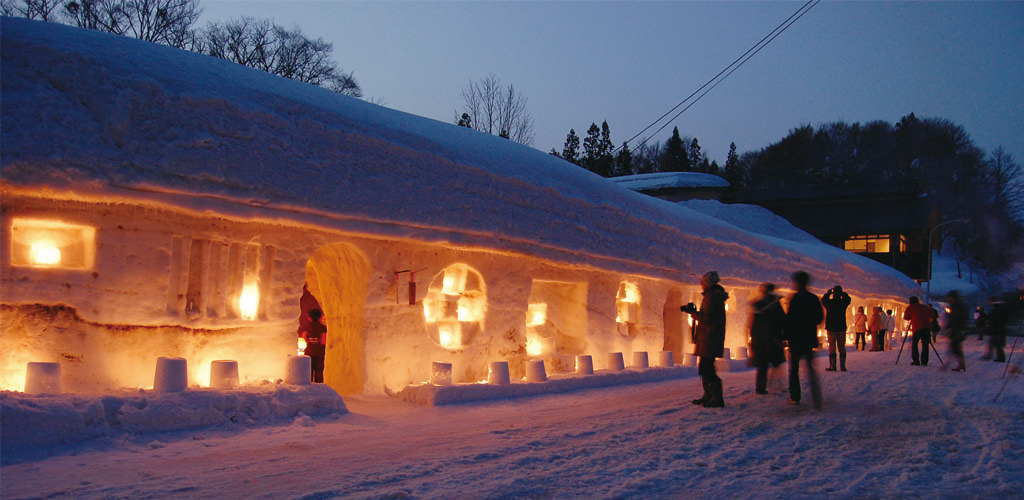 Visitors journey through deep winter snow to Gassan-Shizu Onsen, a hot spring town at the foot of the 1,984-metre Mt Gassan, for its Yuki Hatago light-up festival in late February every year. It re-creates the atmosphere of Gassan-Shizu Onsen in the days when its inns bustled with pilgrims to the nearby sacred peaks of Dewa Sanzan, featuring life-sized snow sculptures of traditional 'hatago' inns.
These intricate structures are literally carved out of the snow, which can reach depths of as much as six metres in the town. Lit up magically with candles and LED lights, they are fun to explore for visitors of all ages, and make a great venue for festival performances, and local food stalls. The snow is even used to build a giant snow slide for tubing down; a great way to round things off after a visit to the Yuki Hatago festival is its ice bar, which includes hot mulled wine on its drinks menu to enjoy in its very cool and colourful ambience.
REGION INFORMATION
COMMENTS