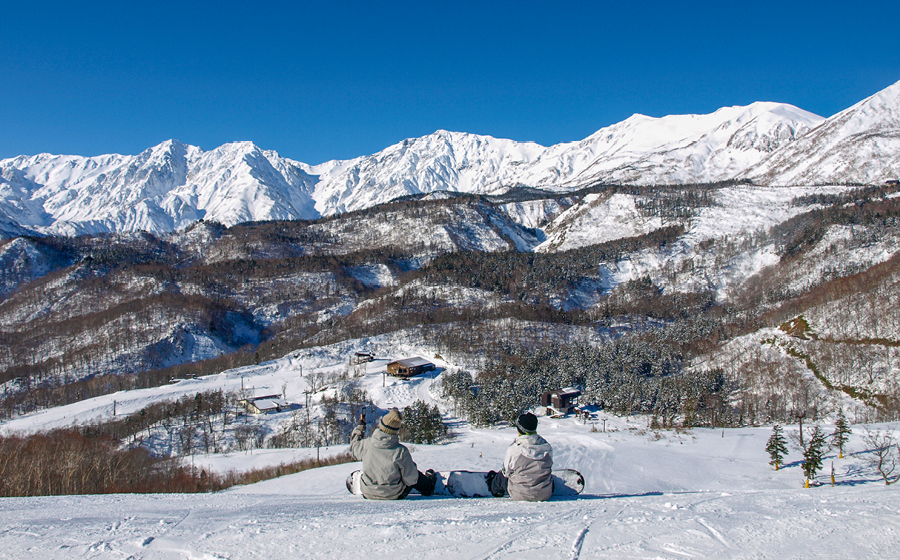 POWDER AT THE FRONT DOOR
Tsugaike Kogen transforms from a highland oasis of colour in the off-season to a powder paradise in winter. One of the Hakuba Valley's biggest resorts, the ten courses within its 196 hectares are connected by 20 lifts, and there is a good variety of convenient slope-front accommodation here. Situated in the Tsugaike Onsen hot spring area, the resort is also close to many smaller lodges, shops, restaurants and izakaya bars.
Views of the valley around Tsugaike Kogen are magnificent, especially from the courses descending its upper reaches around 1,700 metres. They include the Tsugano-mori Course, a wide intermediate slope, and the Uma-no-se Course, a 32° expert's run with tighter turns and moguls.
Also located high up at Tsugaike Kogen is its Hit Park, the highest terrain park in the Hakuba Valley. It opens during January on the Han-no-ki Course and shifts to the Tsuga-no-mori Course during March, offering a mix of kickers up to twelve metres high, boxes and banks.
The Tsugaike Powder DBD off-piste area caters for expert backcountry riders. Helicopter trips take skiers and snowboarders to the Tsugaike Kogen backcountry from March every year, dropping them off at 2,200 metres to enjoy the long 14-kilometre run through Chubu-Sangaku National Park. This dynamic area can be enjoyed on a guided snowshoe hiking tour, too.
Tsugaike Kogen is also known for its wide, gentle slopes, like the Kane-no-naru-oka ('The hill where the bell rings'). A spacious 1,200 metres wide, the slope is lit up for night skiing. On its northern side lies the Tsugaike Kids Park, with play equipment laid out in a 70 x 70-metre area connected by a 50-metre magic carpet, and an indoor play area on the first floor of Restaurant Grill Tsugaike. These facilities combine with the great ski-in, ski-out accommodation, which isn't usually this close to the slopes, to make Tsugaike Kogen an especially good resort for family trips.
Tsugaike Kogen
Tsugaike Kogen, Otari-mura, Kitaazumi-gun, Nagano
Phone: +81-261-83-2515
Open: Days 8:00am-5:00pm, Nights 6:00pm-9:00pm
http://www.tsugaike.gr.jp/english
Travelling times to Tsugaike Kogen
from Tokyo: 3 hrs 10 min (train & bus), from Osaka: 5 hrs (train)
Resort Data
Snow depth: Dec 203cm/Jan 270cm/Feb 328cm/Mar 302cm/Apr 196cm
Terrain: Beg 50%/Int 30%/Adv 20%
Longest run: 4.9km
Gondolas: 1
Chairlifts: 19
Vertical drop: 904m
Steepest slope: 35°